In a town bursting with restaurants, there hardly seems like there would be room for more. But owner of the new Salt of the Earth Bistro, Andrea Lautenschuetz, has carved out a niche beyond the commotion of downtown and is serving up firecracker creativity on a plate.
If you go, expect to find yourself eating on a sort of global continuum. Ingredients are local when possible; most items are made from scratch - down to the butter and pita bread; and Andrea's menu includes dishes from each continent.
Which is how braised bison West African peanut stew with tomato, eggplant, okra and turmeric couscous landed on the menu.
"There are so many flavors that work together - Serrano, habanero, peanut butter, ginger. It's like 'boom' in your mouth," said Liz Arnold. She and Andrea have been friends and co-workers for years, working in several local restaurants together. They brought their harmonious working relationship to the bistro. Andrea graduated from Paul Smith's College's culinary program and worked at the Lake Placid Lodge, Interlaken Inn and Chair 6 as a chef.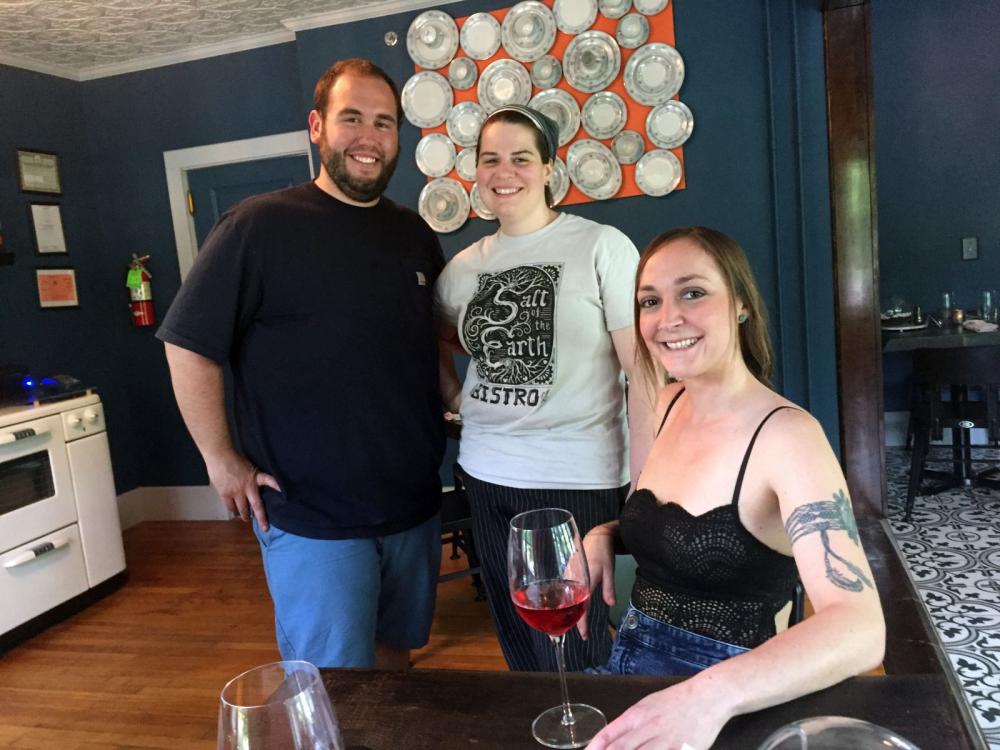 Above - left to right: Dennis and Andrea Lautenschuetz, and Liz Arnold - the core team at Salt of the Earth Bistro.
Her business model is to serve familiar classic dishes with a twist, and offer it in a reasonable serving size and price point.
"We want to make sure locals, including those working in the service industry here, can afford us. That's why our dishes are offered at a much lower price than many other places," said Andrea.
"And people want to leave feeling good, not overstuffed," Liz added.
Let the tasting begin!
Liz and Andrea sit me down at one of the 18 tables in this former guest house on Sentinel Road. First up and into my mouth is grilled asparagus toast served on a baguette with whipped goat cheese, toasted hazelnuts, garlic oil and balsamic reduction. It's as tasty as it sounds. Trust me.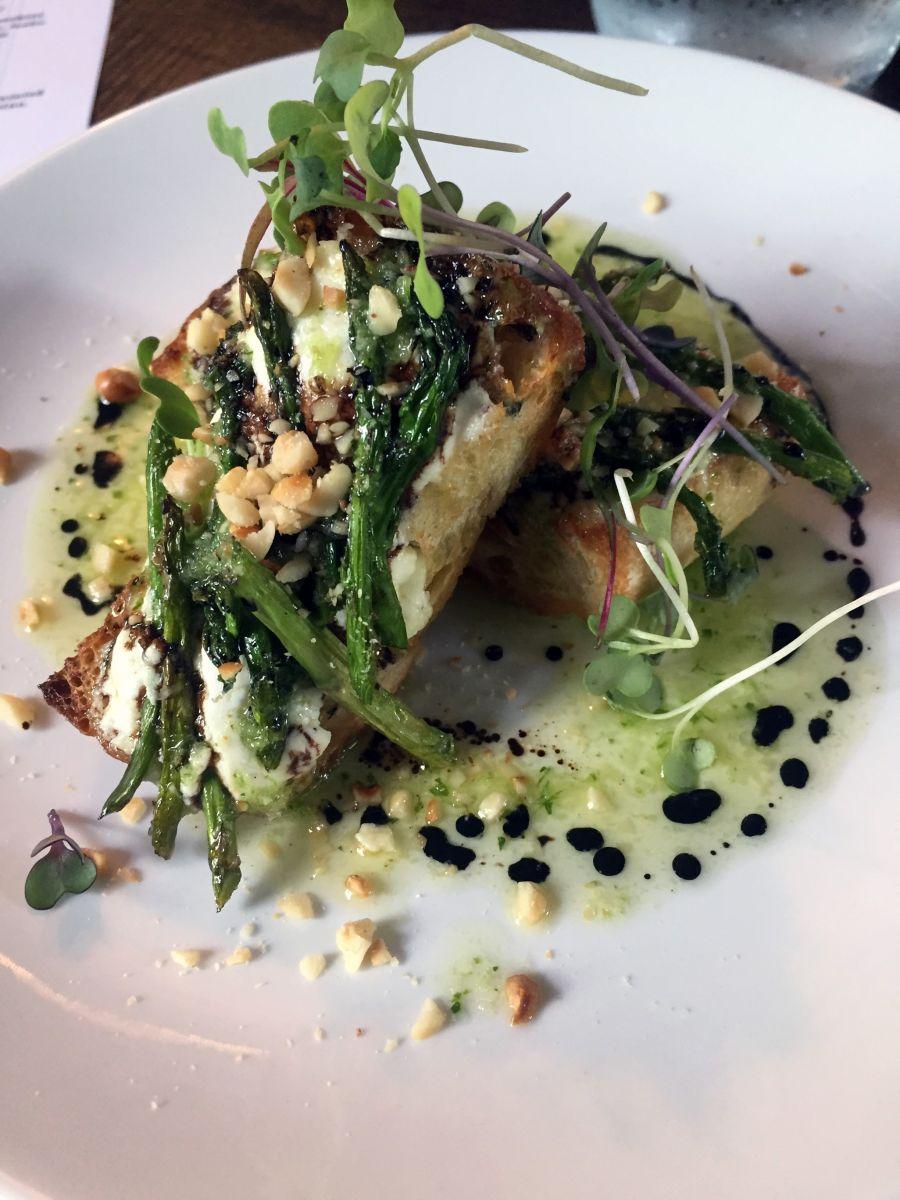 Next is pan seared duck breast with coconut, Thai red curry Napa cabbage slaw with a peach coulis. It's the best duck breast I've ever had. Andrea said perhaps it's because the fat is rendered, which means cooked until crispy, where others will strip the tasty layer clean off before searing. Whatever it was, I left just a little bit happier than when I walked in.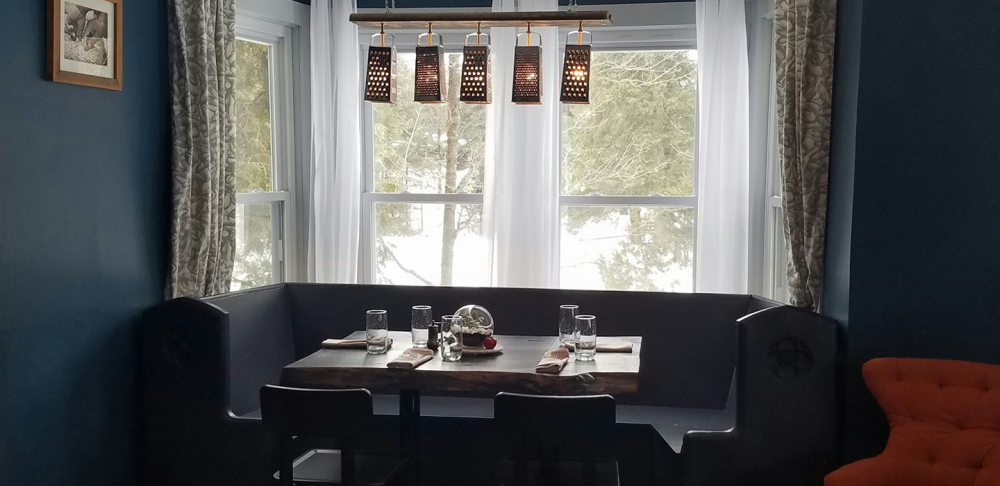 Salt of the Earth Bistro: 5956 Sentinel Road Lake Placid
Surf's up
This summer there is no need to make the trek to the coast for a New England meal of lobster rolls, oysters, and fried clam bellies. Locals and visitors will find it on Main Street at the just opened Lobster Reef. Local chef Rob Borden, who has been known for classic and creative European fare, opted this time to focus solely on seafood.
"It's different," he said. "It's not your standard steak and seafood restaurant that you normally see here."
I walked into the freshly painted periwinkle petite space and found it bright and inviting. There's room for seven tables in the long, narrow space, three on the deck overlooking Mirror Lake, and six barstools where patrons will be served creative cocktails. Three more tables will be added out front.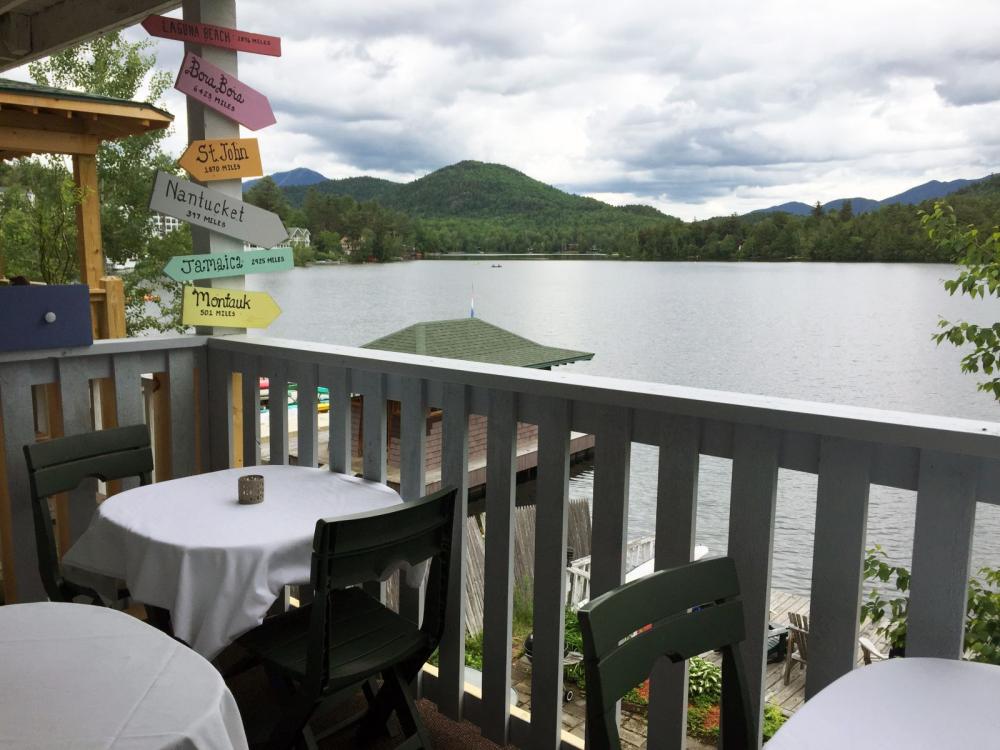 The focus is fresh, simple fare. Most notable is the seafood tower - a 1/2 lobster, littleneck clams, West and East Coast oysters, Dungeness crab legs, shrimp cocktail, crab claws, topped with condiments and seasoning.
The seasoning is his own making and he said it rivals Old Bay seasoning. I am dubious, but excited to try it.
Although this is Rob's first foray into a seafood-focused restaurant, he has been cooking up lobster bakes and the like for family and friends for years. He quit his job as a private chef for a New York City family, and is focusing on this venture and creating a franchise. Plans are in the works for a Lobster Reef in Saratoga, Albany, and beyond.
Lobster Reef: 2413 Main Street, Lake Placid
Hole in one
Jack Burns's team at Base Camp is also responsible for three other popular restaurants in Lake Placid - Simply Gourmet, 'dack Shack, and the Big Mountain Deli & Creperie.
I asked Jack, the manager of the newest breakfast joint on Main Street, why take on another restaurant?
"I think we felt there was somewhat of a void for bagels." At the time, the local bagel joint on Main Street was closing. It has since re-opened.
"We really wanted to expand on our style of food, which means everything fresh and working with local farms when possible. They also wanted a presence on Main Street beyond breakfast and lunch."
The cream cheeses are homemade and come in flavors like cranberry vanilla and chourico. The bagels, they say, are genuine, New York City style. Much of the freshly baked bread and treats made at Simply Gourmet come down here as well.
Starting last week, Base Camp remains open through the evening serving cocktails, tapas, and fondue. The nighttime name is Camp Cocktails. Initial offerings include tuna tartar with cucumber, avocado, crispy wontons, pickled ginger, and wasabi aioli, and grilled artichoke flatbread with spinach, roasted red peppers, tapenade, and feta.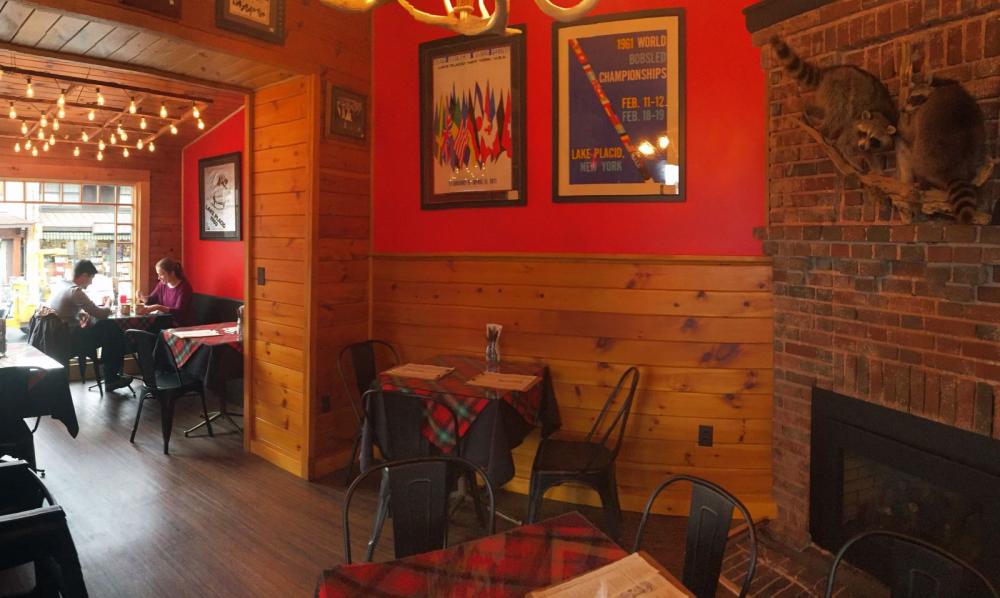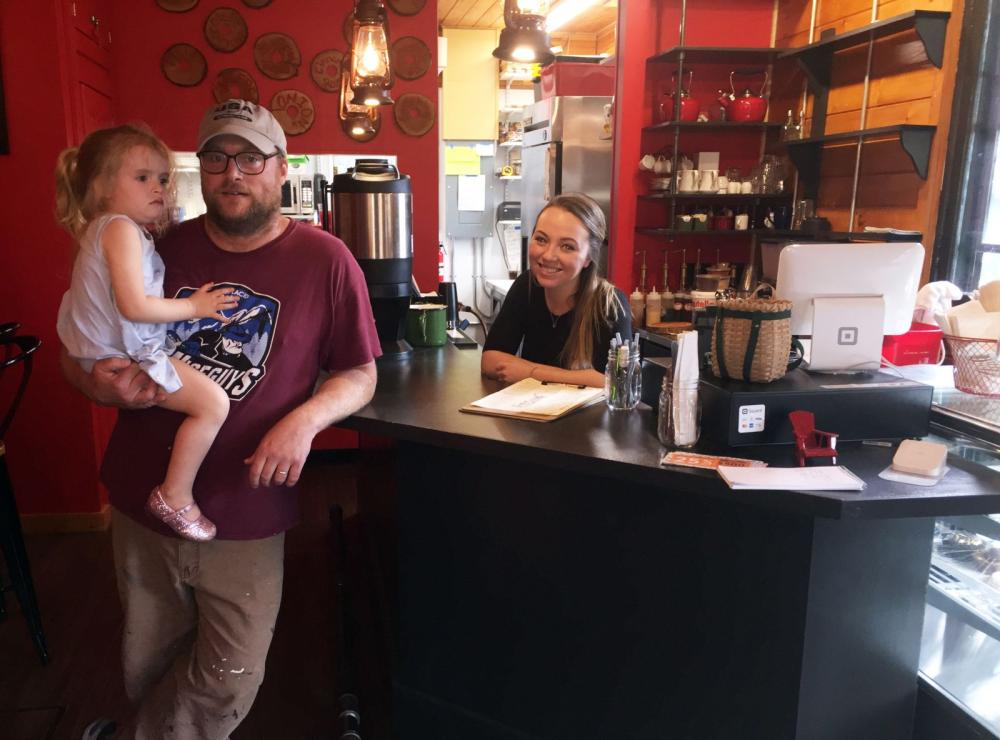 Jack Burns and Manager Emily Brown behind the coffee counter at Base Camp and Camp Cocktails
Base Camp: 2488 Main Street, Lake Placid
Cup o' Joe
Few things in life are as satisfying as a perfectly balanced cup of coffee, am I right? The folks at the Breakfast Club on 2431 Main Street have added an espresso bar, boasting better-than-Starbucks coffees and lattes. Owners Susan Berkowitz and Heather LePere opened a grab-and-go breakfast and lunch bar/local market on Main Street.
Across the road and up the way a hitch from the lakeside Breakfast Club is BC Market (2490 Main Street), serving fresh sandwiches and juice smoothies to go. Sue said their fried chicken is some of the best you'll find in the region. They also are building inventory of locally New York produced products for sale.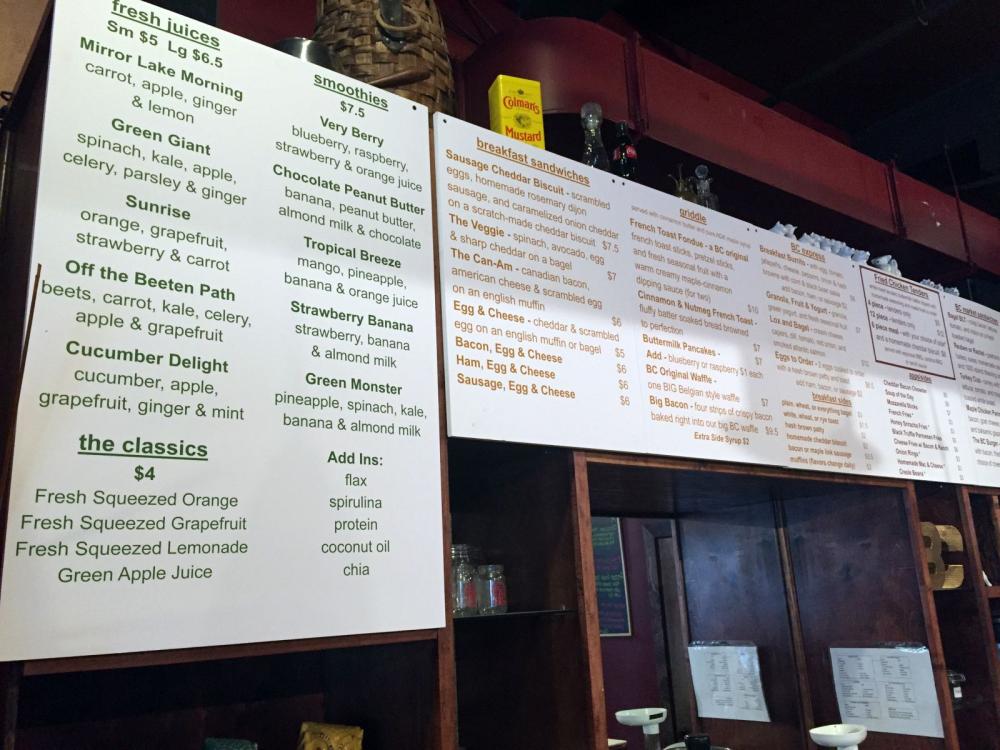 Back to the coffee, which is, I dare say, is delicious. Sue explained they use a high-end espresso machine that allows the barista to control the length of the espresso shot, unlike big chain coffee shops that use an automated machine.
"By brewing it longer, it brings out the sweetness, not the burned taste," Sue said.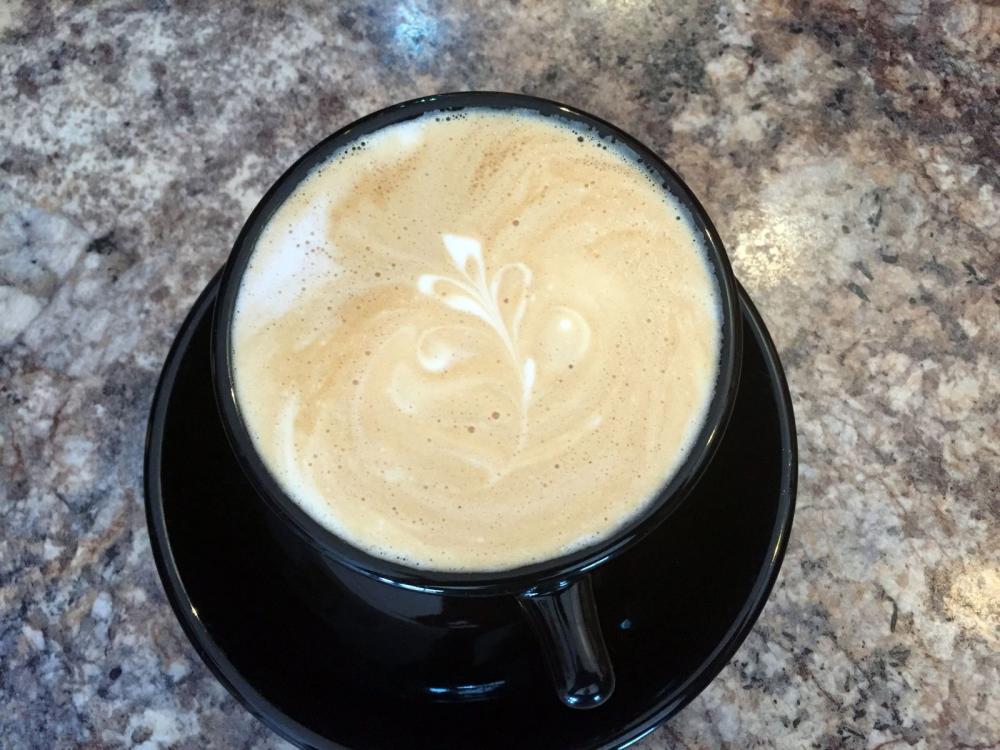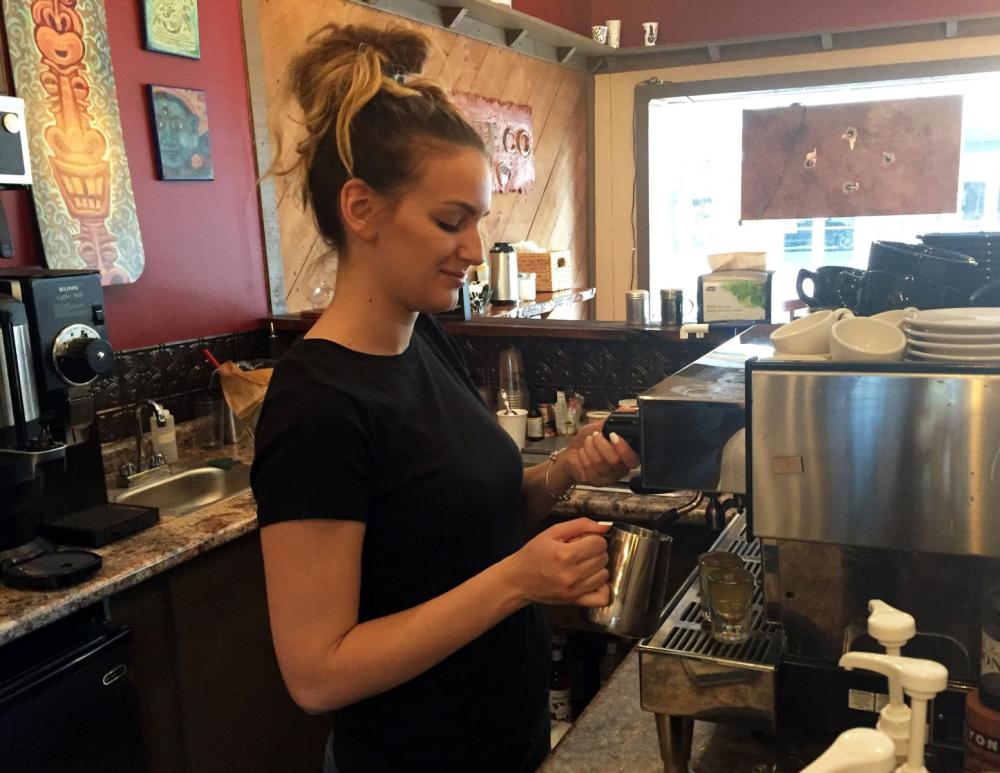 The Breakfast Club: 2431 and 2490 Main Street Lake Placid
New this summer is nitro cold brew coffee. Cold brewing produces a smoother products as the beans soak for up to 14 hours in cold water. The next step is placing it into a nitrous oxide keg, which adds the creamy creamy and sweet element (think Guinness). Sounds good to me.
---
This compact and picturesque Adirondack village is brimming with restaurants and brew pubs to try, many of which offer mountain and lake views. Want to earn your supper? There are myriad of hikes to choose from to invigorate your appetite!
---
ADK summer's in full swing:
Beach, boats, bands, and buffalo