Lake Placid is the perfect place to get close to the mountains, so you might be surprised to learn there aren't any ice fishing opportunities in the lake-side village. I reached out to the regional state Department of Environmental Conservation office, and learned there's a good reason for that. It turns out, a lot of the potential ice fishing waters in the Lake Placid area are considered brook trout waters, and brook trout — which are the state fish of New York — are very susceptible to ice fishing and can easily be overfished.
But before you cancel your ice fishing trip to Lake Placid, consider this — the village is within casting distance of several ice-fishing hotspots, so with its many dining, lodging, and entertainment options it's the perfect home base for dropping a line in the Adirondacks.
Connery Pond

The closest ice fishing location to Lake Placid is Connery Pond, which is merely a 4.5-mile drive from downtown. What you spend in minutes getting there is quickly made up for in the sheer beauty of the location. While out on the ice, your activities will be overseen by the 4,865-foot Whiteface Mountain. Don't worry — the iconic peak won't reveal the truth behind your one-that-got-away story, but its presence will provide ample distraction while you wait for a nibble.
This 81-acre pond is home to splake, yellow perch, sunfish, and pumpkinseed, and the DEC also stocks it with brown trout.
From downtown Lake Placid, take Route 86 east toward Wilmington. The sign for Connery Pond will appear on the left, just before a bridge over the Ausable River. If it's plowed and open you can drive down Connery Pond Road to the parking area, from which it's a short walk to the shore of the pond. If not, you'll have to park by Route 86 and walk a half mile to get there.
Copperas Pond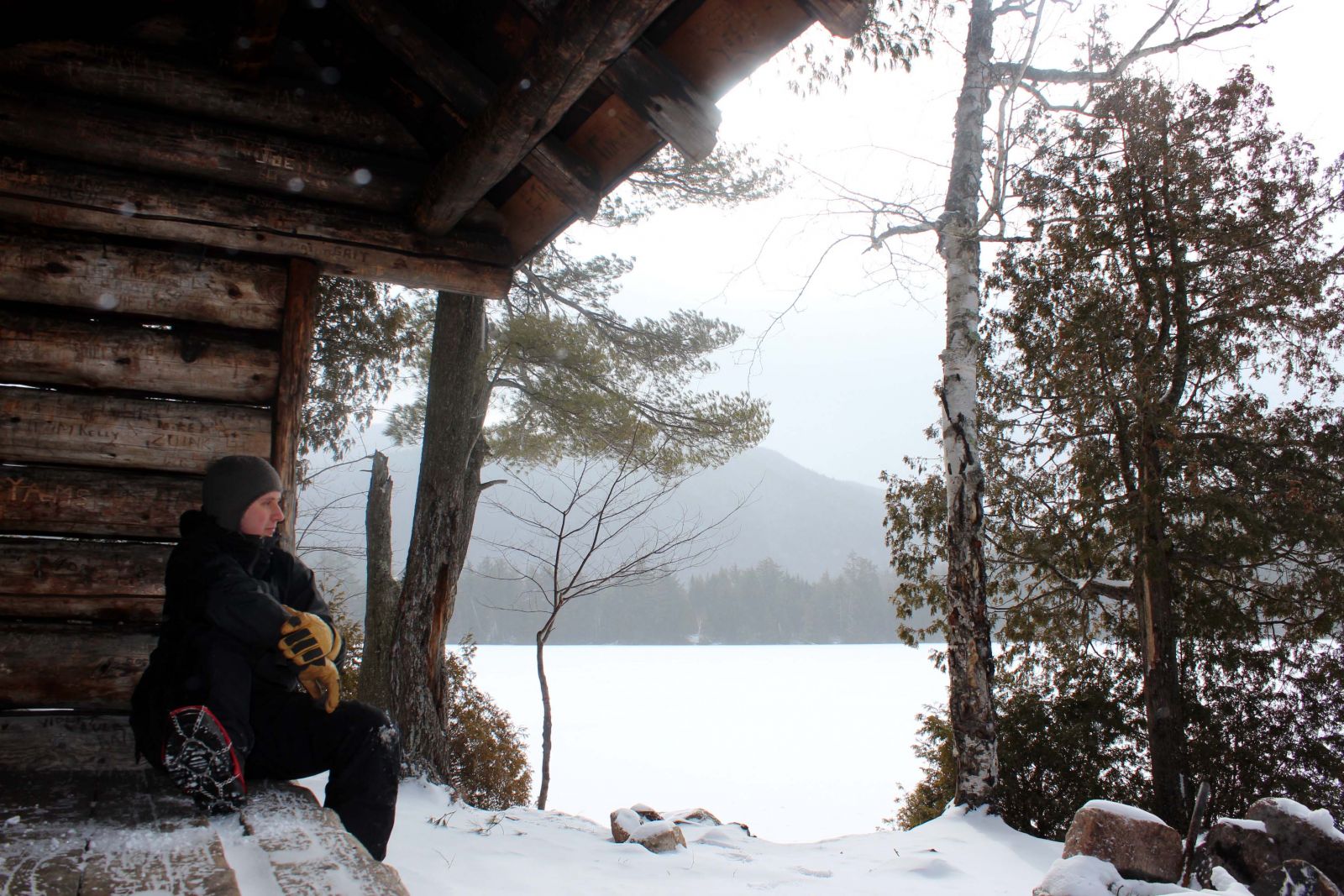 Copperas Pond is a little different than the other waterbodies listed here because it requires a stiff, half-mile hike to reach its rocky shores. Once you're there, though, you'll feel as if you're in a remote mountain refuge thanks to the deep little depression Copperas sits in. It's a tranquil place where only the loudest of vehicle noises make it past the boulder-strewn perimeter of the pond.
Take Route 86 east from downtown Lake Placid, toward Wilmington. In about 6.5 miles you'll see the large parking area on the left and the trailhead sign on the right.
The path wastes no time in its steep ascent from the highway. About halfway to your destination, you'll come to an intersection with the trail to Winch Pond. Continue straight and climb a little more before beginning the easy descent to the pond, which you'll begin to see through the trees once you're close. Taking a right at the shore leads over rough, rocky terrain to a lean-to. Left goes easily around the pond and eventually leads to a campsite where there's a nice view of Whiteface Mountain peeking above the treetops. This trail continues on to Owen Pond in 0.7 mile.
Note that ice fishing on Copperas is prohibited from Oct. 16 to March 31, making Copperas a great location for late-season northern pike and yellow perch fishing.
Lake Colby
If you're looking for easy access but don't want to feel like you're right in town, try Lake Colby, which is just on the other side of downtown Saranac Lake from Lake Flower. In the summertime there's a nice little beach and plenty of people canoeing, kayaking, and stand up paddle boarding its waters. In the winter, the ice becomes home to a miniature shanty town complete with snowmobiles and pickup trucks.
Sure, the ease of getting to the lake lends itself to Colby's popularity, but so does the diverse fish population. Within this 286-acre, 1-mile wide lake's waters lurk landlocked salmon, brown trout, rainbow trout, yellow perch, and pumpkinseed, so there's plenty to catch — and plenty of room to spread out.
To find Lake Colby, simply follow the directions to Lake Flower, pass the boat launch, and turn right at the second stoplight to stay on Route 86. You'll travel through downtown, where there are lots of shops, art galleries, and restaurants to explore, then you'll soon see the lake and the parking area on the left. It's about 2 miles from Lake Flower.
Lake Champlain
A list of Adirondack ice fishing destinations wouldn't be complete without including the grandaddy of them all, Lake Champlain. At more than 120-miles long, there is no shortage of opportunities, and there is no shortage of scenery, either. From the vast expanse of the lake you'll have sweeping views of Vermont's Green Mountains to keep you company as you vie for northern pike, landlocked salmon, lake trout, walleye, yellow perch, white perch, and crappie.
Good ice fishermen and women follow the ice on Lake Champlain as it expands through the season. Ice first forms in the bays in the northern section of the lake, and as it expands over deeper waters it also starts working its way south. Westport, Port Henry, and Willsboro bays — located about halfway down the length of the lake — are local favorites. There are shops in some of the adjoining towns where ice shanties and other supplies can be bought or rented. If all that's not enough to entice you to make the hour-long drive, you can rest assured the drive itself, which courses through the dramatic High Peaks, is one of the most scenic anywhere.
From downtown Lake Placid, take Route 86 east and turn right on Route 73 east, heading toward Keene. Shortly after you pass through Keene, turn left on Route 9N and follow it to Elizabethtown, where you'll turn left on Route 9 and then right on Route 12, toward Willsboro. Continue straight to stay on Route 14A when Route 12 turns right to reach Willsboro. The total drive is about 45 miles from Lake Placid. Check out a map of the Lake Champlain Region's Adirondack Coast here.
If you are new to the sport of ice fishing, there are many outdoor guides who will be happy to take you out on the ice and show you what this sport is all about!
---
After returning to Lake Placid, take advantage of the many shops and entertainment opportunities, most of which are within walking distance of our lodging properties. And leave the cooking to us — you've earned it!
---
This week in related ADK ice fishing news: