As a self-proclaimed avid hiker, sometimes I don't always have time for a four-to-five hour hike, or even a one-to-two hour hike for that matter. Luckily, we have many quick hikes that still offer excellent views! I have chosen my three favorite short hikes to share.
First Up: Owls Head in Keene
Please note: The Owls Head trail in Keene closed in 2017 and will remain so until further notice. Please respect the landowners' rights and avoid using it.
Let's clarify which "Owls Head" this actually is. So, there are three hikes in the Adirondacks with a similar name: "Owl Head Lookout" in Elizabethtown, "Owls Head Mountain" in Long Lake, and the one I'm writing about, "Owls Head" in Keene. This hike is just over a half mile up to some outstanding, almost 360-degree views of the surrounding High Peaks.
I recruited my friend, Kimi and her hiking mate, Ralphie, a 110 pound Hovawort (Google it), and my puppy (okay, he's 5) Sam the Dog, to join me on this adventure. You can find the trailhead on the aptly named Owls Head Lane, which is off of Route 73 about 12 miles from Lake Placid. You'll follow a dirt road until it forks, and that's where the trailhead is. While this is a short ascent, it can be a bit steep and rocky at times, but the views are worth the elevated heart rate. To be fair about the steep and rockiness, we saw many young kids with their parents/camp counselors comfortably conquering this small mountain. There are a few lookouts on the way up offering glimpses of what's to come at the summit. One of my favorite views is of the rock wall sitting below the summit.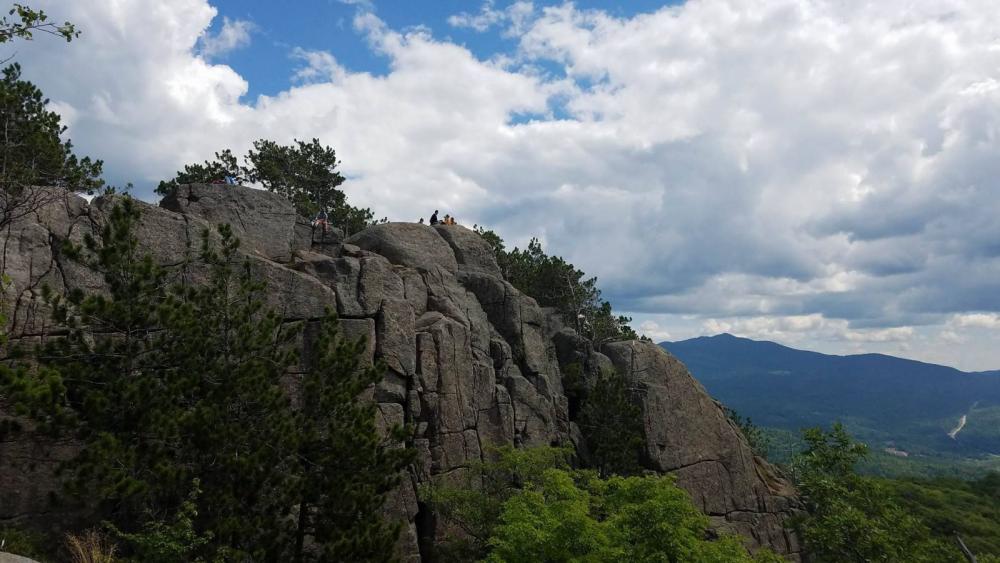 From this lookout the trail gets a bit rockier before reaching the true summit. While I truly do enjoy hiking, sometimes it feels like my feet aren't super positive about where they want to go and how to get there, especially when tackling the rockier sections of mountains. So it takes me a bit longer to ascend and descend than my hiking partners, but that's all right! We're outside, enjoying each other's company and nature's hospitality, and there really is nothing better.
Just before reaching the summit you'll find patches and patches of fresh mountain blueberries. We know these are edible blueberries from having grown up in the area and gone on many a hike/walk where there are wild blueberries. I must advise, though, to never eat a berry you find in nature unless you are absolutely positive what it is and if it is edible or not!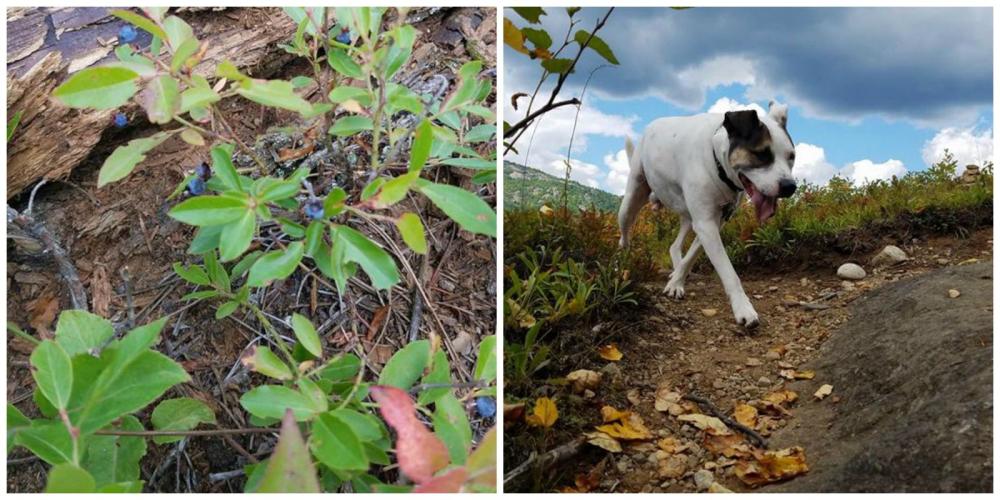 I finally joined Kimi, Ralphie, and Sam at the summit where we were greeted, quite excitedly I may add, by a group of young pre-teen girls from an overnight camp. They were LOVING the doggies. It was a pretty warm day, low 80s, so we, dogs included, refueled with lots of water while enjoy the views of the surrounding High Peaks.
The group of campers began their descent before us so we gave them a cushiony head start, knowing they'd be a bit slower than us. Sam decided he didn't want to quite leave the summit, so Kimi and Ralphie got quite a bit ahead of us on the way down. We met some other dogs and young kids with their families. Needless to say, this Owls Head is quite a popular hike during the summer!
On to the next one! Cobble Hill in Lake Placid
Seeing as Owls Head took us only maybe an hour round trip, we decide to "conquer" Cobble Hill in Lake Placid immediately after. With the trailhead located just off of Mirror Lake Drive in downtown Lake Placid, this hike is easily accessible, with a new, well signed parking area next to Northwood School. The trail begins as a leisure walk through the woods, eventually coming to a crossroads where you can choose from two trails.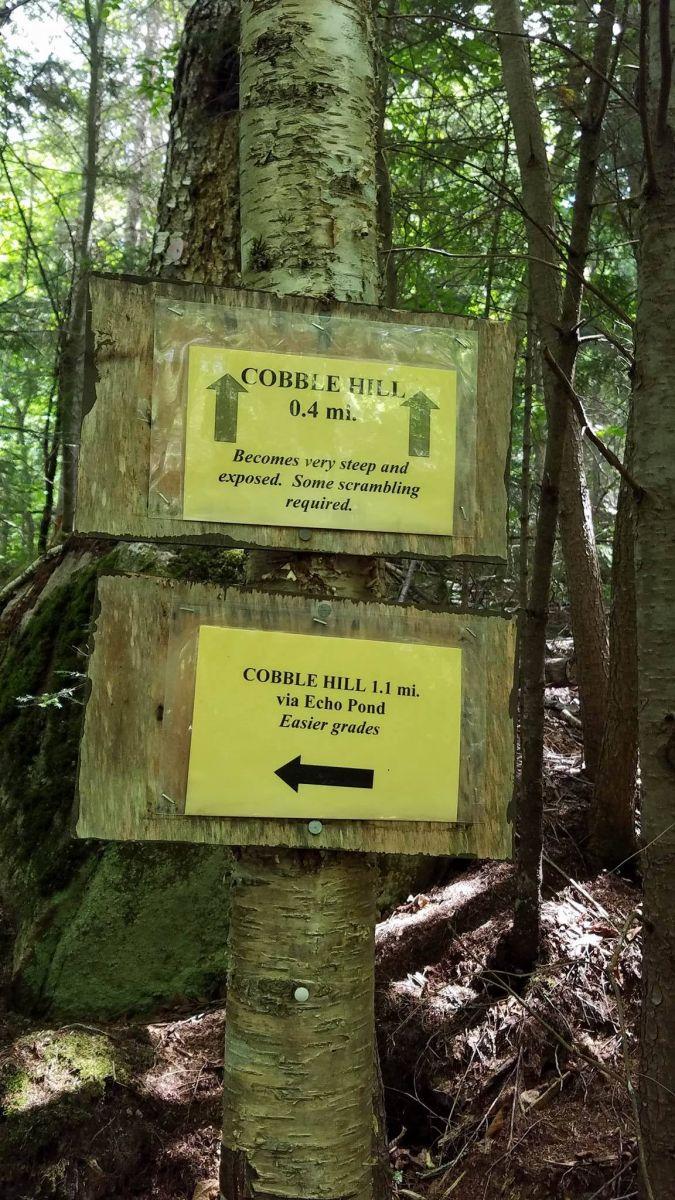 Normally we choose the steeper grade, but for all intents and purposes of doing something different, we chose the easier grade via Echo Pond. I believe the dogs appreciated this decision so they could take a quick dip to cool off before the short hike up. Echo Pond is always so peaceful, no matter the time of year.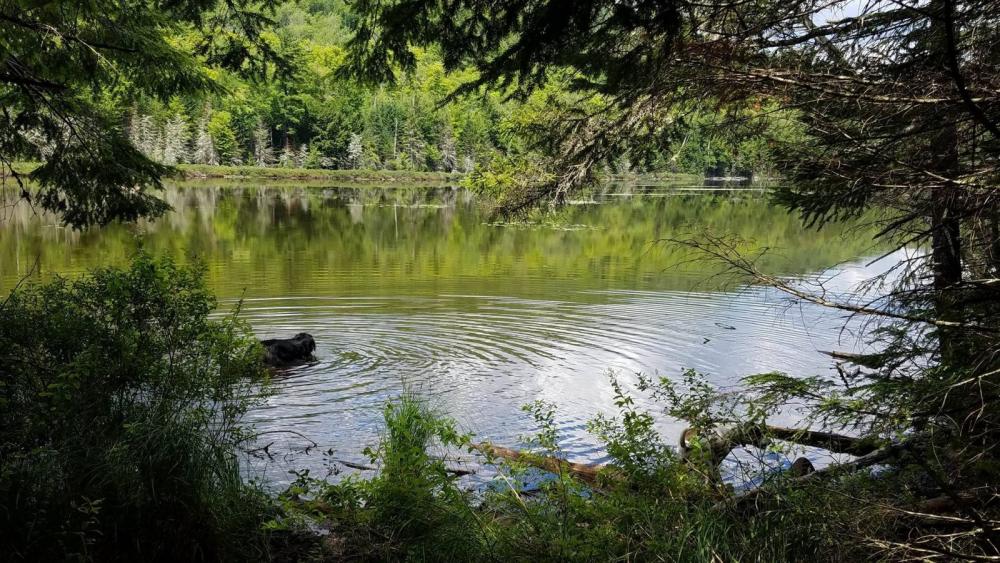 Surprisingly, Cobble was a lot less busy than Owls Head. We only met one family on our way up and a separate family once on the summit. The longer, easier trail up Cobble bypasses the exposed rock face you would encounter ascending the shorter, steeper trail, and it takes you to a second summit of sorts with wonderful views of the High Peaks region we had just come from. After snapping a few pictures for the family we met and answering questions about the surrounding High Peaks, of which I could proudly name a handful (I'm getting there after 27 years), we made our descent down the steeper trail.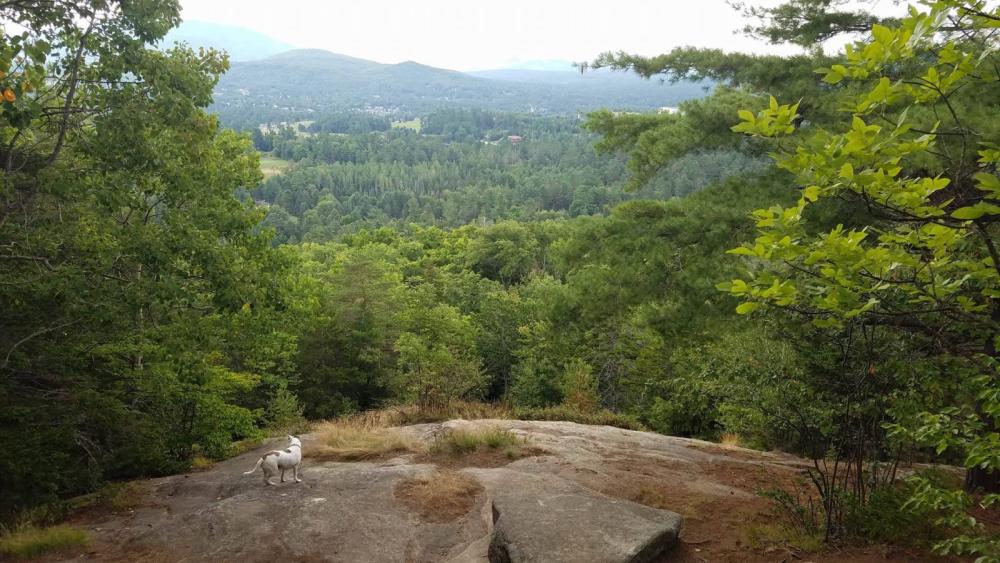 Not far after tackling most of the exposed rock is a section of the trail the requires some rope assistance that has so kindly been installed for hikers. This is the trickiest part of the climb. Luckily, my true Adirondack dog (Adirondog, if you will) doesn't need help so I can focus on helping myself down the rocks via the rope. Now I know why we always come up the steep way. It's a lot easier using the rope to climb up the rocks than it is using it to guide you down them, in my experiences anyway. That being said, it's doable and quick. I get stuck behind a group of young boys of which it seems this is a first hike for many and patiently watch them use the rope to climb up the rocks. They were fascinated that they have seen not just one, but two dogs on their trip! Cobble Hill allows for a nice, looped hike any time of year. It is one of my favorite snowshoe hikes in the winter.
Last, but not least: Mt. Jo
So now I think I should tell you our original plan. We wanted to achieve all three of these hikes in one day just to say we could. However, we began our trip up Owls Head at 11:30 a.m. rather than 9:30 a.m. as originally planned, for undisclosed reasons, and Kimi was supposed to work at 5 p.m. So, we saved Mt. Jo for another day. Besides, I know my Sam the Dog had had enough heat and exercise for the day!
The trailhead for Mt. Jo can be picked up at the end of the Adirondack Loj Road off of Route 73, just past the ski jumps. There is the High Peaks Information Center near the parking lot, where you can have your questions answered and use the facilities!
The trailhead for Mt. Jo starts at the snowplow turnaround near the parking attendant's booth. This is also the trailhead for Rocky Falls, which is easily one of my all-time favorite waterfall walks. Passing Heart Lake, the trail for Mt. Jo will be on your right. Like Cobble, Mt. Jo has two separate trails to choose from; short and steep or long and sweet. This time, we picked the short and steep trail. Having hiked Mt. Jo a handful of other times, I know it is going to be a rocky, 1.1-mile climb.
Just before the summit is a small ladder to assist you to the top. It should be noted that dogs must be kept on leashes while in the High Peaks Wilderness Area. Sam the Dog and Ralphie were okay off their leashes on Cobble and Owls Head. We reach the summit in just over 45 minutes. Mt. Jo is a very popular hike year round, especially in the summer months, so the summit is quite busy, but for good reason — views of the High Peaks surround you.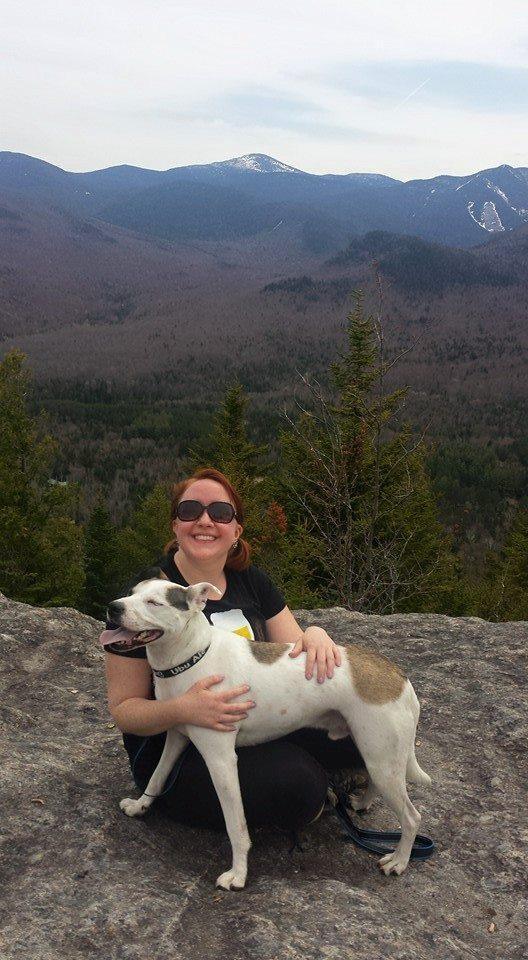 We pick the "long" way for the descent. It's a much smoother trail, and this is the way I prefer — it's easier on the knees! On a warmer day, the pups like jumping in Heart Lake before and after our hikes. I have also gone snowshoeing up Mt. Jo in the winter, which is most enjoyable.
These three hikes are family friendly, dog friendly, and time friendly. So, we have another date set to accomplish our trinity of hikes in one day, and I'll be sure to let you know how it goes! One of the best parts of hiking is the food and drink that can be enjoyed before, after, or during your hike, along with the comfy lodging options to find rest afterwards!
---
This week our bloggers highlight favorite ADK hikes: