It started light and innocent, a frolic just for fun
I said, "Hey, let's get ice cream everyone!"
The banana split came; I ate it on the run
I fought the sundae and the sundae won
All misty eyed
It was a sunny Tuesday afternoon when a couple of coworkers and I did a biathlon tour of two Lake Placid ice cream stands. It was a delicious trip that left me breathless and nearly incapacitated.
I managed to refrain from ordering something at our first stop, Mountain Mist, because I ate lunch only an hour prior to our journey. I was just stalling, really, and it had no bearing whatsoever on my upcoming battle with gluttony.
Back to Mountain Mist. This is a great spot if you're staying on the outskirts of downtown, or if you're looking for a spur-of-the-moment dessert after eating at one of the nearby eateries.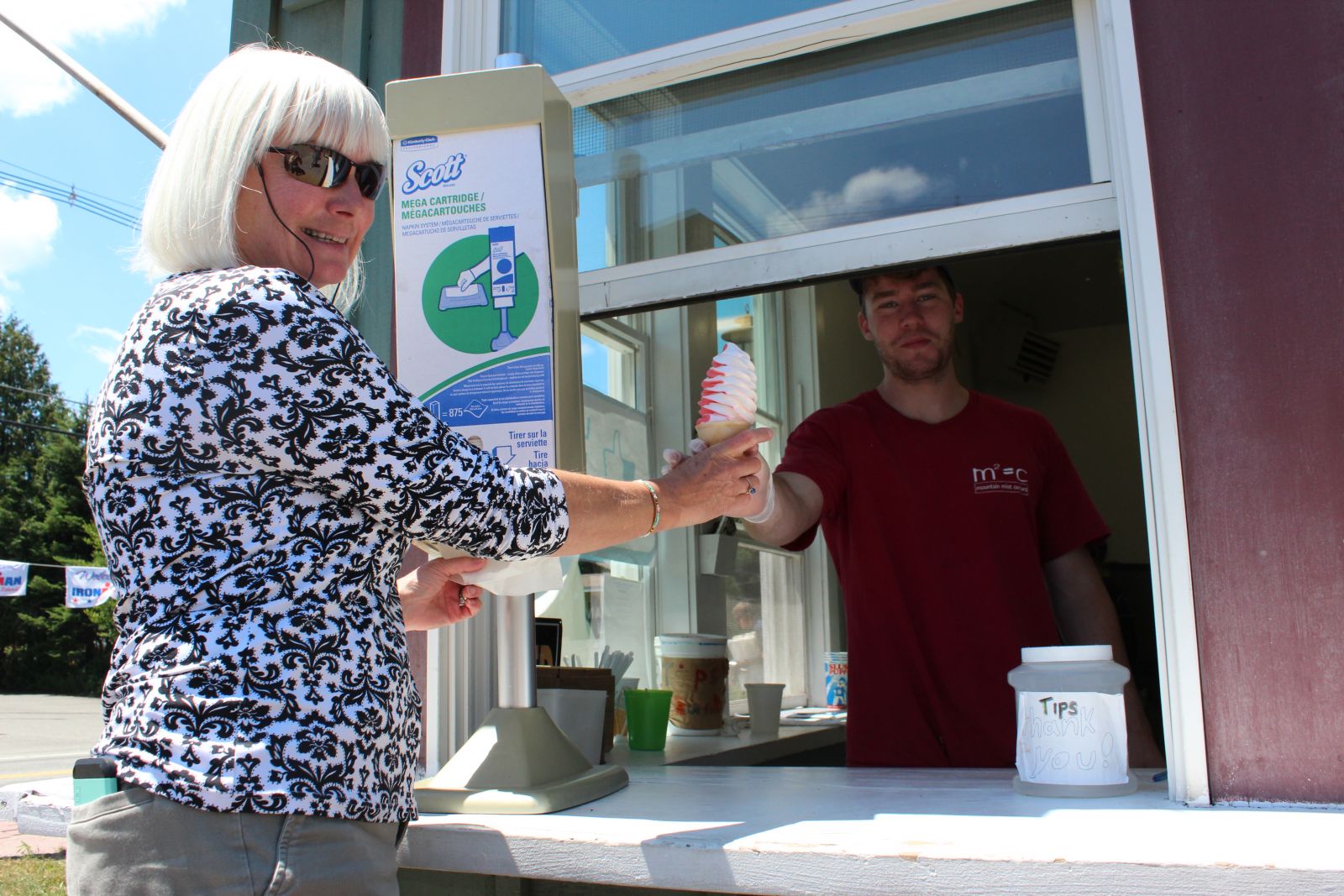 Sue ordered a cherry-vanilla twist, which came swirled high atop a cone. She commented about the firmness of the ice cream — since it's not too airy it's not overly soft, which is just the way she likes it.
Down for the count
Our next stop was the Pine Cone, a welcoming little ice cream stand that's across from Tail O' the Pup, on the way to Saranac Lake. Kerry wisely ordered a medium chocolate cone, a delectable spiral of ice cream rolled in rainbow sprinkles. It's a healthy serving, but it's not quite big enough to deal a sugar-crash haymaker after consumption. I opted for a personal favorite — the banana split sundae — and that shut the door on my productivity for the next few hours.
The sundae came in a banana-length boat that was filled with three flavors of ice cream, whipped cream, peanuts, cherries, pineapple, and strawberry and chocolate sauces. I thanked the woman who made it and made my way back into the warm day. What ensued was a battle to eat the contents of the boat before the sunshine jettisoned it onto my pants.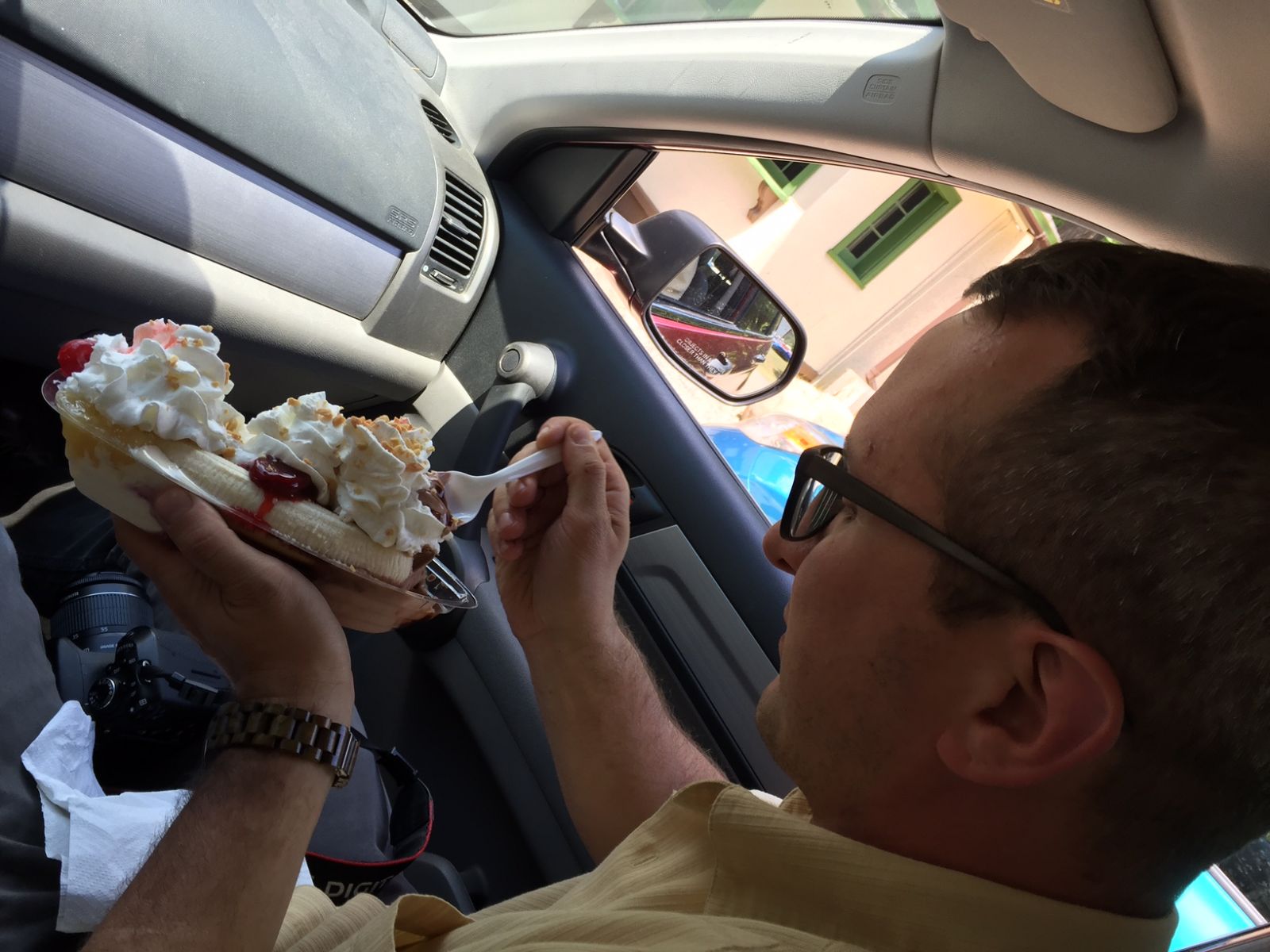 I'm not a particularly fast eater, and I'm not one to gorge myself either. I did both in my race to keep ice cream from streaming down my arms. About halfway through the ordeal I realized I had met my match. There was no way I could finish the toothsome treat and remain standing. The sugar crash came about an hour later, and I struggled to stay adrift the rest of the day. It was a small price to pay for such a flavorful fracas.
I don't bring my dog to work so she wasn't present for our ice cream field trip, but if she were there she'd be in luck because the Pine Cone offers a free doggie cone with every ice cream purchase. It's a baby-sized cone topped with a dollop of vanilla ice cream. They aren't the only place to offer such a treat.
Other ice-cold emporiums
Besides the regular ice-cream-based human fare sold at the Corner Store, the small mart also has doggie sundaes, which are a dog treat and vanilla ice cream in a bowl. It's sure to win you a few wags.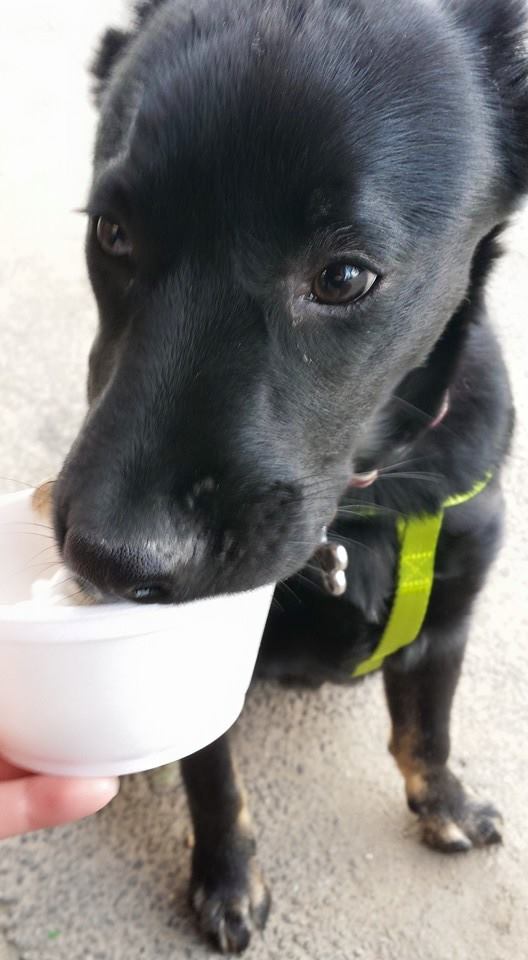 The corner store is an easy stop if you're making your way into Lake Placid along Route 73, but if you're already in town you have to check out Emma's. A group of us made a work pilgrimage there and no one left disappointed. As Dan lustily slurped his green slurry bowl, Glenn hunkered down into an ice cream sandwich. Others went for various flavors of ice cream while I ordered a maple ice cream milkshake, which was delicious. That alone is worth a trip to Lake Placid, I'd say.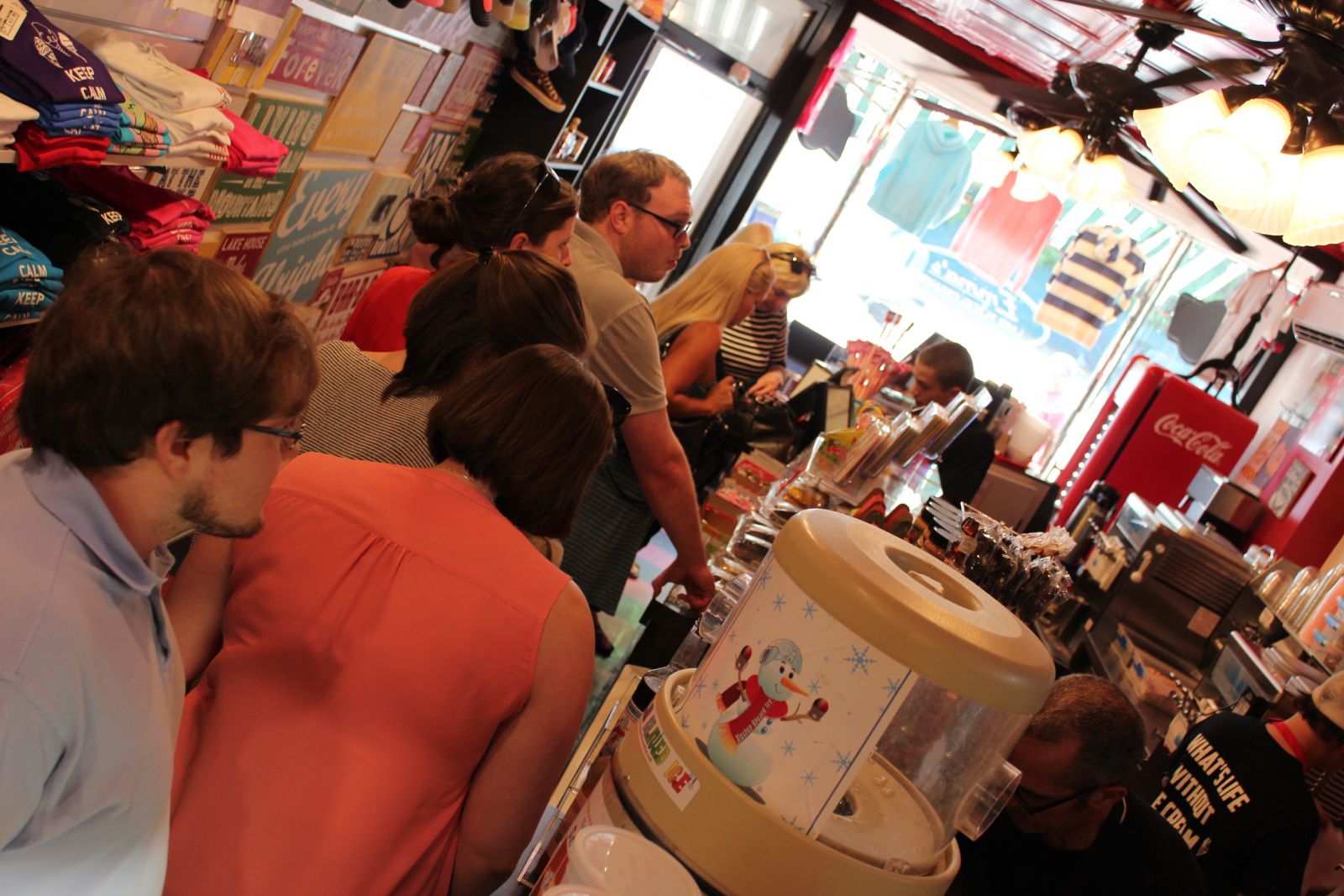 If you're like me, you do more hiking than ice cream eating. Well, there's no need to choose one over the other. If you're hiking the Great Range or Giant Mountain than you're near the Noon Mark Diner in Keene Valley. They have a walk-up ice cream window through which they can hand you one of dozens of ice cream flavors. But if you're at the Noon Mark, you'd really be missing out if you didn't get that ice cream scooped atop one of their homemade pies.
And if you find yourself in an ice-cream induced coma, check out the Lake Placid Region's many lodging and camping options.
---
This week's ADK scoop: