How do I get myself into these things? Oh, yeah, skip one little day of work...

Taking one for the team. Literally.
So, I work with some awesomely athletic people. Really. They are always out adventuring through the backwoods, climbing the Adirondack High Peaks, paddling on Mirror Lake or waterskiing on Lake Placid, entering extreme competitions... you get the idea.
I love scrolling through their posts and virtually cheering them on as I enjoy my third pot of coffee and try to invoke the energy to face my own extreme challenge: wrangling a super-active almost-7-year-old boy.
Imagine my surprise one late-Friday afternoon when I was checking my upcoming work load and saw the words "Mini-Tri" typed in for the following Monday. WTH? Did I write that? Did I offer to enter a mini-tri? I don't remember this - and I know I'm getting older, but I'm not going crazy. Did I have an outer-body experience? Was I sober? This doesn't sound like me. At all. I am the one that offers to do family-fun adventures, spa trips, and eating - I mean, c'mon someone has to take one for the team.
I quickly confer with the powers that be (aka my boss) and find, "Oh yeah, I forgot, you missed the meeting on Monday, we volunteered you. Figured you wouldn't mind doing the run part of the Monday night mini-tri if we entered as a team." So, it seems, I am actually taking one for the team after all. One leg of the race, that is, on two very not-mini-tri-ready legs. And, that is how this story begins...
I am horrified. Seriously.
A Monday night Lake Placid tradition
For as long as I can remember, the mini-tri series organized by High Peaks Cyclery has been a Monday night summer tradition. It consists of a 400-yard swim, 12-mile bike, and 3-mile run. I have often cheered on the competitors as they've lapped me while I leisurely pushed a stroller, wrangled a wobbly toddler, or most recently jogged slowly next to a bike on my daily ATL — that's what locals call the 2.7-mile path "around the lake."
I have never participated. I have never even considered that it was an option. If it were not for work, I can honestly say that would sadly have remained true. See, I have the perfect excuse — it's hard to sign up for things when you have a child by your side. I even used Oliver as my excuse on Monday, I couldn't get a babysitter, so he had to be part of our tri team. (Note: this did not work out to my advantage as I was soon to learn.)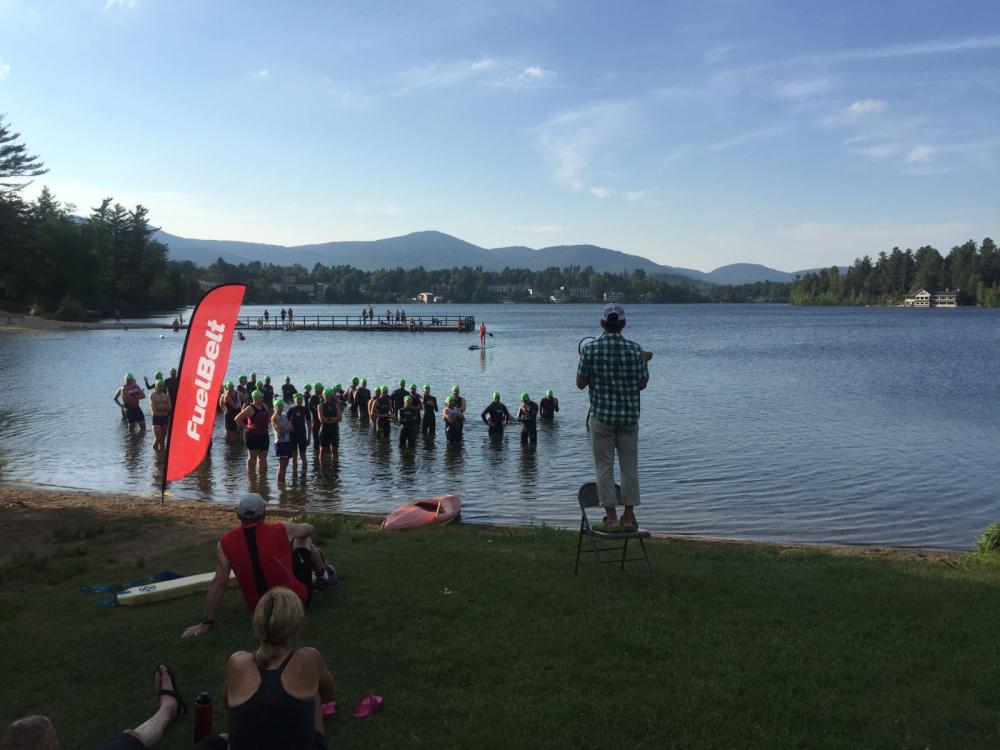 Lesson 1: Athletes of all abilities are welcome to enter the race.
Here's the first thing that I learned: There are athletes of varying abilities that take part in the mini-tris. I had always assumed this was a pros-only race. It is not. There are, of course, a good deal of professional athletes signed up for the event - it's a great chance to work on transitions. However, there was also a strong contingent of folks trying to work on their own personal bests. Our team is a good example: Jasen is an Ironman athlete, Dan competes in a good deal of events, and I dabble at local 5ks - when I can get my sneakers tied on time.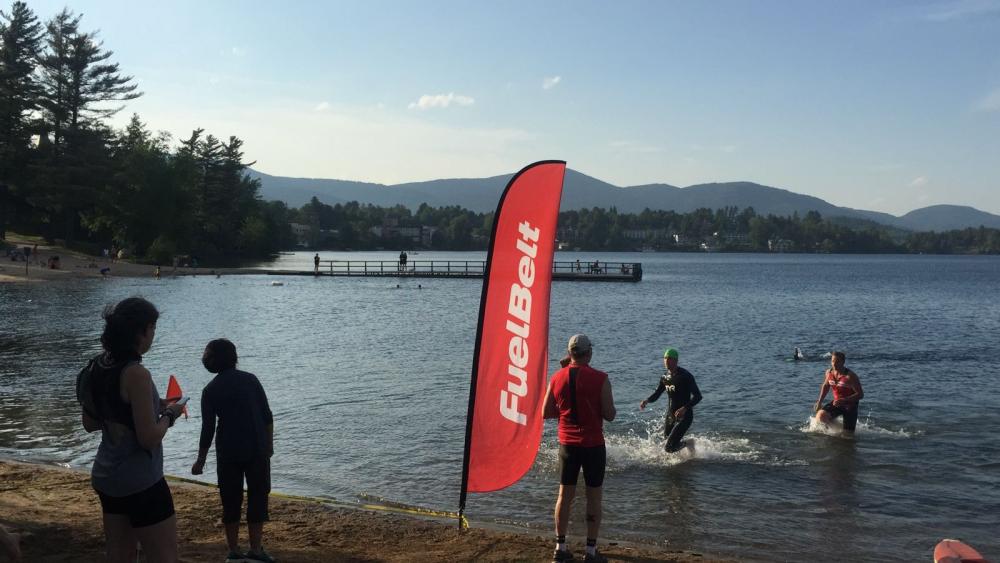 The Swim
Jasen starts our team off in the 400-yard swim portion of the race. Brian has outlined the rules: keep the buoys on your right, space yourself according to your ability, yell out your race number as you exit the water...
Since this part of the race was out of my depth, I asked Jasen to give me his assessment:
The mini-tri swim is a lot like any swim in Mirror Lake — really nice! Even by mid-June the water is approaching 70 degrees and is comfortable in or out of a wet suit. What I love most about this swim is how calm the lake is, there are no currents or waves (well, sometimes mini ones, but it's no ocean!) to contend with. The mini-tri race is a great way to dip your toes in the water of distance swimming in Mirror Lake. Because it follows the shoreline fairly closely you have ample opportunity to swim over if you find yourself out of your depth – and because this is a race, there are lifeguards watching to make sure you're safe! Not too mention the other swimmers give you a little competitive motivation!
Side note: When an Ironman competitor tells you not to worry about dragging the team down, and that he hasn't really been training, do not believe him. Damn speedy sporty-types!
The Bike
Dan is pedaling the 12-mile course for our team. While he is a fairly avid mountain biker, he has just earlier this afternoon tried his first turns on Jasen's road bike. I can't even imagine what a difference this must feel like to him! Also, I am horrified by the thought of having my shoes attached to the pedals, I am way too clumsy for that.
Oliver thinks it's so cool that the bikers are barefoot, "Do they ride the whole race that way? Can I ride my bike that way!?" This leads us to a discussion with Karen Delaney about some interesting things we just never knew - or thought about. ie., Village law states that you are not allowed to ride bikes on the sidewalks, so...
Lesson 2: Many bikers dismount their bikes, leaving their shoes attached to the pedals, and proceed barefoot as they transition into the run portion of the race. Check out the pic!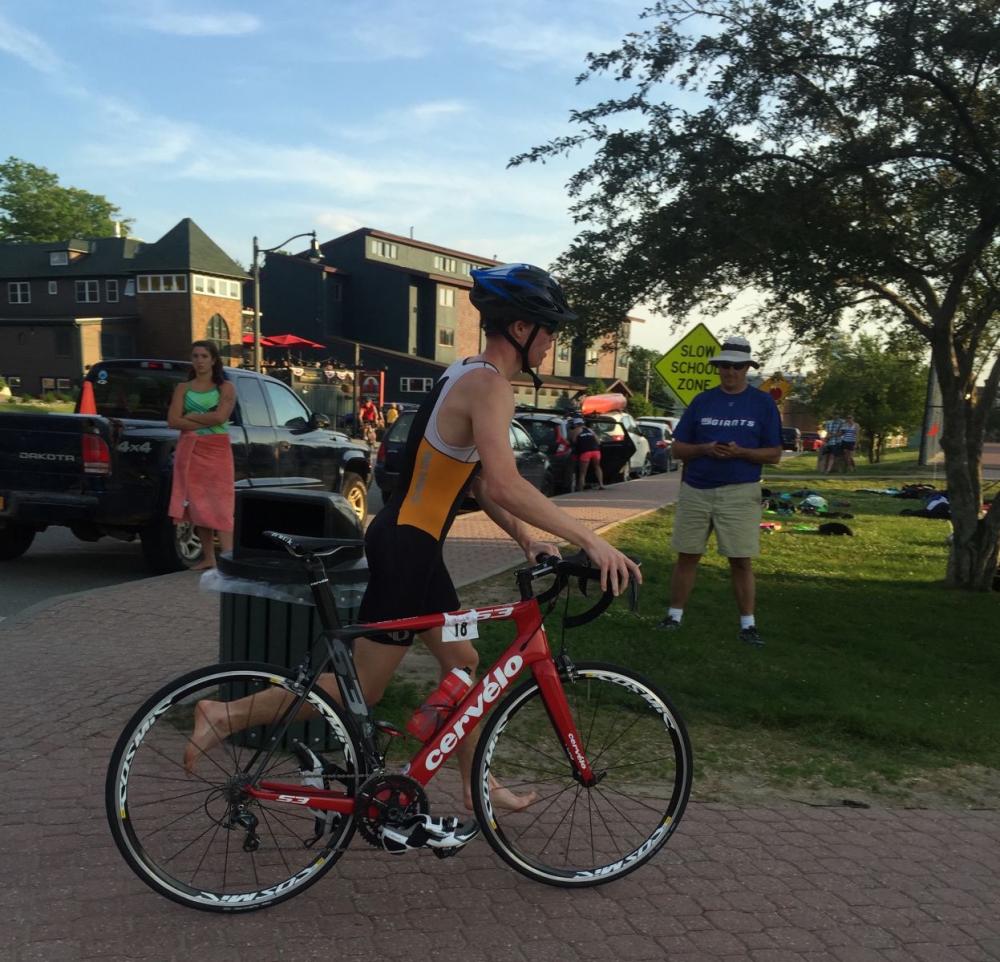 While we wait for Dan to come in, I give Oliver the low-down: This is not a kids fun run, he is being granted a special chance to run in this race only because he is part of the ROOST team - a mini-ROOSTer for the day; He can't weave back and forth, do ninja kicks, or sing songs to other runners; he needs to follow the path, be polite, and say excuse me if he is trying to pass folks; always remember to look both ways before crossing the street, sit at the water station if he needs a break, and most importantly, stay with me - we are a team!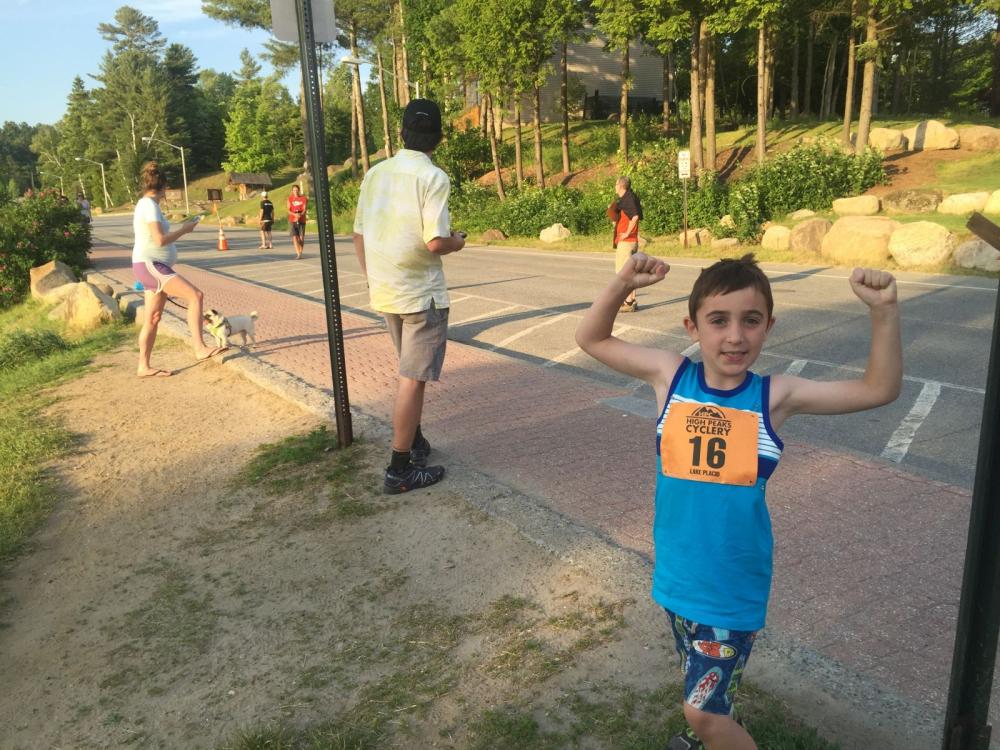 He is psyched. He has warmed up and is ready to go. I am psyched. I have an excuse, "Sorry, I'm sure I could have gone faster, but, y'know... I had Oliver with me."
Lesson 3: If you are watching the race from the transition area, please stay off the sidewalk. While the runners all know they are sharing the walkway, it helps to have spectators stay clear. Personally, we apologize if we have ever inadvertently slowed down a racer's pace!
The Run
My two legs take on the the third leg of the race - 3 miles on a mix of pavement and dirt. The run starts at Mirror Lake Beach, follows the paved path ATL to Mt. Whitney Road — where there is a water stand, yeah! — and then heads down the dirt road to a turn around, and then back on the same path.

I quickly realize a few things:
I have never run any distance at night - it's always been early morning.
It is quite literally the hottest day of the year so far - and hotter than average, at that.
It is totally disconcerting trying to figure out a pace when there isn't a mass start and a group to follow.
My 6-year-old son is super-competitive.​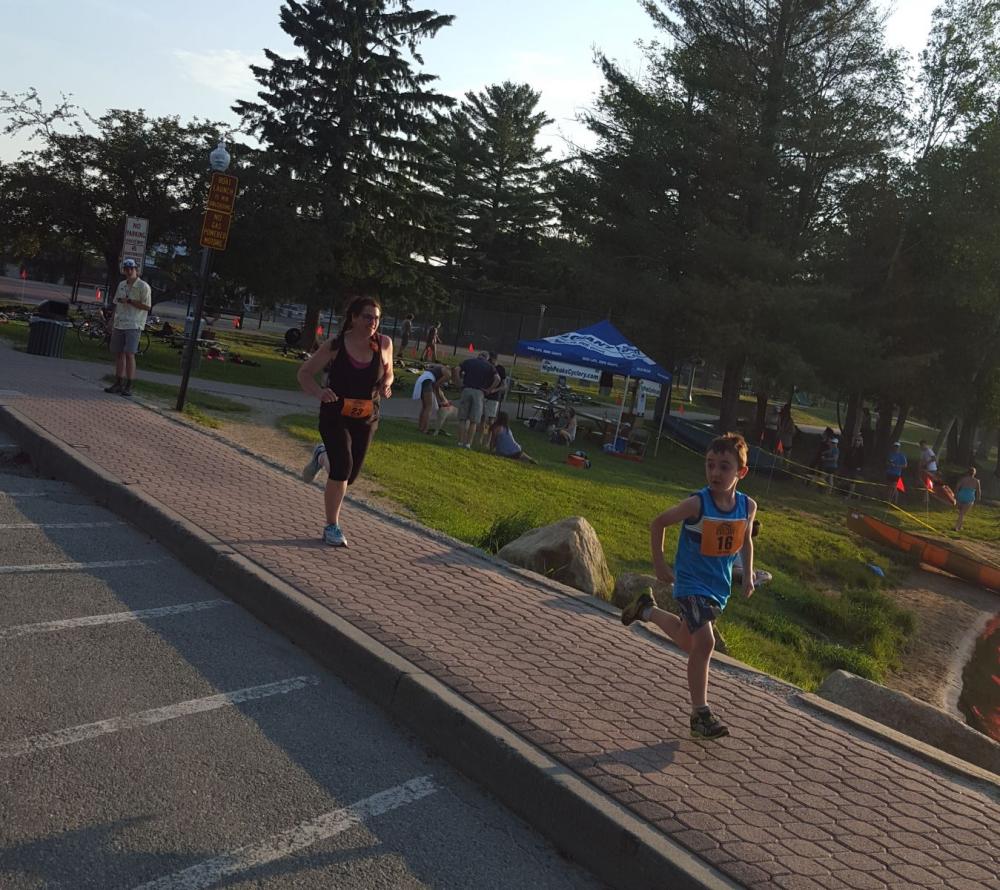 Within seconds Oliver has taken off at full speed. I implore him to slow down, pace himself, this is a longer-than-usual run. He reluctantly stays just a few steps ahead of me for the first few tenths, slowly pulling further away as we start up the small hill just past the Boat House Restaurant on the backside of the lake. With a glance back at me and a pretty-please smile, I can't help but give the nod. He takes off. I figure the worse that happens is he tires himself out and has to stop. There are enough people running that I know he won't lose the course, and actually I had driven it earlier with him - just so he'd have a feel for where we were going, and where he could wait for me if he got tired and couldn't keep up.
(That part makes me laugh.)
I get to the dirt road section and grab a water bottle - I'm pretty sure Oliver hadn't thought to take one. As he approaches me in the midst of a group of runners, I hand it off to him and give him a big thumbs up. Then I stop and walk a few paces. Because, holy moly, I can't keep up with a 6 year old. I have been smoked. Blown away. Left in the dust. And, I am hot and tired. But, while I may not be super-competitive, or super-speedy, I am in part of a team. Time to suck it up and start jogging again.
Lesson 3: While I may be slightly embarrassed that I can't keep up with my child, I thought I would be very uncomfortable running among such top-notch athletes. Honestly, everyone was so, so supportive the whole time. "You can do it... looking good... almost there..." You name it, I heard it as we passed each other on our separate journeys, working toward our own personal goals.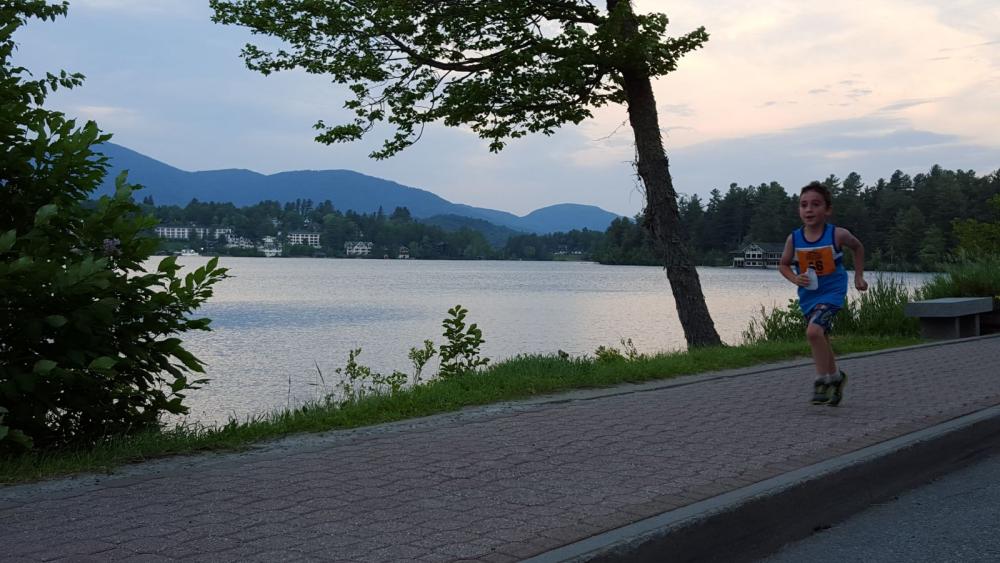 I wasn't at the finish line to cheer on Oliver, but I hear there was an enthusiastic crowd of supporters. It gives me just that much more incentive to train a bit harder, and maybe, perhaps by the end of the season, I'll leave him in the dust. Just once.
Needless to say, I did finish the race. Eventually. It wasn't my personal best - by several minutes - but I tackled many firsts that I am pretty proud of, so there's that.
Would I do it again? Well, considering the first words out of Oliver's mouth on Tuesday morning were, "Mom, can we pretty-please do that race every single Monday!?" I guess you'll probably see us out there.
Although... next time maybe I should opt to stroll across the street, grab a pint at the Pub, and then be there to cheer him on as he crosses the finish line. Now, that's an idea — after all, a mom's got to do what a mom's got to do!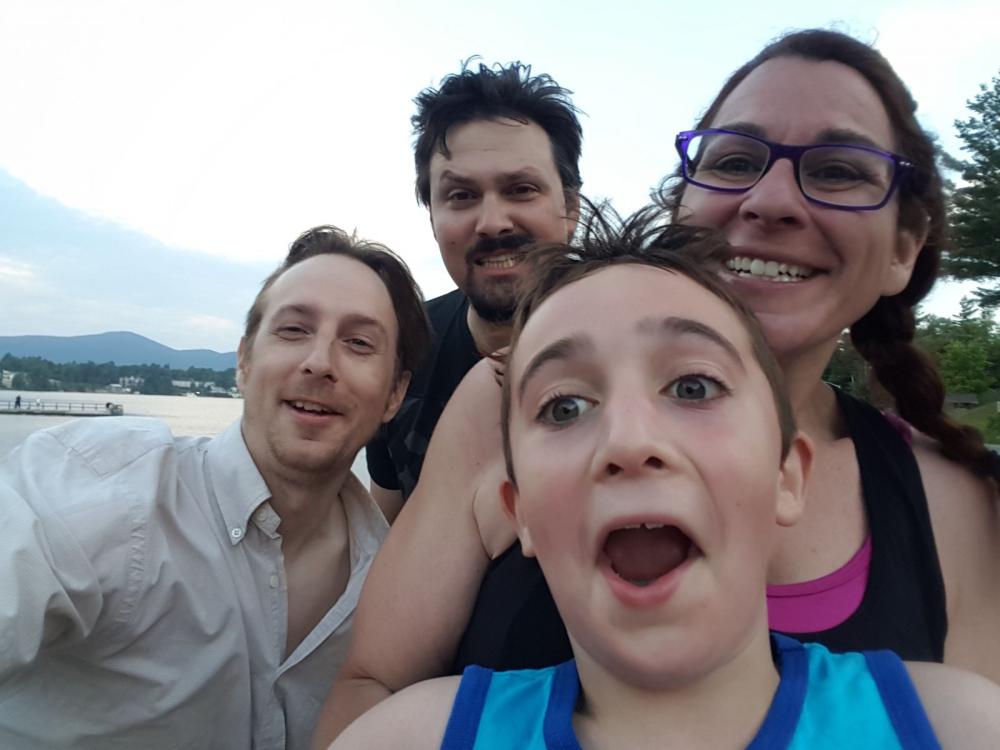 On a serious note, I am totally impressed with this long-standing race. High Peaks Cyclery has got the process down to a science, and it is definitely a well-oiled machine. No wonder it's been turning people on to the sport of mini-tri for 32 years! Travelers and locals alike are welcome to participate. Look for the pop-up tent near the tennis courts.
The 2016 Monday Mini-Tri Races run weekly through August 15th.
Registration at 5:30 pm, pre-race meeting at 6:30 pm, followed by mass start.
*Please note: the July 4th mini-tri will be a morning event.
Registration at 8 am, pre-race meeting at 9 am, followed by mass start.
Entry fee is $20 for individuals, $45 for teams.

And, hey, for those of you asking...
Yes! There are 2 kids races scheduled for 7/18 & 8/15 at 3pm.
Whether you are looking to work on your transition times, conquer the 1-hour mark, set a new best course time, or simply experience a mini-tri, this is a supportive fun way to get in the racing spirit! Speaking of support - perhaps racing isn't really your thing? There are lots of great opportunities to support our athletes! If you'd like to get really close to the action of a full triathlon, consider becoming an Ironman Volunteer - click here to see how you can help!
Hopefully I'll see you out there - remind me that I have a 6-year-old kid to keep up with if you see me slowing down!
---