Here in the Adirondacks, you'll find a host of great outdoor activities, tons of Olympic history, delicious food, and great bars no matter where you turn, and friendly people who almost make you feel like you've gone back in time. Another thing that makes me feel like I'm in a different era is the fact that so much is literally made right here, within the six-million acres of the Adirondack Park. Recently, I had the chance to meet some local crafters who create masterpieces from wood: Bald Mountain Rustic Furniture in Keene Valley, Dartbrook Rustic Furniture in Keene, Owls Head Rustic Furniture in Keene and Placid Boatworks in Lake Placid. It was an eye-opening experience for me to see the care that goes into making each item; you should check them out!
---
Bald Mountain Rustic Furniture
Steve Bowers is the main man behind building rustic furniture at Bald Mountain Rustic Furniture. Since 1998, he's specialized in making custom rustic pieces including unique root chairs, lamps, dining tables, Westport chairs, arbors, benches and other garden-related creations. Being sort of a city girl, I was absolutely amazed when I walked into his shop because it is literally filled with what looks like scraps of pieces of trees. Steve has his employees go into the woods and make deals with farmers and loggers for wood, taking the undersize pieces or scraps that the loggers don't want. Steve takes the roots and twigs they bring back to him and creates unbelievable pieces of furniture.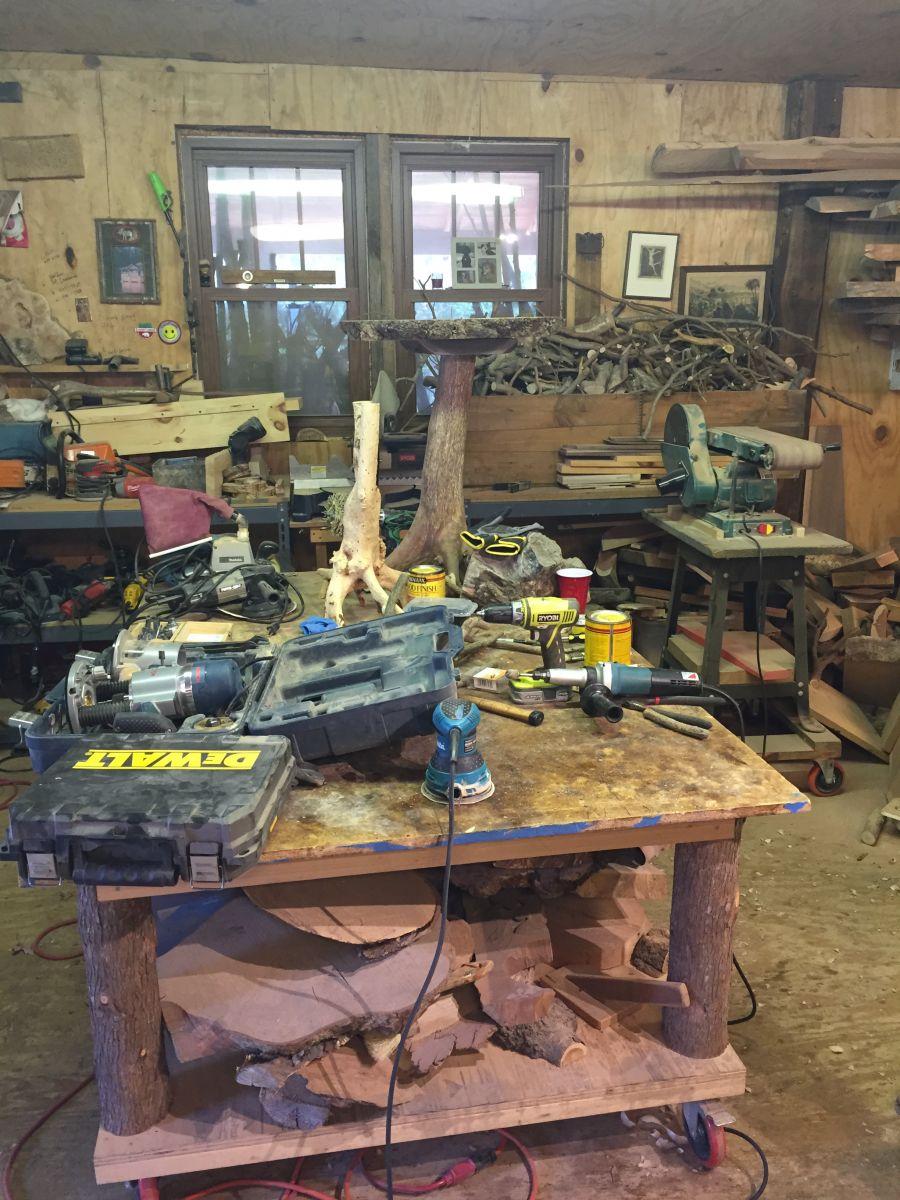 When I visited the shop, Steve was in the middle of making a carved cedar chair. I noticed an interesting pattern in the root that created the back of the chair, so I asked what caused it. He explained that this pattern would be seen on most of their pieces, but it wasn't something he did to the wood. Rather, the design was made by bugs, and the bug tracks created an interesting and unique pattern on each piece. Very cool!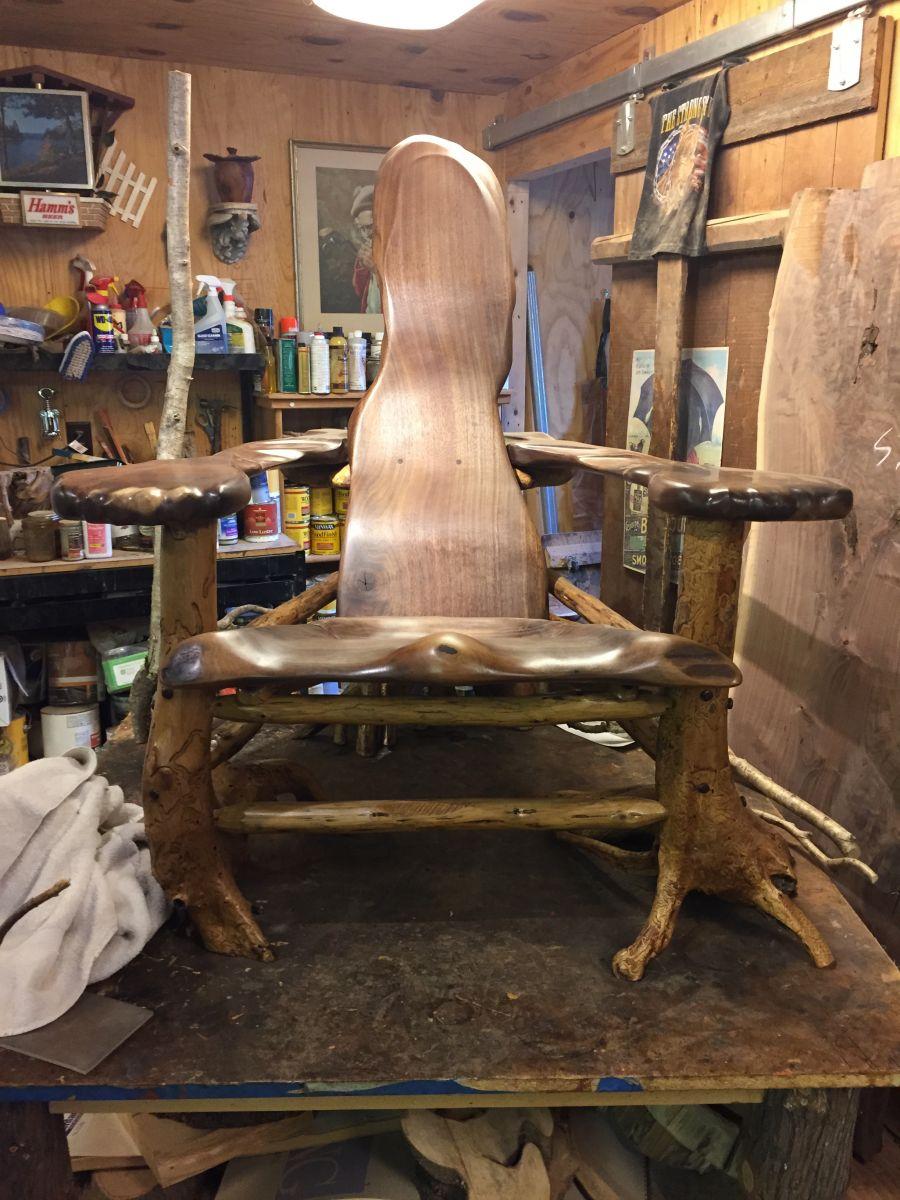 Bald Mountain Rustic Furniture is known for these carved chairs, so I took Steve up on the offer to sit in the one he was making. I was surprised because the chair was an exact fit for my back, supporting my lumbar perfectly. Steve compares his chairs to a Birkenstock shoe: a little hard but they feel good because there aren't many friction points. He makes the chairs so people who are 5'2"- 6'2" can sit in them and be comfortable. He said he came up with the height range because his wife is 5'4" and she wouldn't allow him to make chairs unless shorter people were comfortable and their feet could touch the ground when they sat in them! One of Steve's chairs is definitely on my Christmas list…
November 1st-May 15th hours are Thursday-Monday from 10am-5pm (Tuesday and Wednesday by appointment)
May 15th-October 31st hours are daily 10am-6pm 
Located at: 3 Market Street, Keene Valley, NY 12943
(518) 576-9916 
---
Dartbrook Rustic Goods
Pine, white birch, yellow birch and willow are the woods you'll find used in making some of the furniture at Dartbrook Rustic Goods in Keene. Kay, one of the women who works at Dartbrook Rustic Goods, gave me a tour, showing me around the store and the three adjacent workshops: one each dedicated to woodworking, finishing, and upholstery.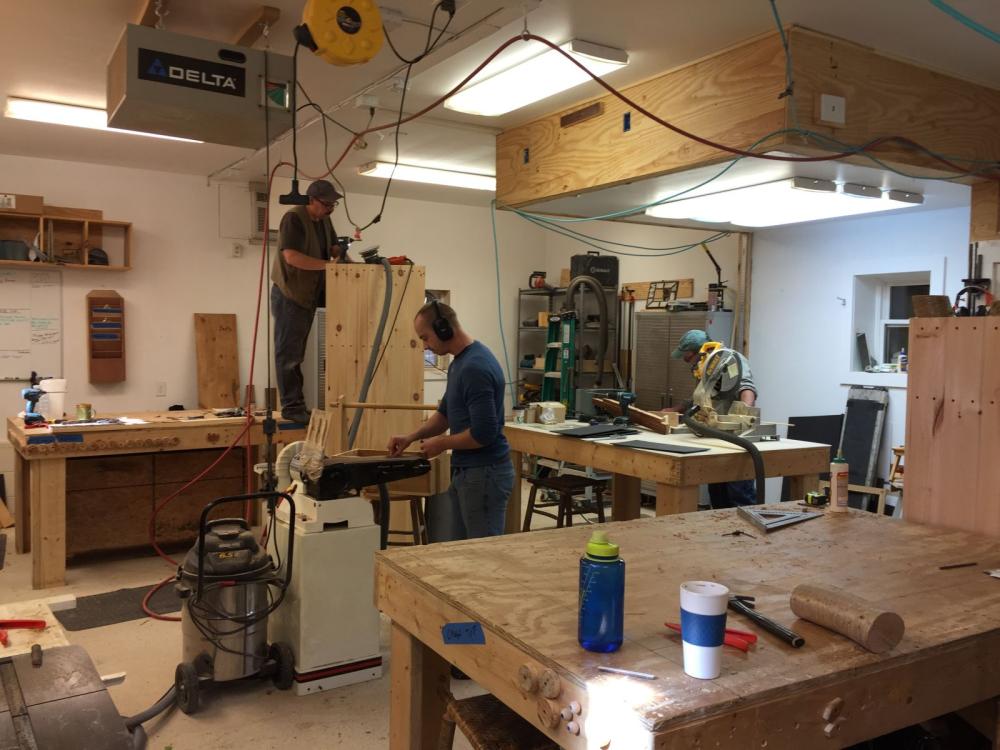 Kay explained that the store sells furniture hand-made in the Adirondacks and other pieces from all around the world. Many of the pieces they make are custom-ordered by their customers. Items that are made from hickory are made at a place off site. 
All of the wood used in the furniture made at Dartbrook Rustic Goods is kiln-dried on-site, and their furniture frames are made from birch bark. The furniture crafting crew consists of six guys, each of whom has a specialty and a role in creating unique and special pieces. One of the workers specializes in framing, and will create a frame for you for anything you bring him! In the painting shop, workers polyurethane and paint items before they go out for delivery.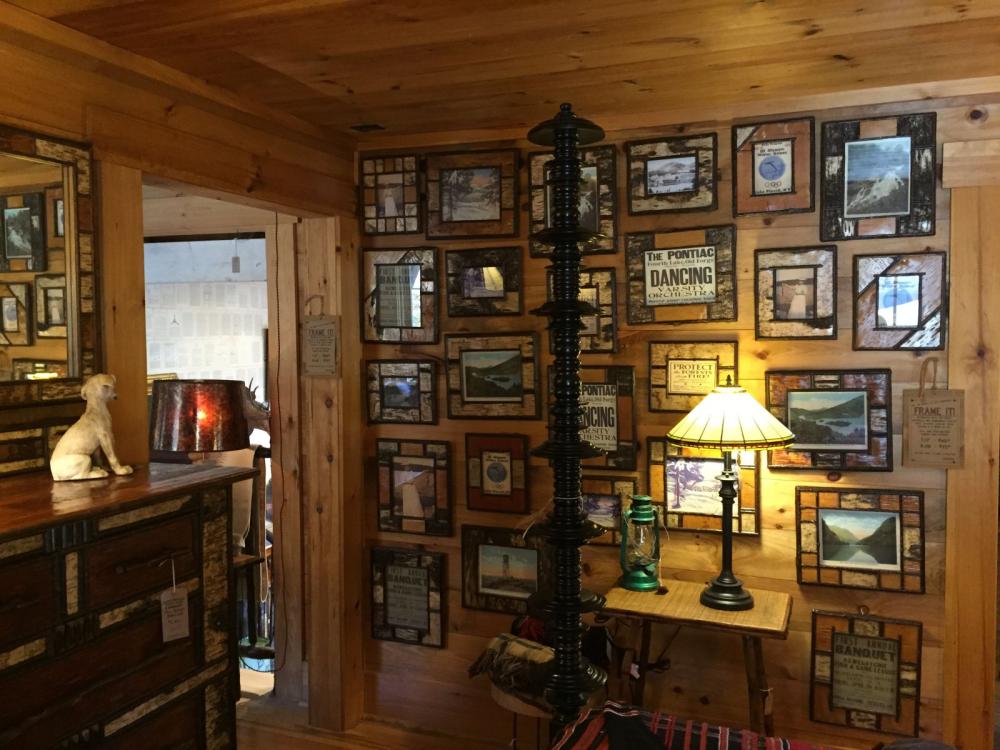 While I was there, I had a chance to see some action in the woodworking shop. Three of the workers were creating a one-of-a-kind cabinet for a customer, and I could see it was going to be beautiful. In the store, I also saw some of the bed frames they had made, some of white birch and some of yellow. I would definitely like to talk about adding one of those to my bedroom décor! 
Hours: 10am-5pm
Located at: 10923 Route 9N (at Route 73), Keene, NY 12942
(518) 576-4360
---
Owls Head Rustic Furniture 
This family business was started by Jerry and Janet Stipp in 2005. After living in Pennsylvania for 30 years, they decided to move back to where Janet was raised, and they purchased 72 acres in Keene.
The Owls Head Rustic Furniture shop is located on Rte.73 in Keene, and although their furniture isn't made on-site, it is made in the Adirondack Park area from local materials. While not 100% of the furniture is made in the Adirondacks, the items that are, are worth the expense! They employ six full-time woodworkers who create rustic, original pieces from seasoned hickory, cedar, antique barn wood, yellow birch, maple, willow, twigs, and birch bark. The store offers many of the items for sale, and there is definitely something for everyone.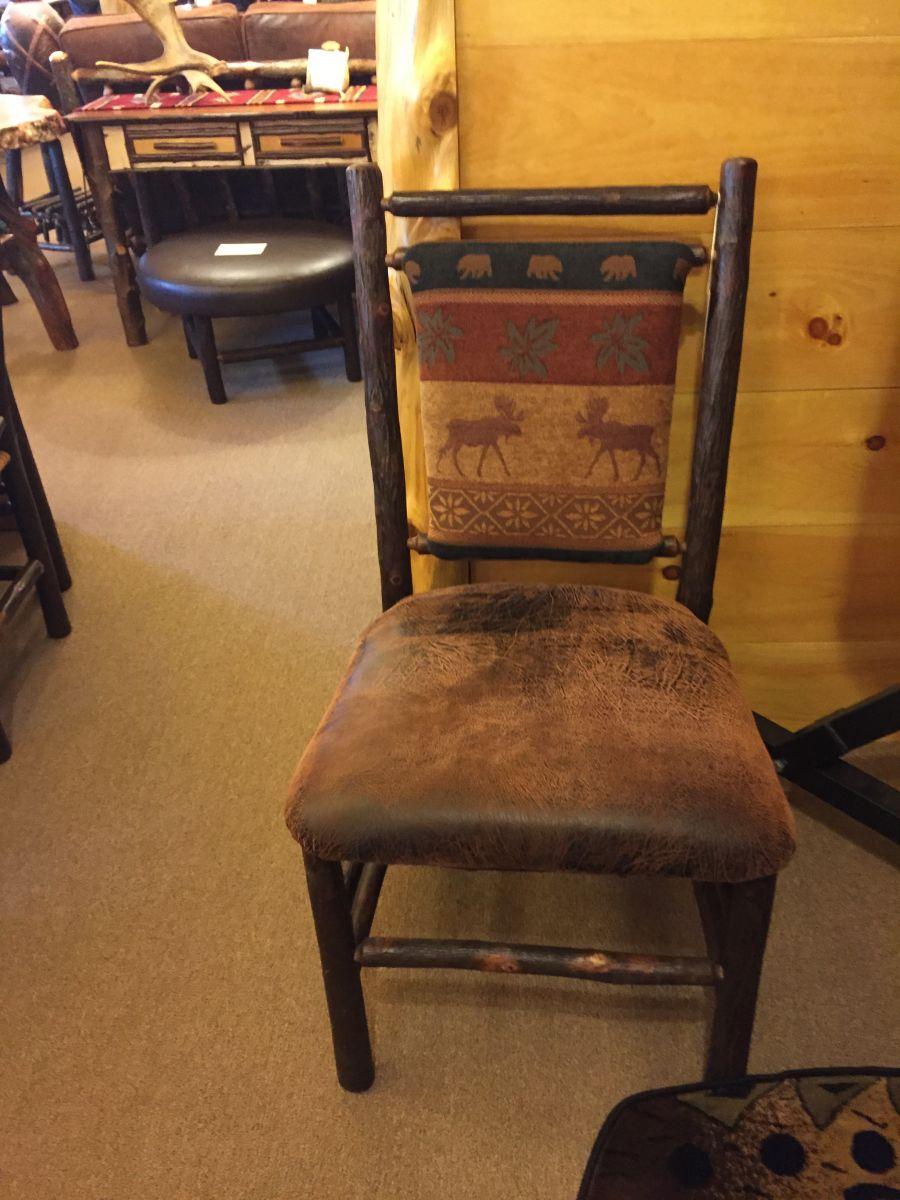 Jerry and Janet are proud of the workmanship displayed in each of the pieces of furniture they offer for sale at Owls Head Rustic Furniture. Jerry said that it took the workers a long time to perfect their art, which is clear when you see the pieces that are on display in the store.
I was particularly drawn to the items made of hickory, including some bed frames and chairs. Each one was more beautiful than the next. He said they used hickory on items like this because it is very strong. Then he dared me to try to move one of the bed frames; I tried, but it wasn't going anywhere! A piece from Owls Head Rustic Furniture would definitely add a warm and rustic touch to any home. Be sure to shop at their store on your way through town!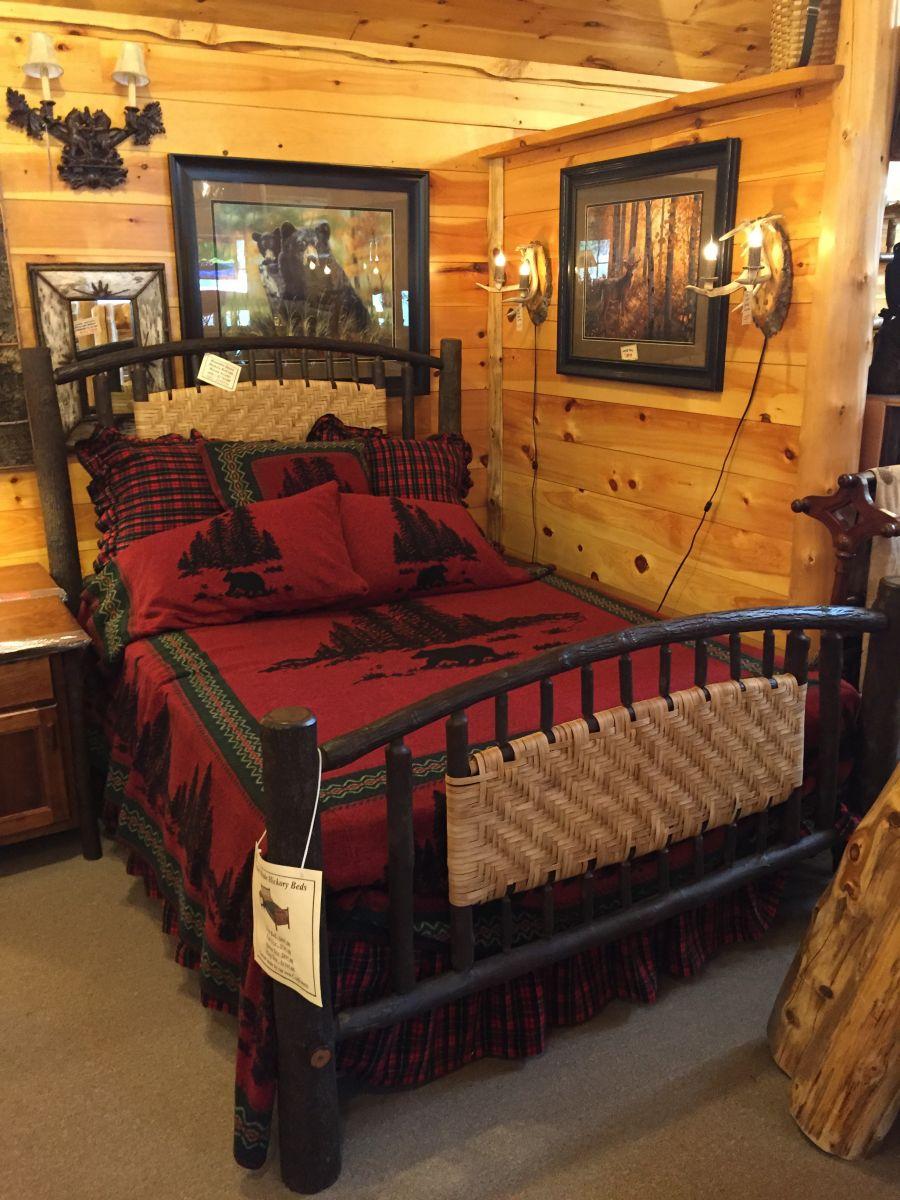 Winter Hours: Open Friday, Saturday and Sunday from 9am-5pm (or by appointment)
Located at: 3345 NYS Rt 73, Keene, NY 12942
518-576-9588
---
Placid Boatworks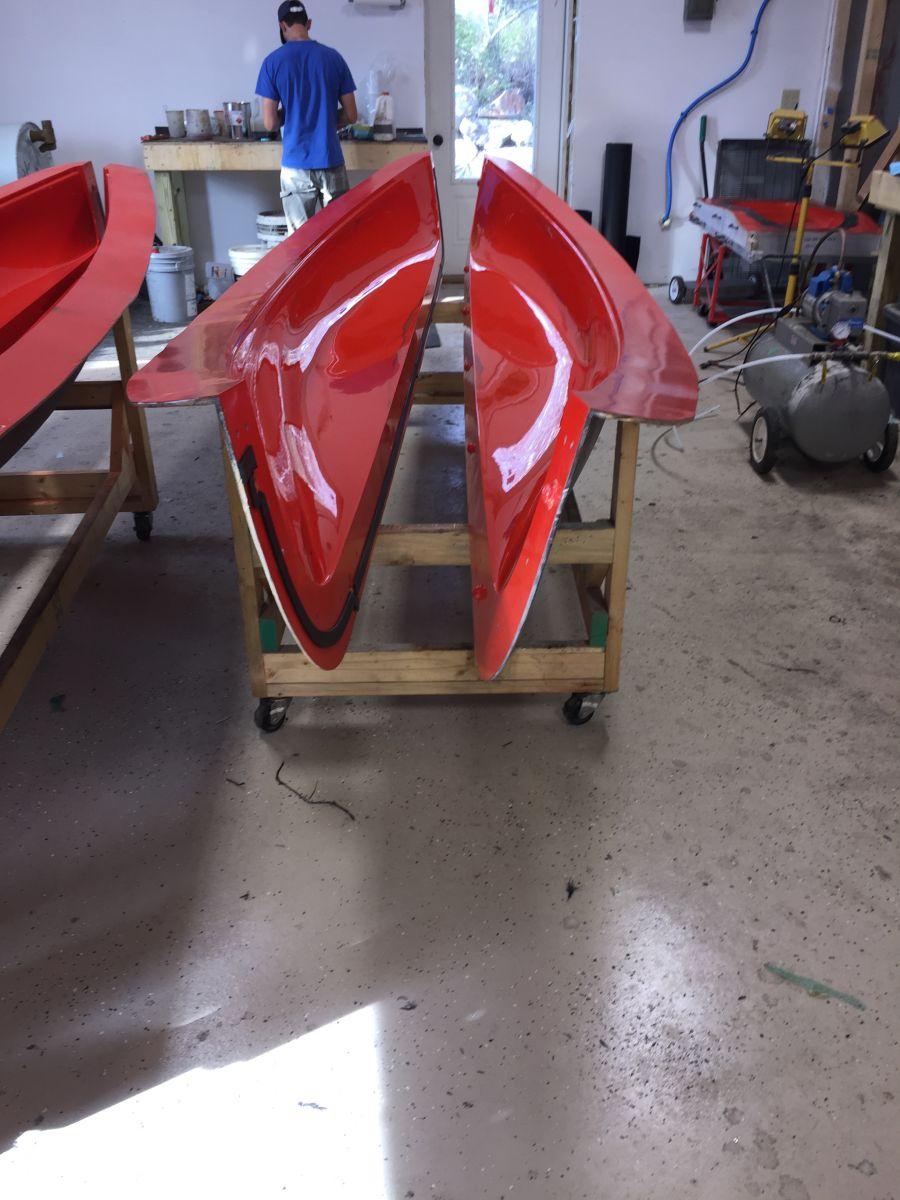 After all the furniture shopping I did, I thought I'd investigate another wood-working manufacturer I heard about in the area that does something a little different: building boats!
On Station Street in Lake Placid sits the Placid Boatworks, which makes composite canoes and paddle boats. Joe Moore started Placid Boatworks in 2003 with a partner, creating the vacuum infusion system that is used to build the boats. At that time, their idea to make composite canoes with separately-molded composite gunwales was unheard of, but it took off, leading to a lighter-weight boat and lower maintenance.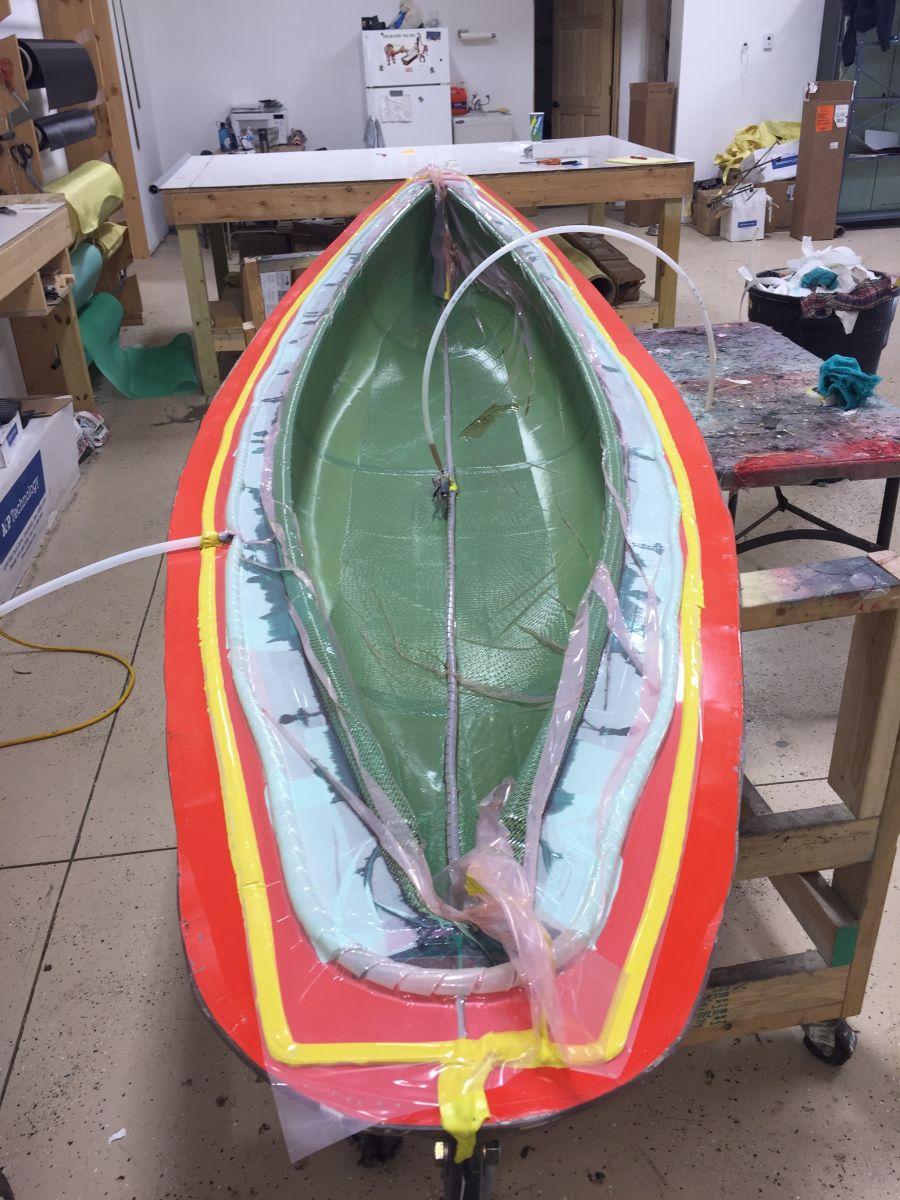 Joe said there is a team of three that works on building their boats; each one takes between 15—20 hours to complete. Their vacuum infusion system is an environmentally-friendly process, healthier for the Adirondack Mountains and their customers, and resulting in stronger and lighter boats than those that are made in the traditional way. Their system has been copied by other manufacturers, but Joe says his is the original, made in the Adirondacks! You can read about the process on their website.
The light, strong boats caught the attention of US Luge, and now Joe and his team are also making sleds for the team.
There are four models of paddle boats currently available at Placid Boatworks: The Spitfire (12'), the Spitfire 13 (13'), the Rapid Fire (15') and the Shadow (16'). Spring of 2016 will see the addition of another boat, a tandem, to be called the Ohneka (which is Mohawk for water). Boat prices start at $2895.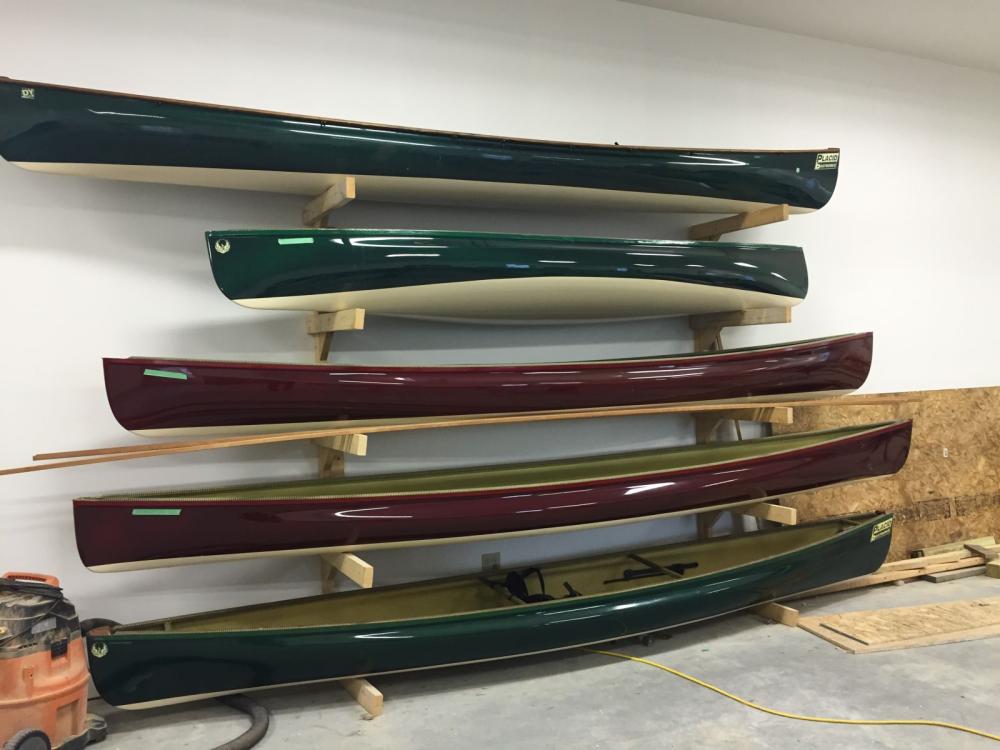 Hours: 9:30am-5:30pm
Located at: 263 Station St., Lake Placid, NY 12946
(518) 524-2949
---
On your next Lake Placid visit be sure to check out a couple of my new favorite stores and purchase your piece of the Adirondacks! While you're here indulge in some of our great restaurants - many of which serve up locally sourced foods, and try one of our local breweries for a true taste of the mountains. 
---
This week in related Made In the ADK news: