They say there are no dumb questions, and we agree - but there sure are some funny ones!
Living in the Adirondack Park, we take a lot for granted. One of the most important things being exactly how vast and varied the park is - especially to a first-time visitor. As a child growing up downstate, a park was simply someplace we played after school, or maybe drove to for a family picnic on the weekends. 
Side note: City folk would refer to us as being from upstate since we were just past the northern border of Westchester County and at the then-end of the Metro-North Line. Little did I realize I would one day find myself actually living upstate - 4-5 hours farther north to be precise.
I understand the confusion of first-time visitors. Unless you've done your research, it's a bit hard to grasp the actual size of a 6-million acre park. And until you've visited, it's hard to comprehend exactly what you will be getting yourself into. As such, I've compiled a list of some of the most often asked questions myself and my co-workers have fielded over the years. Don't get me wrong, there have been much weirder questions that we've encountered (no, there isn't a water fountain at the top of Marcy) but these 10 have notably come up over and over. So, in the spirit of jest - and from an ex-downstater - please allow me to relay some of the most-repeated inquiries we have actually answered. (Apologies to our friends, but thank you for letting us share these laughs. Remember, we're not laughing at you…)
The Logistics
(hey, if you've never been, they're fair to ask!)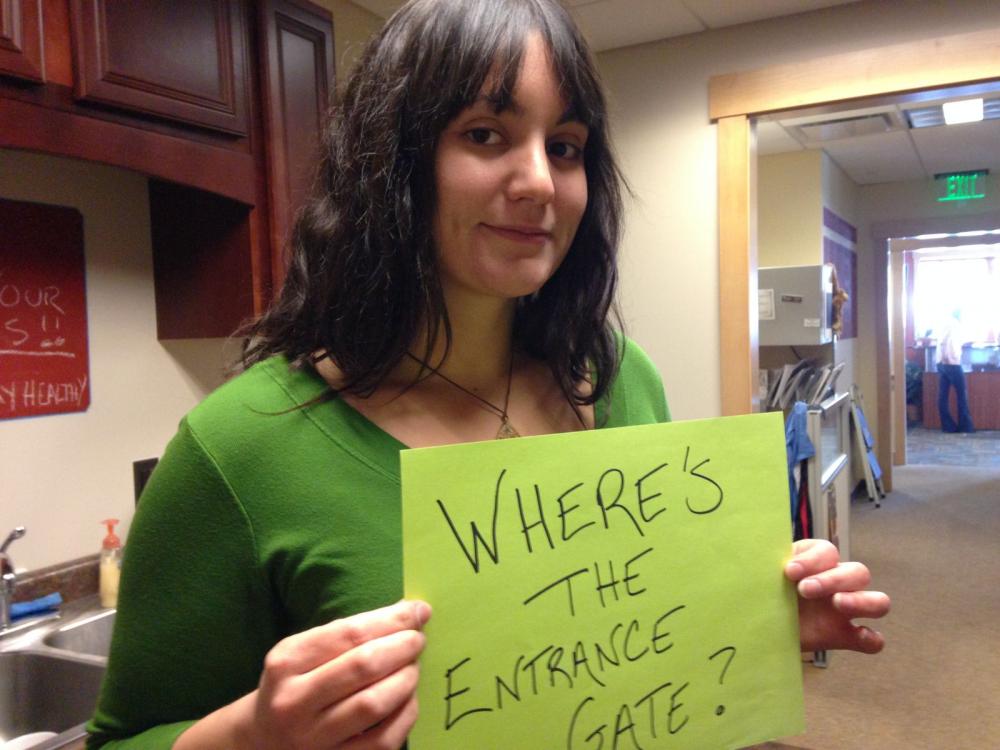 #10 - Where is the entrance gate to the Adirondack Park?
Our answer: Well, that depends where you are coming from! Unlike many traditional parks, this State Park has no official gate. As you enter the Blue Line (we'll explain that term later) from any direction, you will see signs welcoming you to the Adirondack Park. Since I mostly field questions from friends arriving from the south, I'll highlight the trip directions from NYC, and it really couldn't be easier. Head north to Albany. In Albany jump on 1-87 N, also referred to as the Northway, and follow that for approximately 2.5hrs to exit 30.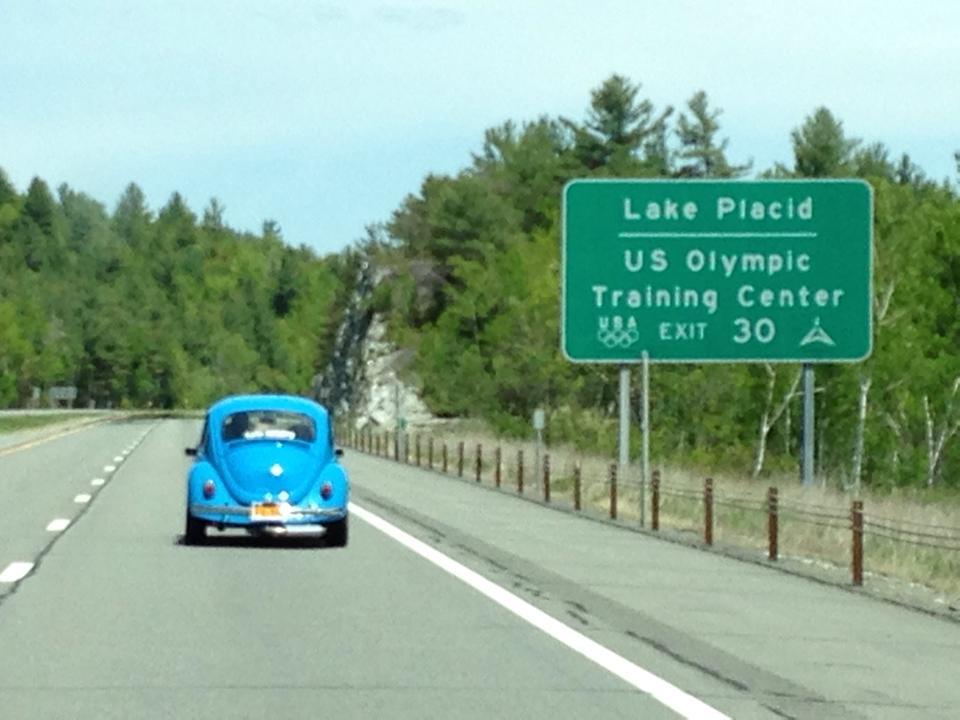 At the bottom of the ramp take a left and drive for a scenic 28 miles on the winding mountain roads, past the towns of Keene Valley (stop at the Noonmark Diner for pie), Keene (stop at the ADK Cafe for coffee), and past the Cascade Lakes (stop for cool photo ops of the ice climbers). When you get to your first stop light, you've arrived in beautiful Lake Placid. Yes, that's right, our town has three stoplights - stop laughing and enjoy the view. Heading to town from a different direction - here's a handy-dandy driving cheat sheet!

#9 - How much does a day at the Park cost and are there any discount promotions?
Our answer: It does not cost anything to enter the Park, that's one of the awesome things about it! Camp, hike, cross-country ski, bike, swim, snowmobile, sunbathe, fish... whatever you choose to do, there are tons of free options just waiting for you.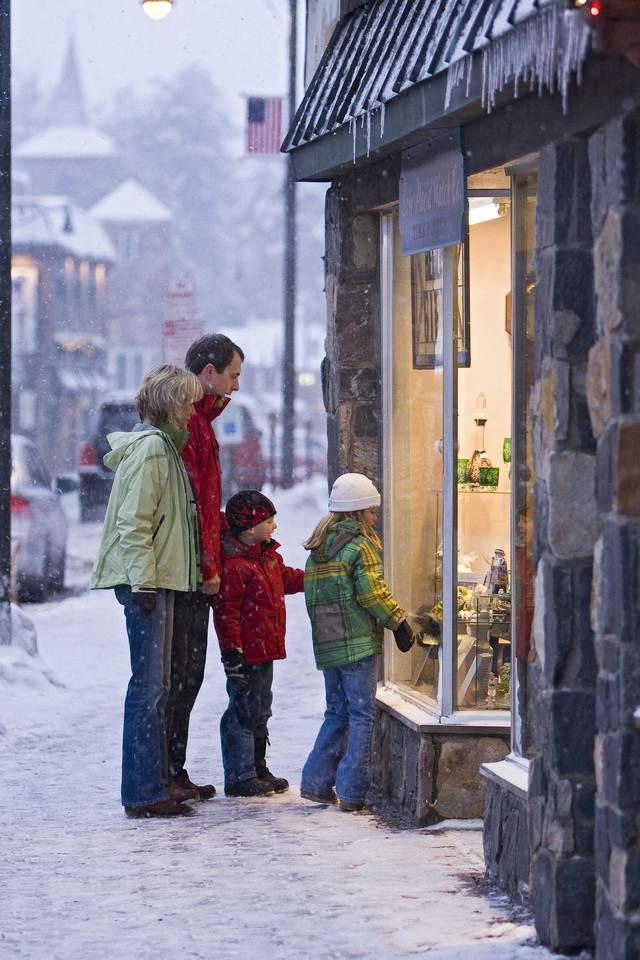 Of course, not everyone wants to "rough it," so we have plenty of outstanding lodging accommodations, unique boutiques & a variety of outlet shopping and delicious dining options. As for discounts, why not enter our monthly enter-to-win drawing? We also offer great packages and specials for every season!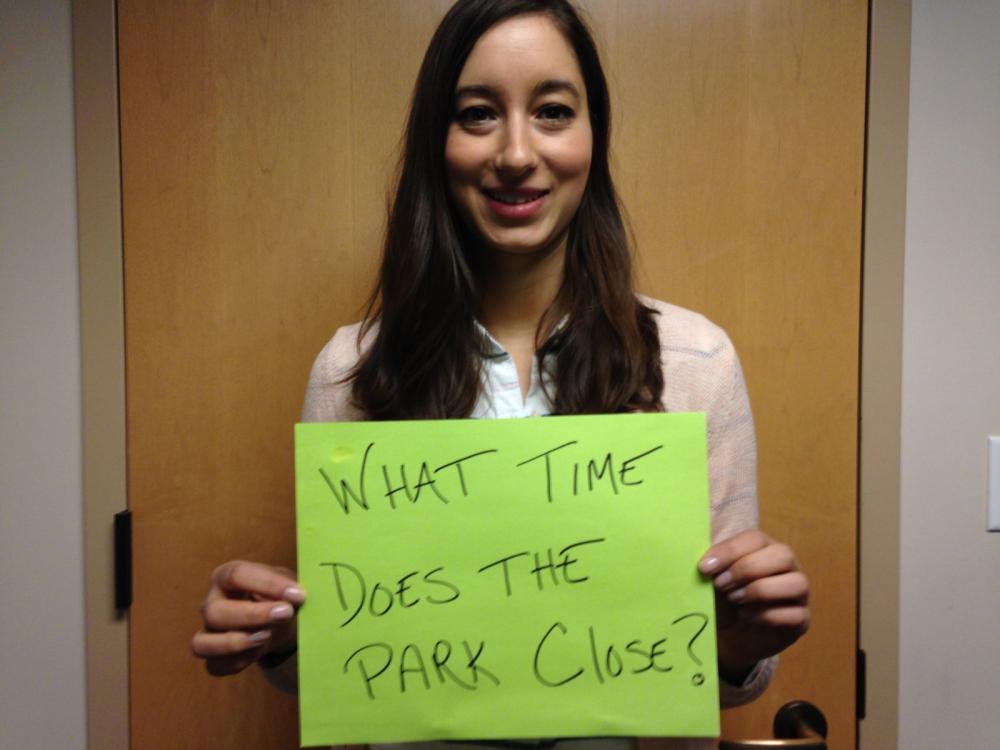 #8 - What time does the Park close?
Our answer: Much like the city that never sleeps, the Adirondack Park is open 24 / 7, 365 days a year. I love the fact that the Adirondacks are so accessible and just a short trip to so many major hubs. No matter the season, it always seems like we are getting calls from one group of friends or the other letting us know they are coming to town for a couple of days. But, what to do?
In summer you can find us ducking out of work on a late Friday afternoon for an impromptu overnight camping trip - it's easy to do when nature is literally at your doorstep. In the fall a quick afternoon hike finds us surrounded by the beautiful fall colors. In winter, we grab our skates and hit the 2-mile Mirror Lake ice track for an hour on our lunch break or strap on the skis for a moonlit ski. The spring is time to hit the trails - running, biking, hiking... what's your poison? When will you visit - start planning now!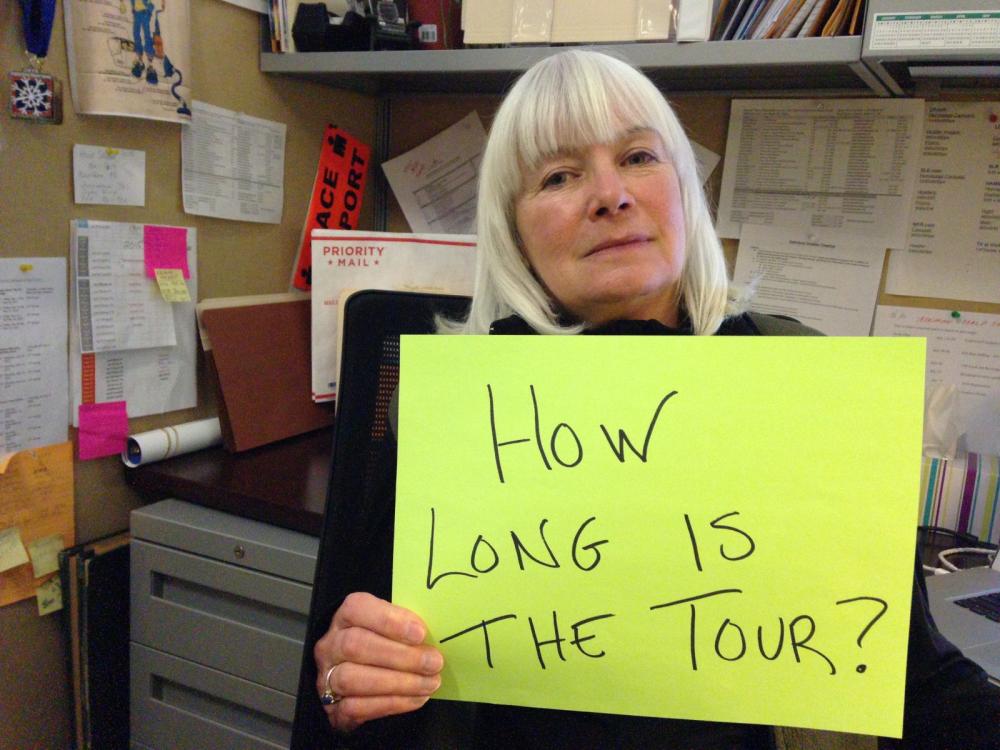 #7 - How long does the Park tour last?
Our answer: Well, some of us have lived here our whole lives and still haven't seen the whole Park! Did you know... the Adirondack Park is over 6-million acres? To put that in perspective, several National Parks including Yosemite, Yellowstone, Glacier, the Grand Canyon, and the Great Smoky Mountains could fit inside the famed Blue Line (the line on a map that designates the outline of the park). That's a lot of Park!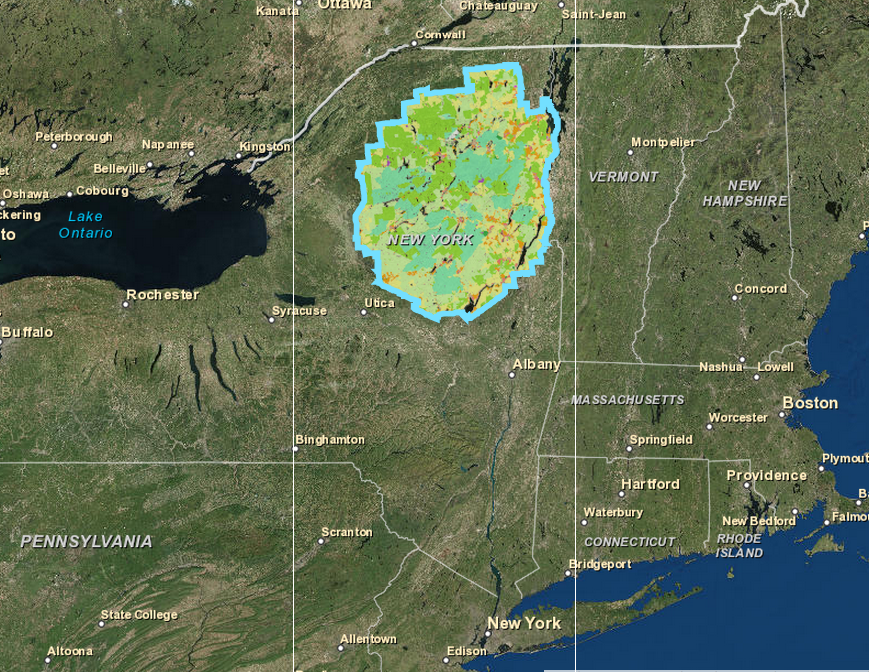 The Specifics 
#6 - Why don't you run the Toboggan Chute all year?
Our answer: Ouch - can you imagine the splinters you'd get in the summer!? Kidding, kidding (sort of). While we love the Toboggan Chute, it was not built to be a year-round attraction. Can you imagine how deep the water would have to be for the landing? And how long you'd have to wait for your turn as folks swam away? And, eh, never mind, stop thinking about it. It's an awesome winter attraction - we've got other places to be in the summer!  Check out this pictorial blog that details the Toboggan Chute experience - it still makes my heart race!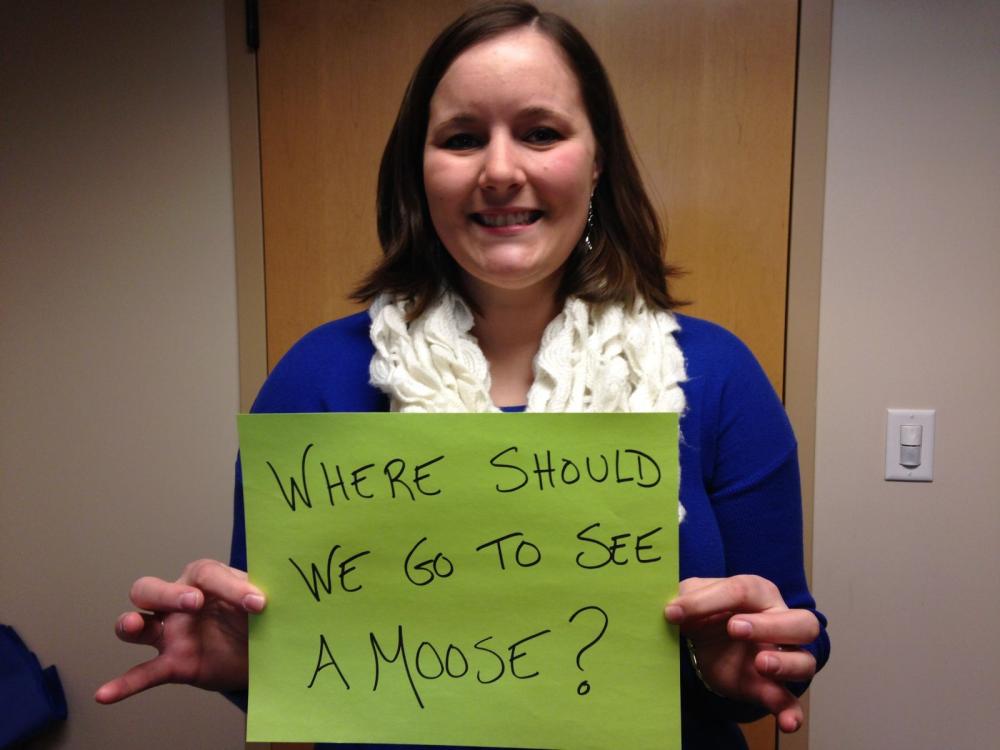 #5 - Where do we go to see a moose?
Our answer: I have no idea, but if you spot one let me know! Honestly, the Adirondack Moose seems to be one of the most elusive creatures around. I've lived here for almost two decades and have never encountered one in the Park. I've heard tales of friends spotting the resident Cascade Cross-Country Ski Center moose. Others have spotted a huge brown beast on the edge of a wood-lined field. I'm still searching.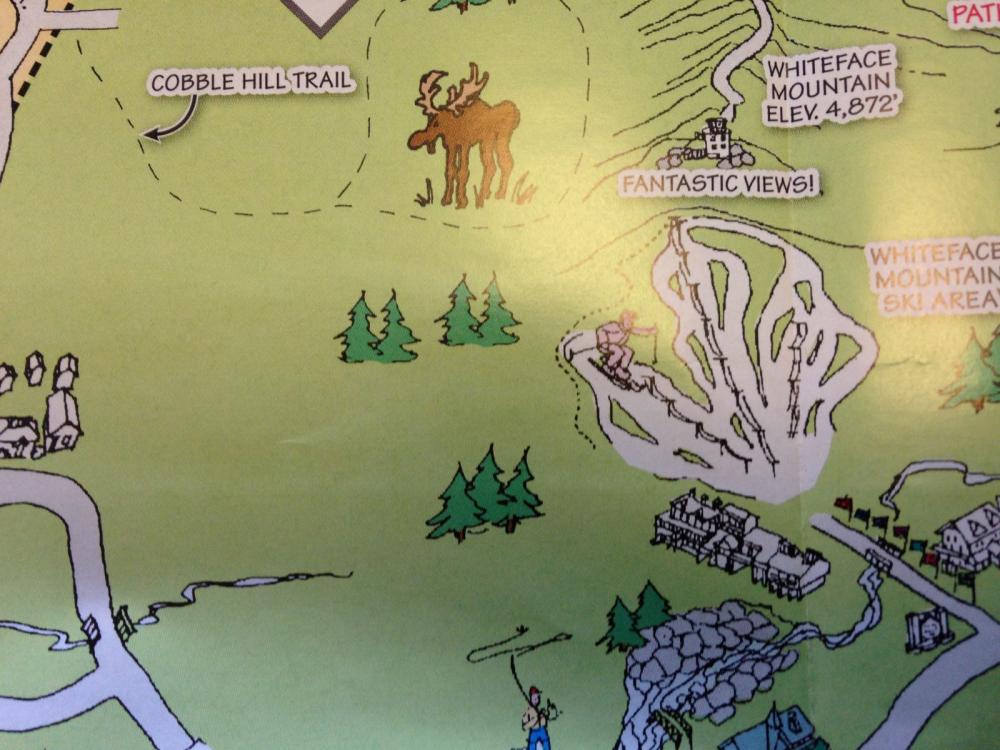 #4 - Can we become 46ers today?
Our answer: No. No, you can't. Especially since it's already after noon and you're wearing sandals. :) Of course, most people don't realize what a 46er is, so here's the scoop... According to the history page of ADK46er.org: "The Adirondack Forty-Sixers, Inc. is a hiking and service club whose members have climbed the summits of the 46 peaks over 4,000 feet in elevation in the Adirondack mountains of northern New York state." Talk about dedication! (And here I thought it was impressive that I managed to get to the gym for a few hours each week!)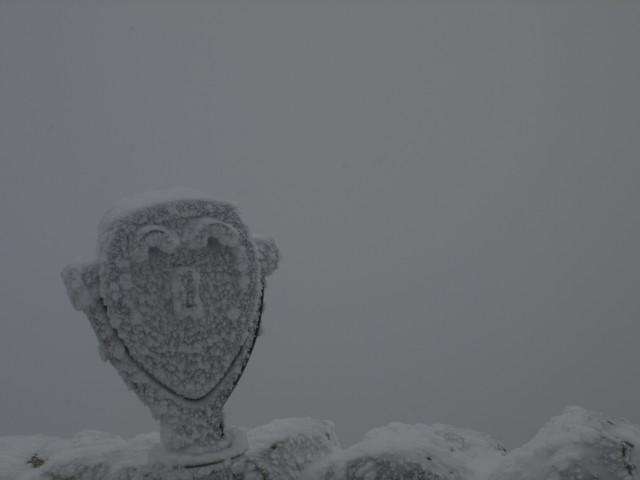 And, if that doesn't seem like enough of a challenge, why not try to become a Winter 46er? Check out this cool piece (pun intended) by our blogger Spencer as he details his winter hike up the Lake Placid Slide on Whiteface Mountain. One down, 45 to go... are you ready?
The Predictions 
(these make us giggle, it's true)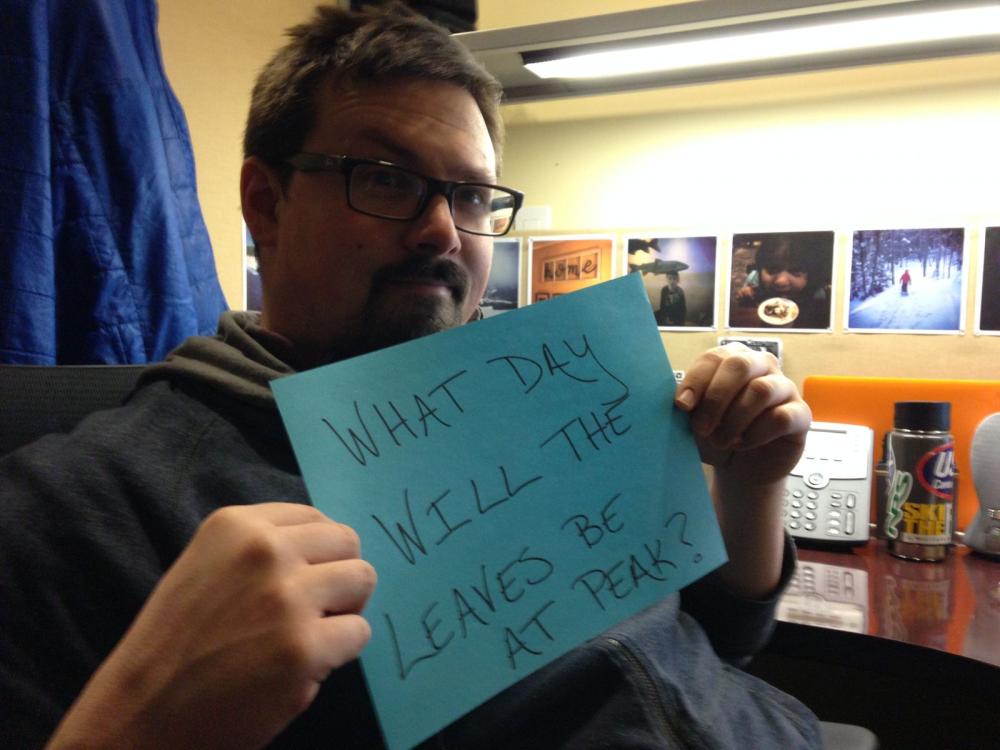 #3 - What day will the leaves reach full peak color? (we like this one - everyone has been asked it, sometimes months in advance)
Our answer: If only we knew! I'm sure there is an exact science somewhere that can predict which days/weekends the colors will be at their peak. And, while I'm sure of that, I also am sure I have no idea. The leaves often begin changing in the High Peaks by late-August. Sometimes peak comes in September, sometimes mid-October. My non-scientific mind believes it has something to do with temperature changes, moisture, and possibly which day most local couples decide to tie-the-knot. I honestly hate to answer this question because I can never predict the correct days (actually, you should probably ask me and then choose not to visit on the days I suggest).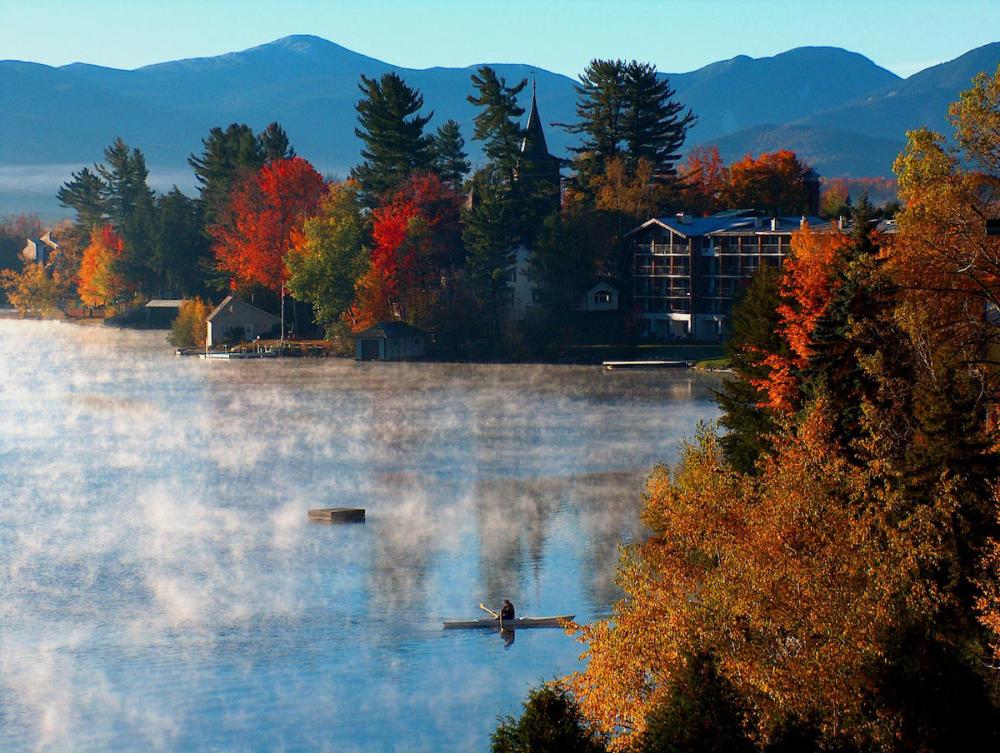 While we are often asked which days the leaves will be at full peak, we have to say - any visit during the color change is sure to produce awesome pics. Whether you're a hiker, biker, or you simply want to take a scenic drive we can point you in the right direction.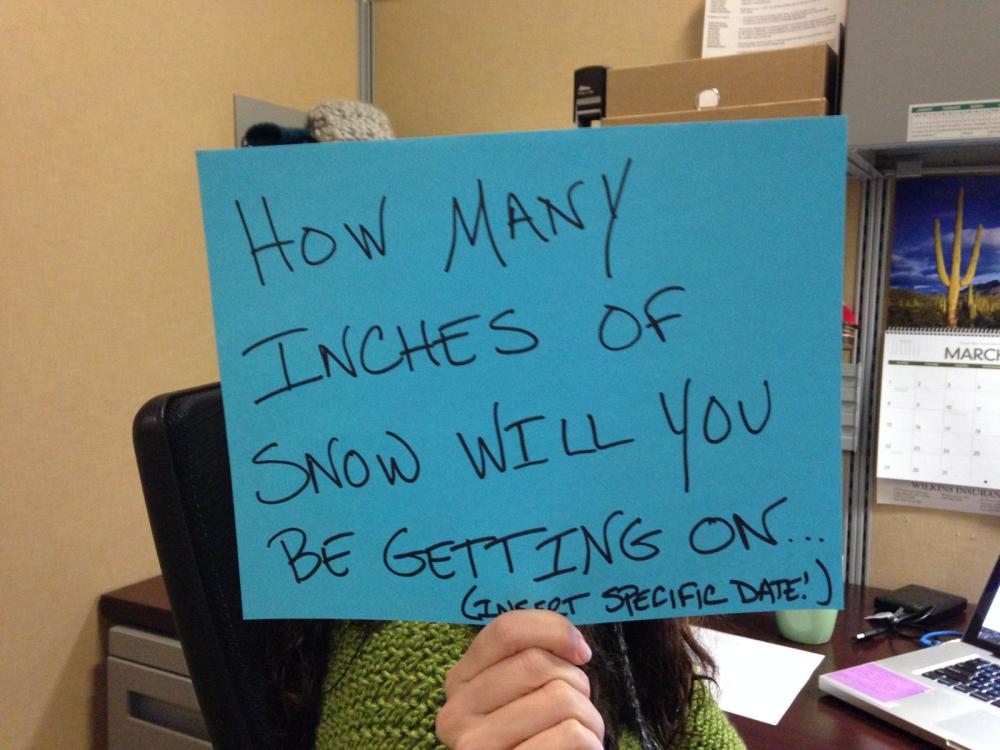 #2 - How much snow will you be getting on February 14-16?
Our answer: While we can't tell you exactly how much snow we will be getting on a future specific date, we do feel pretty confident answering this one. Chances are if you are visiting anytime between November and March, there will be some form of snow falling, already accumulated, or predicted in the imminent future. We cannot however predict the exact number of inches you'll encounter. 
Heck, if it's snow you're looking for, we'll even let you play in it during the summer. Just stop out front of the Lake Placid Visitor's Bureau and you'll find a fresh pile of icy refreshment outside every day. Looking to plan your next winter vacation? Check out all the great winter activities we have just waiting for you to partake in!
And... The #1 Most-Often Asked Lake Placid Question...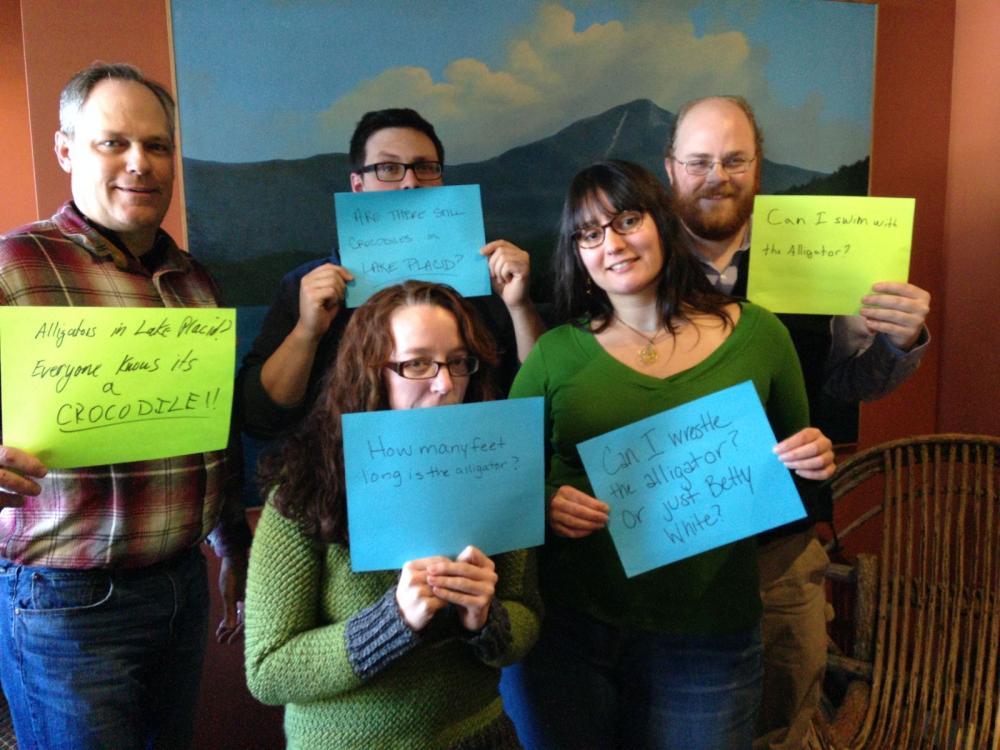 #1 - Is there really a 30-foot-long man-eating crocodile hanging out in the lake?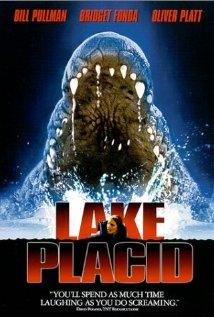 Our answer: Why not come find out for yourself? There's plenty to do year-round in Lake Placid (no worries, if you're afraid of gators the ice is still frozen for another month or so)! Plan your next Lake Placid getaway today, and if you have any questions, send them our way - we'll be sure to have an answer! 
Have a funny question you've been asked? Comment below - we could all use a laugh couldn't we?