Did you know that the fire tower challenge also has a winter category? Between December 21 and March 21 you can work on your winter fire tower climbs and earn a really cool winter rocker. "Climb 18 of the 23 Adirondack Mountains with fire towers and all five in the Catskills between December 21 and March 21 and you can earn a rocker for your Fire Tower Challenge patch. Please note that like the regular Fire Tower Challenge, it is not necessary to climb the actual towers," www.adk-gfs.org.
Hurricane In Winter
The thing is, I have been to many of the firetowers in the winter but my wife Corenne has not. So, we thought we would get a fresh start together hitting up one that I have winter summited on many occasions - Hurricane. We made arrangements with a friend to hook us up with a second car spot so we could traverse the peak. My favorite trail up this gem is the Fire Warden Trail from the Elizabethtown side, but I wanted to climb that side, so we spotted our second car at the Route 9N trailhead that is located between Keene and Elizabethtown. The Route 9N trailhead is the main trail and like a highway on a nice day.   
Starting at about 7am from our driveway, we started our long drive toward Elizabethtown, grabbing an American breakfast from a local quick stop to save some time. We arrived at the Route 9N trailhead at almost 9am on the dot, like planned. We all hopped into the "Subie" and drove over to Hurricane Road just west of Elizabethtown. This road can be a bit sporadic in condition during the winter months. I have driven it in perfect condition, icy conditions, and in several inches of snow. On this day it wasn't too bad and easy enough with all-wheel drive.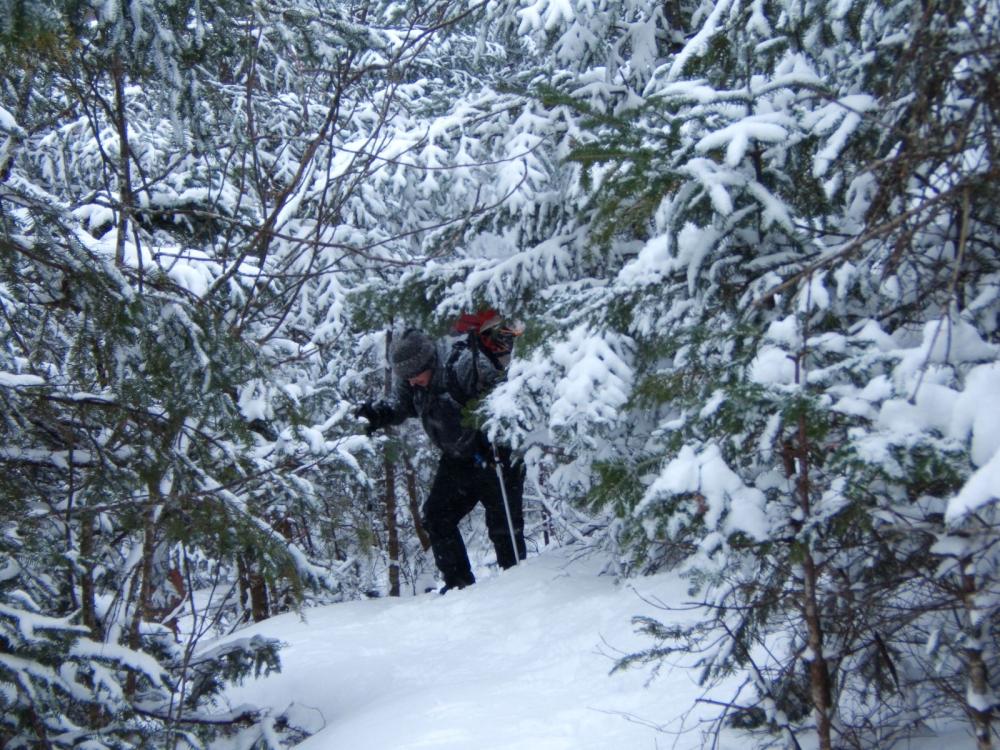 Care Takers Trail up Hurricane
We started our snowshoe trek along the old road and passed through the gate located just up from the parking area, which by the way is about big enough for four cars. We made great time through the couple inches of fresh powder that had fallen overnight. Eventually the road ended at a small clearing, which used to be the area where the caretaker's cabin once set, not much remains, but if you poke around in the summer some remnants are still kicking around.
At this point we had to drop across the small brook, which was a bit awkward with snowshoes. This was the start of the foot trail that the fire warden had to hike each and every day during forest fire season. The trail, getting very little use, was nice to the eyes but needed to be broken out for every step of the way, not really a surprise. It doesn't take long for this short, steep approach to begin its arduous ascent of Hurricane Mountain, but we made good time of it. On more than one occasion (actually on more than a half dozen occasions) we had to utilize Mother Nature's handrails, to pull ourselves up and over the icy sections – known to many simply as trees. These short sections of waterfall ice were super slippery and hard to get a bite in with our snowshoes, we were thankful we wouldn't be descending this route. Soon we went out onto our first rocky view. We could see the firetower looming just below the clouds on this gray day, getting our taste buds salivating for the summit.
Reaching the summit of Hurricane Mountain
The final push to the summit was fantastic, continual views, and the cold artic winds from the east nipping at our every inch of bare skin. The final summit view is as rewarding as any peak in the Adirondack Park, even with low lying clouds. Hurricane Mountain is also the 72nd Highest Peak in the Adirondacks and rests at 3694' in elevation looking up at the Giant Mountain Wilderness. Knoblock Mountain, Tripod Mountain, Green Mountain and the rest of the Giant Mountain Wilderness was right in front of us. Slightly beyond were the High Peaks and the Great Range. Then in the other direction was the long ridge of Nun-Da-Ga-O and the Crows as we could see them over the trees. If it wasn't so cold and windy, with no protection, we would have lounged around a bit longer, but the wind barrier of the trees was calling to us.

Route 9N Trail on Hurricane Mountain
Plummeting off the opposite side of the peak we worked our way across the open rock and dropped steeply into the trees and de-layered a bit at the trail junction for Crow Clearing, before continuing our descent. From this point we began our very steep decline on slopes of the mountain. Eventually it leveled off and we enjoyed a more laid-back exit, then at the foot bridge over a marshy area we relaxed. We enjoyed this area, almost as much as any other part of the day. We continued on a flat course to a final viewing area above Route 9N before our steep descent to the trailhead and our second car.
Remember, it's winter out there, so be prepared and expect winter and extreme conditions, even on mountaintops that are not in the High Peaks. Snowshoes and other traction are required, even when they don't seem like they would be a relevant part of your gear lineup. This is a fantastic destination to create a loop with, if you have the option of a second car. A third trail could be used as part of a loop, it's a bit longer and would exit you out at Crow Clearing on O'Toole Road in Keene. O'Toole Road is not plowed all the way to Crow Clearing so a short distance of road would be required to walk.
Interested in making Hurricane your first winter fir tower peak, or want to be guided along this loop? Check out some of our local guide services for details. Want a gourmet bag lunch for your trip? Order one at one of our many fine shops in town.