Sometimes you just have to treat yourself
The end to a perfectly naughty day 
I'm sitting poolside at the Whiteface Resort writing this blog and feeling like a million bucks. However, my day did not start out that way, I had to make a few un-ordinary choices along the way to turn it around. Yesterday I found out that my husband and his athlete, Shiva, were unable to secure a driver to the Montreal Airport and I would need to take them at 4 am - on a Monday morning. I quickly came to the determination that: 1) there was no way I would be able to be on time for work, and 2) even if I could make it I would be too tired. But I agreed to get up early and drive them to the airport on an early winter Monday morning.
Blog plans changed
The original plan for this blog was to cover one of those epic, never-to-be-forgotten (but don't completely remember the entire evening) girls night out on the town. But between work, team India, and my friends' busy schedules - they were available when I wasn't and they weren't when I was… such is life. Bar hopping is so much fun in Lake Placid, I'll say from experience there are too many bars to hit them all in one night (we've tried). Those nights out usually include a combination of bars such as Smoke Signals, Zig Zags, and late night dancing down the stairs at Roomers; sometimes we start at Maggie's Pub or the Kanu Lounge, or the Lake Placid Pub & Brewery, and I'm dying to check out the recently opened Lake House. Since I couldn't plan a girls night out I started pulling out photos from those past evenings and reminiscing, I seriously debated writing about one of those experiences. But deep down, I didn't want to just relive a past evening out, I wanted to live a little, and having to drive to the airport that early in the morning seemed to give me the push I needed, so I changed my plan - I was going to be naughty.
(a memorable girls night out)
Time to live a little
Step one: email boss and tell her I need to take this last minute, unplanned personal day/vacation day… Idk what does this sort of thing count as? Step two: plan the best way to really take a day to pamper myself. I'll admit, at first, my plans were a bit overambitious, but it all worked out.
Monday begins (way too early)
I awoke at 3:45 am, yawn. Ugh, okay I'm up. 4:15 we pulled out of the driveway and headed north. The trip went smoothly, including the border stop - where they didn't ask any questions about the 1/2 Indian, 1/2 Italian we had in our back seat, hidden behind my tinted window which, of course, was frozen and I couldn't roll down when the border agent asked. We stated our purpose and were on our way, after our passports, well, passed.
[sunrise on the way to the airport]
I dropped the boys at the gate and headed home, wow - lucky for me the trip was quick and easy. The guys are traveling to Japan to train for the Asia Games. My hubby, Duncan, is now the coach and sled technician for India. He and his athlete, Shiva Keshavan (you may remember him as the luge athlete that flipped over on his sled and was able to flip his sled back over to finish his run at the Sochi Olympic Games), had just spent the last month training here in Lake Placid, and competed in the Luge World Cup on December 5. Shiva did great and set two personal bests on race day, finishing 25th overall.
map to dorval airport in Montreal
Drive from Montreal to Lake Placid 
Montreal is only a 2 hour drive from Lake Placid, and I have to say it is great being so close to such a cool city! After dropping the guys off, part of me did hesitate, it was a great opportunity to spend a day in Montreal; nope not today, I had plans to pamper myself and enjoy a little R & R - LP style. So I headed home. The drive from Montreal is a nice mix of a short stint in and around the city, then a relatively quick escape to a long flat straight section of road (highway 15) that takes you to the border and down the Northway (87), then exiting onto the scenic windy mountain roads of the Adirondacks. Once off the Northway the road cruises along the river with twists and turns through the ever changing scenery and mountain views. The route takes you past Whiteface Mountain, through the notch, past the golf course, then into town.
Home and exhausted
I got home, greeted the puppies, let them out, and we all crawled back into bed. While I don't always allow them in bed, they are great snugglers - especially for nap time. I woke an hour later feeling a bit rested and was ready to get to work planning.
Up and ready to start planning my day
I had sent an email to some of my girlfriends the night before asking them to join me for drinks tonight (I saw this article on buzzfeed and was pumped to hit up our local must-see bars and thought it would be a great way to end my day). I checked and the responses were to be expected, not so great for an impromptu Monday eve gathering. But, that's okay, I had other priorities - the spa. The plan was to treat myself to a relaxing day at the spa and enjoy all the perks that come with it!
Massage or facial? Body treatment or mani/pedi? How can I really, really misbehave? To me the spa was always a special treat meant for special gifts, special days, special events, time with mom, and massages were either included as one of those or a reward for working out or getting ready for a competition. 
Spending money on a random Monday & playing hooky from work to go pamper myself, just because of an early morning, was completely out of character for me. I decided to live a little and really put the vacation/personal day to use. I hopped online to check out two of our all-inclusive spas. I've always wanted a spa treatment at the Whiteface Resort because you get a day pass to their indoor/outdoor pool and hot tub area. It was time I checked them out and really experienced that resort… oh, but the listings on the Mirror Lake Inn Spa page looked enticing as well! What to do? And, while I wouldn't recommend hitting both spas up in the same day, I decided it was as good as time as any to check them both out - so that's what I did. After a couple phone calls with the friendly, knowledgeable spa staff I ended up with a deep tissue massage at the Whiteface Resort, for my achy muscles, and a facial at the Mirror Lake Inn, to treat my neglected skin.
I realized I didn't have much time, the clock was ticking, I had an hour to check emails, shower and shave my legs, find my bathing suit for the hot tub and take the dogs out. So I got moving…
30 Minute Intermission (the hot tub is calling)
(Alright, this girl is taking a break from blogging to hit up the hot tub! …to be continued)
Okay, I'm back, and wow I highly recommend the hot tub(s) and indoor/outdoor pool at the Whiteface Resort! So where was I? 
Spa time!
…It was now 2 pm and I headed out the door for my 2:30 massage, I drove through downtown Lake Placid and up Saranac Ave to the Whiteface Resort. They have valet parking, which I love, but it was nice out so I opted to park in the lot and walk up. A doorman opened the door and greeted me as I entered the lodge and I headed over to ask the front desk staff how to get to the spa. They pointed me to the downstairs spa.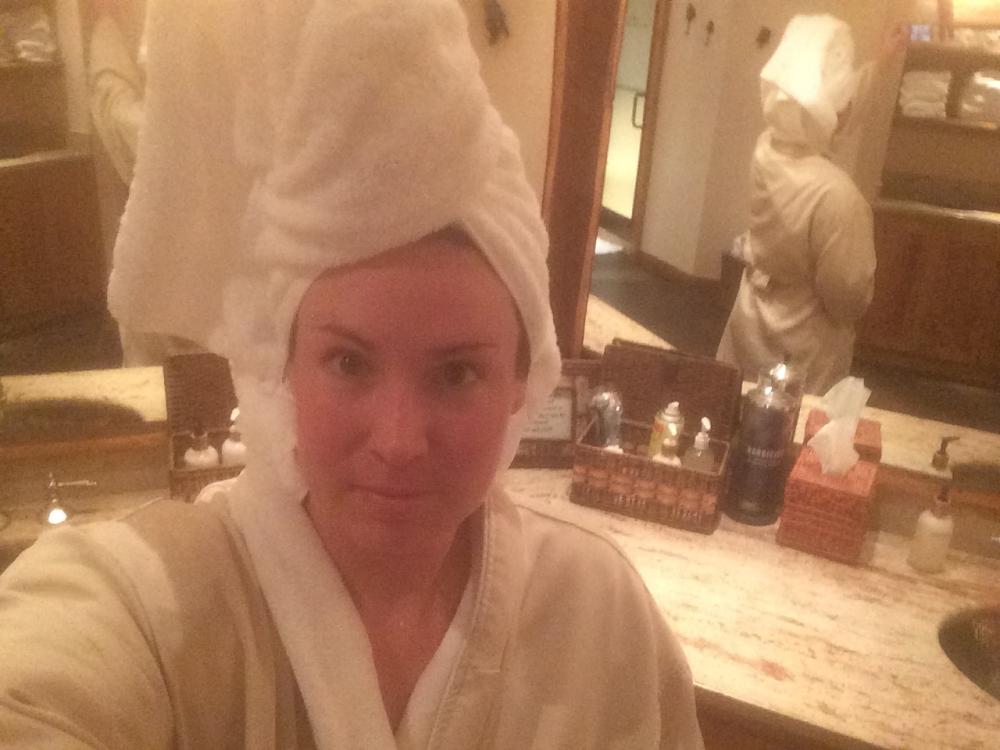 Let the pampering begin
I was greeted with a smile and whisked off to the spa changing area, I was given a locker, robe and slippers. The area was well laid out complete with all the pampering necessities: steam room and sauna, changing area, showers, a room with mirrors, sinks and toiletries, and a sitting area with water and tea. I changed into my robe and slippers, put my belongings in the locker and was greeted shortly by my massage therapist, Jenn. 
Jenn took me back to the massage room and we went over what was sore and what I wanted her to work on for the session. Then I sampled the various scents to choose one for the massage and we were on our way. She left the room for a minute while I crawled onto the cozy, heated massage table. Jenn worked on my problem areas, and I'll tell you, as I'm finishing this blog (it's now the next morning, I went to bed shortly after the hot tub) I can still feel the results. I really value a therapist that can apply the amount of pressure I like, a good masseuse can be hard to find and I hope I will have the pleasure of booking another massage with her in the future. Thank you, Jenn! 
So as I implied above, I felt absolutely amazing at the end of the massage and so relaxed. I took my time getting up and was greeted on the way out of the massage room with a glass of water from Jenn, she walked me back the women's room and suggested I take advantage of the steam room. Great idea! After about 15-20 minutes I emerged feeling like a new person. She also told me about an amazing sounding mud wrap. I showered, got dressed and headed to the lobby to ask some questions. The front desk staff connected me with Alyssa, a cosmetologist who is one of the staff who does facials and hair. I told her some of the issues I was having with my skin and she made some suggestions.
Other Services
Now they both had me wanting the Lodge Mud Wrap, why wasn't there more time!? Apparently, it's this luxurious full body mud masque to detoxify and hydrate the skin (in addition to firming and toning) and of course I'm not doing it justice with my paraphrasing of what they told me! Alyssa then showed me the facial room and told me about the facials and peel treatments they offer including the Dynamic Transformation Facial and Hydrafacial which she highly recommended. The Hydrafacial hydrates while refining the skin and offers a long list of benefits such as improving fine lines, wrinkles, sun damage, congested oily skin, and even rosacea. And the Dynamic Transformation Facial is a different process for similar results including skin resurfacing which targets lines, wrinkles, discoloration and breakouts. Both leave a more vibrant, youthful, you. I'm not sure I could choose between the two!
And I'm hooked
I guess I know what's going on my Christmas list this year and it's great to know I can get all these treatments here in Lake Placid while enjoying a day at the pool, hot tub, sauna and steam room. Not to mention all the great food and drinks the resort has. 
The Whiteface Resort Spa offers spa day packages, spa club memberships (both seasonal and annual - I had no idea) with discounted rates for couples, a spa cafe, health & wellness classes, fantastic spa products and hosts special events. Check them out the next time you're in LP!
It was time to head to my next appointment at the Mirror Lake Inn. Though I told the staff that I would definitley be back later for an evening swim and hot tub.
Mirror Lake Inn Spa
I arrived at the spa and was cheerful greeted and shown into the women's room, I was given a quick tour: steam room, sauna, hot tub and the Sanctuary (a cozy waiting room with a fireplace), showers and room with toiletries to get ready after the treatment. The hot tub had a fireplace too, just outside the Sanctuary, it was nice how there was a private hot tub in the women's room. I was shown my locker, containing a robe and slippers and my spa adventure began again. Donning my robe and slippers, I packed my belongings into the beautiful wooden locker and headed to the Sanctuary. I was greeted by Brittany, the licensed aesthetician, who would be doing my facial today. 
I'll admit, I splurged, after discussing my skin issues, we decided a microdermabrasion treatment would be best. I was worried my skin would be all red and irritated and asked how long my skin would take to heal. She asked if I had any plans afterwards to be in public and she would tailor the treatment to that, but that she would prefer to go aggressive to give me the best results. I told her my plans were to hang out at the Whiteface Resort pool and we decided being a little red wouldn't be so bad since they offered facials and skin treatments as well. 
So she went aggressive and my skin felt amazing, so soft, and I was pleasantly surprised my face wasn't really red at all, or irritated, it just felt great. And what I really enjoyed was the education I got with the treatment, she explained what she was doing every step of the way and what it would feel like. I asked her questions about my skin concerns. She gave me tips on how to take care of my skin and made some suggestions of products she's tried and liked the results from.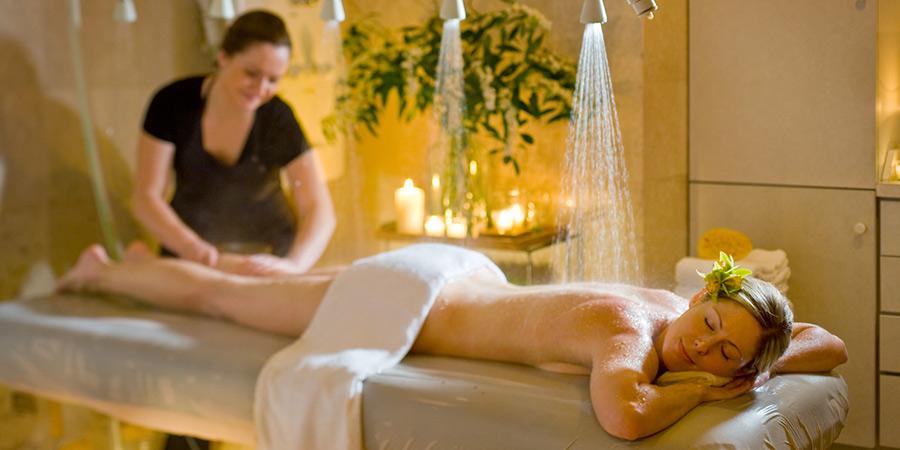 Other services
We talked about the other treatments that they offered and she showed me some of the rooms including their Vichy Shower (so cool!) and their European soft pack (I must do this, new addition to my bucket list). She had me lay in the soft pack and lowered me down, I was floating in warm, cozy luxury. I asked her if she ever snuck back there for naps. Haha. I totally would! While I was laying there she gave me the details of the Three Dimensional Body Treatment, and I say Dimen-sational! It exfoliates the entire body, removes toxins, and a mask is applied to smooth and tighten while you are wrapped up and relaxing the European soft pack, the treatment finishes with nourishing skin cream. This 80 minute treatment sounds simply amazing.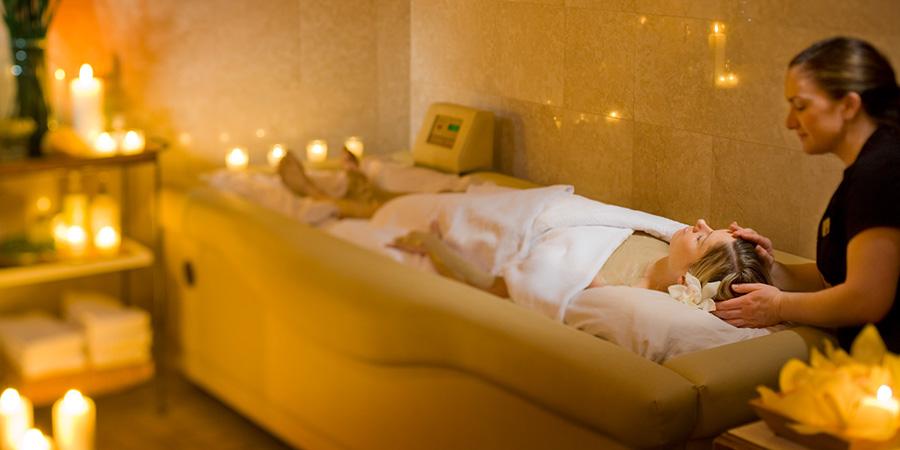 I thanked Brittany for the tour, and the education, and headed back through the sanctuary. I stopped and gazed longingly at the hot tub and steam room - reason to not book at two spas in one day! I changed out of my robe and slippers and headed out of the dressing room to look at the spa products and check out. If you're interested in any of the services at the Mirror Lake Inn Spa - ask the front desk staff... I found out they all get to experience a treatment a month, so when you're asking them questions they can answer from experience! How cool is that?!
While I wish I could've stayed another hour, it was 6:30pm and I was determined to end my day poolside, and in the outdoor hot tub, at the Whiteface Resort. Brittany suggested waiting a bit before hitting the hot tub so I ran home to let the dogs out, grabbed a quick bite to eat - some yummy leftovers from Simply Gourmet (yesterday's lunch), and headed back to the Whiteface Resort. I know I could've gotten delicious food there too, but I was to focused on the pool and hot tub.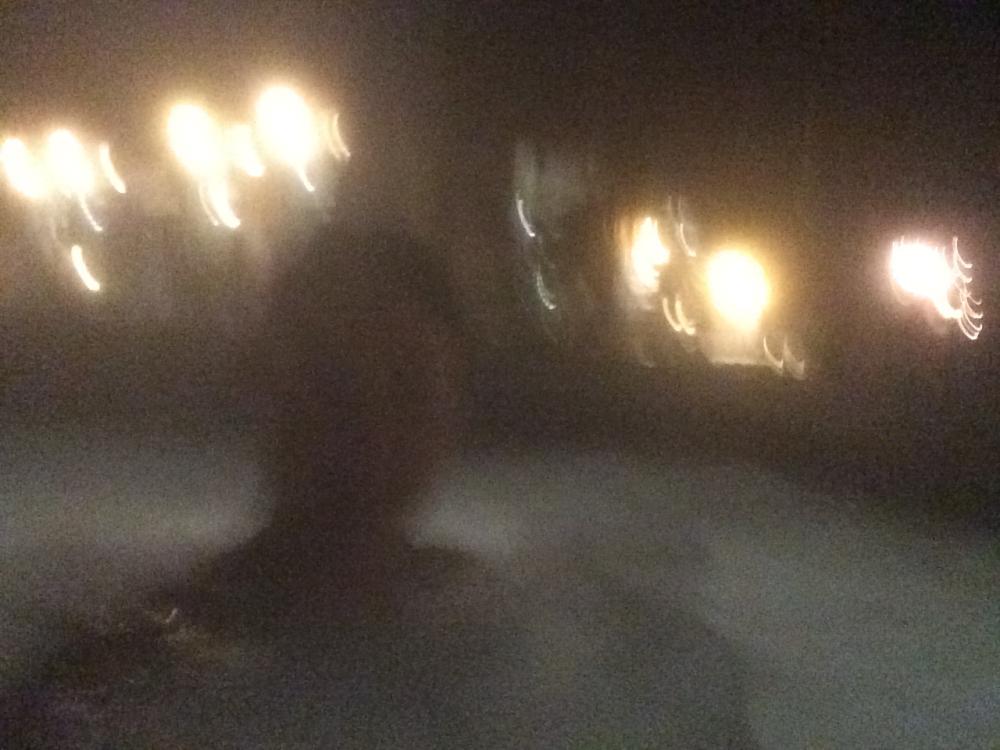 (my attempt at a selfie in the hot tub, not so successful)
Hot tub time!
I arrived back at the Resort, got a key from the spa and headed down to the pool. I sat down in a comfortable lounge chair and took out my computer and started to write this blog. I watched two men come to the pool, swim under the wall and about 30 minutes later swim back from an outdoor hot tub session. Next was a family, they chose to walk outside to the hot tub. My husband texted from his flight to say hi and that they were between Alaska and Siberia, and he sent a photo, they looked like they were enjoying themselves. 
At 9pm I decided it was time to take a break from writing and enjoy that swim and hot tub I'd been looking forward to all day. I stepped into the pool and the water was perfectly warm, so I decided I would swim out to the hot tub. The water was great, I swam through the opening and over to the stairs. Now the fun part, I went as quickly as possible up those stairs and into the hot tub. At last, pure bliss, I found the dial to turn on the jets and leaned back and relaxed, what fantastic ending to my day.
After a little while a couple joined me, they had just bought a place at the resort and were enjoying the last evening of a long weekend. They came up from the city and had enjoyed visiting so much they decided to purchase a place. They said they are coming back for two weeks in February, so I asked them if they skied. She said no but wanted to learn and that her husband hadn't skied in years. I told them about Whiteface's new learn-to program, it's an amazing rate at just $169 for 3 days of skiing including: rentals, lift and lessons, and at the end they promise to get you to the top of the gondola, and from what I understand if you don't make it up by the third day, they will give you free lessons until you do (but don't hold me to this, ask them!). 
She asked a few questions about how to dress for skiing and I ran through the basics with her: ski pants, warm - water resistant jacket, gloves, hat, goggles, a neck gator can be helpful, ski socks (nothing cotton, make sure your feet are happy, worth the investment), and dress in layers (lifts can be cold, learning to ski can get warm). She pretty much knew everything already but she was grateful for the information. I congratulated them on their new place and wished them a good evening as I stepped out of the hot tub and back into the pool. Fully relaxed and pampered, it was time to go home.
(the bobsled bachlorette crew)
Plan your own perfectly naughty day
So go ahead... plan a naughty day of your own - Lake Placid is a great place to do it! This weekend I saw a group of women all out with matching leopard print scarves enjoying a little girls weekend out on the town. A few weekends before I ran into a bachelorette group in matching sweat suits and medals who had just done the bobsled ride (the bride-to-be's bouquet was a torch) and were headed into town for a day of shopping - I ran into them again out at Smoke Signals later that night. I've also run into bachelor parties where the guys golf during the day and hit the bars at night. There is so much to do - and a fun night life to boot. Speaking of that I need to finish rescheduling my girls night out! ;)
Take time for yourself this season! Happy Holidays from Lake Placid.