... and eat it too!!
Is it inevitable to gain weight during the holidays? This has typically been the season of mashed potatoes, pies, cookies, stuffing, cheese, bread, cakes and more of what we don't need to eat. The five weeks between Thanksgiving and New Years are like navigating a spring cow pasture. Let's face it, this is the time of year to enjoy family, friends and food, and depriving yourself shouldn't have to be an option. In the words of Julia Child, "People who love to eat are always the best people." I am professing that we CAN have our cake and eat it too!!  
Living in Lake Placid
Luckily when you live in Lake Placid healthy active people are everywhere, which can be all you need to keep it real. A little bit of pre-planning and an ounce of motivation can be the difference between extra pounds and maintaining what you've got. If you are not where you want to be, well that's what New Year's resolutions are for and foresight can keep you ahead of the game.  
Eating your way through
In our office we are inundated with gifts of candy, chocolate and cookies. It doesn't take long for one of us to open the package and start digging in. Last week I ate 3, three, tres doughnuts; mind you I have not had a one of these in years but there they were all sugary and ready to eat. Ok fine, so for dinner I simply ate a salad and the next day I brought cottage cheese and fruit for my lunch (the doughnuts were gone by then), and leftover vegetables.  Since I weigh myself every evening after getting out of the shower* I could see that my weight stayed the same, success!  
*I always get on the scale after the shower and not before, try it, you will weigh less.  
This is all pretty simple and basically the art of practicing balance. If you know you are going to a party, work or otherwise, and eat (you know you will) plan ahead. Go extra light on the day of or even the day before. Plus, if you can find the time to get a little exercise in, this will help even more. Did you know you can burn 224+ calories by walking briskly for 45 minutes? And if you weigh more - you burn more. This is the time it takes to walk around the lake, do 12 laps on the track at the Horse Show Grounds, walk 12 laps inside around the 1980 rink and hike the Peninsula Trail. All of this can be done at lunchtime (while eating your carrots) or after work instead of running to Happy Hour, although running IS a great calorie burner. 
If you have more time or you have been consuming more than humanly necessary there are plenty of longer hikes one can do, just don't forget your headlamp. 
Of course this area offers much more to do to get into activity like: all types of skiing and boarding, snowshoeing, ice climbing, and ice skating or hockey on Mirror Lake. For those who prefer indoor time there is always the gym, yoga studios, kick boxing and bowling (approximately 100 calories per hour, at least it's something).
More than just cake  
I know that I won't make it through the holidays without being served real, buttery mashed potatoes and to that I am grateful; but while I am cooking I will be serving Creamy Mashed Cauliflower. It's seriously good, and no, not potatoes but did you know that potatoes are on the "never eat list"? We eat this a lot in our home with a piece of fish or chicken and a salad (make it big). Cauliflower is also low in carbs and calories and dense in vitamins and minerals - doesn't get any better than this!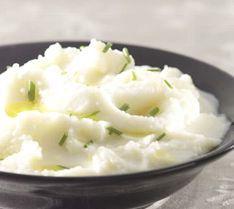 Creamy Mashed Cauliflower                                                                                  
1 medium head cauliflower, cut into florets
1/4 cup reduced fat milk, or other unsweetened milk
1 TBL extra virgin olive oil
2 cloves minced garlic
1/2 tsp salt or salt substitute
freshly ground black pepper, to taste
Steam on stove or microwave cauliflower until very tender, about 10 minutes.
In a separate skillet, warm olive-oil, add garlic and saute until garlic is golden.  Remove from heat.  Using a hand masher, mixer or food processor puree the cauliflower while slowly adding the milk.  When desired consistency is reached, add garlic and oil mix and season w/S & P. 
Serves 4 -3/4 cup servings at 49 calories each.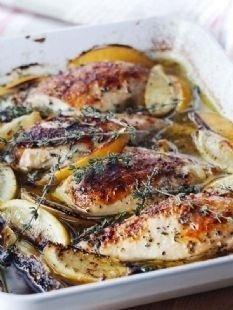 Lemon Chicken                                                                                                                               
1/4 cup olive oil
3 TBS minced garlic (or more if you really love it)
1/3 cup dry white wine (or broth)
1 TBL lemon zest (grate the skin of 2 lemons)
2 TBL freshly squeezed lemon juice 
1-1/2 tsp oregano or basil, whichever you prefer or have
1 tsp thyme leaves if you have them, if not - no worries
salt and freshly ground pepper
4 boneless,skinless chicken breasts or use the equivalent in tenders
Preheat oven to 400 degrees F.
Warm olive oil in small saucepan over medium heat, add garlic, cook for 1 minute without letting garlic turn brown.  Off the heat, add wine or broth, lemon zest, lemon juice, oregano, thyme, salt & pepper. Pour into 9x12 baking dish.
Pat the chicken dry and place over sauce.  Bake for 30-40 minutes covered, until chicken is lightly browned. If need be, turn on broiler to brown for 2 minutes (after removing cover). Cover baking dish and let sit for 5-10 minutes while getting the rest of your meal ready and plated.
Serves 4 at 390 calories each regular size breast.  
Bottom line?
Be smart. You know what you should and shouldn't eat and the main goal during the holidays is to maintain. Start thinking about food as your daily medicine, what do I need to eat, or not eat, to keep myself healthy?  
"Never eat more that you can lift," Miss Piggy
Well then, see, you can have your cake and eat it too. It's your cake.