Every company that has anything to do with the outdoor retail industry is making a tent and placing it on the market. Variety and selection is what customers want, but how much is too much, before it becomes overwhelming? You can go to a variety superstore and buy a tent for $20.00, will that suffice? It might for a weekend or maybe even a season if you take care of it but don't expect the world from it. Should you order a $500.00 tent online, thinking it will get you an entire backpacking career? You could, but let me tell you, you don't always get what you pay for. A tents life is all in how you treat it, maintain it, store it and sometimes baby it. What I want to do is give you a brief overview of what's out there and what features to look for.
Tent size is very important
This might sound kind of like a no-brainer but correct sizing can be key. First off a three person tent is just that, for three people. There will be no extra room for gear or the family dog. If you need that extra room, think about a three person tent for a two person outing. That way you can have room to store your gear inside so it doesn't get wet in case of a rain storm.
If you are a tall individual you might have to shop around a bit for a longer tent with added leg room. When shopping look at the footprint of the tent. You don't want your feet or head pressed up against the sides.
In the winter a two person tent should be for two people, 3-for-3, 4 for 4, etc... Do not worry about your gear in winter, unless it has to stay warm (camera, GPS, medicines) leave it outside. The less dead space inside the tent the better. Dead, unused space is hard to heat; a smaller tent is much easier to heat with body warmth.
Tents for all seasons
There truly are tents that are better one season than another. This is less important during the warmer months but during colder times of year you need to think about a different tent. Warm season tents tend to have much more mesh on the walls and better ventilation. This is great on a 60 degree muggy night but not on a night that it drops to 10 degrees. Winter tents have little to no mesh and much thicker walls, sure this makes them heavier but that also protect you from the elements. There are many other smaller features to a winter tent, but to keep it simple – if you are camping in winter, get a winter tent. Camping in summer, get a three-season tent. In spring or fall, get a three-season tent with less mesh windows, or windows that zip closed.
Family tents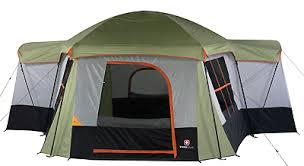 These massive shelters are built for car camping and not so much designed to be carried long distances. They can have several smaller rooms for added privacy and canopies built onto them for rain and sun protection.
Bivy Tents

These tiny structures are for solo camping or emergency shelters. They are typically built for one person but two person ones can be found as well. The designs on these are close to a glorified sheet that goes around you and may have one to two short poles for a small dome over your head. These are very light weight and considered a minimalist approach to backpacking. As I mentioned many day hikers will carry a bivy, especially in winter, as an emergency shelter for an unplanned night in the woods.
Cost of a tent
The cost of a tent is based on different features of the tent and the brand name also carries a price even if the materials are no different. The quality of the materiel, craftsmanship, type of material and size of the tent all play a part in the cost. Supply and demand also plays a roll, and if a tent is new to the market and getting amazing reviews, you will pay a bit more as well.
Shopping around
There is not a huge turn over in the tent market. Outfitters don't sell a ton of tents, mainly because a tent is not a disposable piece of gear; it's an investment in your hobby. Watch for discounted items, discontinued items, holiday or weekly sales, and overstock blowouts. These will get you a better tent at similar prices. Read reviews and do some research before you jump into something and regretting it later. Rent a tent before you buy, many outfitters have rental programs on current or like tent models.
After you buy your tent
After you have made that leap into buying a new tent you need to do a couple things before you head out. First off, set it up and make sure all the parts are in the package. Manufacturers make mistakes too and forget a vital piece, like a pole. Pieces can also get lost at the outfitters. Once up, make sure there are no factory defects, rips, stains, etc...
Once the tent is up, seal all the seams. Buy seam sealer right at the outfitters, the easiest to apply has a sponge applicator. There is a seam along the top of the tub of the tent and some that might run up the side and around the windows, hit all of these. The tent also comes with a rain fly that goes over the body of the tent, seal that as well along the seams.
Tent protection and upkeep are two completely different balls of wax. Check back soon for more details on camping gear care and storage.
Need more information on tents, stop into a local gear shop for details and ask for a trained, knowledgeable representative. Looking for the perfect place to try out your new gear, swing by a local bookshop for a guide to the High Peaks Region. Never camped before? Seek out a local guide service for details on an introduction to backpacking course.    
Now that you've researched your tent, research where you want to go with that tent. There are many great camp sites, hiking trails and paddling areas for you in the Adirondacks to set up for an overnight getaway, so consider Lake Placid for your next perfect camping adventure!