Keene Valley Library "Bowls for Books"
Holiday festivals, fundraisers, and carol fests are around every corner this time of year in the Adirondacks. But tonight I have stumbled into one of the most unusual and fascinating of these at the Keene Valley Library: "Bowls for Books."
It all started with a pottery workshop held here in the library in early November by Carmina Leabres. Carmina is a ceramic artist who lives and works at her studio in Keene on Hurricane Mountain.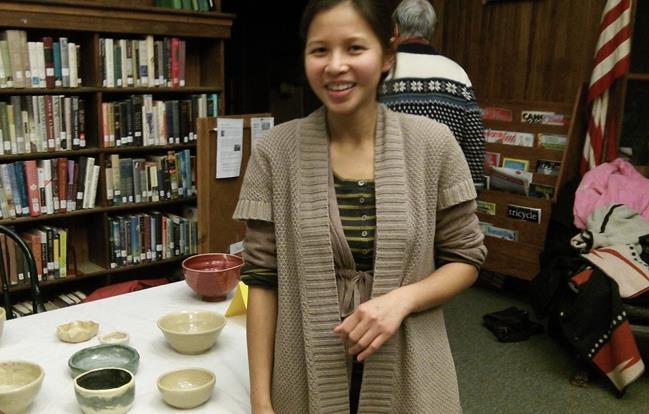 She is here tonight and explains how she invited beginners to join her at the library for a workshop on hand building bowls and mugs. She never expected that the space would be filled with 19 novices eager to create.
Part two of her idea was to bring the pots and mugs created by her students, her own pots, and those of other area potters together for a holiday fundraiser for the Keene Valley Library. That is what tonight is all about. The event is three hours long and called "Bowls for Books".  There is also soup and cider to fill the bowl or mug that you purchase here tonight.
I am told the evening started with about 100 bowls--judging by the number of bowls and mugs left, the event is already a huge success. In addition to the workshop bowls, Carmina and other ceramic aritsts, namely Julia Bronski of Upper Jay, Nancy Both of Keene, Lisa Parker of Keene, Jenny Mugrace of Keene Valley, Kirstin Egge of Elizabethtown, and Carmina's husband Cayan Drake, all contributed to the pot so to speak—even some established businesses like the Jay Craft Center supplied some vessels.

What I am seeing here tonight is a Frank-Capraesque holiday celebration. The library is packed with infants, toddlers, teenagers, parents, and grandparents all here to share in the completion of an art project, some soup, and support the public library while sharing holiday greetings with one another.
It is a model of partnership between community and the arts and not atypical of North Country libraries. If you are in the area it is always worth checking in with the local library to see what cultural events may be on the schedule.
In Keene Valley, the coming winter will bring movie nights and lectures and other entertainments at the library. Visit the Keene Valley Library online to see what else is in store.
As I hunt for the ceramic artists online, I also find an interesting feature that they neglected to mention this evening. Carmino and Cayan have a web site called The Clay Hearth—traveling pizza and pottery. They plan on attending regular Farmer's Markets this coming summer as well as openings at Keene Arts.
For more cultural events in the Lake Placid Region, visit the calendar of events.
Kathleen Recchia has been enjoying the arts in the Adirondack for about 20 years—both as observer and participant (acting, directing, and producing). She also enjoys cross-country skiing, swimming, juggling, and hosting visitors to the area at her bed & breakfast in Jay.