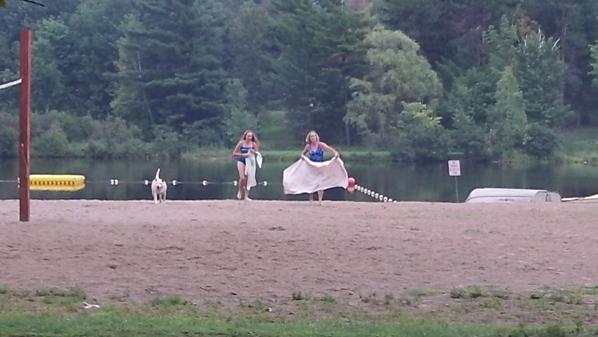 This is not the first time I have driven to Wilmington Beach but it is the first time that I've been to the "New Beach" in Wilmington. I am here tonight for the free evening concert. Spring Street is scheduled but when I pull into the parking lot there are very few cars and it is quite still. The sky is overcast and I see no signs of entertainment.
I hear a familiar voice further down the beach and wander over to find Bert and Heike Yost, the owners of Willkommen Hof Bed & Breakfast in Wilmiington, and some other Wilmington folks beginning a potluck picnic.
Bert tells me the town has cancelled the concert due to a weather advisory but that hasn't deterred the party of town folks who had planned to meet and enjoy the Lake Placid band Spring Street and the beach atmosphere.
Many towns in the North Country offer free evening concerts one night a week and Wilmington Beach is an ideal location for the whole family to enjoy a summer evening. The concerts here begin at 6:30 PM and run to about 9:30 PM on Thursday evenings. There is a lifeguard on duty until 6 PM most evenings but on concert nights the lifeguard stays until 8 PM. Children may choose to play on the playground or swim while their parents enjoy the live entertainment. Even though there will be no concert tonight, I notice that the lifeguard is still on duty and there are a few folks who aren't put off by the inclement weather. In fact, Heike decides to try out a new kayak and goes paddling until we hear some thunder in the distance.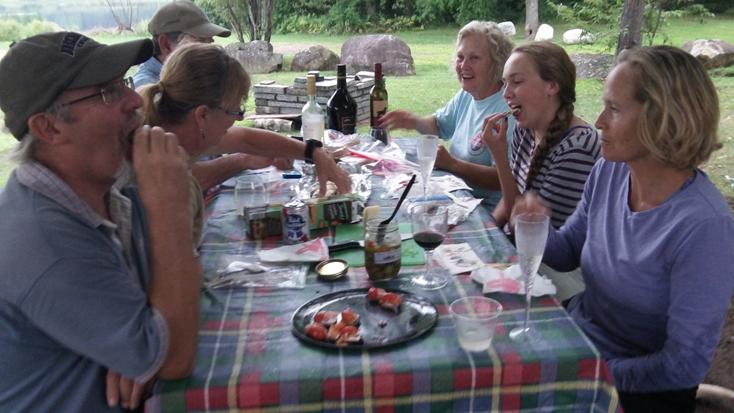 Bert remarks that although it has been a dry summer, three of the beach concerts have been rained out. So even though there are only 3 more concerts scheduled this summer, the 3 missed concerts may also be added to the end-of-summer schedule. The upcoming concerts will  feature the rhythm & blues of Stone Ground Express on August 16, Uncle Jam rock on August 23, and Noco Local country rock on August 30. The picnickers generously share their dinner with me and send me off to the sound of yodelling.
In the town of Jay, free concert night is Saturday at the Jay Village Green, sponsored by the Jay Entertainment & Music Society (JEMS). Families begin to gather a little before the 6:30 PM start time, often with picnic suppers. There are free refreshments at intermission. On August 18, JEMS presents Chris Shaw and on August 25, A Fine Mix.
Ballard Park in Westport hasThursday night concerts at 7 PM—August 16 will bring the electric acoustic jazz of Taylor Haskins and Friends.
In Lake Placid, free concerts are held on Tuesday evenings at Mid's Park, Main Street. Concerts begin at 7 PM. On Tuesday, August 14 the Songs at Mirror Lake Music Series presents Blues & Soul Night with Ruthie Foster.
By the way, you can catch the band (Spring Street) that was supposed to play at Wilmington Beach tonight, on September 1 at The Pines in Lake Placid. And, did I mention the bathrooms at the beach...they are exquisite!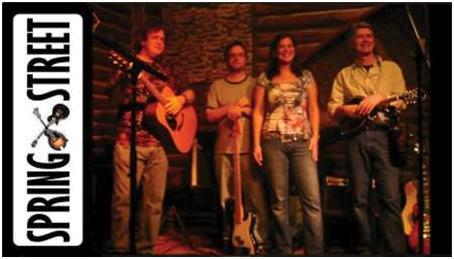 To learn more about free North Country concerts and other summer arts events click through to the Lake Placid events web site.
Kathleen Recchia has been enjoying the arts in the Adirondacks for about 20 years—both as observer and participant (acting, directing, and producing). She also enjoys cross-country skiing, juggling, and hosting visitors to the area at her bed & breakfast in Jay.