Lake Placid resident and licensed Adirondack whitewater rafting guide, Wayne Failing, talks about his life in and love of Lake Placid and the Adirondacks in the first of our video series, BE Lake Placid. He says the only thing we don't have in Lake Placid is salt water with a beach! View the video to see what makes Lake Placid so special to Wayne. 
For thrilling Spring adventure in the Adirondacks, nothing beats a whitewater rafting trip. Yes, the water's cold and, yes, the river runs fast! That's what makes it an adventure! Wet suits are provided by the Adirondack rafting companies and the trips usually entail most of the day, so lunch or a hearty snack is usually provided as well.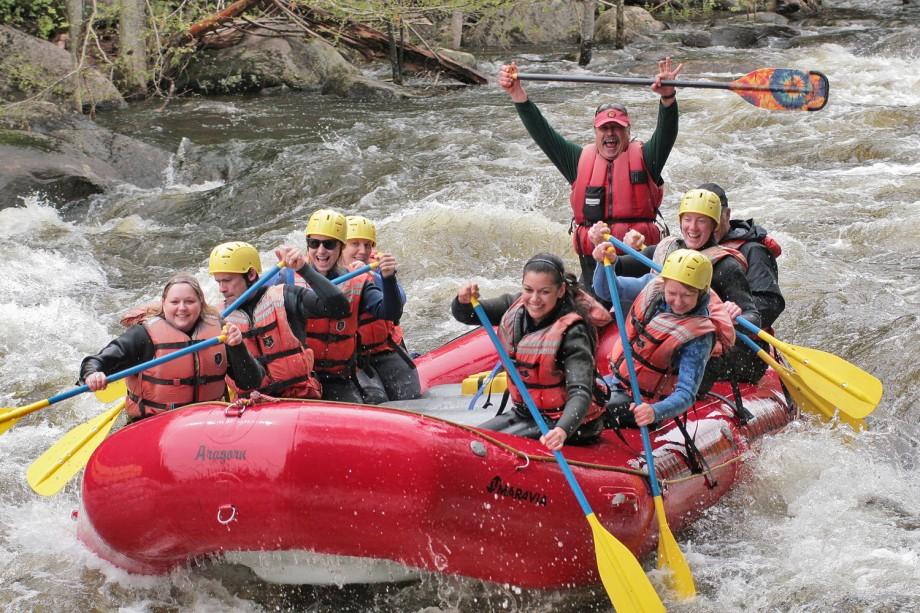 For the uninitiated, it can look really scary, but truth is.... it's not. It's a hoot! There will be class III and IV rapids on the Hudson River section, which is what I have experience with. The trips are approximately 17 - 18 miles along some of the most dynamic stretches of the Hudson River, which runs from near the summit of Mt. Marcy (the highest peak in NYS), to New York City.
Spring whitewater trips are, by nature, more adventurous and the rapids are at their highest due to the spring runoff from the snow melt. However, after June, rafting trips on the Hudson are suitable for the whole family and are a perfect way to see the spectacular fall foliage, with lower water levels.
There are also trips for the experienced whitewater rafters available on the Moose River. These trips will encounter class IV and V rapids and are advertised for adults only with experience.
One of our regional rafting companies is based in Lake Placid and is owned by licensed Adirondack guide and river rafting expert, Wayne Failing. Wayne stars in our most recent BE Lake Placid video here.
Our Lake Placid website is full of information about rafting in the Adirondacks. Check it out and give it a try this season. You'll never forget it!