As the fast-warming spring cleared Adirondack lakes of ice, it became time to dig out the canoe and paddling gear from their winter hibernation and check out a local lake with my dog Wren. At the end of last summer I began to train Wren in a canoe, and she has done well. That is to say, she hasn't flipped us yet.
However, the consequences of taking a dip in late March or early April are quite a bit more severe than those from taking an unexpected swim in July or August, and I packed along a dry bag with a few extra clothes as a precaution. I had no desire to go to the hospital for hypothermia, even if it was just across the street from the lake. I waited for a day that was relatively warm and sunny, and most importantly a day that wasn't very windy – solo paddling with wind is often a lesson in frustration and can be dangerous.
We went to Lake Colby in Saranac Lake. Lake Colby is an excellent paddle – quick enough to do it in a short period of time with minimal travel, yet interesting enough to extend into a couple hours if you wanted. The lake is also nice because motorboats launching from the DEC boat launch can have a maximum of a 10 horsepower engine. Most of the lake also borders state land, and it offers a few coves or arms which are fun to explore, and which take paddlers away from the traffic noise on Rt. 86.
Our paddle was not long – it was just a prelude to longer adventures this summer – but the light breeze gave me plenty of exercise anyway. The arms of the lake can help paddlers hide from breezes and their resulting choppy water, and so I used them too, resting in calmer water and using the opportunity to take some photos.
For the entire trip, Wren was as perfect as I could have hoped. In past paddles, she usually has trouble sitting still. She sits, stands, moves, leans, and fidgets, having the uncanny ability to unbalance the canoe by putting her weight entirely on one side of the boat. However, she laid down almost the whole time we were out, dozing in the sun with her head resting on the yoke. It is one of her favorite positions when she is relaxed in the boat, and the one I try to encourage.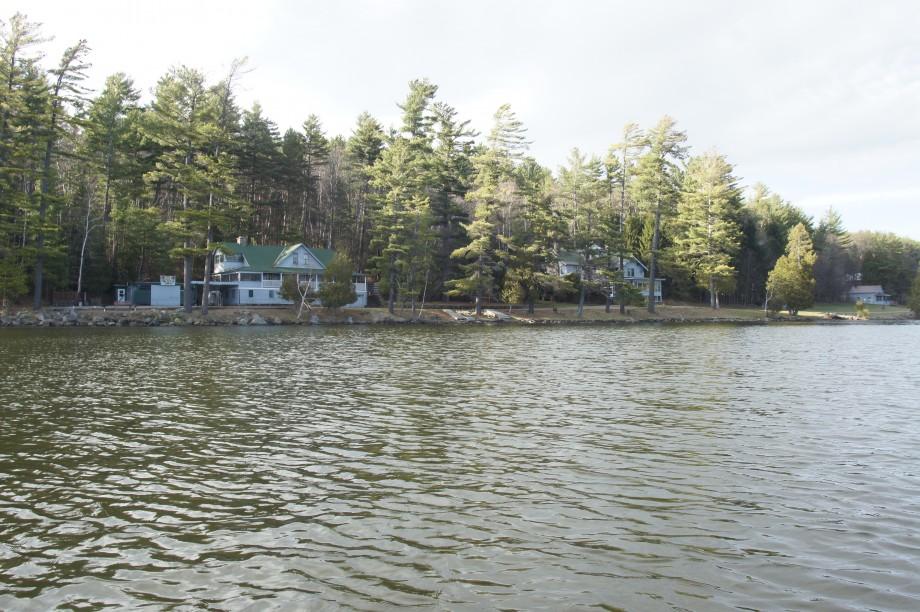 Wren did take an interest in a couple of herring gulls, but merely lifted her head and watched them curiously. She did not see the pair of common mergansers (a species of duck) fly by in the distance. The closest she has come to tipping me to date has been when she has taken an interest in swimming ducks. But on this day she didn't tempt fate, and such short outings like our trip to Lake Colby are important in Wren's training after all. Until I'm more confident with her in a boat I won't bring her along with a boat full of camping gear which could be soaked or lost if we flipped.
We returned to the boat launch along the shoreline with the DEC camp, tucked away from the breeze. Wren hopped out, excitedly stretching her legs, and with pent-up energy began to run around smelling the boat launch area. After loading the boat on the car, we went straight to the Bloomingdale Bog Trail where she could do what she loves to do best: run. After all, I can't expect her to sit still forever.