If you are looking for an easy off-road biking trip, then the Bloomingdale Bog Trail may be for you. The trail is a gravelly dirt path that is flat and mostly smooth, with a few roots and rocks here and there to keep it interesting. It is also off-road which is great if you want to avoid traffic or have a quiet bike ride with the family.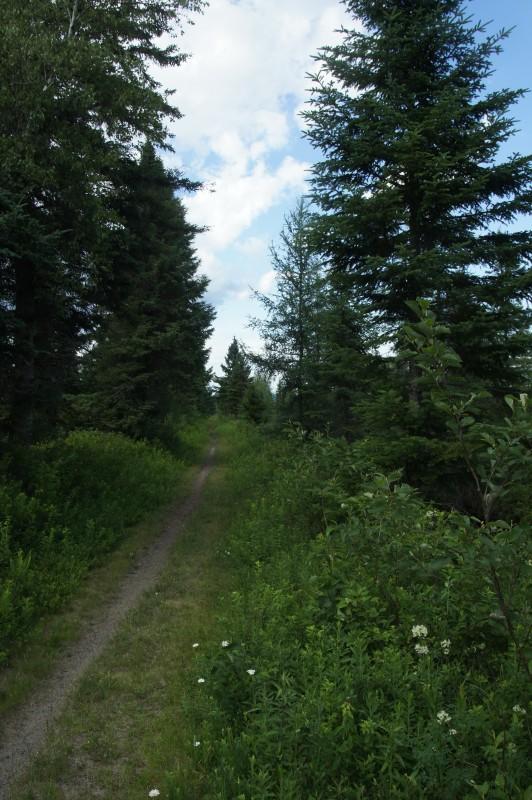 The trail is popular in all seasons with many user groups – the largest being dogwalkers – and many bikers use is as well – including a few folks who use it as a commuter route. Two summers ago when I was leading a bird walk from the south end of the trail, along came former president George W. Bush and an entourage of secret service agents! The trail is, it seems, a good biking trail for both the famous and less-well-known alike.
The south end of the trail begins on Route 86, just north of the village of Saranac Lake. The trail immediately runs along a marsh and pond, and then heads north through a mixed woodland. It begins to open up about a mile up the trail, passing what looks to be an old, rusted railcar and a string of impressive beaver dams close to a mile and a half out.
The landscape continues to open up and the trail cuts across the dramatic bog, and any bike ride there should involve a few stops to enjoy the view and perhaps do a little botanizing while you're at it. The trail through much of this section is open, and therefore sunny and warm during much of the day in the summer, but soon trees begin to line the trail again – creating the rootiest part of the ride.
At about three miles, the trail reaches a stream crossing and a wide swath of grassy wetland opens up. It is a good place to look for American bittern, common, yellowthroat, or swamp sparrow, among others, if you are interested in looking for birds. From the bridge it is about one mile to the north entrance of the trail along Route 55. This allows for an easy seven and a half to eight mile out and back ride from either access point.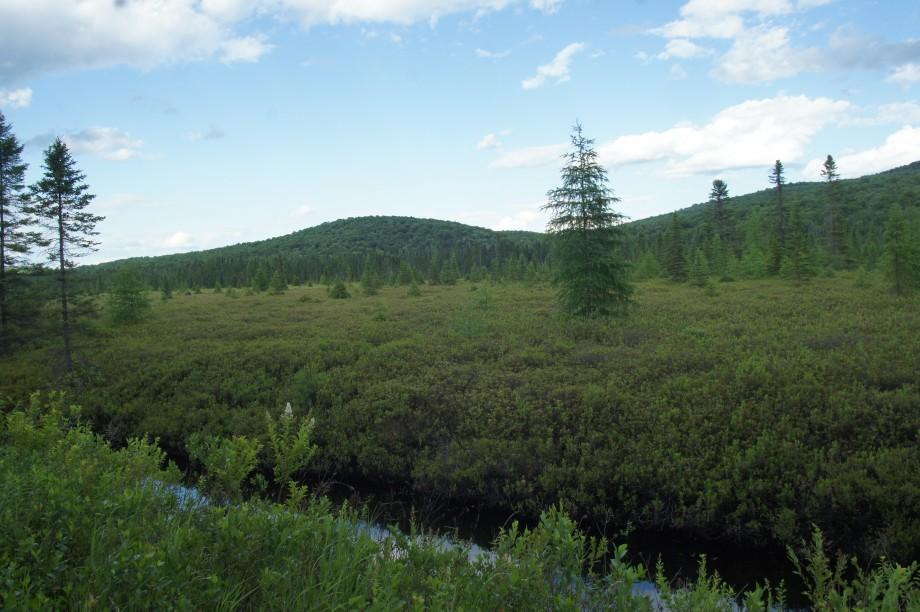 For those interested in continuing north from Route 55, the trail heading north is more shaded and forested overall than the southern portion. At about a half mile, the trail reaches Bigelow Road – a dirt road which dead ends at its junction with the trail. A right turn on Bigelow would bring you to Oregon Plains Road which in turn could take you to Route 55 in Bloomingdale if you are interested in a nice loop that involves some road biking.
About a half mile above Bigelow Road on the trail there is a wide, old beaver pond that is more mucky than wet in many places. The opening offers a nice view and a chance for photos. Then the trail heads north through largely coniferous woods, eventually coming to Swinyer Road – another dirt road – at roughly two and a half to three miles from Route 55. Intrepid bikers can keep right on going on the wide trail, while others can make it their turnaround. However long you wish to make the trip, the Bloomingdale Bog Trail offers a peaceful and beautiful place to explore by bike.