There's a certain feeling in Lake Placid each January as the new year begins. It always makes us think about new beginnings, activities and goals we hope to accomplish and many times, thoughts about the past. Our memories force us into the past for many reasons, some of which are tied to current events, weather, activities and more - a strong fragrance, snow falling, biting cold on one's cheeks, or that special view of the surrounding mountains.
Driving to work this morning I was struck by the lightly snow-covered fields and the low clouds on the mountains and then the bitter cold hitting my cheeks as I walked from car to office across Main Street. The line of flags on the front of the 1932 Olympic Arena took me back to my childhood and then memories of the late 70's when I returned from living in California to be home for the run-up to the 1980 Olympic Winter Games. During my three and a half years in Los Angeles, the things I missed most about home were skiing, snowshoeing and the special people in our small alpine village. I could have skied at nearby Big Bear, but it was nothing like the Adirondacks. While LA had some big draws for me, Lake Placid was home and I was truly missing all the excitement surrounding what was to be the biggest happening in nearly 50 years. I came home in September of 1977, just in time for fall foliage and winter preparations.
It was an amazing time with the excitement, the construction of all the new facilities and the new alpine and cross country ski trails being cleared. The winters were filled with skiing and snowshoeing around the brand new terrain available in and around Lake Placid. My husband and I currently live a stone's throw from the Mt. Van Hoevenberg cross country loops constructed during that time, so we're lucky enough to be able to ski right over and onto the trail system (I have a season pass, so I don't have to go to the lodge and purchase a pass).
This week we're finally getting some good snow and cold temperatures. It is only 2 degrees here at 10:30 this morning. Snowmaking can roll in earnest with these temperatures,and some of our cross country ski centers are opening today with 4 or 5 inches on the ground and snow showers predicted the next several days.
This year of light snow cover is reminiscent of the winter of 1979-1980, when we literally had almost no snow right up until the Olympics began in February. People all over were praying for snow for Lake Placid. We finally got it right as the games began. So much that officials had to postpone some of the alpine ski events because there was
too much
snow! Meanwhile enormous snowmaking efforts had been going on prior to that at Mt. Van Hoevenberg, with trucks moving it all around to cover the cross country trails, as evidenced by this photo. Lake Placid made and trucked more snow than you can even imagine during that time.
The legacy of the Olympic Games of both 1932 and 1980 and what the visionaries of our community accomplished because of a dream, and against seemingly insurmountable odds, lives on here. We enjoy 50 kilometers of publicly owned and groomed cross country trails at Mt. Van Hoevenberg, plus snowshoe trails incorporated into the mix, and even a new trail system on which you can ski with your dogs, all in one complex. Due to the location of the XC center, these groomed trails also connect to the back country wilderness trails at several access points, as well as connecting into Cascade Cross Country Center, which in turn connects to the free and groomed Jackrabbit Trail. From one location at Mt. Van Hoevenberg, one can ski up to 24 additional miles in two directions on groomed trails, thanks to the Adirondack Ski Touring Council, which maintains the Jackrabbit Trail. The Jackrabbit Trail system is free, but if you connect via Mt. Van Hoevenberg, Lake Placid Club Golf Course, Craig Wood Golf Course or Cascade XC Center, you must purchase a pass to ski through their groomed trails. There is  also an Interconnect pass available. There is signage along the trail to denote entrance to private ski centers at which you need a pass.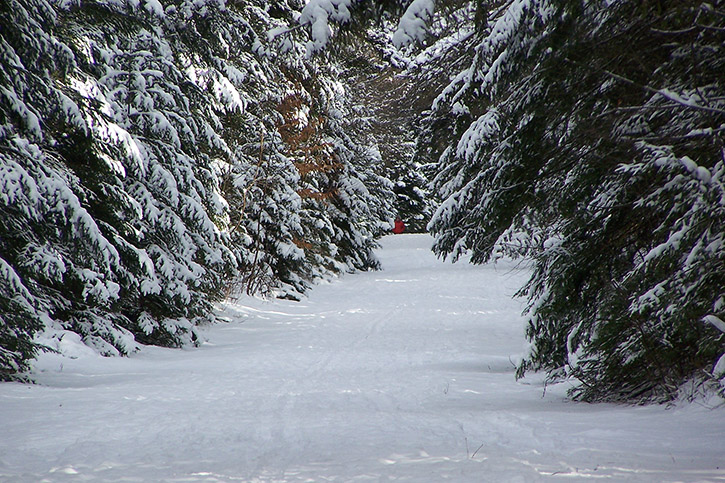 Out of Mt. Van Hoevenberg, the back country trails into the High peaks are free, but are ungroomed so be prepared, especially in deep snow periods. While on the trail keep your eyes pealed for wildlife. Birds abound and if you're really lucky, you may catch a glimpse of one of our residents cats - Bobcats, that is. There is a pair of Bobcats who have occasionally been spotted on the Mt. Van Hoevenberg trails and surrounding countryside. They are magnificent creatures to behold and very, very shy. If you see one, you are lucky indeed!
Sadly, this week we mourn the passing of Vern Lamb, one of our early ski pioneers. and one of the aforementioned local visionaries. Vern Lamb was one of those community visionaries who helped clear early ski trails on Whiteface Mountain.  He was deeply involved in ski jumping, was a FIS Ski Jumping Official and served on numerous civic and sports organizations and was a Lake Placid promoter extrordinaire. He was one of a handful of Lake Placid men and women who spent their lives making our community a better place and making sure it was known to the world. "They" don't seem to be making people like that very much any more.  Vern was on the Executive Committee of the 1980 Lake Placid Olympic Organizing Committee and is a member of the Lake Placid Hall of Fame and the United States Ski Hall of Fame. He was also the first Lake Placid native to become an Adirondack 46'er. Lamb's family roots date back to the 1800's in Lake Placid. His legacy continues in his children, who are also deeply involved in sports and community. Even today, in the midst of losing his dad and planning his funeral, his son Joe is right here in our office attending a meeting about an upcoming event. That is true dedication to community! Well into his 80's, Vern could be seen walking the mile and a half from home to the family business nearly every single morning. We'll miss seeing that distinctive and determined strut on the streets every morning. RIP Vern Lamb.