Sixty-five children or possibly sea monkeys will be on stage to help shape the story of whether Celia gets her man, legs or perhaps a new twist of magic as the Missoula Children's Theatre (MCT) brings its original production of "The Little Mermaid" to the Lake Placid Center for the Arts (LPCA). This is neither the Disney version nor the classic Hans Christian Anderson tale. It is a MCT original with sea scouts, town criers, sea ponies, armies and a fire-breathing dragon.
One hundred six children auditioned for this year's production that culminates, after a week of rehearsals, this Saturday with two performances; noon and 3:00 p.m. Though each child was not given apart each participant was either handed a role or a complimentary ticket to the performance. In addition MCT and LPCA offers free theatre workshops in creative dramatics, improv and theatre make-up. The goal of the week-long camp program is to engage as many children in theatre at every level.
Missoula Children's Theatre strives to make kids comfortable and to build an affinity with theatre. Auditions are informal with the children going on the stage together to speak the same lines one at a time.This exercise is said to help develop confidence. Lake Placid is the last stop of this production for touring staff members, Nicole Bennett and Kelly Combs before bringing a new MCT production to Canada.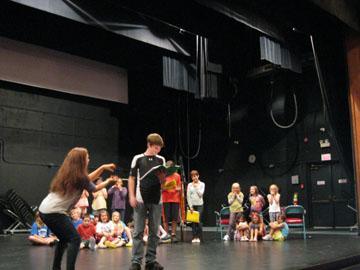 Since the early seventies MCT has been bringing its special form of children's theatre to communities around the world. LPCA has been offering this free children's theatre workshop for the past twelve years. This year 45 teams are touring the country, each bringing a specific show to the area. MCT arrives by signature red truck filled with costumes and sets designed at their home base in Montana.
After a week of play, workshops and practice the 65 cast members will put on a professionally staged children's production. Missoula Children's Theatre production of the Littlest Mermaid takes place on August 20th at noon and 3:00 p.m. Tickets are $6.00 for adults and $4.00 for children and available at Lake Placid Center for the Arts. 
Photos of 2010 production of The Wizard of Oz by Jen Everritt and used with permission.
All other photos and content © Diane Chase, excerpt from Diane's guidebook Adirondack Family Time: Tri-Lakes & High Peaks: Your Four-Season Guide to Over 300 Activities (with GPS Coordinates), covering the towns of Lake Placid,Saranac Lake, Tupper Lake, Keene/Keene Valley, Jay/Upper Jay and Wilmington. Diane next guidebook of Adirondack Family Activities in this four-book series will cover the Adirondack Coast from Plattsburgh to Ticonderoga.