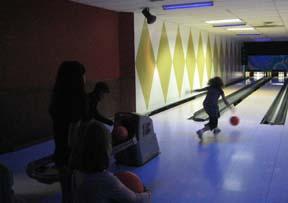 By Diane Chase
While Mother Nature makes up her mind on whether to let spring happen or not, we are filling our days with shoulder season ski adventures and snowshoe treks. My Adirondack kids are outside building forts and erecting, what we think, will be the last snowman of winter. Due to the recent dumping of snow, this may not be the case.
We are a bit stir crazy and I need a break from the winter. I just want to grab a quick bite to eat and not think about snow. My son suggests Bowlwinkles Family Entertainment Center in Lake Placid. He lobbies hard and wins. My son would live at Bowlwinkles, if possible. He thinks it a slice of heaven to have an arcade, food, laser tag and glow-in-the-dark bowling in one location.
For our family, bowling is something we do for fun. We are not part of bowling leagues in Lake Placid but come to enjoy an inside activity that suits a variety of ages and interests.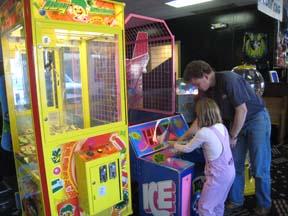 We arrive debating what to do first, arcade or bowling. We are lured into the bowling alley. Our shirts and shoes glow in the dark. We didn't dress deliberately to fit the Bowlwinkles motif, but we are all aglow when we enter the eight-lane bowling alley. Even the bowling balls glow. My daughter loves the shoes. My son loves the competition. They are happy. We are happy.
We spend a minute typing each name into the computer. Soon the players are ready for a friendly competition. We are long past having the gutters blocked. Watching my first ball bounce down the lane is like a pinball, lights flashing and music blaring, I feel like I am inside an arcade game. Perhaps it is not too late to ask for bumpers. My daughter loses interest in the game and just dances to the funky music trying to catch the rainbow glancing off the mirrored ball.
It is no surprise when my daughter doesn't win. You have to play to win, we tell her. We turn in our shoes and buy a few tokens to round out our experience with a quick game of air hockey. She doesn't win that either.
Our last activity is Laser Tag ($5/person/10-minute game). I am a bit reluctant to get inside the darkened room. My seven-year-old daughter watches someone else work the laser and then teaches me how to work the trigger. I wonder what I've gotten myself into. Ten minutes later we find a game where she truly excels. I never imagined it would be laser tag. Perhaps she will be our next biathlete.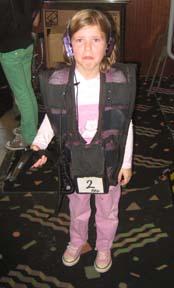 Bowlwinkles Family Entertainment Center is located at 2750 Main Street in Lake Placid. Current hours are as follows: Monday 2:30 p.m. – 2:00 a.m., Tuesday - Friday 2:30 p.m. - midnight, Saturday and Sunday1:00 a.m. – midnight. Call 523-7868 for additional information.
Adirondack Family Time Tip: Bowlwinkles has specials each day for those on a budget. For example, each Sunday from 10:00 a.m. – noon it is $5 all you can bowl with free shoe rentals. (Subject to change).
all photos © Diane Chase, Adirondack Family Time. Diane Chase is a freelance writer and author of Adirondack Family Time: Your Four-Season Guide to Over 300 activities in Lake Placid,Saranac Lake, Tupper Lake and the High Peaks which includes easy hikes,historic site, snowshoe/XC trails, ice skating rinks, swimming holes and more. Her second Adirondack Family Time book will come out summer 2012 and cover the Adirondack Lake Champlain area from Plattsburgh to Ticonderoga.