The mountains are calling ...
It's true — the Lake Placid region is a hiker's paradise. Here you'll find gently rolling forest paths, rugged ridge-line scrambles, and trails to scenic vistas that lie somewhere in between. A short drive from downtown will get you to a trailhead where anything from a quick outing to a multi-day excursion is possible.
While it's fun to explore our backcountry, it's more fun — and safer — to hit the trail prepared. Don't worry — we're here to help! Below you'll find an introduction on conditions in the mountains and on some of the special regulations in the High Peaks.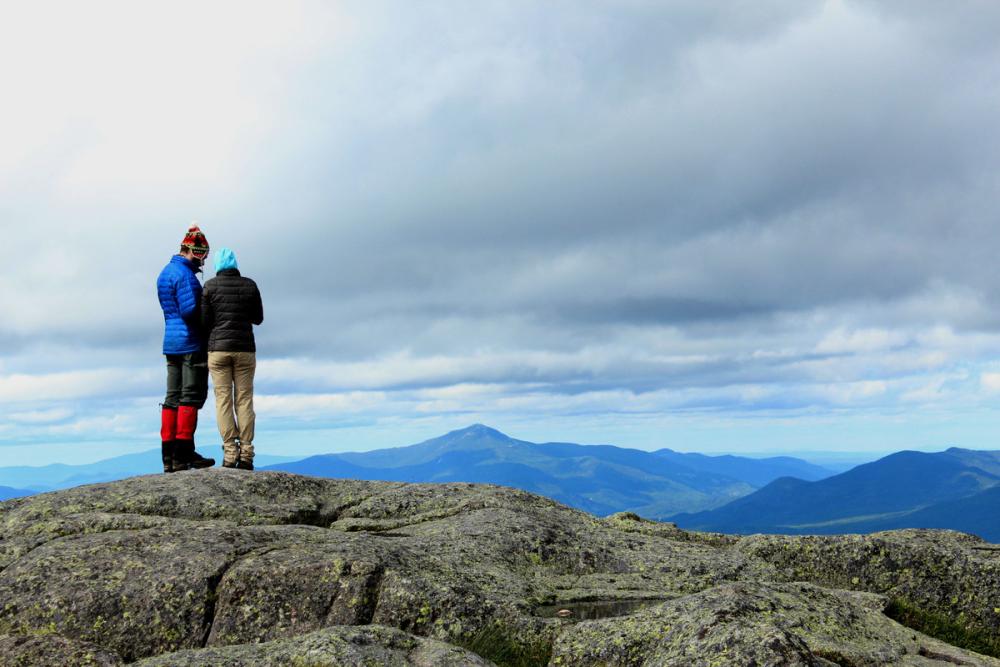 Weather
The weather and temperature can both change quickly in the mountains, and that usually means it gets colder or starts to rain with little warning. This is especially true in higher elevations, where hikers are more exposed to the elements.
Below is brief primer on what to expect during each season. This is just an overview, so always check the weather forecast before heading out. It can snow in June! For more information on what to bring on your adventure, check out our What's In Your Pack? page. (Link to page)
Summer: Think warm days and cool nights, especially in higher elevations. Daytime temps can creep into the 80s in July and August, but they can also dip into the low 60s, especially when it's raining. Don't be surprised if you're swimming one day and wearing long sleeves the next! If you're heading for a summit, be aware that thunder and lightning storms can roll in fast. Avoid open summits if there's any hint of a storm.
Fall: Think cool days and chilly nights. Some people think fall is the perfect hiking weather. The daytime temperatures usually stay below 80, making for cool breezes on difficult hikes, and the foliage is simply amazing to behold. It's true that it can snow during a chilly summer night here, but that's fairly uncommon. As fall descends on the region, the chance of waking up to a white dusting increases considerably.
Winter: Think cold days and even colder nights. Winter is our longest season. Sometimes it's mild, with daytime temperatures staying in the double digits, but the mercury is more than capable of diving below zero, especially in January and February. Expect deep snow, bring plenty of extra layers, and make sure you know your abilities before setting out. Nights are particularly cold in the winter, so if you're camping be sure to consult with someone familiar with the region to make sure you're fully prepared.
Spring: Think cool days and chilly nights. Locals here joke that we go straight from winter to summer in the Adirondacks, and some years it does feel that way. As the snow melts you'll encounter muddy trails in the valleys and winter-like conditions in higher elevations, meaning you'll probably be pulling out the microspikes as you near a summit. It's important to bring extra layers this time of year, and to avoid our highest mountains to give their trails time to harden after enduring the long winter.

Regulations
In the Adirondacks, most regulations are aimed at protecting our natural resources so future generations can enjoy them, too. The rules are simple and easy to follow, so please take a minute to familiarize yourself with them before planning your trip. Note: this list does not include everything. For more information, visit the New York state DEC website.
Group Size Restrictions
Day use: 15 persons maximum.
Overnight camping: eight persons maximum.
Affiliated groups: must conform to size restrictions and must maintain a 1-mile distance of separation at all times.
Camping Restrictions
No camping at any location above 4,000 feet in elevation.
No camping above 3,500 feet unless at a designated, primitive tent site.
Tents must be within 15 feet of an official camping sign or disk.
Camping within 150 feet of any trail or water is only permitted at designated sites.
Campfire Restrictions
Eastern High Peaks Zone – no campfires.
Western High Peaks Zone – no campfires above 4,000 feet.
Western High Peaks Zone – campfires permitted 150 feet from any road, trail, spring, stream, pond, or other body of water, or at a primitive tent site or lean-to site.
Miscellaneous
Sign-in at all trail registers.
In the Eastern High Peaks Zone, the use of a bear resistant canister is required between April 1 and Nov. 30.
Skis or snowshoes are required when there is snow cover of 8 inches or more.
No motorized equipment or vehicles.
Eastern High Peaks Zone requires pets to be leashed at all times.
Leave No Trace and Love Your ADK
The magic of the Adirondacks is the result of previous generations taking a long view and protecting the mountains, lakes, and rivers within the Blue Line. That tradition continues today as we support and encourage everyone to practice Leave No Trace ethics, which help protect the lands and waters of the Adirondacks.
Seven Principles of Leave No Trace