Fall has officially arrived. That means it's time to break out your favorite flannel or comfy, oversized sweater and enjoy everything the season has to offer. Trees that were once green explode into an array of color and crisp cool nights invite conversations by campfire. Fall is the perfect time to create new memories. Here are 5 fun activities you can do to enjoy sweater weather in Lake Placid.
1. Sit by a campfire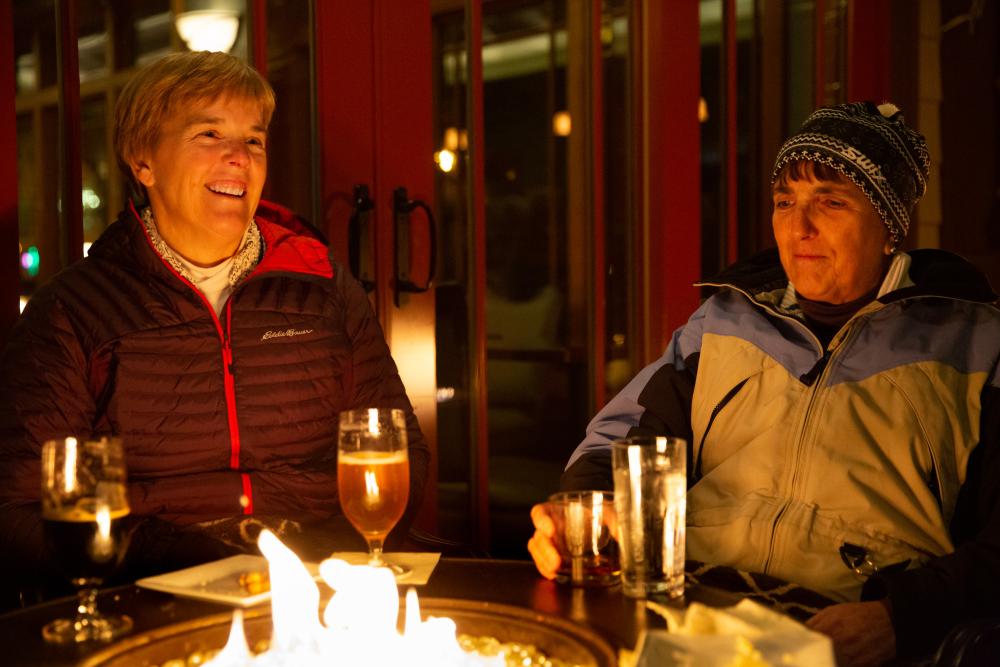 It's not winter yet, so take advantage of the opportunity to snuggle up in front of a campfire before it's too cold. Lake Placid is full of hotels and restaurants with fireplaces. No matter where you choose, you can't go wrong. Two local restaurant favorites are Top of the Park and The Cottage. Top of the Park offers a large deck on its second story that overlooks Mirror Lake with cozy fire pits for heated outdoor seating year round. If you are a cheese and charcuterie person or a cocktail lover, this is the place to go. The next option, The Cottage, is located right on the water's edge and offers a spectacular view of the Adirondack High Peaks. The Cottage has plenty of places to warm up with outdoor heaters and an indoor fireplace, making it the perfect place to grab a bite to eat. The Cottage has a full menu to choose from with fun twists on many pub favorites like flatbread pizzas and mushroom stew.
2. Ride a gondola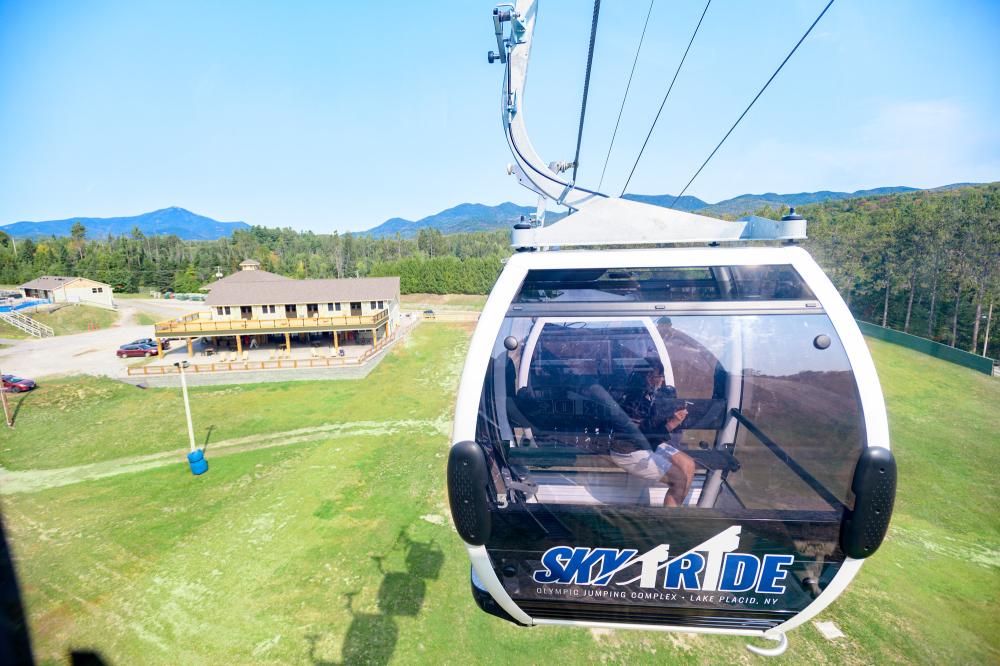 A gondola ride offers a bird's eye view of all the beautiful fall colors without the effort exerted during a hike. In addition, the Skyride at the Olympic Jumping Complex offers something else that is truly unique; a ski jumper's view! A gondola ride to the base of the ski jump tower is only half of the experience. The second half includes a ride in a glass elevator to the top of the 128-meter jump, giving you an athlete's perspective and a newfound appreciation for ski jumping as a sport.
3. Try a dessert at Emma's Lake Placid Creamery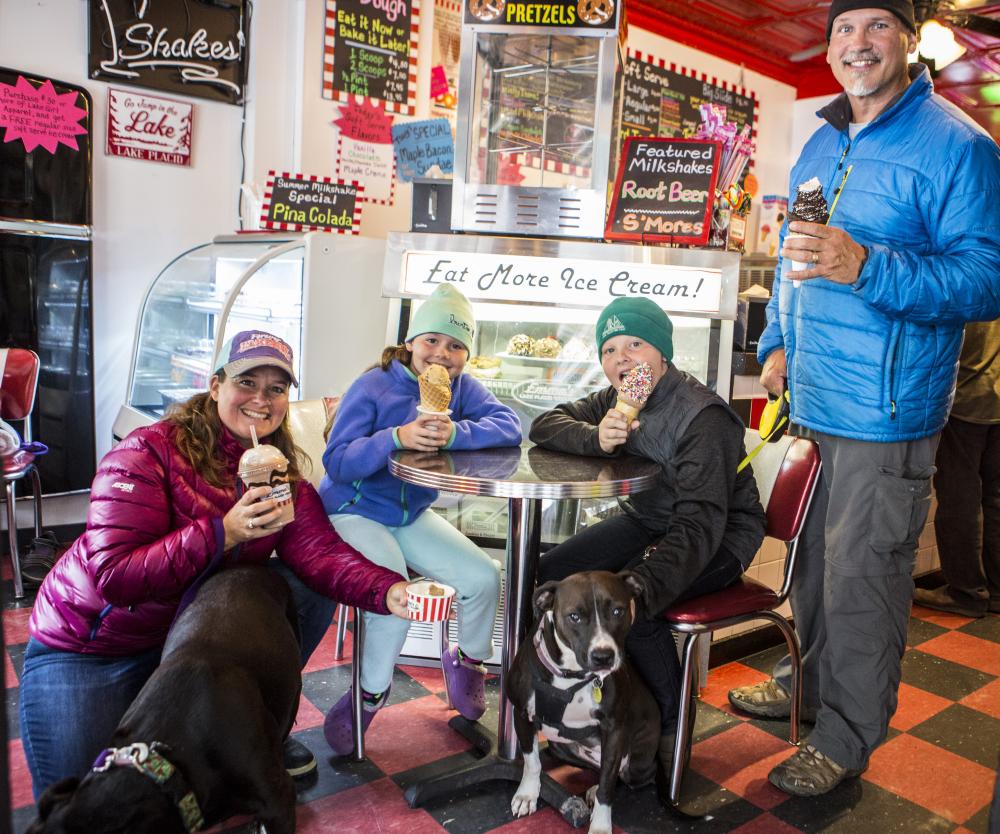 Emma's Lake Placid Creamery is one of Lake Placid's best dessert spots. Located right on Main Street, this 50's style ice cream parlor will have you feeling nostalgic; one bite will bring back a taste of childhood. Emma's has a treat for everyone. From simple soft serve ice cream, homemade ice cream sandwiches, to decadent options like a s'mores sundae with all the fixings, Emma's has you covered. To really get in the fall spirit, they even have caramel apples. No trip to Main Street is complete without a stop at Emma's!
4. Go for a hike
You don't have to hike a High Peak to enjoy the explosion of fall color. In fact, there are many places just a few miles from Main Street where you can enjoy a short hike. For an unspoiled view of the High Peaks, head to the trails at Heaven Hill and do the Orchard Loop. This 1.4 mile path starts in the woods and leads to a large clearing with outstanding views of the mountains. The path is also relatively flat, so it's perfect for a leisurely fall stroll. For a view higher up, head to Rocky Knob at Henry's Woods. Rocky Knob starts from the Loop Trail and after a short climb, the summit offers views of the village of Lake Placid and Whiteface Mt. Both of these hikes are local favorites so you can't go wrong with either one.
5. Ride the Cliffside Coaster
Come experience the longest mountain coaster in the country at Mt. Van Hoevenberg. This 1.4-mile long Cliffside Coaster runs parallel to the bobsled track from the 1980 Winter Games and as you climb to the top, an audio system describes what it's like to be an Olympic bobsledder. Once there, you have full control of the braking system, so you can navigate the track's twists and turns at your own speed. This experience is a great way to experience fall and get your adrenaline pumping.
---
Lake Placid is the perfect place to visit for your fall getaway. Come stay awhile and experience everything Lake Placid has to offer.