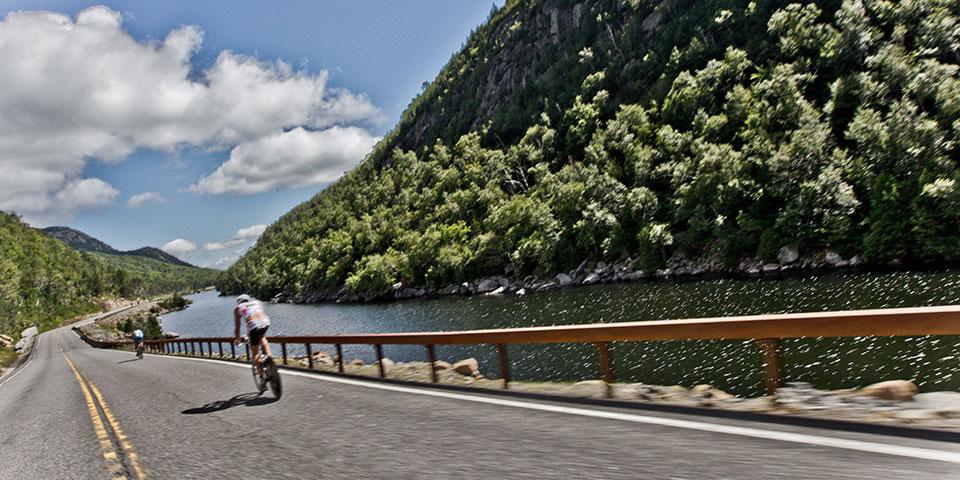 "...To know the universe itself as a road, as many roads, as roads for traveling souls…"
-Walt Whitman
The Adirondack Mountains are a paradise for any outdoor enthusiast, but spring brings a joy unique to cyclists and runners of the road. After months of being stuck indoors on bike trainers and treadmills or running outside on the ice and snow, the spring thaw melts away remnants of winter, and we are once again greeted by fresh pavement awaiting our arrival.
The variety of roads in Lake Placid offers something for everyone. Beautiful scenery? Rolling hills? Challenging climbs? Fast descents? You want it, we have it. The iconic Ironman Lake Placid bike and run courses are filled with fan favorites while plenty of other roads are ready for those who want to venture beyond the beaten path. If you left any gear or nutrition at home, have no fear! Stop in at High Peaks Cyclery, Placid Planet, the Fallen Arch, or the Mountaineer to restock on whatever you need before checking out some of these can't-miss favorites, submitted by some of our fellow athletes.
Favorite road: River Road (Lake Placid, relatively flat)
Submitted by: Rich Donnelly (Tuxedo Park, NY) and Monica Gnyp (Clay, NY)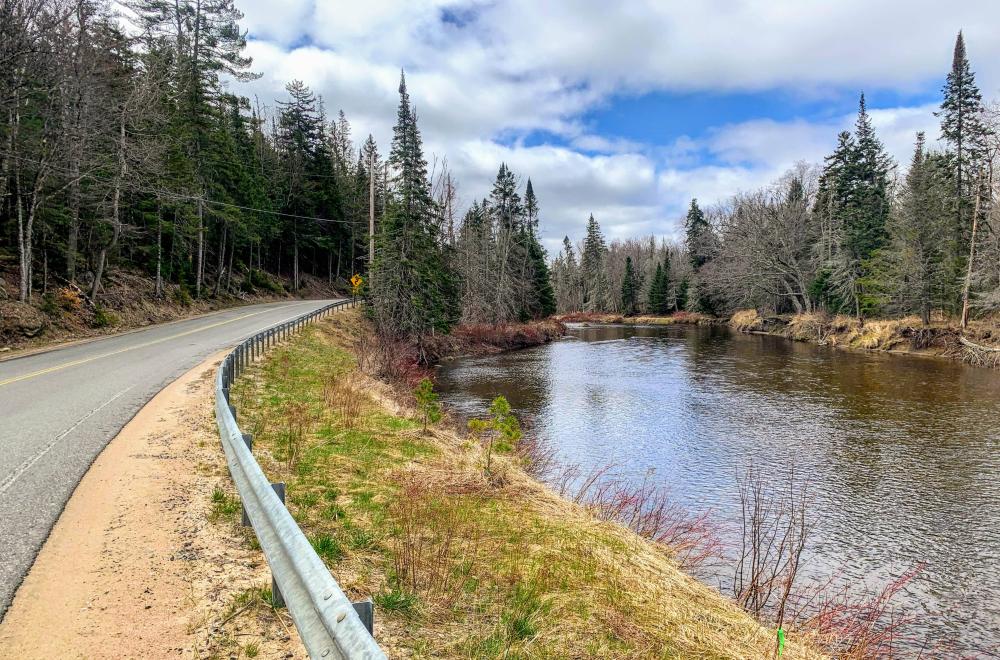 While most Adirondack roads are known for their hills, River Road offers a lovely and scenic respite for those looking to give their legs a breather. This gem is located along the Ausable River and offers picturesque views of the water and Whiteface Mountain. Even for those who love to climb, River Road is a fan favorite for cyclists and runners alike.
Rich Donnelly is one of four individuals who have competed in the Ironman Lake Placid every year since its introduction in 1999. It is the longest running Ironman race in North America apart from the Kona World Championships which began in 1978. As one of the four "Legends of the Oval," Donnelly is no stranger to training on the roads of the Lake Placid region. But of all the options to choose from, River Road remains his favorite.
"It provides such a spectacular view of the surrounding Adirondack Park, the High Peaks and the ski jumps," he said. "I truly enjoy riding the 11-mile River Road loop—including the Bears climbs back into town—with my wife, Jean, on the Thursday before the race. It's a great bike check and an unbelievably scenic ride. River Road is such a fantastic place to get away from the hustle and bustle of LP and enjoy the pure beauty of the Adirondack Park. It's a wonderful road to run and ride—both mentally and physically. Just take a deep breath and enjoy the views."
Monica Gnyp first discovered River Road by accident. She said, "I ended up taking a wrong turn, but I enjoyed the shady, meandering route it offered beside the Ausable River as well as the view of Whiteface Mountain. While Whiteface is especially breathtaking in the fall with its variety of colors. I find it just as beautiful in the summer, seeing the ski trails carved amongst the trees."
With its close proximity to the heart of downtown Lake Placid, River Road is perfect to use for a warm-up or cool-down for a longer day, a shakeout before an event, or simply as a road to enjoy as its very own.
Favorite road: The Three Bears on Route 86 (Lake Placid, hilly)
Submitted by: Sandi Vigliotti (Brewerton, New York)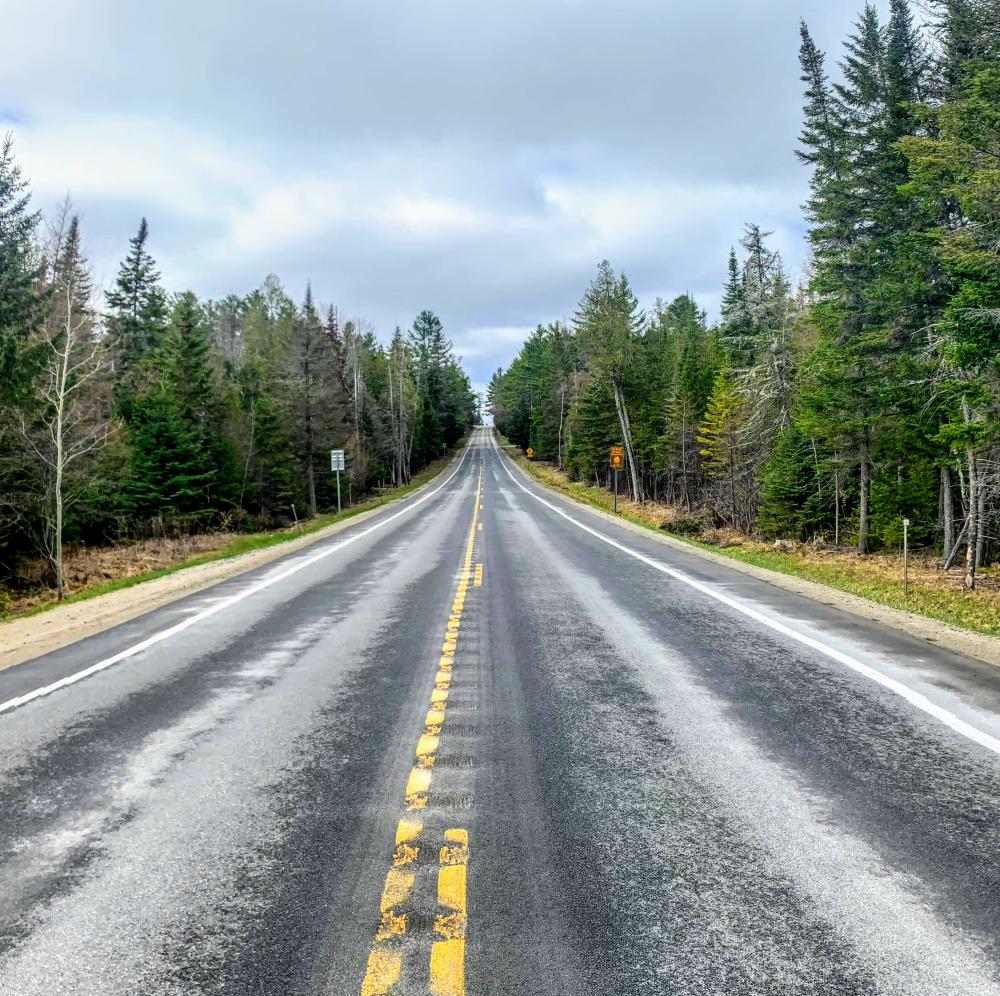 Anyone who has ridden Route 86 from Wilmington into Lake Placid has surely had a run-in with "The 3 Bears": Mama Bear, Baby Bear, and Papa Bear. While these hills are far from the hardest in Lake Placid, climbing them near the end of a long loop gives your legs a nice wake-up call. Love them or fear them, the 3 Bears will be there. Approach them with the right mindset, and dare I say they are fun to climb.
Between long training days and racing the Ironman Lake Placid, Sandi Vigliotti has had her fair share of experiences on the 3 Bears. "I'll never forget my first training ride in Placid. The whole course is a bear, but when I got the the infamous 3 Bears climb I thought I was gonna die," she said. "But before I knew it I was up! I was slow, but it was done. I learned to love those 3 Bears."
Once you reach the top of Papa Bear, you can continue straight into town or turn right onto Northwood Road to take the more scenic route. Be prepared for a final surprise mini-climb as you head up Northwood Road. When given the option, Vigliotti chooses the Northwood Road route every time.
"The great payoff is gliding down the hill into Lake Placid. It is so beautiful and welcoming. I love coming into town riding through the tree lined road and looking at all the beautiful homes and the lake. It's the best!"
Favorite road: Hurricane Road and Lime Kilm Road (Keene; very hilly)
Submitted by: Julie DuPont-Woody (Ledyard, CT and Keene, NY)
While not for the faint of heart, Hurricane Road and Lime Kilm Road will certainly earn you bragging rights. Julie DuPont-Woody chose these two roads as her favorite run spots in Keene. Both roads are the perfect combination of offering a challenging climb, providing breath-taking views, and being lightly trafficked. DuPont-Woody offers the following as two of her go-to courses:
"I like to start by taking a right onto Hurricane Road from Route 73 going all the way up and around. Then you can basically fly down 9N back to Route 73 in Keene Valley. Then head up Airport Road before going up and around Hulls Falls. It is VERY hilly--you really burn that butter going up there--but the views are your reward. For a shorter run, an old stand-by is to head out on 9N toward Jay. Turn left onto Lacey Road then left again on Lime Kilm Road. This road is a nice, quiet dirt road. When you get to the top of Lime Kilm, the view is just fabulous--your reward for reaching the top."
Once you are done taking in the scenery and have caught your breath, turn left to enjoy the descent down Alstead Hill Road and take Church Street back into Keene, kick your feet up for a bit, and enjoy a day on the town.
Favorite road: Silver Lake Road (Ausable Forks; very hilly)
Submitted by: Toni Patnode (Corinth, NY)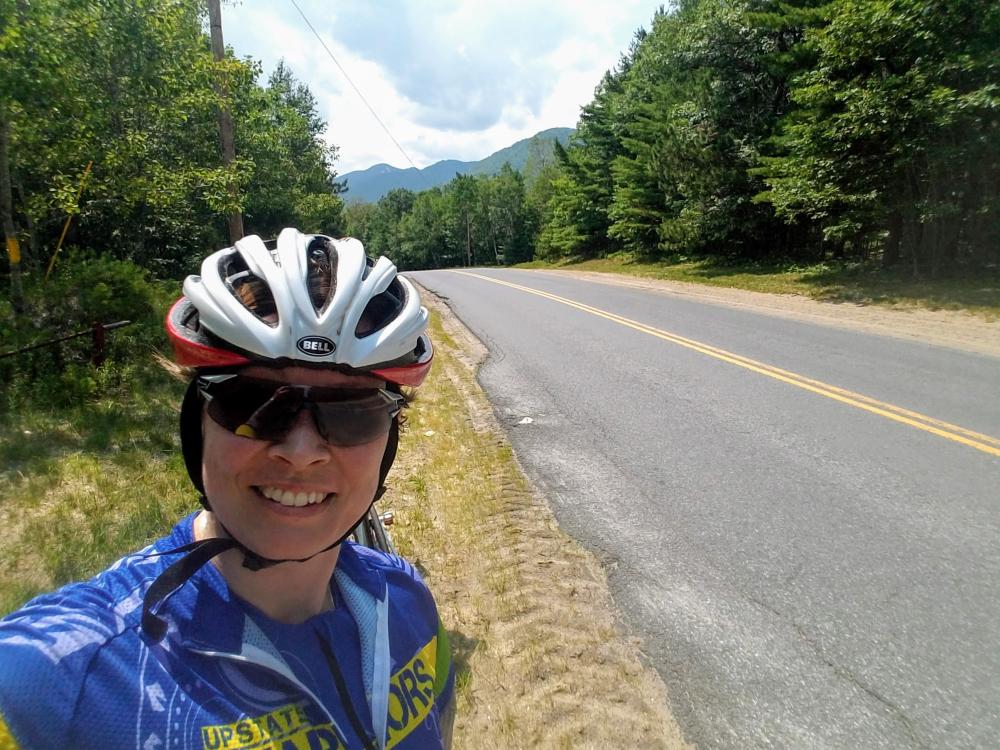 If you're looking for the road less traveled while getting in some good climbing, Toni Patnode recommends incorporating Silver Lake Road into your route. If you are traveling north on Route 9N, go about 6 miles beyond the turn-off to Route 86, make a left onto Silver Lake Road and get ready to climb. From here, you will wind through Black Brook until you make a left onto Bonnieview Road 5.5 miles later. Eventually, you will find yourself by Santa's Workshop at the North Pole. This route has become a favorite of Patnode's.
"I like the diversion from the race course. I've ridden the race course so many times, this route gives me some mental stimulation to have new scenery to look at," she said. "There are plenty of climbs on this additional loop, too. The added bonus is that it is seemingly less traveled when compared to the 'main drag' of Route 86. I still get a taste of the IMLP course, but with the additional visual treat of the extra loop. Once you come off of Bonnieview and are at the intersection of 86, you resume the race route to continue the familiar training route."
If you don't want to continue up Route 86 into Lake Placid, you can either turn right for a challenging climb up Whiteface Mountain, or you can turn left down Route 86 and cruise back to route 9N.
Favorite Road: Whiteface Toll Road (Wilmington; VERY hilly!)
Submitted by: Gaby Levinson (Philadelphia, PA and Jay, NY)
Riding or running up the Whiteface Mountain Toll Road is a rite of passage in the Adirondacks. From the turn off of Route 86 to the top, you will climb approximately 3,500 ft. in just under 8 miles with an average grade of 8%.
"The climb is basically the equivalent to the famous Alpe D'Huez in France in terms of pitch and length," said Gaby Levinson. "It is an iconic climb on its own though, and one of the most famous 'hill climbs' anywhere in the country. The whole way up is a visual treat. The climb starts in deciduous forest, climbs through boreal forest, and tops out above tree line with stunning mountain views all around."
(Eat your heart out, Tadej Pogacar.)
But what comes up must come down. With roads as smooth as glass, those who enjoy a fast descent on the bike will be in paradise while runners will be met with incredible views all the way down.
For those who want a shorter route, challenge yourself to a 3-mile adventure up to the toll booth, free of charge. But for those who are in it for the long haul, be sure to bring $15 in order to continue past the toll. Trust me--it is worth every penny. For cyclists looking for a longer warm-up, I recommend riding Route 9N out of Keene, turning up 86, and continuing the climb up Whiteface (with a short spin out and back on Haselton Road if your legs need a breather) before the long descent home. The other option is to start in Lake Placid and descend Route 86 into Wilmington before climbing up Whiteface. The descent back to 86 will give your legs a chance to recover before you continue the climb up 86 back into town. Rider's choice!
---
Whatever route you choose, you will be met with a memorable Lake Placid experience, one filled with gorgeous views that you won't soon forget.