If you want to feel good about life, go mini golfing with a joyous 6-year-old. You'll want a nap afterward, but the unbridled enthusiasm you experience will make your heart so happy. With all the worries in life — mortgages, oil changes, bills — it's easy to forget how joyful it can be to live like we did when we were little. As the leaves change and the bustle of summer changes to the relaxation and beauty of fall, I wanted to share some of the ways Lake Placid is ideal for fall family adventures, but it seemed like I needed an expert. That's how I happened to some time with a 6-year-old named Evie, who taught me everything I need to know about living life and what to do in Lake Placid.
Play
Playtime has always been a highlight of life in Lake Placid in every season, from sledding in winter to splashing in Mirror Lake in summer. Fall is no different, except that it is frankly prettier, due to the abundance of bright, cheerful fall color. There's a lot to do but what do the kids like? One of the highlights for kids visiting Lake Placid is Boots and Birdies, a miniature golf course with a cute Old West theme. Evie and I met there for a playdate on a sunny day and a wild round of "putt putt."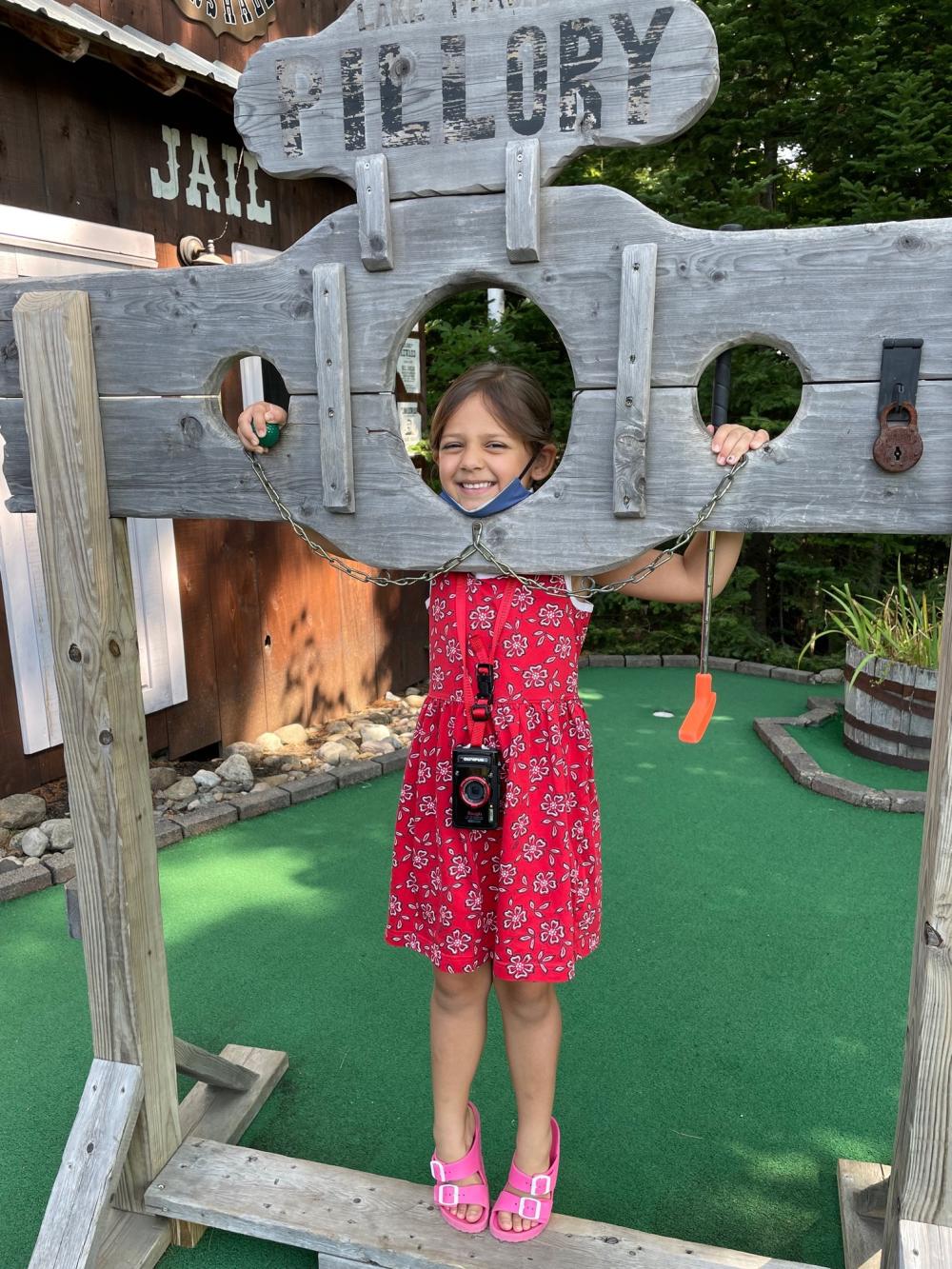 Here's the thing about mini golf: it's about FUN. It doesn't matter who wins or loses (I lost). It's about the laughs you have along the way, like when when your ball bounces wildly off an obstacle. Boots and Birdies' course is great fun, with enough challenges to get you laughing at the sheer chaos of it all, but not too difficult to take the fun out of it. Evie had been to Boots and Birdies before, and her excitement was adorable. She was eager to show me where to hit the ball, what the next hole was like, and she put about double the mileage on her pink sandals as I did, because she gleefully scoped out every hole at least twice. It's a really cute course and we had a lot to talk about, from the neat waterfalls to the fake graves!
Bonus fun: the next two photos were taken by Evie!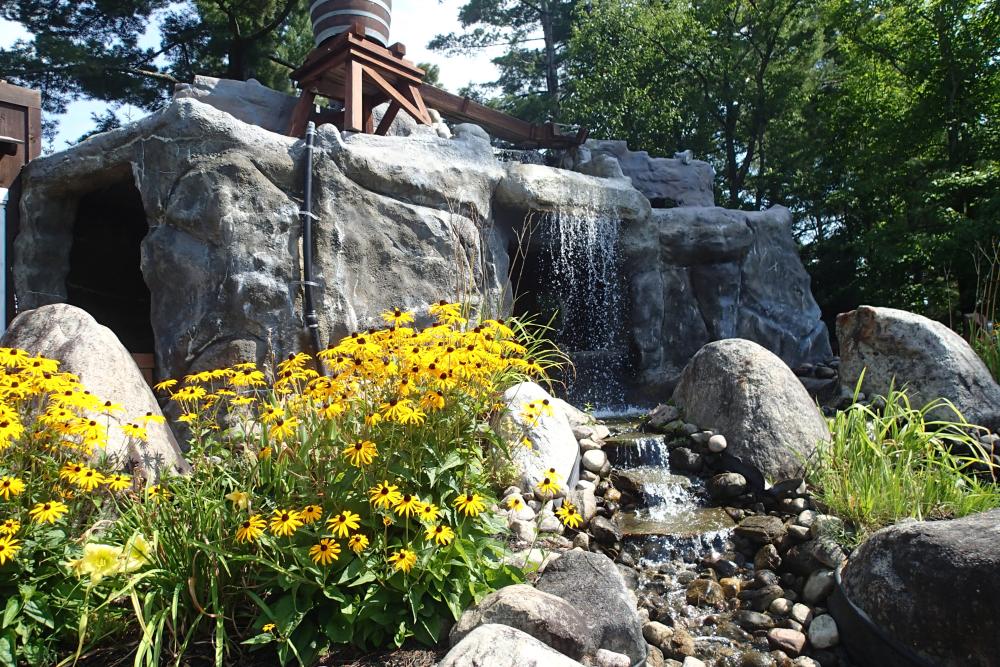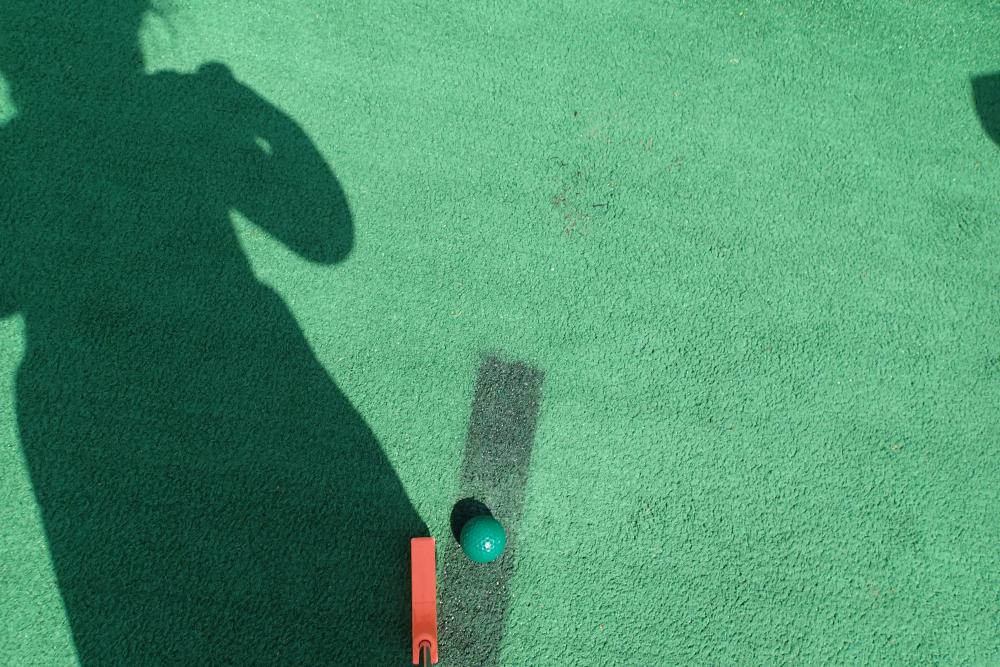 Boots and Birdies is also home to the Lake Placid Mining Company, an area where you can pan buckets of mining rough to collect gems, minerals, and ocean treasures. It might not be the California Gold Rush, but it's a fun and exciting activity. Snacks are available, too, plus Boots and Birdies merch to remember your trip by.
Again, it's not about winning or losing and I'm not sure we even kept score all that well. When a golf shot would go particularly astray, Evie would cheerfully laugh and exhale a charming "oh boy." Sometimes she'd ask to try a shot again and I never said no. Why would I? We had a blast and I think we were both sorry when our round was complete.
Eat
I feel like kids get a bad rap for being picky eaters. I admit I kind of was one (hello, chicky nuggies), but I still feel like kids are pretty adaptable. When I asked Evie where she liked to go out to eat, it turned out to be a more difficult question than I expected, as she responded, "...I can't choose one." Evie does declare an ardent love of Subway, however, as "you can get lunch and dinner there." So what are your options? For breakfast and lunch, you can't go wrong with a trip to the breakfast club, inc., home of savory eggs benedict dishes for the adults and wild pancake and French toast concoctions for the kids and kids at heart.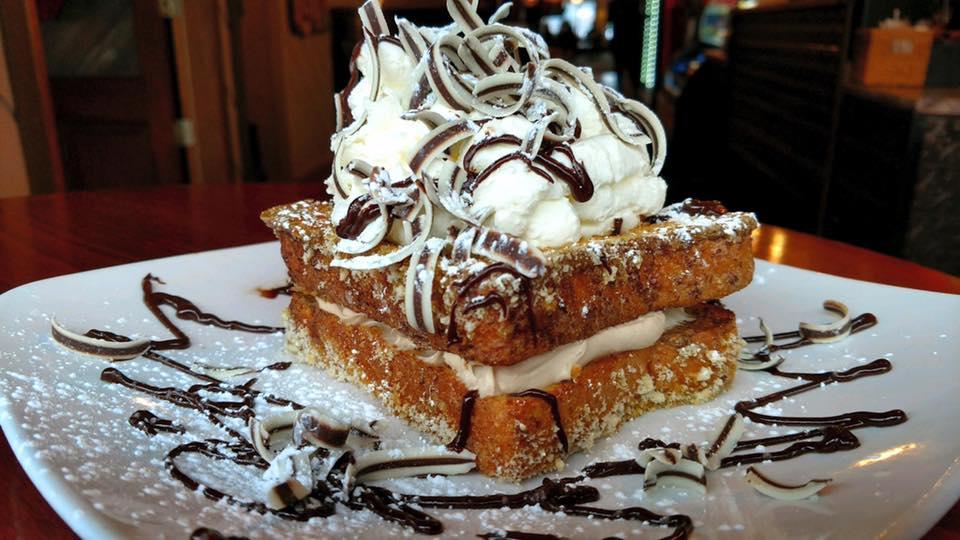 Looking for dinner? No problem. Many of Lake Placid's restaurants are family-oriented and offer a range of delicious options. The Lake Placid Pub & Brewery is a locally-owned and operated landmark near Mirror Lake Beach that everyone loves. From pizza to chicken tenders to hearty burgers to fish and chips, the pub has a classic menu that's been kicked up a notch to awesome by the talented chef. Grownups can sample the craft beer and everyone has to save room for dessert! Or just go for dessert. That's my vote and I'm sure Evie would agree.
Repeat
Kids have a lot of energy. Just when you think they are down for the count, they pop back up like prairie dogs and they're ready for more. Evie explained to me that the playgrounds in Lake Placid are a lot of fun and some of her favorite places to play. I thought this was a great suggestion, proving that you don't have to do something fancy or complicated with kids to have a great time. There are several excellent playgrounds in Lake Placid, each with a unique flavor. The Kiwanis Teddy Bear Park sits on a residential street just up the hill from Main Street, so it's a bit quieter but still easy to get to.
Just off Main Street, near the Olympic Center and adjacent to the Mirror Lake Beach is another playground and honestly, I think kids and grownups will love it. Adults can sit back, relax, and enjoy views of the lake and surrounding mountains, while kids can swing, slide, and teeter totter out some more of that lively energy they have so much of. In the summer, be sure to hit the beach, which is nice and calm. Evie reports that she "learned to swim a little bit" there this past summer.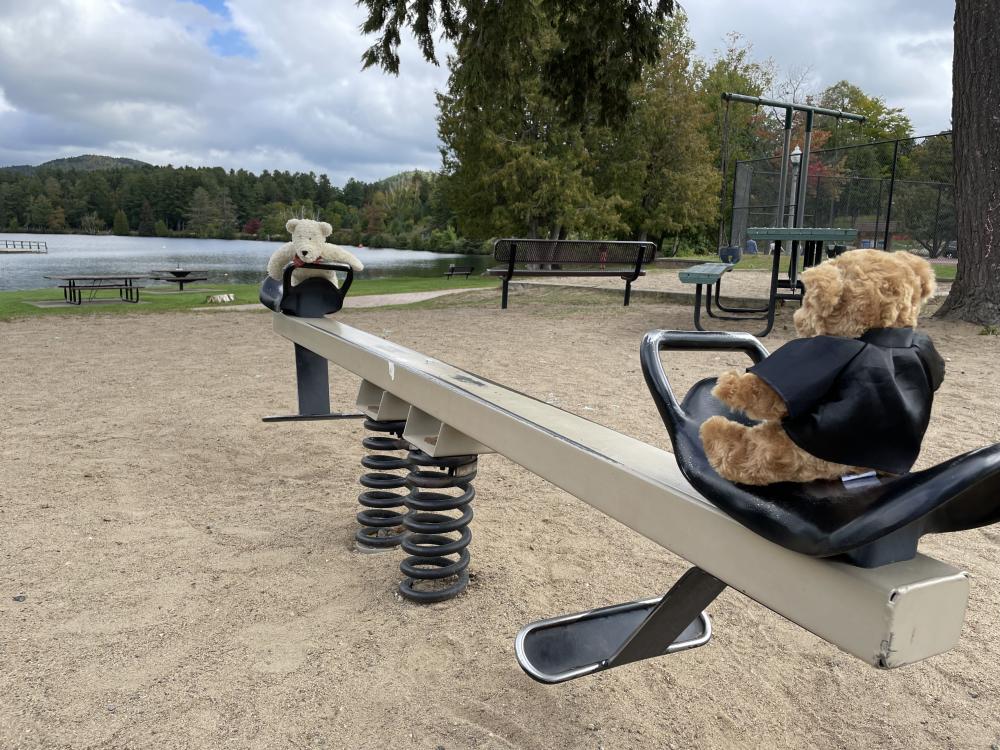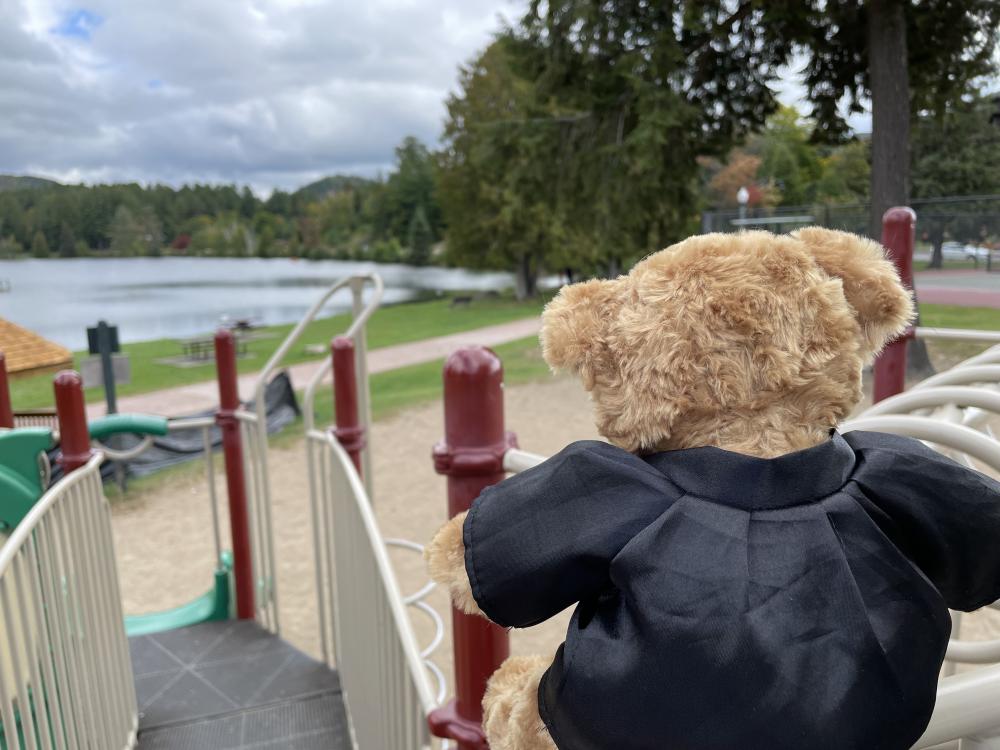 After playing and playing and playing and playing, the kids have worked up an appetite again, and you might be in need of a boost, too. According to Evie, two of the best places to go in all of Lake Placid are both nearby on Main Street: A Pinch or a Pound candy store and Adirondack Chocolates. Really, she's not wrong.
At A Pinch or a Pound, stock up on a mind-boggling array of candy, including pre-packaged favorites like Haribo, Warheads, 5-pound gummy bears, and Smarties, plus loose candy by the pound. It's so much fun choosing your favorite flavor gummy candies or Jelly Belly jellybeans and tossing in some mini chocolates. There are old-fashioned candies that are hard to get, as well! I'm not trying to get you to totally fill your kids with sugar, but the unique joy of a jam-packed candy shop is a real treat!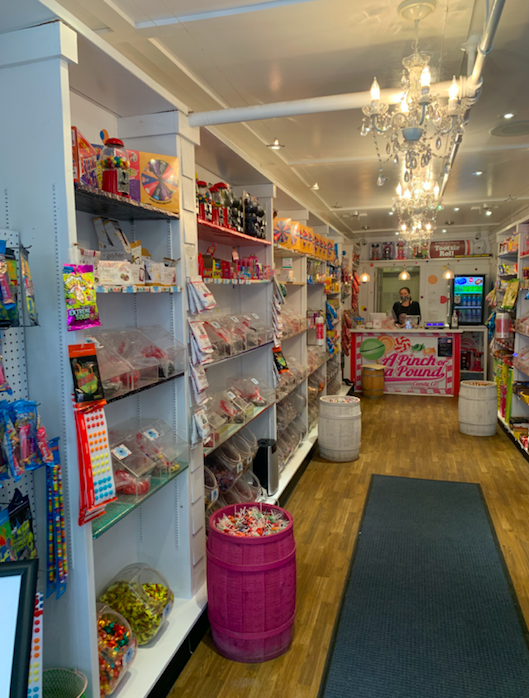 Just down the street, step into Adirondack Chocolates and breathe in the decadent scent of rich chocolate. Chocolate lollipops in seasonal designs like jack-o-lanterns are a must, or try a festive pop of chocolate-dipped marshmallows! You can also put together a custom box of individual chocolates to take home as a gift. That is, if you and the kids can keep from digging in before you get home!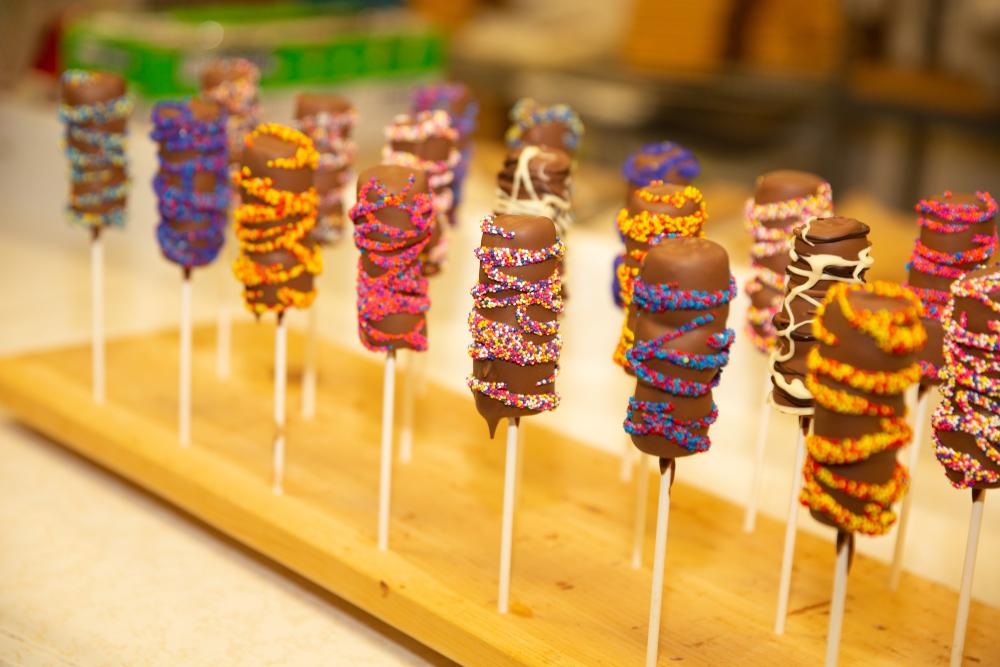 At the end of the day, you might be tired, you might have eaten too much sugar, but it's worth it to see how kids bring open and unabashed fun that, honestly, we should enjoy every day! Life is short, so have fun, eat candy, and see the joy in things. Just because you aren't six doesn't mean you can't laugh and skip your way through a mini golf course or enjoy a Ring Pop every now and then.
Start planning your family trip to Lake Placid by checking out our lodging options and exploring our year-round Olympic attractions. The new Cliffside Coaster is an exhilarating adventure for families and will help you create wonderful memories that everyone will treasure.