Step inside L. Post Rustics Artisan Furniture & Fine Art in Lake Placid and enter a world of charming beauty. Delicate sterling earrings twinkle from a glass display case while Adirondack landscapes painted in oil and acrylics line the walls, overlooking smooth, intricately carved and tooled rustic furniture. Lit by sunshine and artisan-made lamps, the shop is inviting, fun to explore, and a great place to explore the work of talented Adirondack artists. As wonderful as it is — and it's exceptional — the story behind the store is the best part.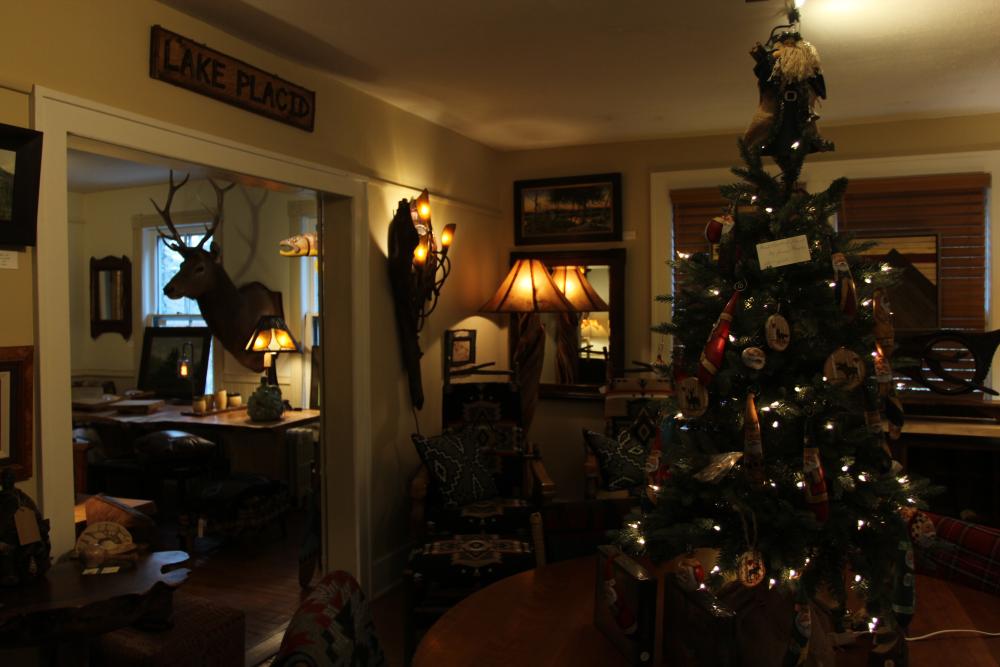 The shop, which opened in April of 2019, is the creation of Larry and Joann Post, along with their children Ryan and Jillian. It features rustic furniture they craft together, as a family, along with the works of more than thirty artists from all over the Adirondacks. The Posts have established a thoughtfully assembled collection of work of all shapes, sizes, and prices, perfect for collectors of high quality rustic furniture or someone simply looking for a little special something to take home or give as a gift.
Among the artists featured in the shop is Upper Jay resident Allen Aardsma, who carves birds and turtles with a buck knife, painting the finished carvings with life-like detail. The painted turtles (they're painted painted turtles!) are delicate; instinct makes you want to gently pick one up to hold in the palm of your hand. They're adorable. My mother covets one.

On a table near the window, an Aardsma bird sits near an intricate birdhouse created by Jeanne Ridgeway, who fancifully combines smooth bark, antlers, and acorns to craft elegant little houses unlike any other. Ridgeway's humorous "Great Camp" birdhouse features a sweet rustic porch. It's perfect as decoration or a lavish retreat for avian friends.
Painters are well represented here, as well, including Saranac Lake artist Sandra Hildreth, Tupper Lake's Gary Casagrain, and Michael Ringer, whose work celebrates fishing scenes and the solitude of being on the water. Each artist brings a unique perspective on the landscape of the Adirondacks, from wide landscapes to the details of a single fish.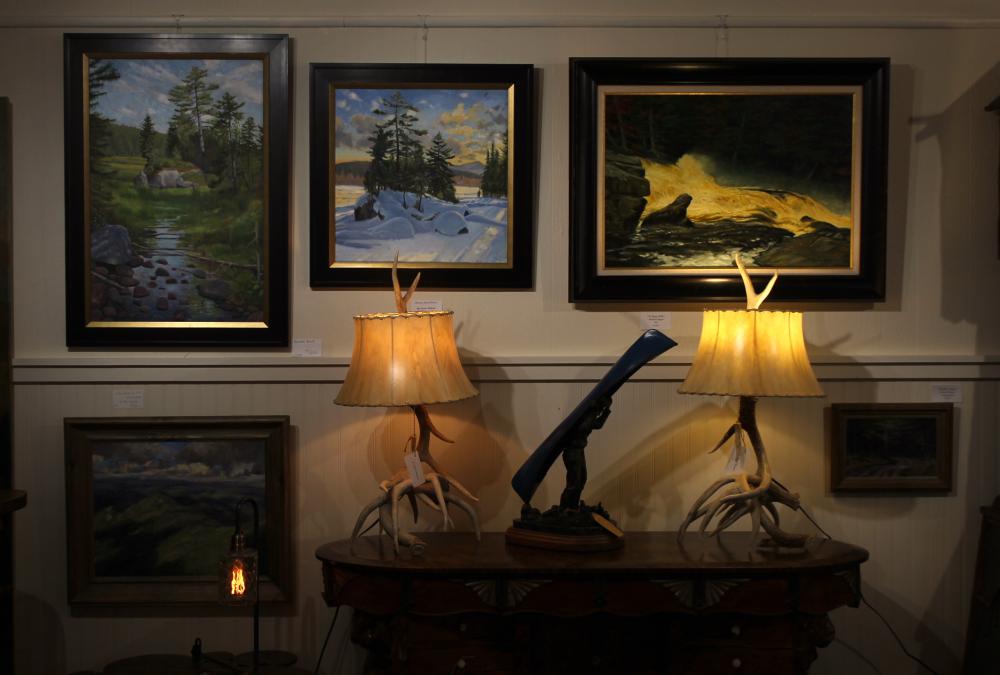 From small Christmas ornaments to sturdy pottery, L. Post offers plenty to look at, admire, and take home. It all came about because of a unique, unlooked-for set of circumstances for the Post family.
Larry Post always enjoyed woodworking as a hobby; he even made gorgeous guideboats. In 2003, a traumatic brain injury changed all that, and more. Larry had an accident at Whiteface that affected his memory. He forgot how to use the tools in his workshop, but with great determination and support from his family, he set out to re-learn. Unable to continue to work his old job, and with encouragement from his friend George Jacques, who sold rustic furniture in Keene Valley, Larry began making furniture and a new path for the whole family began to take shape. Maybe it was meant to be.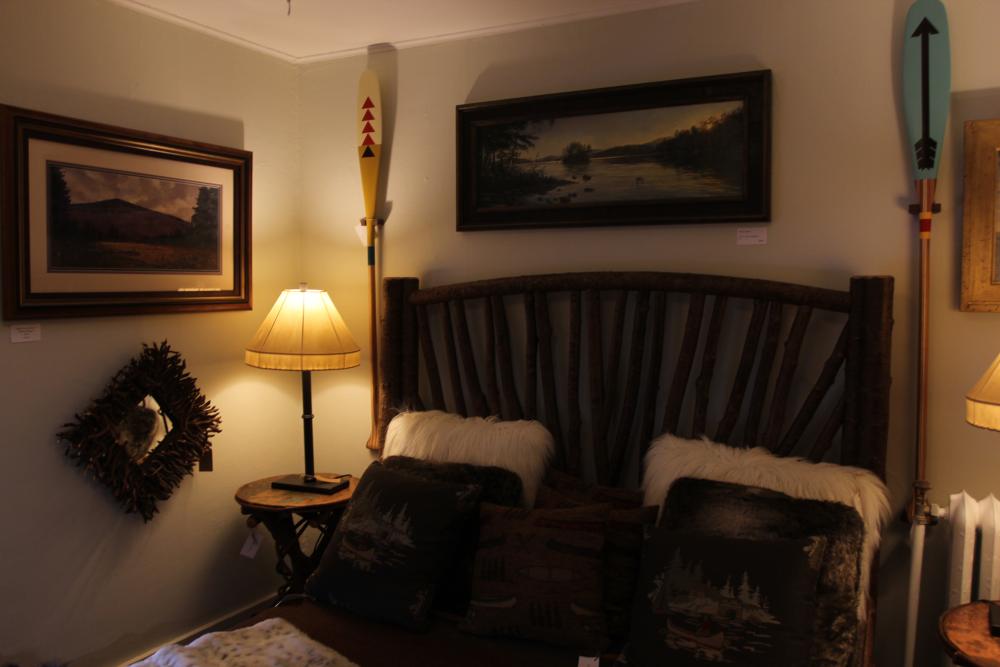 As Larry began making furniture, Joann, a career nurse, began to explore her own artistic interests, particularly painting. Son Ryan was, in his heart, a builder with wonderful creativity. The Posts' daughter Jillian was working at Great Sand Dunes National Park in Michigan and carving wood for fun. She started to think about making it a more full-time pursuit.
"We were all on different roads," Joann explains, "and it was Larry's brain injury that brought our roads together." The Posts began to collaborate and today, each member of the family is involved in the planning and execution of Adirondack-inspired designs so detailed you could — and I did — spend ages admiring them. Dressers, cabinets, beds; the Posts craft them all, and each is unique in design, from Jillian's carvings and Joann's painted details to Ryan and Larry's precise craftsmanship. "Putting us together is what made us successful." Below, a sideboard inspired by the waters of the Adirondacks features the Posts' singularly distinctive work, a combination of their individual talents in one piece of artful furniture.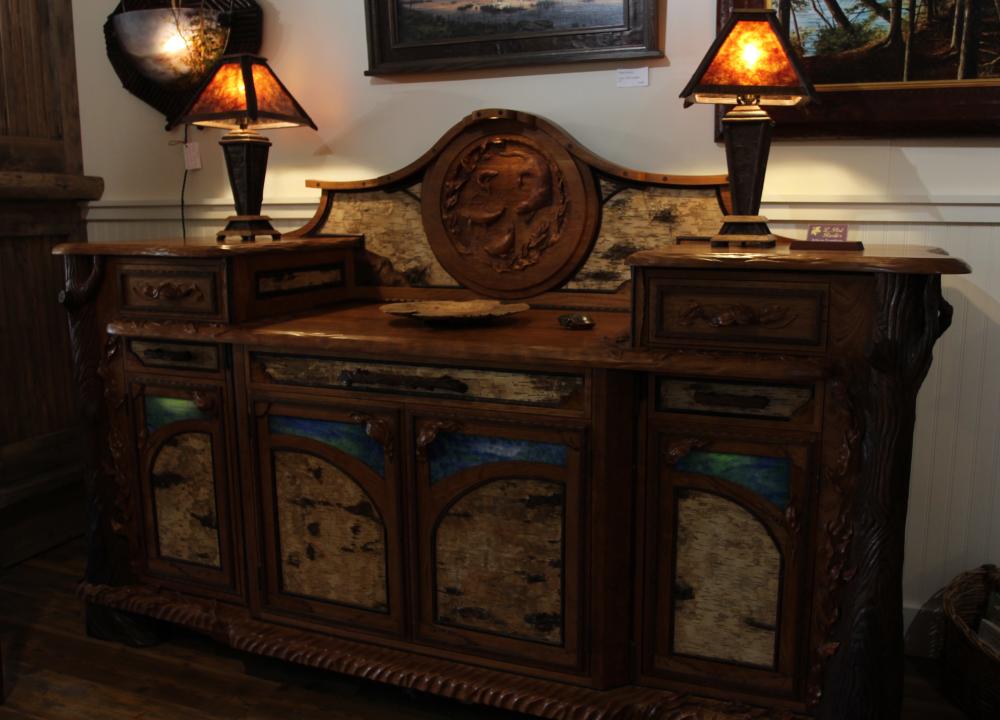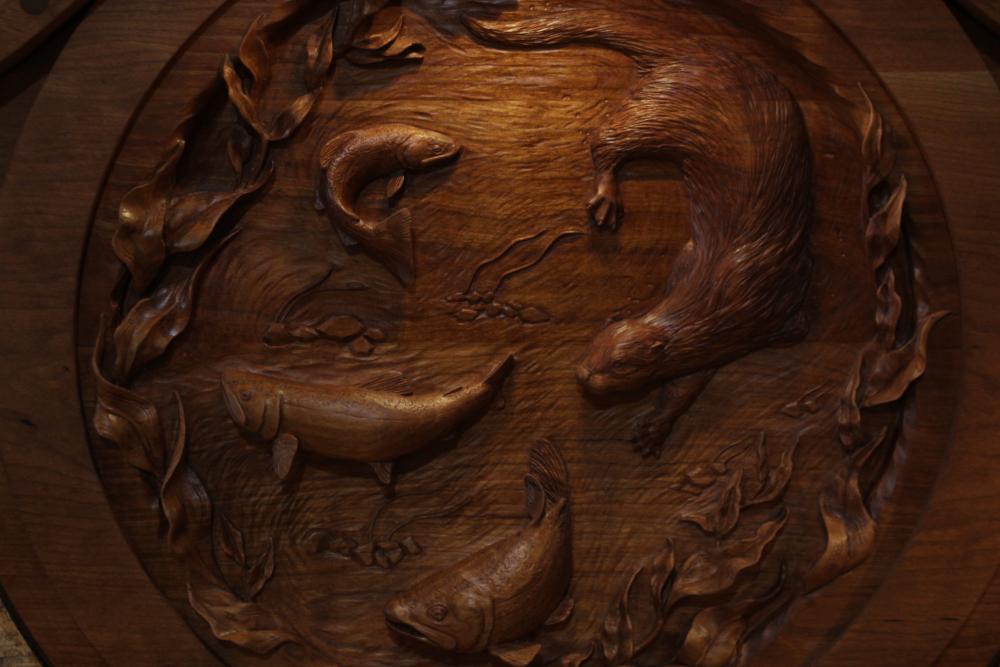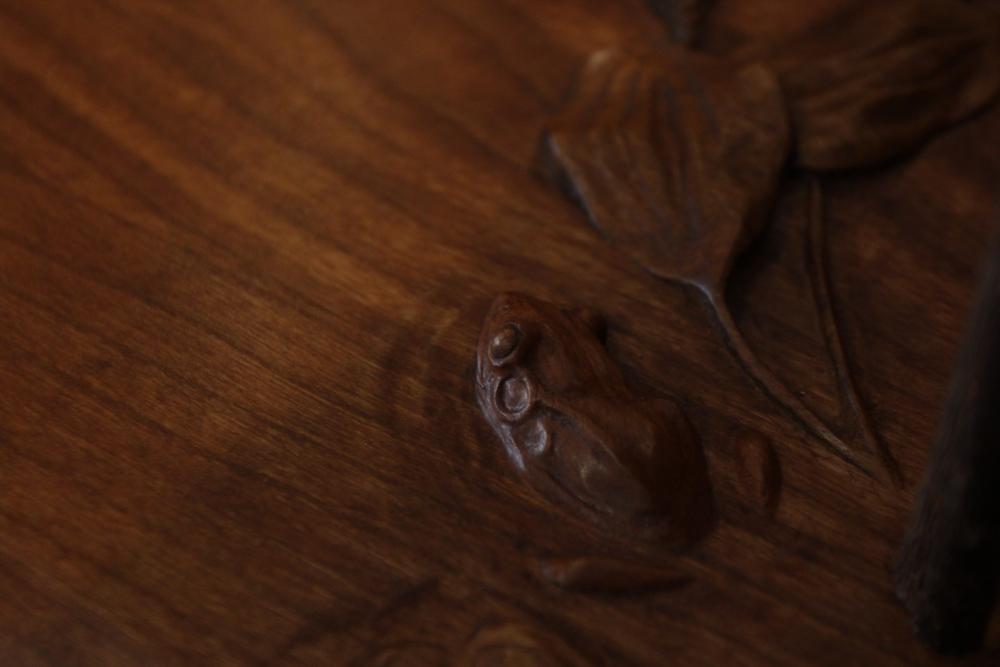 Among many highlights, including the sideboard above, there is one piece that stands out as being especially unusual and visually striking, a cabinet inspired by the beaver. Like everything the Posts create, the piece is thoughtful, artful, and functional. You could distill it down to say it has cupboards and drawers, but that would be missing the really fundamental artistic qualities that don't even hit you right away. The curving shape of the top is reminiscent of a beaver lodge. The wood details on the cupboard form a circle, inspired by the tunnels that beavers create. Pilasters look like trees that have been chewed by beavers, while the edges of the drawers bear similar, subtle markings. At the top, a diorama carved by Jillian shows a beaver diving below the surface, hard wood turned into art, lit by a hollow burl hiding a small light. It's ingenious.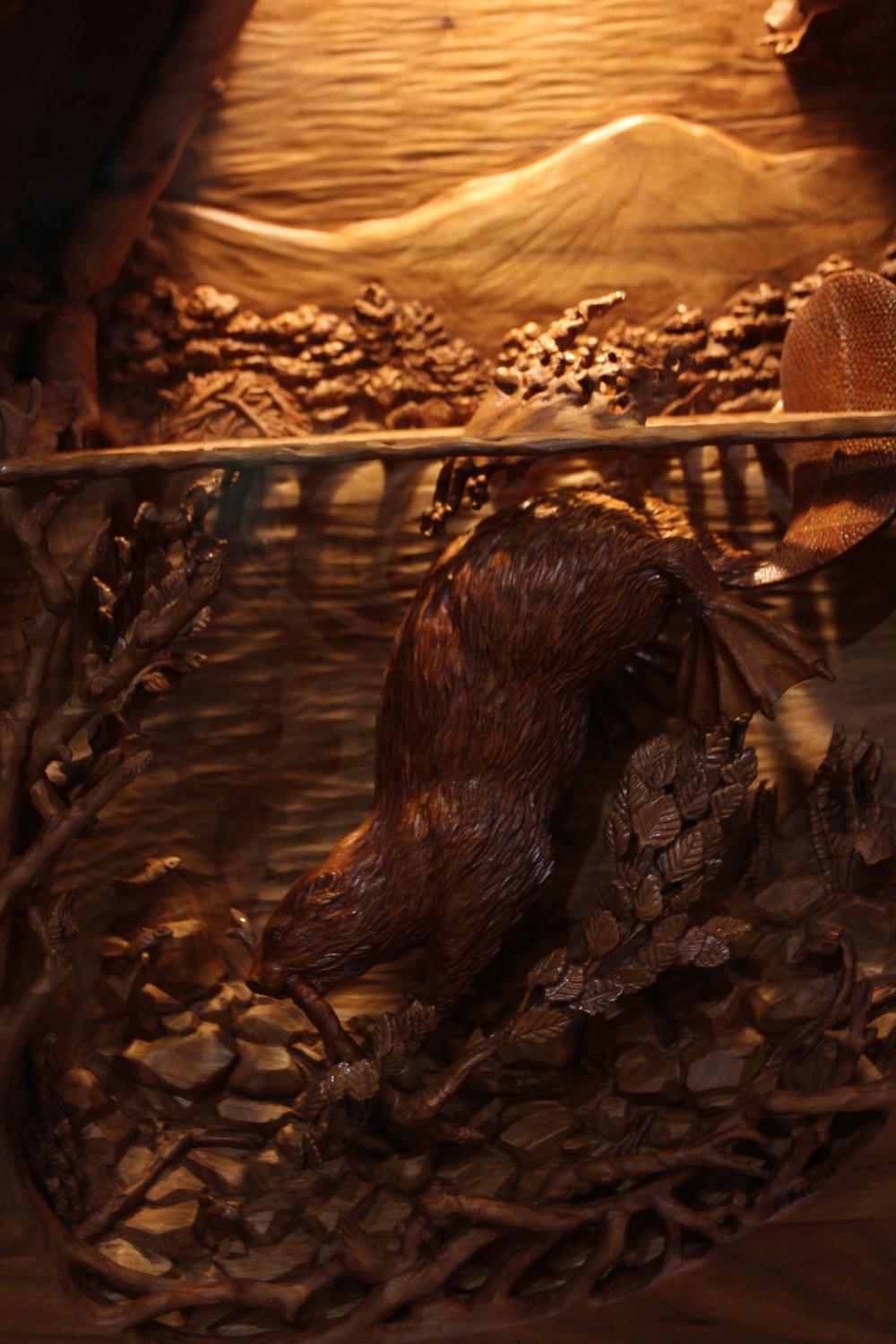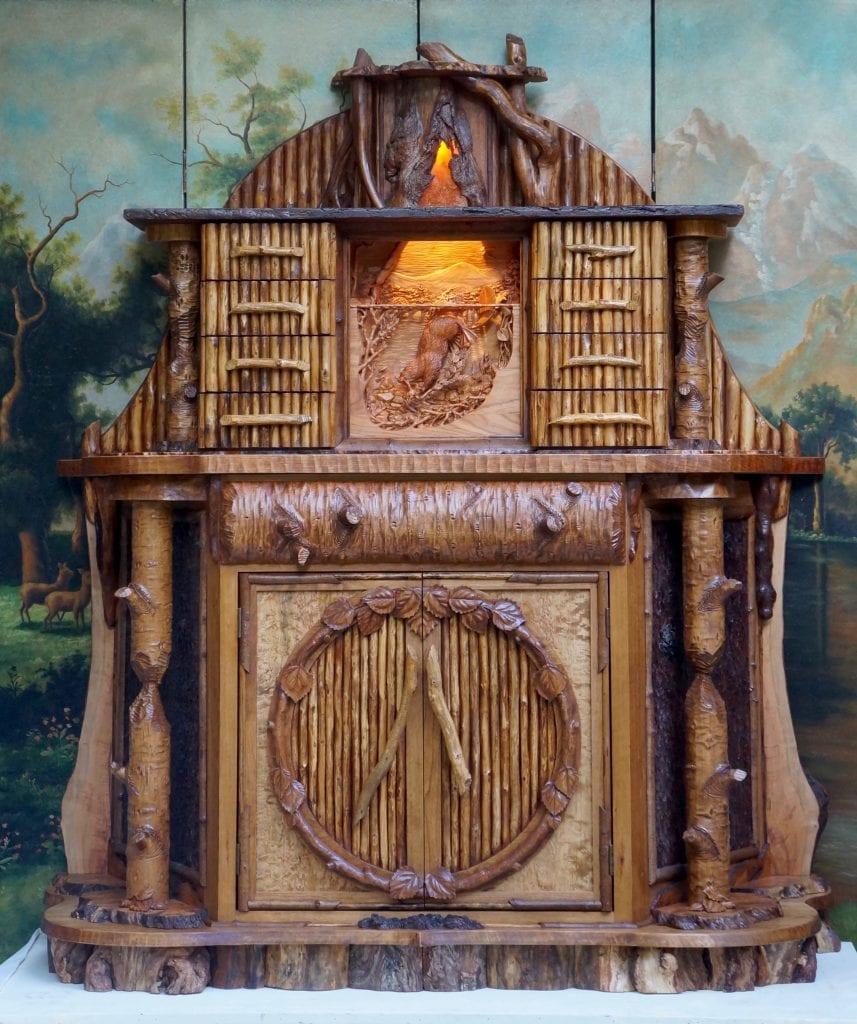 The shop feels like a family creation: it is comfortable and unpretentious. Since the building used to be a house, shoppers wander from room to room, up and down stairs, and into nooks and crannies. Upstairs, a pair of mid-century style reading chairs upholstered in American Indian-inspired fabric beckon (I sat in one, gleefully), around the corner from a plush bed. It's a relaxed atmosphere, good for living and enjoying.
"Something wonderful did come out of that brain injury." For the entire Post family, crafting rustic furniture provides an opportunity to be creative and to do what each one loves. The work done by the Post family is a definition of labor of love, as Joann tells me, "we love rustic furniture and we love what we do." While their workshop is in Ausable Forks, the new Lake Placid store offers the family new opportunities to connect with clients — they do custom pieces as well — and share their work and that of other artisans with a wider audience. Larry, Joann, Ryan, and Jillian have been through a lot, but Joann especially loves that with this shop the family can share their work and also show brain injury survivors that so much is possible.
Visit L. Post Rustics at 2158 Saranac Avenue in Lake Placid. Browse, shop, and enjoy as part of your perfect Lake Placid vacation. While you're here, check out many other excellent shopping opportunities, plus fun special, seasonally-inspired events.
---
This week in ADK news: