A weekday experiment in the life of a budget-conscious, fun-loving family
You would think we were tourists. Seriously. We like to take advantage of the numerous activities that visitors to the region drive hours to partake in. Most of our adventures are spur of the moment, inspired by something we read in the events calendar or online. Sometimes we choose a family-friendly hike such as Cobble Hill, other days you can find us biking on random backroads in Saranac Lake, or camping in one of the numerous spots within driving distance to our homebase: along the beautiful Adirondack Coast of Lake Champlain, in the mountainous tract that encompasses Schroon Lake, or further west into the Old Forge area, where numerous lakes abound. Some weekends we do all of the above. We are an ambitious crew, love to explore, and often have family and friends visiting, who we feel a need to entertain and drag along for the adventure.
Admittedly, I like a good deal (who doesn't?) so I can often be found whipping out my smart phone to see what's happening on the cheap. And, while you can certainly find awesome family activities that are budget friendly on the weekends, during the week the options multiply exponentially. Last year I decided to conduct a little experiment and see how much we could do during the week of 4th of July. Here are the results to help you plan for this year's festivities on a budget. Enjoy!
Information at the Lake Placid Visitor's Center
Our adventures were scripted with the intention of entertaining one to two adults and a very active 4-year-old. Very active. And, because the summer season is just starting, I wanted to keep my budget on the super affordable side while still partaking in the week's festivities. After a bit of research, and using the Lake Placid Visitor's Bureau website events page, our weekday calendar quickly filled up.
Free children's story hour
Monday starts the week with a Free Children's Story Hour at The Bookstore Plus on Main Street. Every week a different story is highlighted, and activities such as coloring and puzzles are coordinated to match the theme. It is a great way to keep the kids entertained and to throw in a bit of fun and learning while school is out for summer. Oliver (or O, as we call him) loves the children's section at the store. It's colorful and engaging, and we can easily lose track of time as we find the perfect book to take home.
Budget breakdown: Story hour is free for all ages, and I'm a sucker for the written word, so I usually plan on $5-$7 for O to take home an educational treat.
Free summer concert series on Main Street, Lake Placid
Tuesday is a day we look forward to every summer becaue that's when the Songs At Mirror Lake Concert Series brings a free concert for all ages downtown in the Mid's Park bandshell. Over the years, the series has grown in popularity, and the turnout, even with a threat of rain, is usually huge. The park is full, the excitement palpable. Children run around, adults lounge on blankets, paddlers pull up to the shoreline. The band is rocking, and you can feel the promise of an exciting summer ahead. The concerts start at 7 p.m. and can last until 9 or so — perfect timing to wear out a child and watch the sun drop behind the mountains.
Budget breakdown: Free. Though if you like to take a chance, I suggest bringing a few dollars for the raffles, which feature awesome prizes each week.
Horse show
Wednesday we start the morning at the Lake Placid Horse Show Grounds. The sun is shining and I can't begin to explain how enjoyable it is to gaze across the beautiful grounds, with Whiteface rising from the horizon on one side, the Olympic ski jumps towering at the other, and no snow in sight — anywhere. The great thing about bringing a child to the horse show is the proximity to the action. Getting within feet of these tremendous animals as they pace the grounds, and then watching them enter the rink and jump and race through the course is something that doesn't happen in many places. The riders are friendly, and will often take a moment to pause for a picture opportunity and to answer an excited child's many questions. You can buy food and drinks on premise, or feel free to pack a lunch and grab a piece of lawn. On Wednesday, Thursday, and Friday at 11:30 a.m., for a mere $1, you can take a backstage tour of the grounds. We took advantage of this offer and were treated to demonstrations and talks from numerous folks who make their living caring for the animals. The highlights for my little guy included receiving a real honest-to-goodness horseshoe from the blacksmith, and a tour of the horse ambulance. Easily a couple of hours of entertainment for the whole family.
Budget breakdown: Weekday entry to the showgrounds is $2 per adult, free for children 12 and under, and $1 per person for the backstage tour.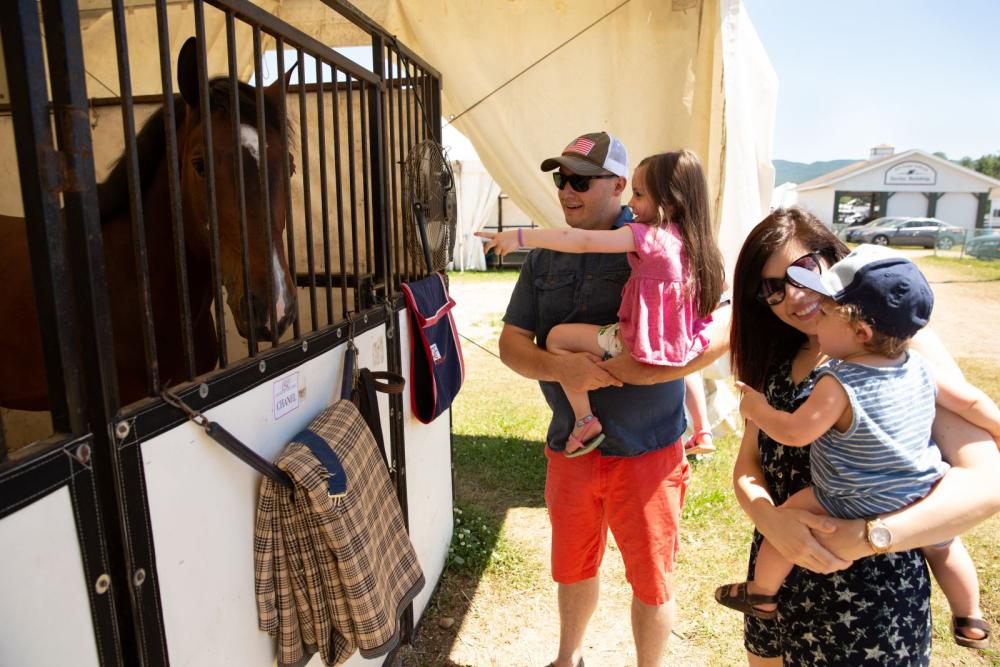 Fun, easy downtown hike, with a view!
Thursday there is a threat of evening rain, so we pack in the action early with the hope of staying dry while still getting in some fresh air. A hike up Cobble Mountain with a picnic at the top is on the agenda. This is a great family-friendly hike and O can actually make the trek himself this year. Granted, we take it slower when we have a child leading the way — if you are heading out with older children or novice hikers, I would plan on giving yourself 1.5 to 2 hours. If you're heading out with a headstrong little guy who likes to stop and inspect every bug, puddle, funky mushroom, and exposed root base (what could be living in there?) it can easily be a 3+ hour journey. We plan accordingly and bring food and an abundance of patience along.
Budget breakdown: It's approximately $5 for our PB & J picnic supplies.
Invent your own perfect 4th of July
On 4th of July the town abounds with free events. So far we have on our to-do list: swimming at the Lake Placid Public Beach in the morning with a picnic in the park. The afternoon highlight will be the I Love BBQ and Music Festival. There is an admission fee, which I don't mind paying as the funds all go to a local children's non-profit, and the entertainment alone is well worth the price for a full afternoon of fun: over 10 Bands, BMX bike shows, kids games, and, of course, food. We will leave the BBQ Fest in search of the perfect spot to claim for the Fourth of July parade. The Placid parade is always a fun event and is a great precursor leading up to the free sinfonietta park concert and then the Set the Night to Music Fireworks display.
Budget breakdown: BBQ Fest is $6 for adults, free for children under 10. We will plan on bringing $10-$20 to splurge on the competition tastings and a few special treats.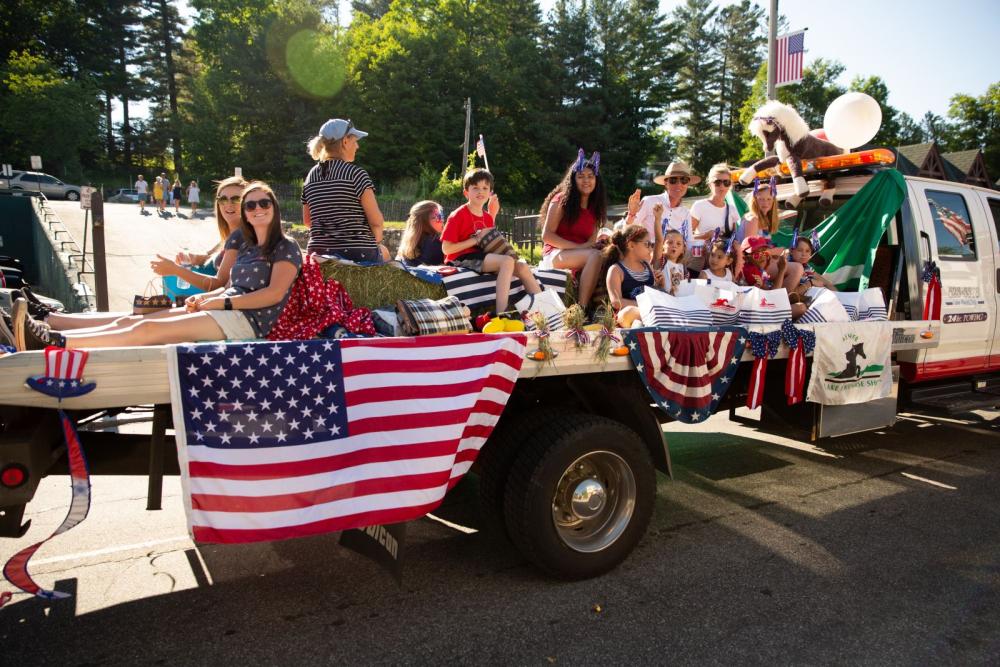 And Lake Placid offers so much more!
While we only chose to highlight one event each day, there are so many more happening throughout the summer we will be sure to check different ones out each week. From farmers markets and free kids shows to concerts and special events, you'll be sure to find something that appeals to your tastes — and if you run into us, be sure to let me know about your favorite budget-friendly adventure! 
Start planning your trip to Lake Placid today!