I have walked, hiked, and exercised dogs over the years at Lake Placid's historic John Brown Farm. The hiking trails are beautiful, the views always stunning, and the skies dramatic.
But who was the man?
John Brown was born May 9, 1800, in Torrington, Connecticut. He decided that an armed insurgency of volunteers combined with a slave revolt was the only surefire way to end the convention of slavery in America. He was angered and frustrated by the slow, peaceful political means in which the abolitionist coalition moved. He made his name in Kansas where he led forces in what came to be known as the Battle of Black Jack, the Battle of Osawatomie, and the Pottawatomie massacre of May 1856, in response to the siege of Lawrence, Kansas by pro-slavery forces.
A touching memorial
The six-ton bronze statue at the farm memorializes the famed abolitionist. It's a touching sentiment, with his arm around an African American boy, ushering him towards freedom. As I write this I notice the irony in the photograph above: John Brown and the boy appear to be walking toward Whiteface Mountain, its peak obscured by clouds. Freedom for slaves was a steep and perilous unknown mountain to climb. The boy's body language in the statue even portrays an uneasy enthusiasm.
I roam over his land and fields and homestead. Who was John Brown? I don't mean what can be excavated through the historical highlights of his exploits, or the many biased and opinionated biographies, or the scholarly debates, still heated to this day.
In this familial, picturesque setting, where a man is surrounded by his work, his house, and his family, my interest is how did he choose to leave it? Was it an inborn restlessness? He had homesteaded in Ohio, Pennsylvania, and Massachusetts. He made several trips to Kansas. Did farming and business become too static for him? Or was his mission, his purpose to better his world and the lives of slaves keep him from a peaceful life? Why at a robust 59 years of age would he risk everything?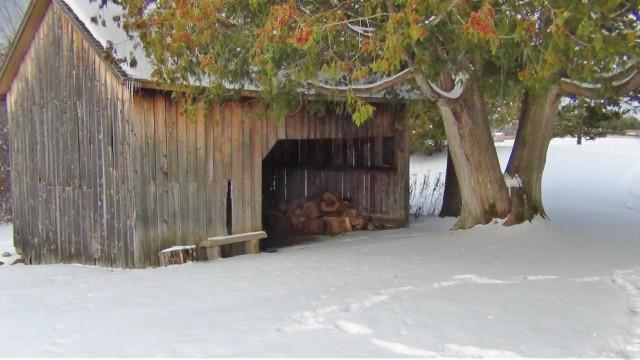 I look into the opening of the woodshed as if a portal to the past and John Brown fells his ax, the sound of a splitting log echoes. A quiet, safe, repetitious home life is what most people crave, but I deduce he couldn't be idle unless every man, woman, and child could have the same life as he -- or at least the chance to have.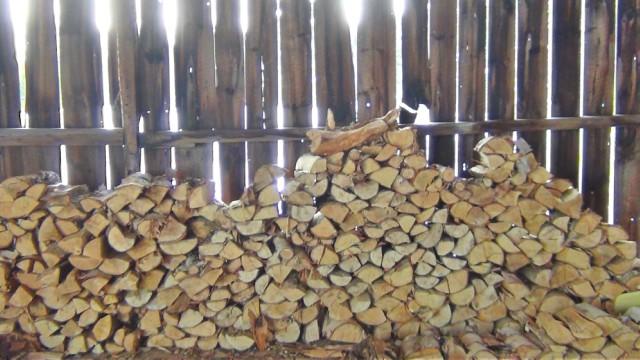 I imagine him counting each piece of wood he split and stacked, counting them as slaves he could set free, but instead, he is here in the mundane world, the simple task of keeping his family warm.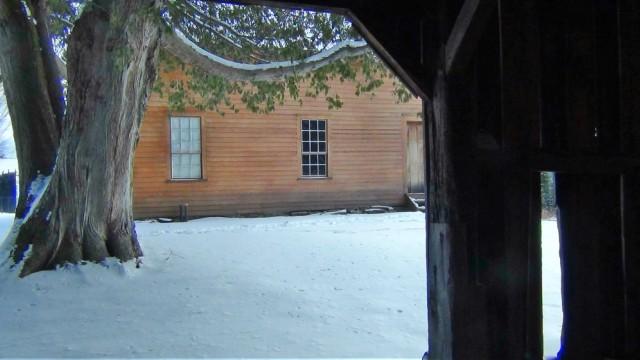 I can see him pause, leaning against the woodshed, looking toward his home where his second wife, Mary, prepared meals and kept house and reared their children.
Rocky and stubborn fields were a fitting metaphor for his fight against slavery, and the country during his time was a hard place to grow freedom.
A final visit
Brown made a home here, when, in 1848, he heard of Gerrit Smith's Adirondack land grants to escaped and freed slaves. Brown chose to move his family here to live among these new settlers and help teach them the farming trade.
In June of 1859, John Brown visited his New York homestead on the outskirts of Lake Placid for the very last time.
After he was executed in early December of 1859, his wife, Mary, brought his body back here for burial. Since 1895, the farm has been owned by New York State as John Brown's Farm and is now a National Historic Landmark. You can see his headstone here, as rough-hewn as the man himself.
I wonder to myself, was this one of that last views he had of his home before departing, never to return, or was this homestead his final thoughts while he walked to the gallows?
His resolve was immovable like a stone. He had made up his mind that only armed conflict could end slavery. Politics and coalitions and moral equity could take another 100 years or more for slavery to come to an end. Perhaps John Brown saw slavery in an intimate perspective as I do, slavery is violence. The single act of splitting up families is violence. The so-called "decent" slave owners of the south were committing violence just in the act of purchasing another human being.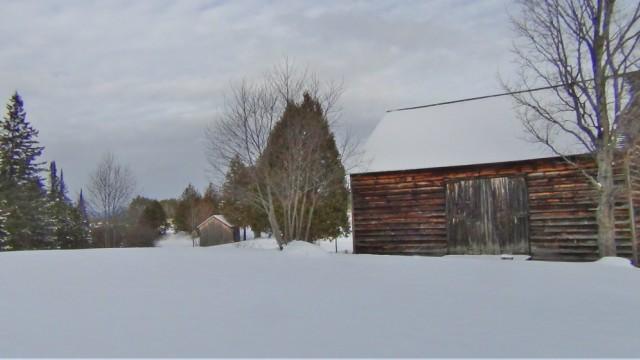 I try and put myself into his state of mind, into his shoes. Could I have left this solemn, beautiful place?
Last fateful steps
I think about the last time he left his home; the last goodbye to his wife and children, before putting a log on the fire and departing.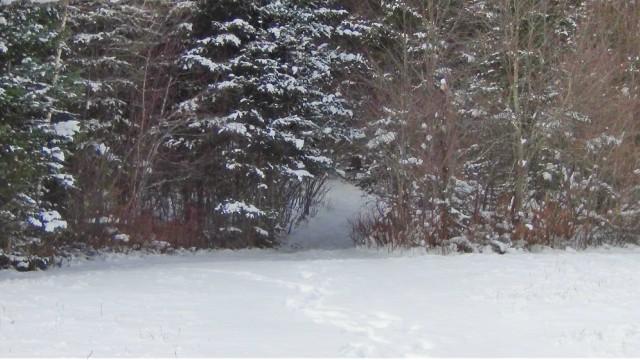 His chosen path was violence, and he met his end in violence. And only a year later the United States split and entered into unthinkable violence, the Civil War, that ended the lives of half-a-million Americans, reduced towns and cities to rubble, and tore families apart -- total war.
Could the differences between the north and south and the violence of slavery have been resolved by peaceful, political means? I'd like to think so, but for John Brown, and the country, the time was now.
Today at John Brown's Farm, I see people walking their dogs, hiking the fun trails, and pulling sleds with their children on board. I choose an easy path, a hike through a delightful forest with fresh winter air that disengages me from my small worries and simple concerns -- freedom.
You'll find several more family trails for snowshoeing and cross-country skiing just a short drive from downtown Lake Placid, a quaint town with a wide variety of places to dine amid charming accommodations.