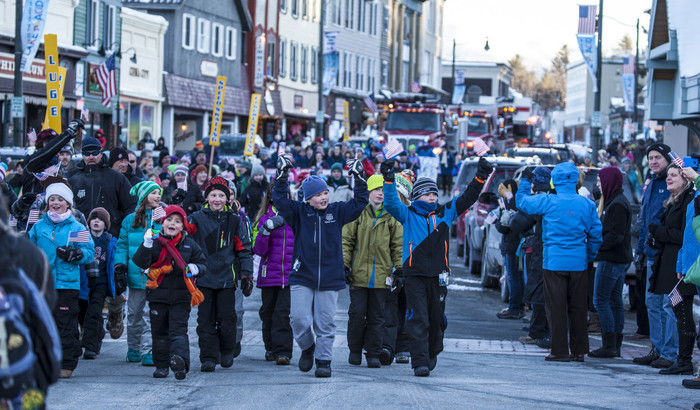 These days, as we're getting closer to the Olympics, I can hardly watch a milk commercial without getting teary-eyed. You know the ones I mean? They feature letters from proud parents to the athletes about how they were "born" on skis, how they never gave up, how they endured endless nights at the rinks, and cold days at the mountain... Now, here they are — Olympic athletes. They have trained their whole lives for this. This moment in time, this event, this year. Now.
People in cities, towns, and states all over the country will connect to these commercials. They speak of dreams coming true, and hoping for the best for everyone, and cheering on your country. BUT, here in Lake Placid, it means so much more. The spirit of the Olympics is so alive that you can feel it in the conversations on the streets, hear it as our flags snap and wave in the wind, and see it in the stores decorated proudly in the red, white, and blue. It is something you can't and don't want to get away from. 
I remember an older bartender pouring me a beer as he told me about the 1980 Olympic "Miracle On Ice" game. He said that when the USA scored the winning goal, he could feel the bar shake from the cheers — even though he was two blocks away. He said the chants of "USA-USA-USA" were amazingly loud and the crowd jumping up and down felt like an earthquake. I teared up listening to him because I could feel the magic — the miracle — over 25 years later. It was still alive. It has never died. And Lake Placid will make sure that it never does.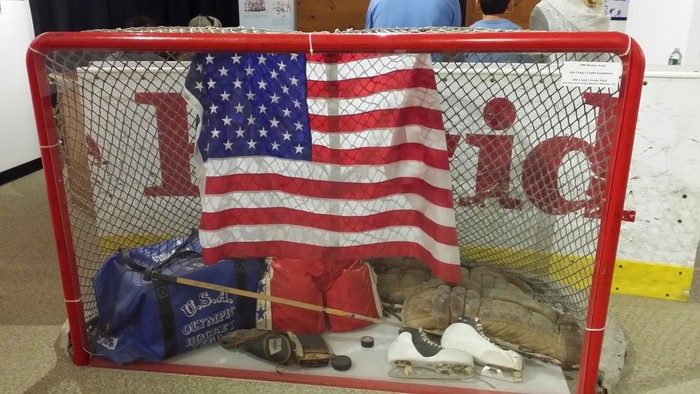 This winter the Olympic Games will be held in PyeongChang, South Korea. The athletes that this village has cheered for during local games, championships, festivals, and World Cup events, will be an ocean away. We will cheer just the same. The community will show its Olympic pride in many ways. We will support the USA team — some who were born and raised right here in Lake Placid — with many exciting events. I thought I would take a few minutes to showcase a few so the pride can be felt by all who visit this region during this special time.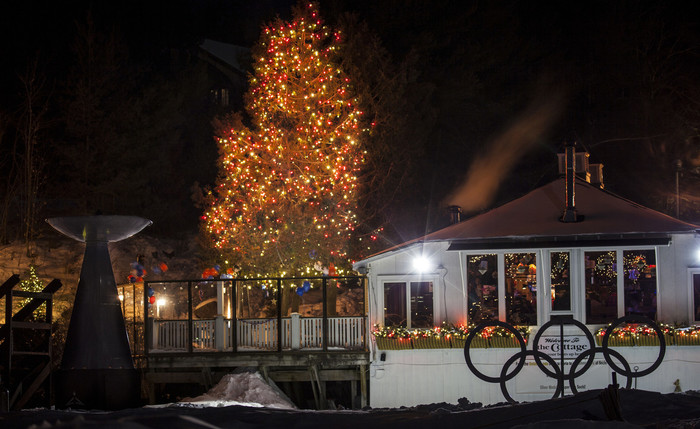 Pictured above is The Cottage Cafe, this lakefront restaurant is located across the street from the Mirror Lake Inn. Both are owned and operated by Olympic Bronze Medalist, Andrew Weibrecht's family. Stop in and enjoy "The War Horse" — a drink named in Andrew's honor. It's a combination of UBU ale and Sierra Nevada and a popular choice as locals watch and cheer this hometown ski racer on one of several screens.
Pride in town
There is something very special about walking down Main Street and seeing the events going on in a world far away, right from the center of town. Travelers and locals come out to Mid's Park to view the games and see how their athletes are doing.There is a jumbo tron screen set up where the medal games and ceremonies can be viewed. There are known to be a few USA chants heard right here as well. The spirit is contagious and emotional. Pride is an understatement.
Out and about in town there are many special things to see. Business are all dressed up in red, white, and blue, and windows showcase a combination of rich history and new energy. Restaurants and bars feature drink specials and televisions are tuned to the events. This a great way to cheer for your country — why not plan to grab a seat at a cozy bar with your friends? You will most definitely hear stories from locals about how they know so and so, and how "That luge athlete is a bartender here," or "She loves the steak we serve here." It makes watching so personal. You will begin to "know" the athletes like we do.  
The cauldron
While you can watch the Olympics from many places, Lake Placid is one of the few that act as home to an Olympic torch cauldron. This cauldron sits in the Horse Show Grounds and attracts visitors daily. The torch is full of history and in 1980 it was lit throughout the Winter Games here in Lake Placid. It was also lit during the 2014 Winter Games and will be re-lit in 2018. Runners will carry hand-held torches from the Olympic Ski Jumps, to the cauldron at the show grounds. These celebrations of Olympic spirit usually starts with prerecorded speeches from 1980 and previous Games, invoking overwhelming feelings of harmony and history before ending with "God Bless America." Honestly, that gets me every time.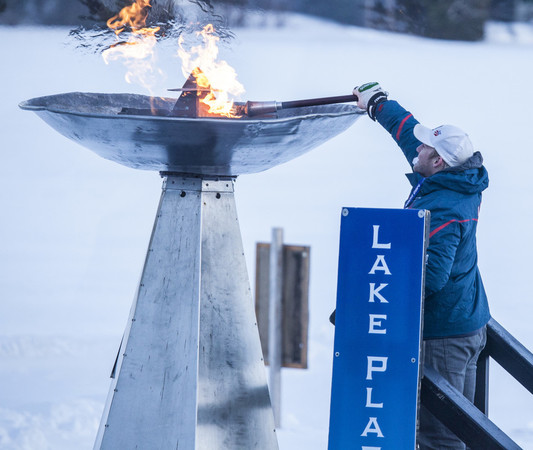 Winterfest
The last night of the Olympic Games features the closing ceremonies. Lake Placid will be having its own closing ceremony sponsored by Hershey. Think s'mores, a life-sized snow globe, and a concert. The music of Third Eye Blind will keep things going at the Olympic Jumping Complex — I can't wait for this. Third Eye Blind will sing their famous top 20 hit songs including "Semi-Charmed Kind of Life" and "How's It Gonna Be." Visitors can enjoy the music while taking advantage of unique photo ops taken inside the snow globes.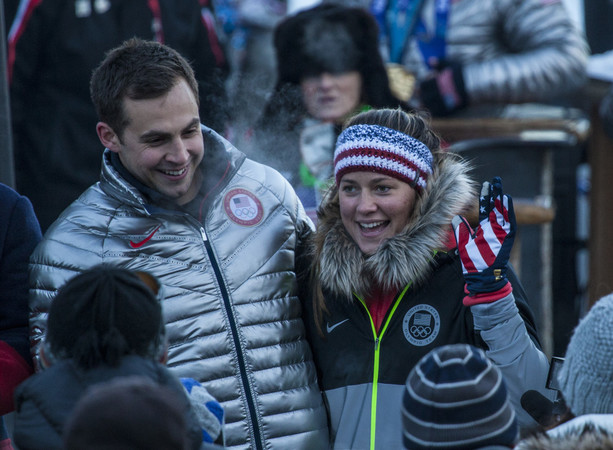 The ceremonies will close out the Olympics, but the spirit will remain here in Lake Placid. Athletes will return to the Adirondacks and the town will celebrate with a parade. Olympic athletes will be cheered by students from the local schools beaming with pride for the red, white, and blue. Flags take over Main Street and locals and travelers come out in full support of athletes who train in Lake Placid and who have begun to blend into the community. Medal winners will wear their gold, silver, or bronze with pride as kids stare up at them dreaming of their days to compete. 
Do you believe in miracles? You will after visiting Lake Placid during an Olympic year.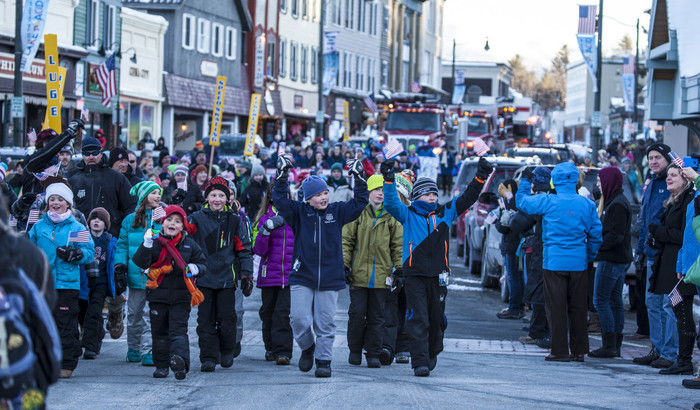 Join us as we celebrate winter, the Olympics, and team USA. Book your reservation today. 
---
Cross-country ski trails to try
Skinning Whiteface (aka uphill skiing)