It's the highest vertical drop in the east, and here I am, strapped to a board about to descend this mighty mountain. Okay — so I didn't quite get that far up the mountain, but I can certainly say I've gone snowboarding at Whiteface.
Snow Boarding 101
1) Take pride in acting and looking like a Jerry.
2) Don't think about what anyone else thinks of you because you're there to have fun.
3) Try something new.

If you're like me, I definitely don't have any of the top-of-the-line ski gear, you just have to rock what you have.
Live and learn
Be aware of the gaper gap! This is the gap between the top of your goggles and your helmet. Get rid of the gaper gap!
Also, if you need to stop in the trail to take a breathe and refocus, do it. I finally made it up to mid-station around noon, and took a break or two on just about every hill on my way down. Don't worry about running into people or getting in the way! Most of the time, it's easy for others to spot that you're new at this, and they will adjust their line to make sure that they are well out of your way.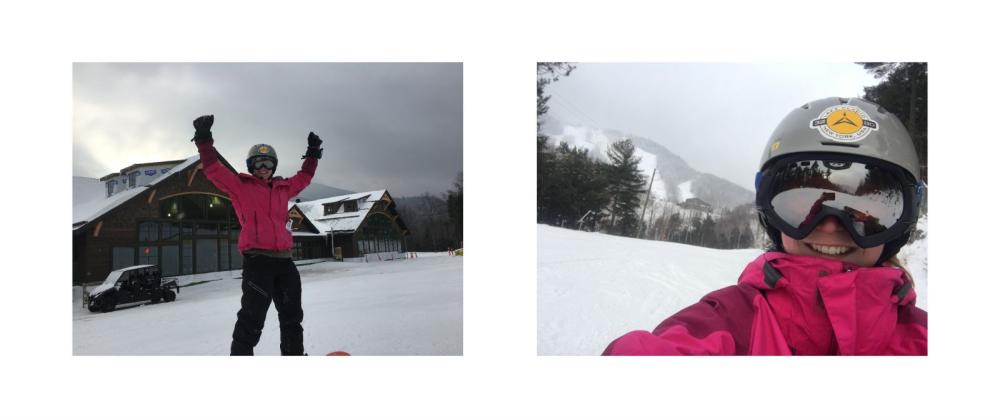 Renting It All!
Basically I arrived at the mountain in just my snow pants, winter jacket, and gloves; I needed it all. Bring on the gear! The staff was very helpful in making sure everything fit appropriately, and that I got a board, boots, and a helmet. The whole rental process took no more than ten minutes before I was out the door heading to the hill with my instructor.
My goggles were an extra addition that a friend was kind enough to lend me. If you can, get some goggles — these come in very handy when you're stuck sitting still on the lift while getting wind-blasted by the crisp mountain air.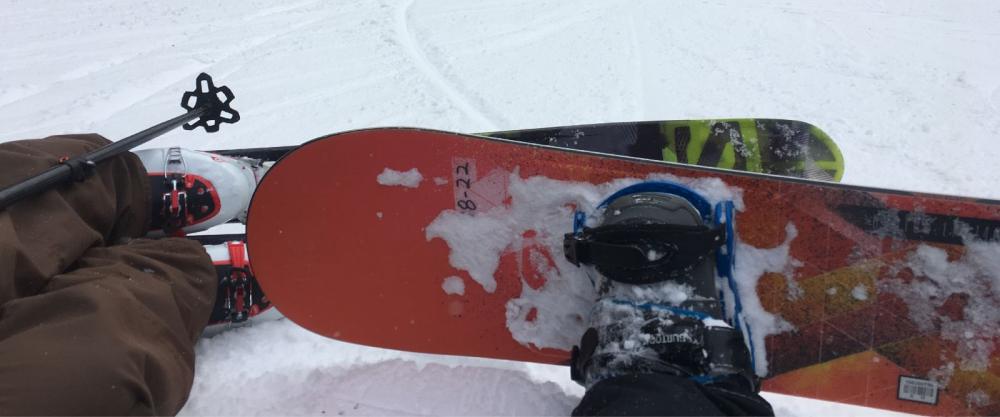 Your Instructor Knows Best
Listen to your ski/snowboard instructor. They have just about seen it all and are very keen on teaching you one step at a time. After nursing a long-lasting shoulder injury, you can imagine falling topped my concerns. To tell you the truth, by taking it slow and listening to my instructor's step-by-step instructions, I didn't take any hard falls! Again... Go at your own pace!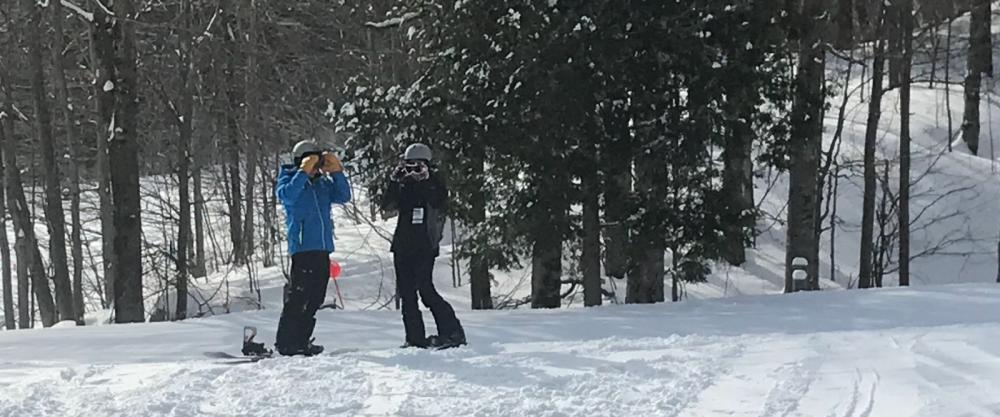 I found it somewhat easy to pick up what my instructor was saying because I had tried snowboarding once before at Titus Mountain. I certainly knew what didn't work. I hadn't had an instructor before so it was very helpful to now receive great advice and instruction.
The lift was a bit nerve-wracking to get off of. Only one of your boots are strapped in, and at the end of the lift is a short little hill to help with the exit. Having to ride this short little hill with only one boot strapped in was not my ideal scenario, but it was something I would have to get used to. It was definitely a balancing act just trying to get off the lift and to a good position at the top of the bunny hill.
Turning on the board is definitely a struggle for me. I tried so hard to go left or right my first couple runs, but all I could do was go straight. After a quick tip on pointing my knees inward or out, I was carving up the bunny hill in no time. Well, not really, but it sure felt like it!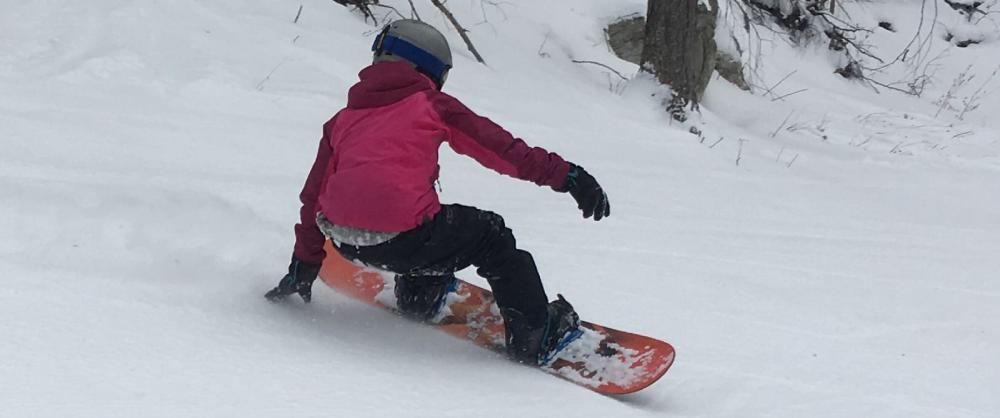 Although the lesson was an hour long, time flew by, and before I knew it, after only a couple runs down the bunny hill, I was let loose to learn the rest myself. At least I had a solid base of instruction to take with me.
Bear Den Mountain Area
I chose to have my lesson at the main lodge where there is a lift up to a small bunny hill. Later on in the day I made my way over to the Bear Den Mountain area. In the end I liked the trails over here a lot better. It was basically a bunny hill expanded into several trails that are all lift-access. I wasn't sure when I would be comfortable with the rest of the mountain, but for the time being, the Bear Den Mountain area kept me busy. Also, the lodge here is entirely new, with massive windows allowing you to look out onto the mountain slopes.
One Thing They Don't Tell You
Don't have leg day at the gym the day before you spend all day at the mountain learning how to snowboard. I am a very athletic person, taking part in hiking, ice hockey, cross-country skiing, and many more winter activities, however snowboarding unveiled a slew of muscles that were not ready for this type of action. I was expecting to spend all day at the mountain, however by my fourth run down the bunny hill, I needed a good rest and some food. After that I was feeling refreshed and ready to go back out and hit the slopes.
So - are you ready to hit the slopes? Whether you're a newbie or a seasoned pro, Lake Placid is the perfect place to stay and play this winter!
---
This week in related ADK news:
Ice fishing: Schroon's deep water
Fat biking: Blueberry Hill trails