It can be a source of worry when you want to come to the Adirondacks to see the leaves turn in autumn. "When is it peak time? Can I arrange to get there at the right time? What if I miss it? What if it's over?"
Relax.
Thanks to the many changes in elevation, from the height of our 46ers to the sea level of Lake Champlain, we have abundant differences in our microclimates. This means there are multiple fall color peaks. They are scattered over different places, with as much as two weeks difference in the foliage status, all within a short travel time from your base in Lake Placid.
You are going to want to take a scenic drive, anyway, so stop worrying. There's no controlling the weather, so even the best plans can turn into a best-guess situation. Here are some strategies to help you enjoy a fall getaway, no matter what time you can get away.
Drive to the scenery
Lake Placid is one of the first places to turn colors, so it's one of the first to fade. But, it is also centrally located for access to nearby places that have a different time frame for their foliage.
The mountains can be in full blaze while down at lake level it's still late-late summer. Likewise, if the immediate area is past the peak color period, that means there are other places that haven't gotten to that same point yet. Areas that are close together by road can still have differing levels of rainfall and low temperatures. While these seem like small differences, they can have a large impact on the fall color in that area.
Also, remember that "peak color" is more of a concept than a set of scientific parameters. There are variations in the different tree species, with maples starting early and then dropping their leaves early, while some other species, like tamaracks, only turn in late fall. Younger and smaller trees tend to turn sooner than more mature and larger trees. All of this can impact the look of one hillside or an entire area. Stay in Lake Placid, and plan on seeking out the elusive peak of autumn color. No matter where it is happening.
Go down to sea level in less time than it takes to have lunch, and see the leaves in an earlier state.

Go for the gold
The classic look of fall color is lush foliage in blazing reds and deep purples, which is wonderful. And it's not like the trees all say, "Now!" and drop all their leaves at the same time. Some of the richest color displays are mixed in with bare trees.
There are also late-turning trees which put on a spectacular show. In late fall, when many of the deciduous trees have lost their leaves, there is an uncluttered view of the incredible golden glory of the tamaracks, in stark contrast to the bright evergreens around them. Their name comes from hackmatack, which is an Abenaki word for "wood used for snowshoes." Tamaracks are a deciduous conifer. After they turn, they will drop their needles.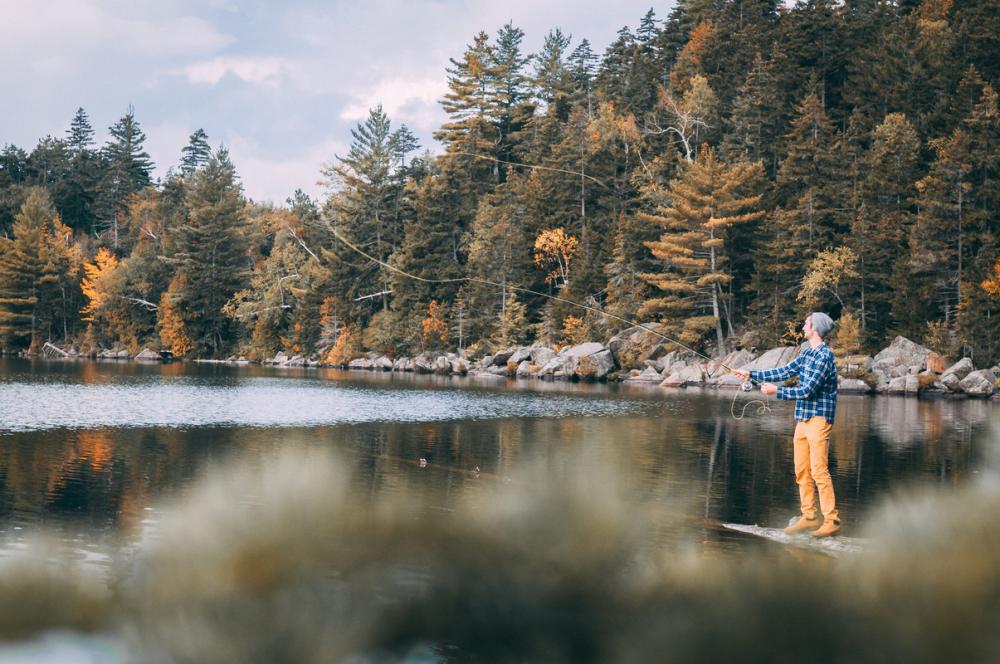 Microclimates affect some of our most spectacular vistas. The higher slopes of the mountains peak first, but down on the flatter land at the feet of the mountains the colors will still be there, and are often richer and more uniform, as seen below.
Our seasonal, dramatic dawns and twilights play up the lush colors of late fall. The softer light buffers shadows and doesn't overwhelm your camera, especially if you are using a phone or tablet to take pictures. The impact of a bright set of foliage from shrubs and wild plants can add a bright jolt to a late fall landscape.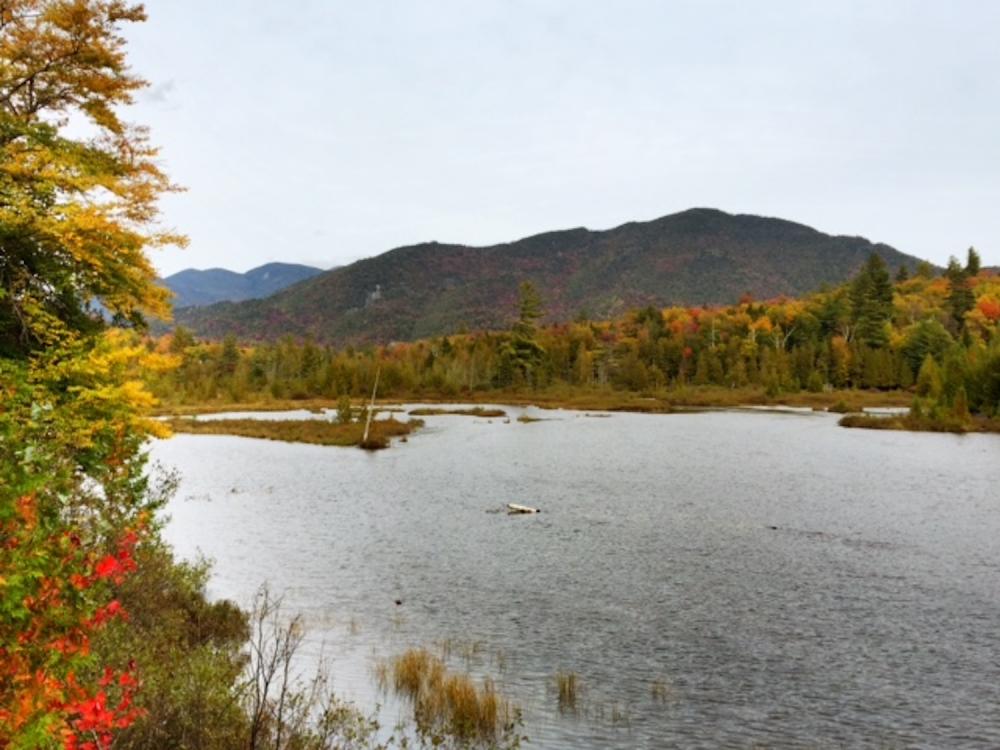 Late fall frolic
Don't forget the other wonders of late fall that are available this time of year. Look for bargains and specials to stay in a place you might not have considered. Whatever you decide, you'll still have plenty of color.
Browse our delightful shops, which are steps away from hot beverages and tasty treats baked right there. Find that perfect sweater or get a real Adirondack pair of gloves or boots to keep you extra warm back home. Relax in front of a dancing fire, enjoy a delightful meal, walk hand in hand along the misty lake.
Fall is a special, fleeting time when the first snows arrive on the mountains while there's still color down below. Sure, the birch trees are now pencil sketches instead of pastels. Sure, the colors are more isolated to individual trees, but those trees are standing out from a quiet background and are doing their absolute individual best.
I love every part of fall. And I especially love the late fall show. Maybe you will too.
Remember...fall ain't over till it's over.
So pick your favorite lodging. Enjoy your favorite dining. And go exploring for all the color you could want. If you need a suggestion about where the peak is when you arrive, feel free to contact us.
---