Inside story
Ever wondered what folks who live and work in Lake Placid do for their lunch break during the summer?
Well, speaking for just a small sample of those who work in my office, the answer varies, but here are some top options:
a mountain bike ride at one of the local trail systems
a walk around Mirror Lake, or "ATL" as we call it
a quick swim at the Mirror Lake beach
quiet contemplation in an Adirondack chair at an undisclosed location
a visit to one of the nearby eateries on Main Street
a round of golf
Golf?! No, I am not allotted an extravagant 4-hour lunch break. That last one was just added to my personal itinerary, as I recently played the cutest golf course in America for the very first time — and it's located only a half mile from my desk!
Pristine, defined.
My colleague Carrie was aghast when I told her I had never played the Pristine 9 course at the Lake Placid Club, especially since my job has included the promotion of the region's courses for approximately one zillion years.
I have no specific reason for abstaining from playing the executive-length course. I suppose I tend to block out a half or full day to play one of the "real" 18 hole championship courses in town.
Apparently, "real" locals think of the Pristine 9 as a great lunchtime or apres-work activity.
And now I understand. This short course takes 90 minutes or less to complete, is meticulously maintained just like its companion links and mountain courses, the layout is fairly straightforward and fun, and it's appropriately named.
pristine

adjective

synonyms: immaculate, perfect, in mint condition, as new, unspoiled, spotless, flawless, impeccable, clean, fresh, new, virgin, pure, unused.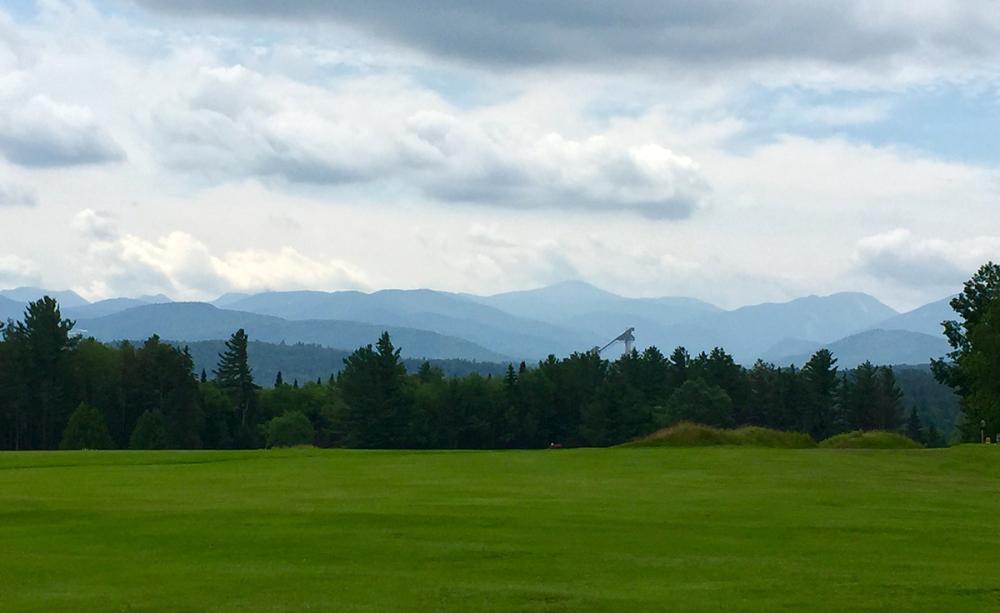 9 holes, 90 minutes, 1 ball
The course consists of 9 of the 45 holes at the Lake Placid Club. It was designed by Alexander H. Findlay in 1910, and is comprised of seven par 3s and two par 4s. Essentially, it's a very fancy round of miniature golf with tees.
Carrie and I planned an outing to introduce me to this local "secret" on a recent work day that happened to be a bit hazy and very warm. The thing about the Lake Placid Club, though, is that even when the mountain views from the Club House or any of the three courses are somewhat obscured by a little haze, they remain absolutely stunning.
picture-perfect

adjective N. Amer.

lacking in defects or flaws; ideal: a picture-perfect summer day.
If only my game could be so defined.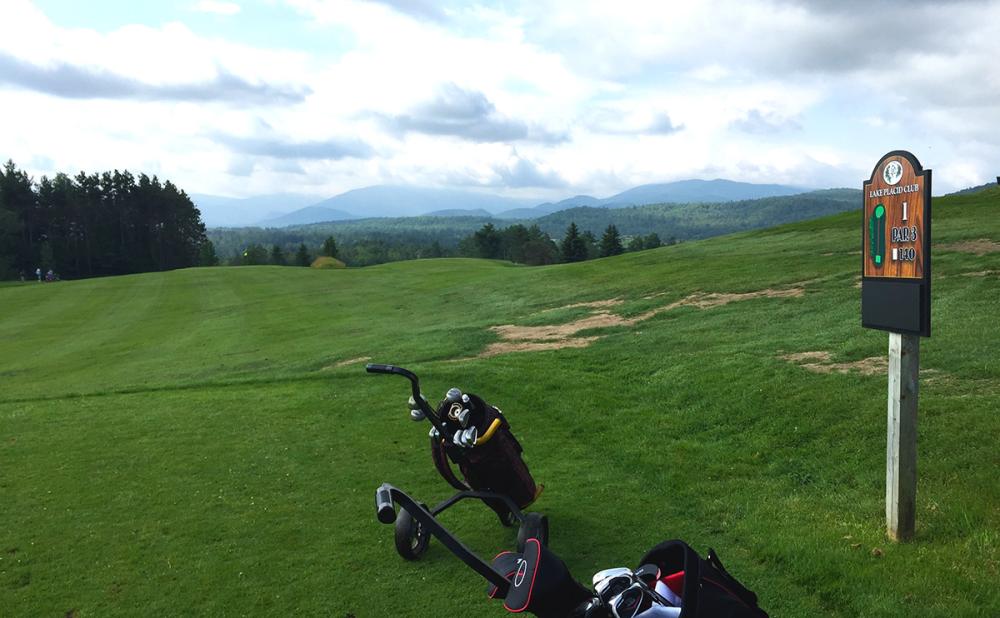 We began, as one should, on the first tee. The first thing I noticed was that there is only one tee option; no ladies' red tee or pro tee or any other colors, just one tee marked with yellow. This, my friends, is an equal opportunity golf course.
Like the tees, the holes are all marked with yellow flags. They aren't numbered flags, but the score card nicely shows the layout and is easy to follow, once you understand the scale. I had inquired about taking a cart, and the Lake Placid Club pro, James Beauregard, politely told me that most people walk the course. It quickly becomes apparent that there's really no point (until you arrive at hole 8) in using a cart, as you'd spend half of your time getting in and out of it.
The second thing I noticed was that for some reason, I only had one ball in my bag. Carrie had extras for me to borrow just in case, but this upped the ante, as I added a goal to complete the course without needing to do so.
"That's the hole… right there?" I asked Carrie. Hole one is a short par 3, and the flag is located in close proximity, downhill from the tee. She confirmed that was our destination. I proceeded to choose the wrong club and hit my ball far off to the left, she hit hers far to the right, and we were off.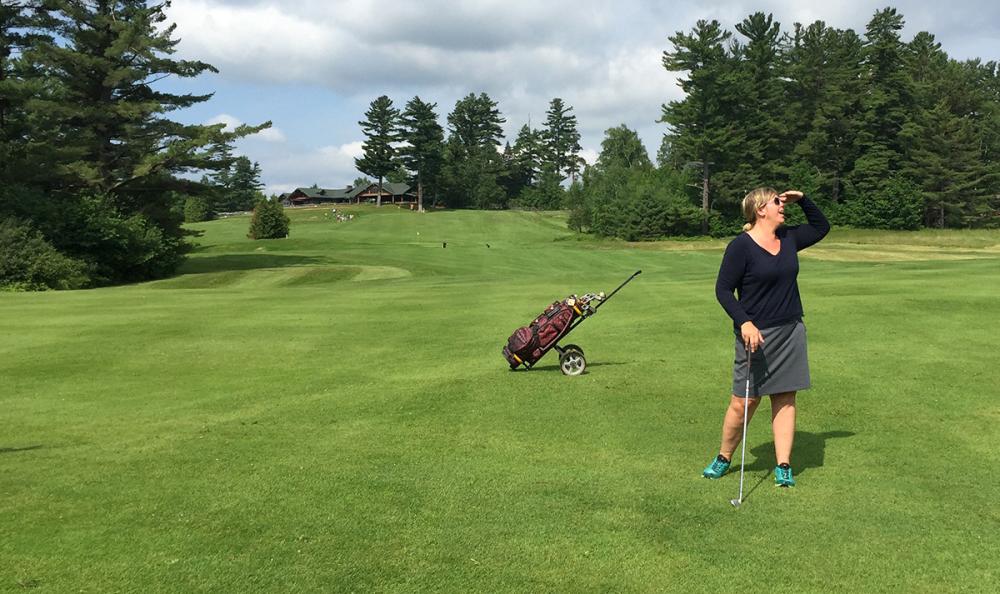 Considering our first shots, we decided to keep score, but noted that this round was just for practice (i.e. no pressure, and the score would be calculated subjectively).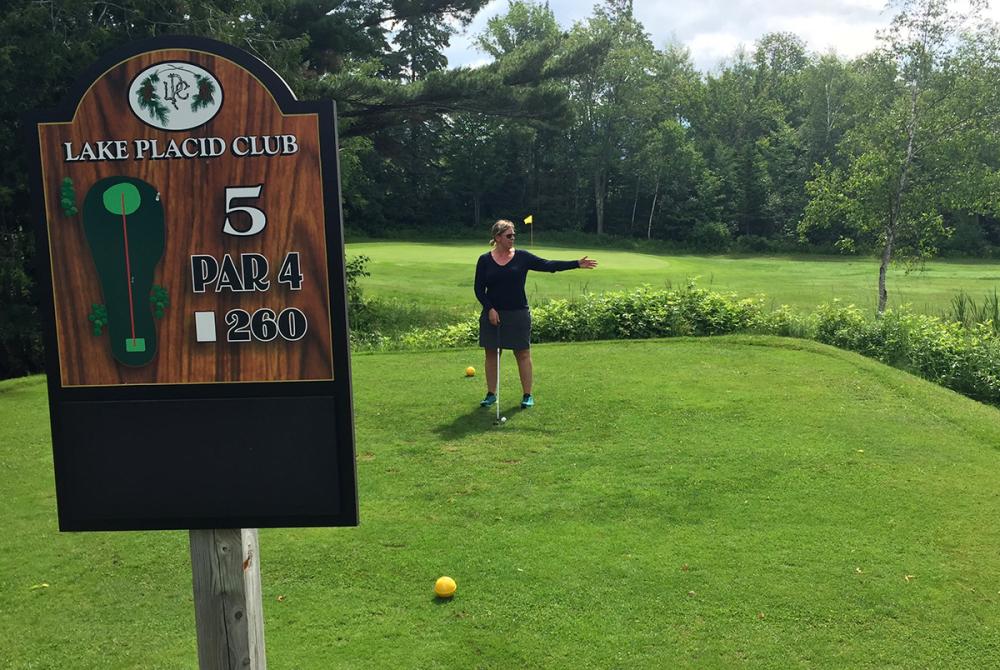 At the second tee, we found ourselves behind a group of youth players who were only playing holes 1, 2, and 9. Assuming that we'd be delayed, we decided to give ourselves each a par score for the second hole and go right to the third tee.
We enjoyed the short holes 3 and 4 without any loss of golf balls, and proceeded to the only two holes that are more than 200 yards in length. The layout for holes 5 and 6 is open and the fairways straight, and despite the recent rains, the conditions were outstanding. These holes are my favorite distance, as I can swing my driving woods off the tee, and still have a chance to pitch and putt.
That, of course, is in an ideal scenario. This day, I had an opportunity to use my woods, my 5 iron, my 5 iron again, and THEN pitch and putt several times. I gave myself a score of 5.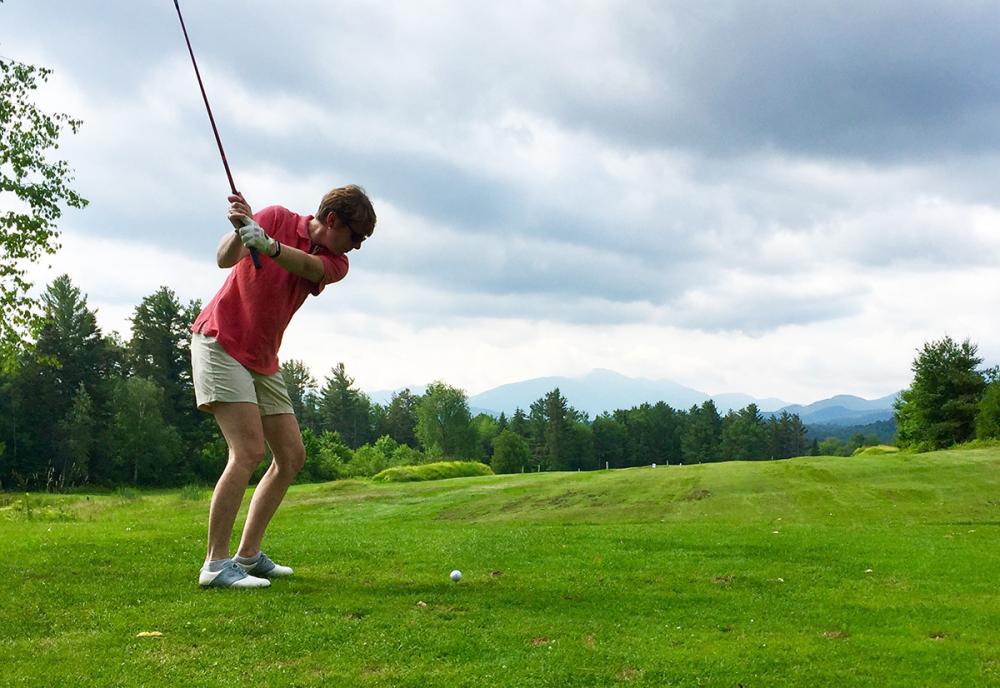 Kerplunk
I was quite pleased that I hadn't lost my ball yet when we arrived at hole 7. It's a par 3 hole, but it includes a carry over a pond. Psychologically, if there's a water hazard, I tend to inadvertently manage to hit my ball directly into it. With a normal swing, it is perfectly reasonable to hit a tee shot easily over the pond on hole 7. So I let Carrie go first.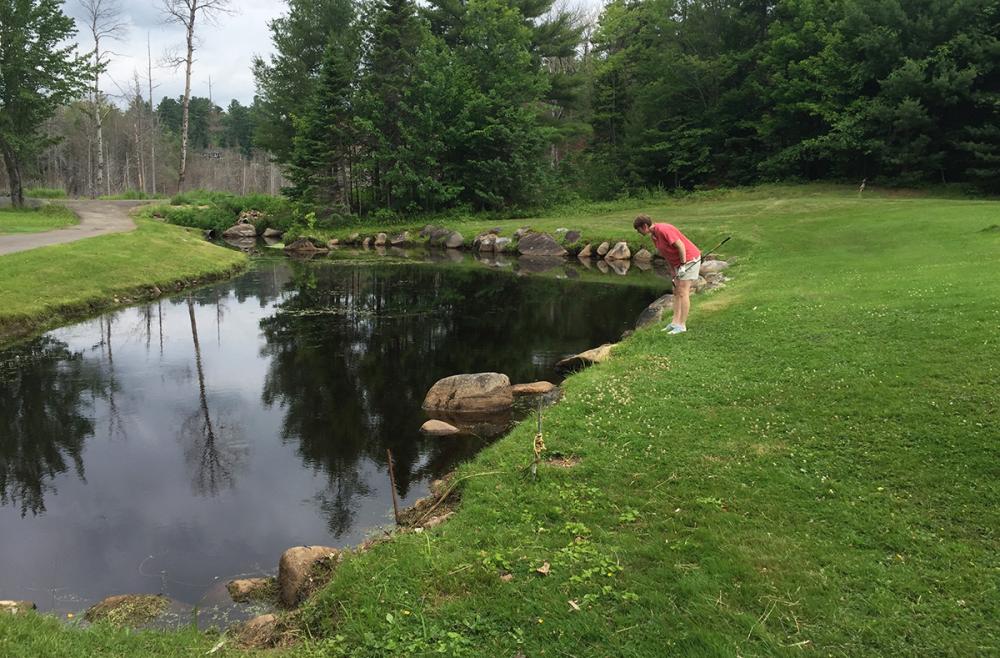 A swing, followed by an audible cartoon-like "ker-plunk" sound confirmed that her ball was no longer in play. To avoid a similar fate, I resolved to hit my shot hard, and with an inappropriately big club so that it might go right past the green, but at least it wouldn't be lost in the water.
No "ker-plunk", but it wasn't over yet. My shot was short, landing just before the tadpole-friendly water, and I was provided with another chance to lose my ball in that pond. I took a full swing with my trusty pitching wedge, and literally skipped the ball across the water, bouncing it up onto the fairway, safely out of the water but still nowhere near the hole. We finished with more practice pitches and putts, and gave ourselves matching inaccurate double bogey scores of 5.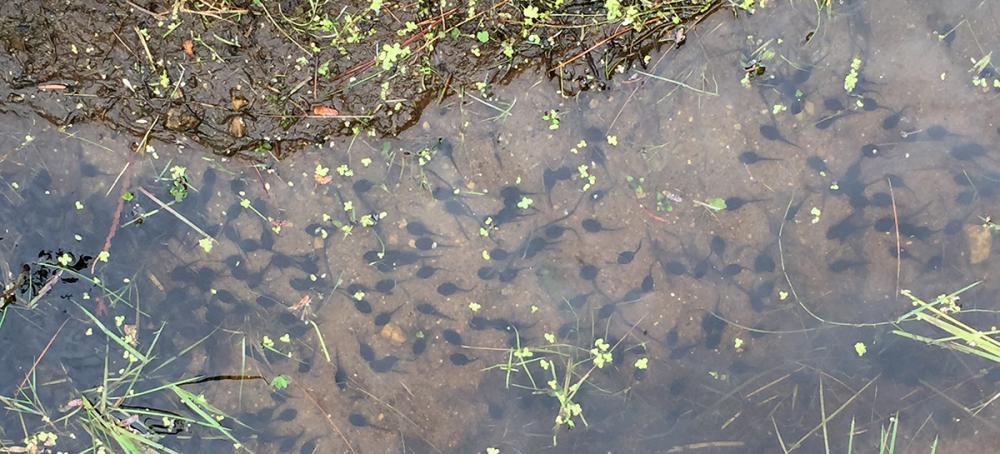 All uphill from here
Here, what goes down, must come up. We both hit a good tee shot on the 8th hole, though the green is a challenging pitch, as the course finishes at a dramatic incline back up to the clubhouse.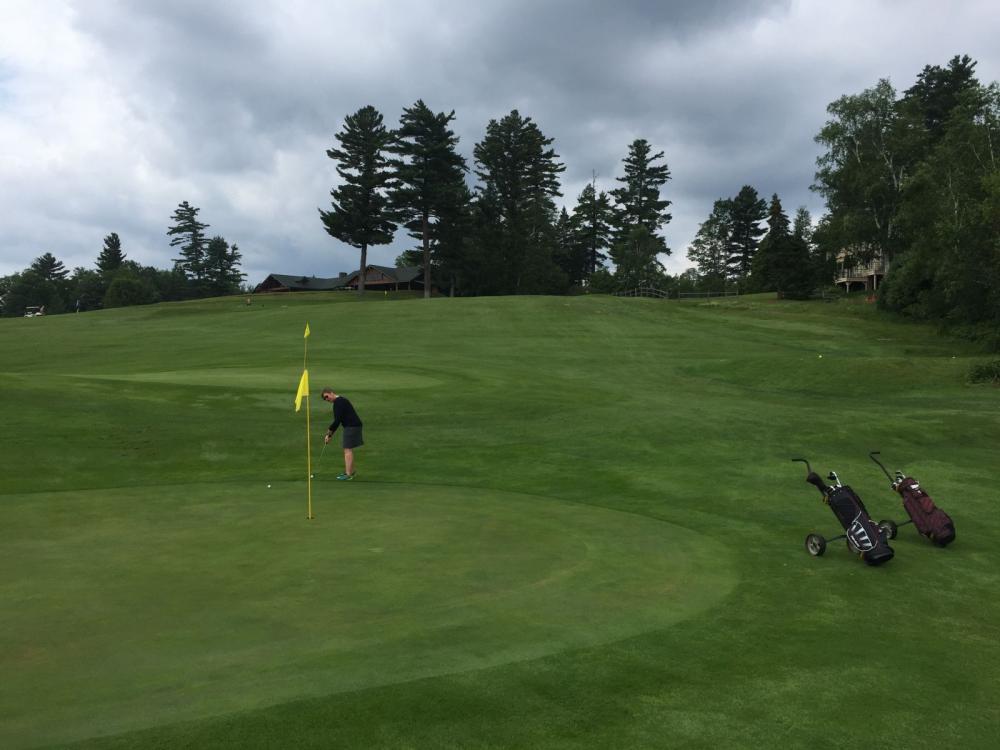 Dragging our pull carts to the 9th tee, I was glad to have my soft-spiked golf shoes on for traction. For anyone who has trouble walking or a tendency for shortness of breath, this is where a golf cart would come in handy.
The course finishes with an uphill drive to the hole on a nice plateau just above the first tee. We finished up, and without calculating a final tally, Carrie signed our score card on the "attested by" line. After all, it was just for practice, and I successfully retained my sole golf ball.
Par for lunch
It's conceivable that one could finish all 9 holes in an hour, but I'd allocate a little bit more time if you are a or more-than-par (or more-than-one-ball-per-round) level player. The short format, excellent conditions, and complete lack of sand traps make this an ideal practice course.
More importantly, the gorgeous setting and lack of desks and computers also make it an ideal lunch break.
lunch |lən(t)SH|

noun

a meal eaten in the middle of the day, typically one that is lighter or less formal than an evening meal: do join us for lunch.

verb [ no obj. ]

eat lunch: we were lunching for 9 holes.
- Kim Rielly is the director of communications for the Regional Office of Sustainable Tourism.
---