All I had to do was lie face down, clear my head, and let myself sink into the massage table. What followed was 50 minutes of bliss.
I've never had a professional massage before, so I was intrigued by the offer to spend an afternoon at the Mirror Lake Inn Spa. It couldn't have come at a better time — I had just returned from a neck-cramping, overnight flight from Phoenix, so despite the dozens of miles of desert hiking my wife and I logged, my body was feeling stiff and reluctant to move.
I told my masseuse, Sandy, about this and she made things right, but as they say in the desert, let's not put the mule before the packsaddle (OK, maybe I'm the only one who says that). Let's start at the beginning.
About three weeks ago I woke up with a serious stiffness between my shoulder blades, right at the base of my neck. I sometimes toss and turn in my sleep, so I occasionally wake up in a weird contortion that results in some bodily tension that a little stretching takes care of. Not this time. The uncomfortable stowaway on my upper back lingered for a week. It was never debilitating, just ever-present and noticeable enough to be annoying. With all of the exercise we got in Arizona, the discomfort finally faded into oblivion. Then came the plane ride back. Sandwiched between my wife and a pleasant stranger from Long Island, I dozed off, woke up, dozed off, woke up again, and never truly found comfort or rest. After the six-and-a-half-hour drive to Saranac Lake from JFK Airport, which began at 6 a.m., my neck was stiff once again.
If this sounds frustratingly familiar, I have a solution: Go get a Swedish massage.
I walked into the Mirror Lake Inn looking like someone who was visiting the Big City for the first time. Wide-eyed and curious, I approached the spa desk and was given direct but simple instructions before being admitted into the Men's Sanctuary. The dudes-only area is newly redone and contains a cornucopia of pleasantries: several showers, a grooming area, a little spinning contraption for brushing off one's shoes, a eucalyptus steam room, and a whirlpool. As a spa-goer, I had access to this stuff for the rest of the afternoon, but I wanted to get right down to the massage.
Using the locker key given to me, I changed out of my clothes and donned the provided bathrobe and sandals. Then I entered the parlor, where Sandy greeted me before escorting me to the massage room.
The massage room — one of many — was simple and elegant. It contained two massage tables, a fireplace, dim lighting, and some of the most sleep-inducing music I've ever heard. If you're the type who's only lulled by the tranquil sounds of Kid Rock, you might have to make a request.
I lay face down on the table and the magic began. Sandy explained that a Swedish massage is different than a deep-tissue massage because it includes the entire body, whereas a deep-tissue massage targets specific areas to alleviate discomfort. She started with long, gentle strokes up and down my back to warm up the muscles. After that she carefully kneaded different areas of my back, paying special attention to that problem spot I mentioned above.
"Is that too much pressure?" she asked as she pressed her fingers into the muscles at the base of my neck. Far from being too much, it felt perfectly heavenly.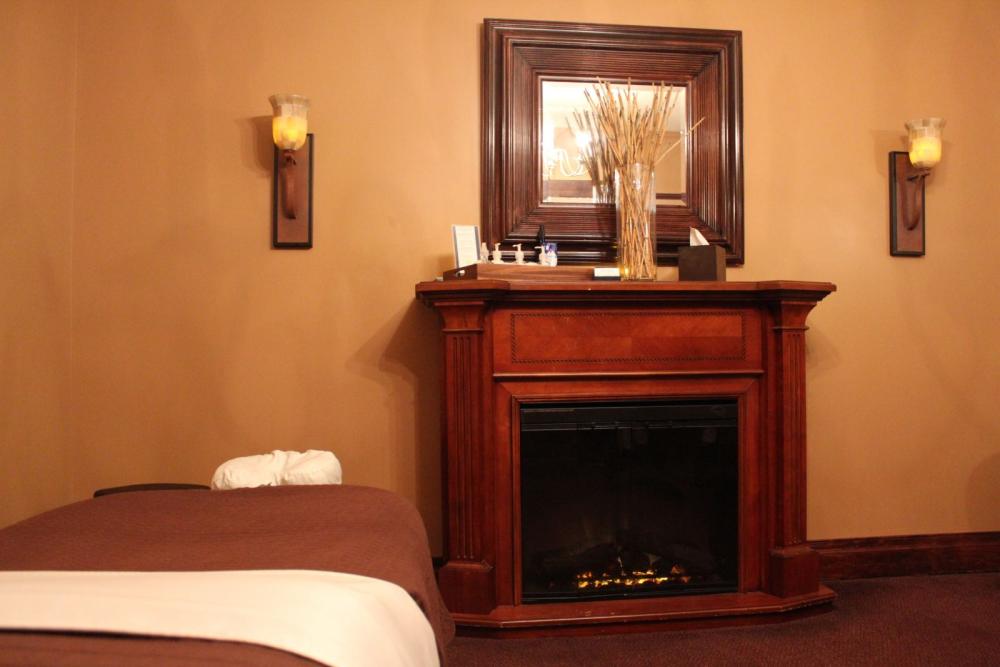 The massage continued with my arms and legs, and even included my hands and feet. The foot massage portion was unfortunately cut short — I'm pretty ticklish and it causes me to kick uncontrollably like the aforementioned mule, which is something I didn't want my massage therapist to be a part of. She understood and moved on.
Sandy asked me to roll over once my back was done, and after I obeyed she placed a hot towel under my neck and another over my eyes. The process continued as she lifted each arm and gently rocked it back and forth; I felt like I was being posed like an action figure doll, which isn't a bad thing.
Extremities properly massaged, Sandy moved on to my forehead and scalp, which was admittedly strange but surprisingly delightful. In fact, the whole thing was utterly delightful. I stood up feeling brand new. Any tension I felt was gone, and my body felt warm and loose.
I exited the room and checked out the pool area. Here's a hot tip — when you get your spa day, be sure to bring a swimsuit. I didn't and I wish I had, because the pool room is amazing. It has a sort of tropical-Adirondack feel to it, complete with a little waterfall and poolside chairs to lounge in. I had to look through the windows to reassure myself that it was still winter out there in Lake Placid.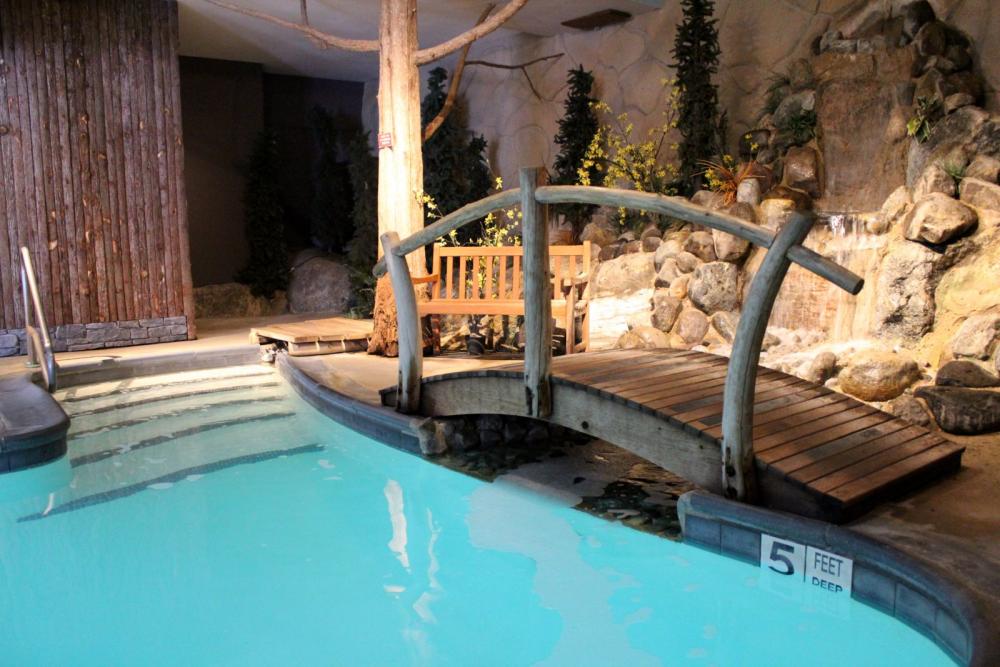 After not swimming in the gorgeous pool, I returned to the Sanctuary, where I enjoyed the respiratory-system-cleansing properties of the eucalyptus steam room. Do spend some time in there, your body will thank you.
Next came the whirlpool, which was the perfect end to the spa experience. It's like a warm bath with moving water, and the atmosphere created by the fireplace that's next to it makes it particularly difficult to leave.
After I left, the full effect of the experience really settled in. I made my way back to work with my body feeling totally relaxed, and my mind feeling alert and energized. Everything just felt good, and the next day was more of the same. The spa is certainly not a replacement for regular exercise, but it is a fantastic addition to it. Get your workout skiing or riding the slopes, or by hiking up one of our many steep trails, then warm your body and mind with a spa day. And whatever you do, don't skip the eucalyptus steam room. Seriously. It's awesome.