Guest blogger, Amy Cheney-Seymour, explains how she came to be registered for the upcoming Lake Placid Loppet.
(The Lake Placid Loppet is a family-friendly Nordic ski race held during an annual Festival at Mt. Van Hoevenberg.)
---
** 2/22/17 Editor's note: Due to the expected inclement weather, the Loppet originally scheduled for Saturday, February 25 has been postponed until March 18, 2017.**
---
The Lake Placid Loppet
It was a promise. A pact. A bet, really, between me and a slippery little carp — or so I thought...
On a stunning August morning, early rays skimming hues of orange on the water, my husband Kris and I kayaked along the edge of Lake Placid enjoying the last hours of an anniversary staycation at the Wildwood.
I watched as Kris effortlessly paddled ahead of me. He was annoyingly good at most things, which led me to thinking about how I am not, and that my arms hurt. Hurt like carrying five-gallon water buckets, and swimming and Nordic skiing hurt. I read an article recently that listed Nordic skiing as the most difficult endurance sport, followed by swimming since you are, after all, lying down when you swim.
As I contemplated lactic acid, and open water swimming, I noticed a large brown carp swimming nearby. Suddenly inspired by the sunshine glimmering off the water, or perhaps blinded by the light, I proclaimed, "I am going to do the Loppet this year!"
Kris turned around and smiled. "Good for you," he said. Briefly I glanced down at the carp, still in my aquatic sidecar, as she abruptly flicked her fin and swam away.
Ready, set, train...
Three weeks ago I set out for my first day of "training." My boys stood next to me in the stadium at Mt Van Hoevenberg.
"Really, Porter?" the older asked — with an I don't feel like skiing out there and rescuing you look.

"Yes, Porter Mountain," I replied pulling on my gloves.

"Try not to look so much like a chicken," offered the younger, glancing down at me from his newly acquired height.

"Move your hands quicker on uphills," continued the older.

"Why don't you do the 6.25k?" said the younger. "Or, just volunteer for the race instead?" he continued. "I mean, you are kinda old, and they give you donuts if you volunteer."

"I am doing Porter." I said, again, clipping into my bindings.

I had promises to keep.

I skied away to more credible coaching advice:

"Pain is weakness leaving the body," yelled the older.

"Try not to think of being old, picture how other people ski," screamed the younger laughing at his own hilarity.
Yes, yes, very helpful. The two of them skied with the grace of water bugs across the lake, trading techniques with the confidence of learning something very young. As the jests got less discernible with distance, my memories of strapping them into their skis at two years old, to lure them along for a couple of miles with hot chocolate and brownies seemed a very distant memory. Where was my brownie?
The groomed stadium was thick 1970's-era corduroy. My V1 technique propelled me along at a steady, if not speedy rate, and I felt euphoric.
I had decided to take on the beast — Unleash the Kracken! Carpe skium.
I trudged along Flatlander, which to the out of shape, is poorly named. I noticed the fresh tracks of fox and snowshoe hare that crisscrossed in an unfortunate game of tag, with no sign of the end game. By the time I hit the first yellow sign for East Mountain I had a cramp in my left foot, a small vice slowly crushing the arch. So, if pain was in fact weakness leaving my body, as my son pointed out, I was getting stronger with each off-kilter glide. No matter, onward.
Soon my heart was hammering in my chest at an alarming pace. I began questioning the extra layers, my sock choice, and if the quantity of water sloshing in my water belt was sufficient. I stopped for a break at Junction 39, sweat and technique were fleeing my body.
There are a number of chances to turn back toward the stadium, which was tempting — especially when I reached this sign.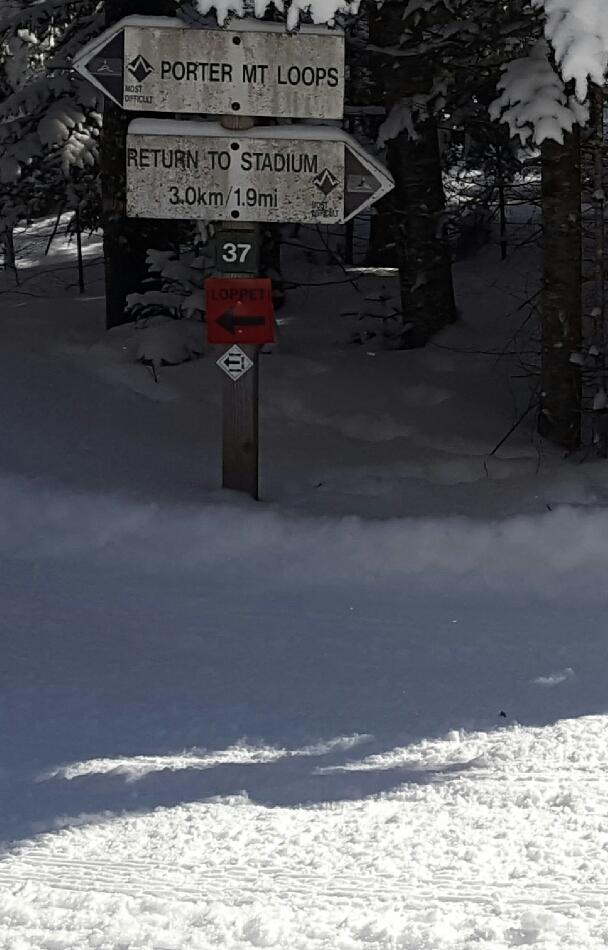 Porter Mountain = pain, darkness. Stadium: light, happiness, warm drinks, and food. I didn't need Robert Frost standing there pointing left… I had promises to keep, and kilometers to go before I sleep.
All in all, that first day wasn't so bad. My son was right, there were hills. Some were very steep and I disintegrated from VI technique, to granny skate, to herringbone. I did, however, plod along, steadily making my way forward. I had a few sketchy downhills where I remembered at the last moment to look where I wanted to go, not at the beech tree I was headed for.
One particular low point was planting my pole on the inside of my ski, just in time to fall spectacularly in front of a large group of tourists. Applause. Shared laughter. No pride to retrieve, as I had lost it long before my face plant.
I got turned around at one point and was skiing the wrong direction. Again I was amazed at the friendliness of Nordic skiers, all of them waving as they zoomed down the beautifully groomed trails. Until I took out my ear buds to hear a woman say, "Wrong Way!" Oh. Oops.
Shortly after this incident I found this nice little cabin, where I considered spending the rest of the day.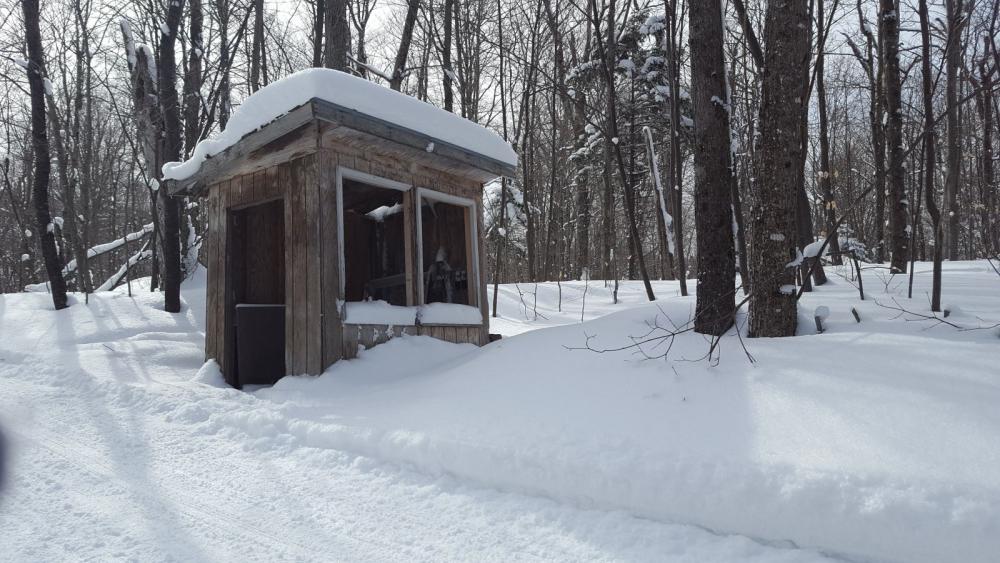 My downhill skiing improved in the second half of the the course. I was simply too tired to do anything but tuck, and pray to Norwegian ski Goddess Skade; being neither Norwegian or a true skier seemed of little consequence.
And just as I thought the end was near, I rounded the corner that merged East Mountain with Porter, to a fresh new hell: Russian Hill. I was cursing in Russian by the time I urged myself to the top, my left foot now numb from the cramp, realizing I had lost my sunglasses during my impromptu yard sale a few trails back.
After negotiating the downhill, in a sluggish tuck, I successfully made my way back into the stadium. Red-faced and shaking, I dragged myself into the lodge, and gratefully ate a very big lunch. Day one — check.
And... Train some more!
Day two of Porter went even better — not my skiing, but the mystery dissolved. Knowing the trail a little bit made uphills less menacing and skiing the gauntlet of the downhills bearable. I also eased into myself, the place where you lose your self-judgment and simply find joy at the challenge of something difficult for you.
Valentine's Day was my sixth day of skiing Porter Mountain, and I've added the outer and inner loop of Ladies 5k, which is the cross-country side of the Loppet course. I'm now familiar with where I am headed and what comes next, and my skiing is better because I am stronger. Note: stronger does not equal faster, or more efficient, or racer status; stronger means less stopping and better breathing, less herringbone and more granny skate.
I do not envision a boot-reach finish anytime in my near future.
My goal to finish the Loppet was part of dinner conversation with my parents a few days ago.
"Well, honey, if it seems like too much you can just do half," said my very logical and compassionate mother.

"I can't, I have to do the whole thing" I said, "I made a promise."

"To whom did you promise to ski 25 kilometers?" she asked, suspecting one of the three avid skiers in my life.

"A carp."

"A carp?"

"Yes, a carp while kayaking on Lake Placid."

My father who had been listening to our banter, looked up.

"A brown spotted carp, with shimmery scales?" he said

"Yes! It swam by me for the longest time."

He started to chuckle standing up. "Well, Lake Placid is too clean for carp. I think you made your ski pledge a brown trout," and then he laughed himself into the kitchen very pleased with his correction.

"Oh. A trout."
A trout. Now I had a new aquatic mascot. No matter, truth be told it was the promise to myself that mattered most. I envisioned the Trout of Truth standing tail down on Russian Hill hup-hupping me with a flick of her fin that said, "get moving!" Move I shall, perhaps by other's standards at a glacial pace. But, no matter, if I can blunder my way through the Loppet, anyone can.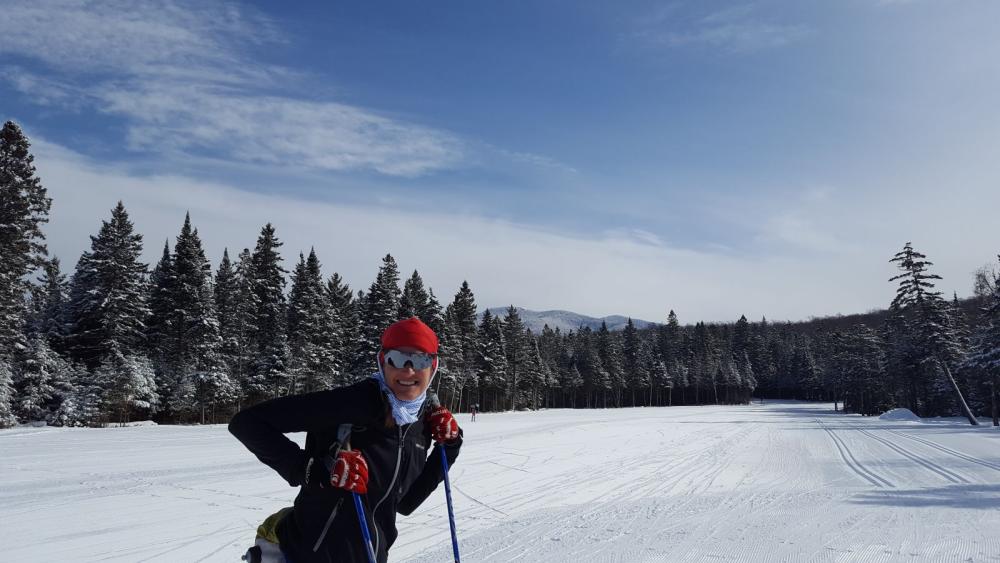 The Lake Placid Loppet is a family-friendly event held during the annualNordic Festival at Mt. Van Hoevenberg. Skiers can participate in a 6.5, 12, 25, or 50K race. Ready to race, registration is open until Tuesday, March 14.
---
Join us at the Lake Placid Loppet on Saturday, March 18 and be sure to give our blogger, Amy, a hup-hup as she skis on by!
---
This week in related ADK news: