Cold facts - winter calories
Calories! It's all about calories. As soon as cold weather sets in here in the mountains I begin craving all those things that are loaded with calories and sugar that just launch us into that calorie nirvana state. Due to the fact that cold weather always sets in around the time of the holidays, I still haven't figured out if it's the cold or the holidays that's my undoing every year. Nevertheless, the calorie intake skyrockets this time each year - after all you've got to have fuel to stay warm, correct? Lake Placid has no shortage when it comes to places where I can take full advantage of feeding those annual cravings - which, by the way, are not limited to just food. I've also been known to have a festive cocktail or two along with those piles of rich foods, so that adds even more to the naughty calories this time of year. I say, throw caution to the wind and just GO for it!
There are plenty of places in Lake Placid to indulge in mass calorie intake, but these are my two new favorites.
Big Slide Brewery & Public House
With the recent proliferation of craft breweries, I decided not long ago I needed to broaden my horizons when it comes to craft beer. I've never been a fan of beer other than the tried and true Bud Light (I know, I know, let's not go there). I've recently discovered I really DO like craft beers. My most recent favorite place to imbibe in this new found taste is Lake Placid's newest craft brewery, Big Slide Brewery (BSB) and Public House. Big Slide took its name in part due to its proximity to Lake Placid's iconic Olympic ski jumps, which are located just down the road from the brewery on Route 73, south of Lake Placid. Not only does BSB brew small batches of some really great beers, but they offer a food menu that is very different from any other place in town. Their slogan is even 1/3 about food - Eat, Drink, Brew. Pretty clear isn't it? You can read their story here.
Last week we ate at the bar at BSB. The decor style is 'urban warehouse'. Fresh and clean without a lot of clutter. I like it. The beautiful stainless steel brew tanks are open to the restaurant, so you can see it all being made on site. We started off with one of my favorite foods on the planet - a lettuce wedge salad. BSB has perfected this with a serving that's a quarter of a head of iceberg lettuce for starters. That's the healthy part - oh wait! There are also cherry tomatoes. Then they drench it in an amazing lemony ranch dressing and cover it with bacon 'nuggets'. After all, what's a day without bacon?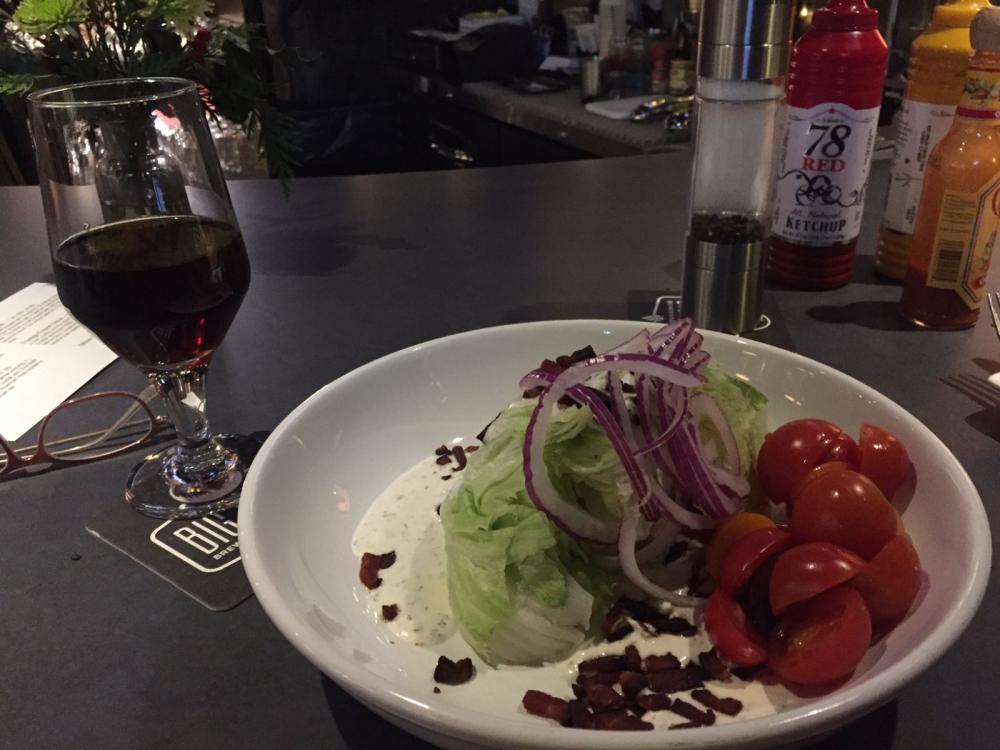 I thoroughly enjoyed my salad with a really nice Honey Dunkle amber ale that I liked a lot — BSB has an ever-changing selection of beer, due to the small batch brewing, so this might not be there when you visit.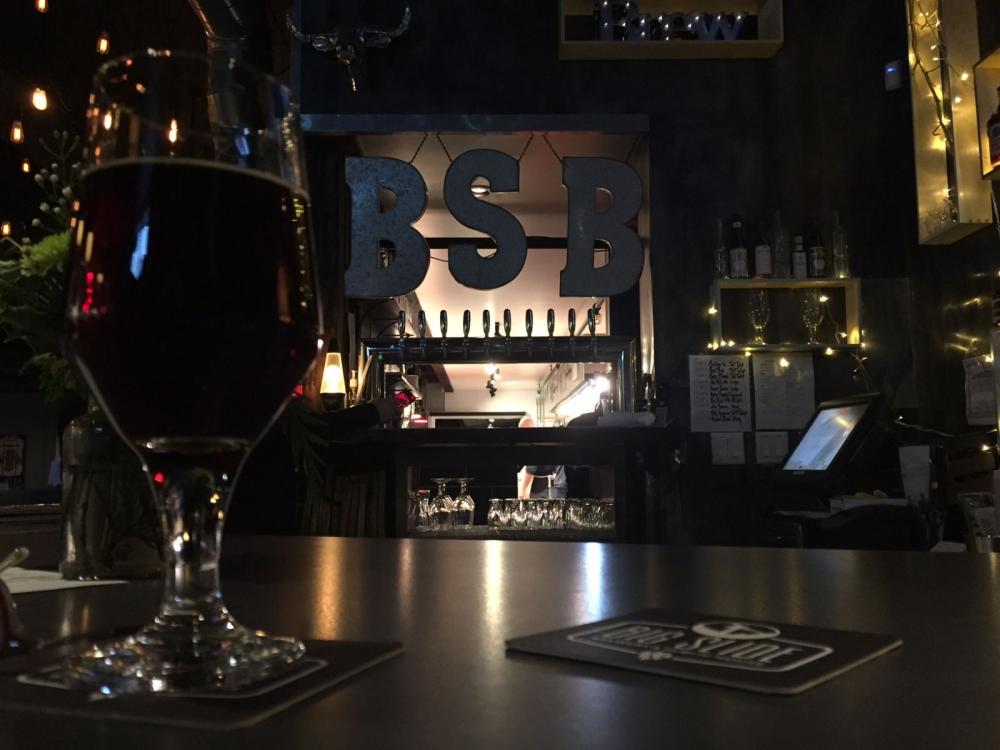 Next on the menu was a plate of Crab Fritters we shared. After slathering them with the spicy Japanese Kewpie Maple Mayo they come with, they are amazing and helped pump up my caloric intake for the day!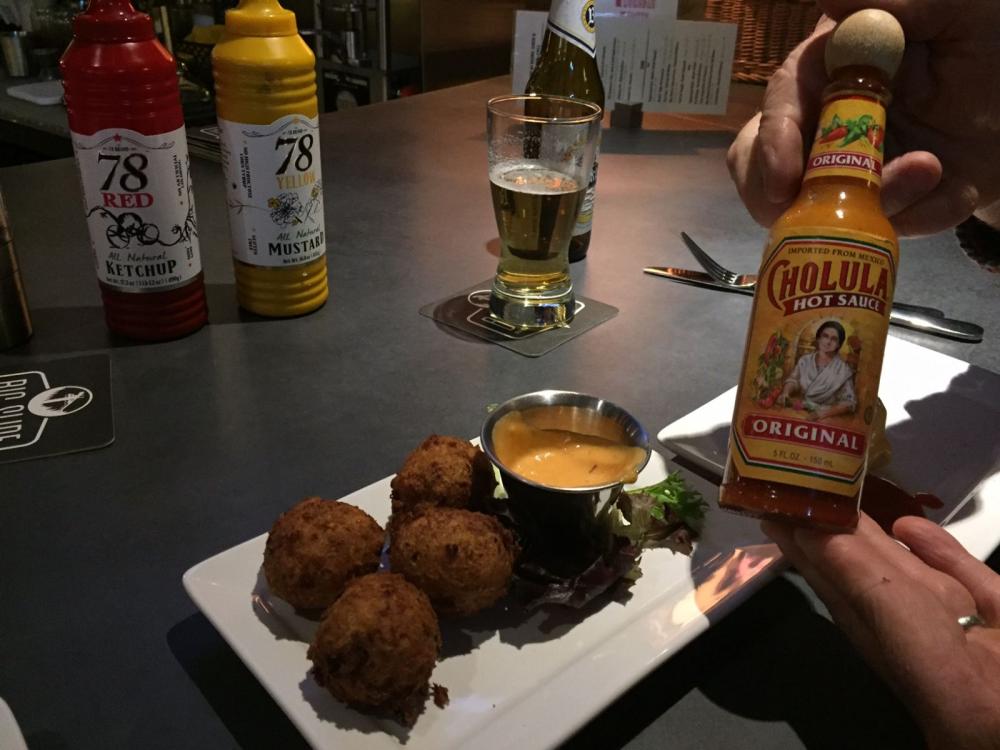 The crowning glory of my dinner was a plate of Buttermilk Fried Chicken (no shortage of calories here either). It's not just the chicken that makes this dish so amazing. It's served with a side of smoked sausage pumpkin grits and if that's not enough to grab your interest, pickled apples, too. Seriously, the last time I had fried chicken this good was years ago in Nashville, Tennessee, at the very famous Loveless Motel and Cafe. If you've ever eaten there you'll understand. If not, Google it and you'll get the comparison. This chicken was TO. DIE. FOR. That's all I can say. Go there and order it. Right now. I was so involved in my chicken I forgot to take a picture of it before I had consumed most of it. It wasn't pretty at that point, so use your imagination. Just think….. Buttermilk Fried Chicken! I did manage to get a photo of the dish from the manager. Mine looked pretty much like this!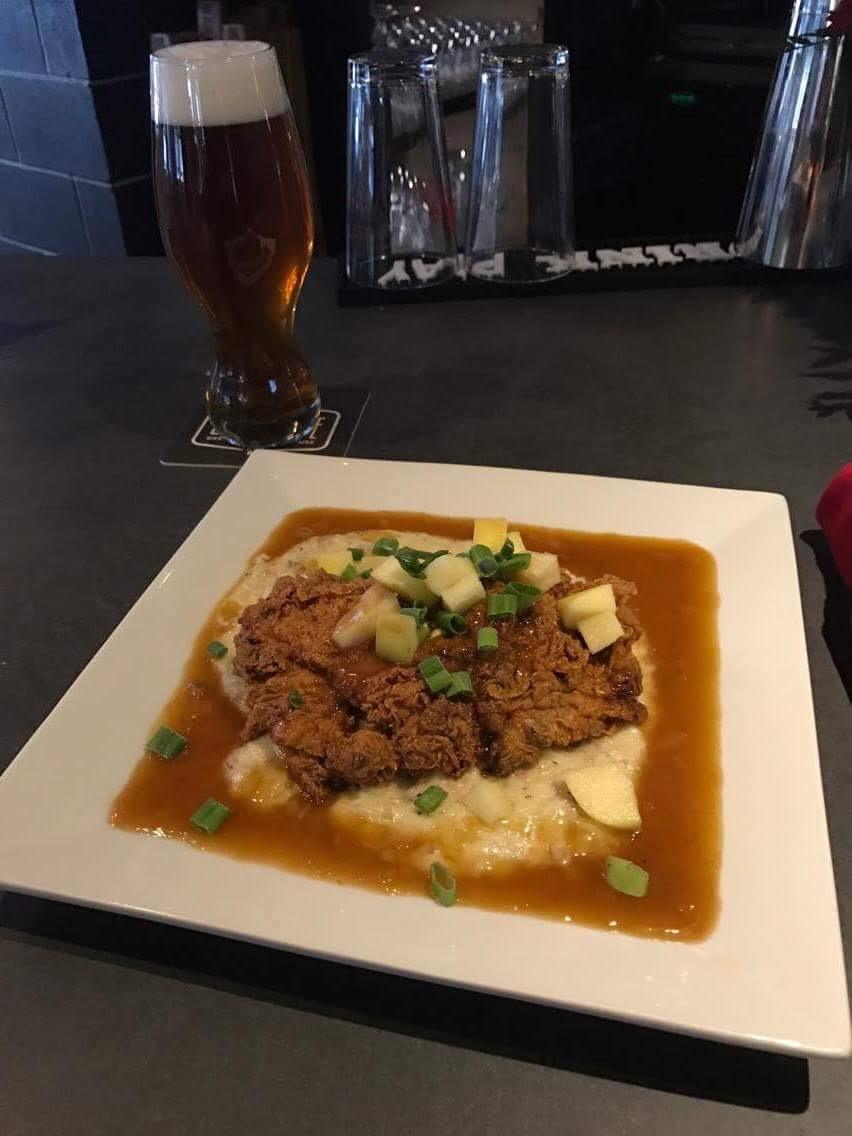 I had a couple of beers, but didn't imbibe in the flight of beers I usually try since I was driving, but suffice to say if you go, most definitely try the flight of tastings. The bartenders will line you up with a rack of five tastings on a very cool wooden barrel slat with holes cut in for the glasses. They'll ask what you like and don't like and they're very good at choosing for you. There are some calories to be had in the beer flight, so keep counting!
Big Slide just started serving Sunday Brunch too, opening at 10 a.m., so you can get even more calorie bang there, too!
New Hidden Gem
Back Alley Bistro is my other favorite new dining spot. With a huge menu, you can eat light or heavy - it all depends on what you're looking for. Despite the menu's comic sans multicolored font, which makes it a bit of a challenge to read, the selections are a terrific blend of appetizers, salads, soups, steaks and other grill items, seafood, burgers, sandwiches, and other specialties. I counted 55 items on the menu, plus sides and add-ons. That's a lot of ground to cover, but they cover it very well. The food's been terrific every time I've dined at the Bistro.
On my most recent outing, we sat at the bar and had a couple cocktails before ordering. They make an awesome martini (dirty, stirred, straight up with olives) and have a great wine selection as well.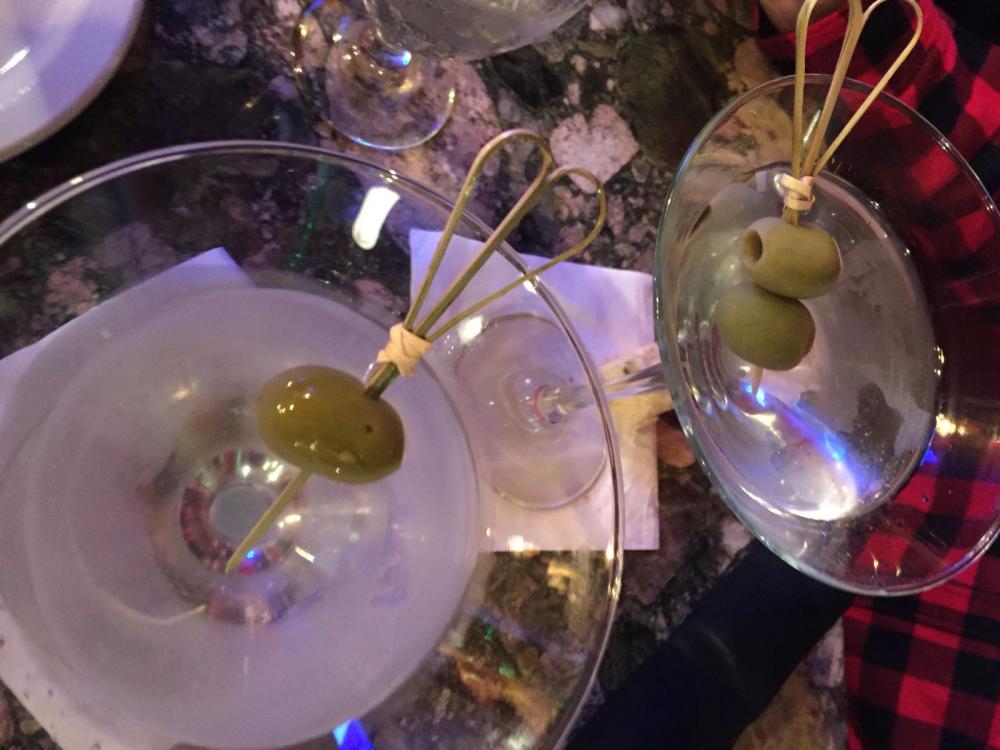 Choosing one entree is a challenge as there are SO many. We ended up sharing a few things. The Mussels Margarita were excellent, served in a tequila lime broth with tomatoes, onions and a touch of cilantro. Then came the Calamari Rhode Island Style, tossed in garlic butter and thinly sliced sweet peppers. The Calamari was deep fried crispy and tender - perfect. Good, deep fried food is one of my downfalls. This Calamari was excellent!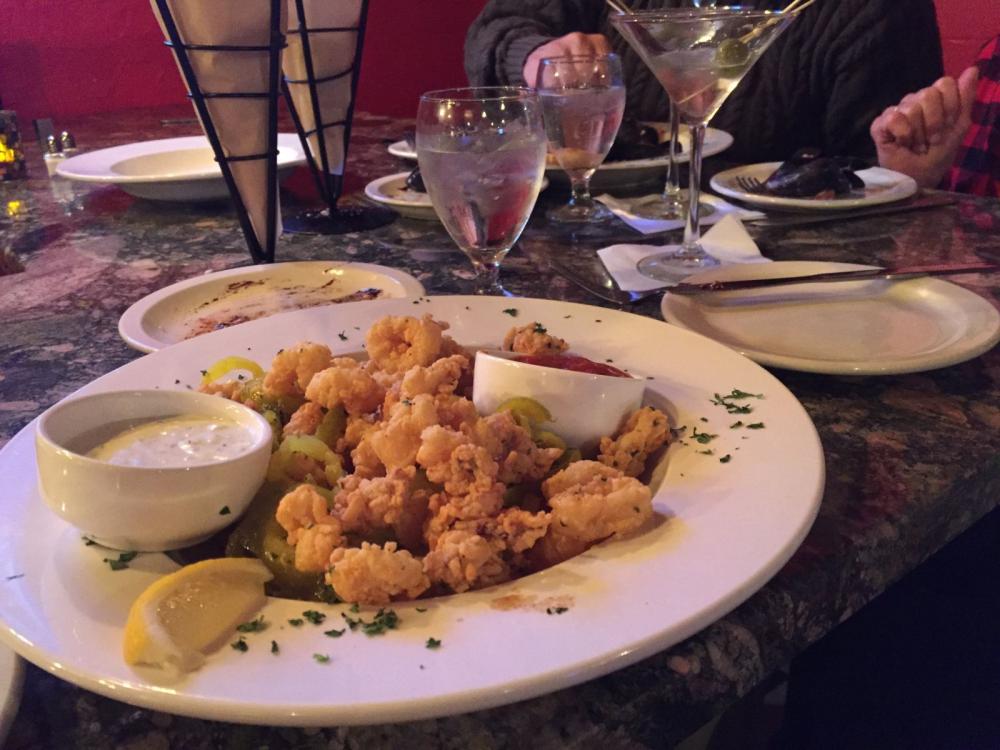 Next up was an order of Bistro Crab Cakes. These babies are served with red pepper aioli and tomato basil relish, a terrific combination of flavors. You MUST try these when you go to the Bistro.
I didn't think I'd have room for dessert, but what the heck! I'm trying to load on the calories here folks, so we went ahead and ordered the lemon ice cream cake. Oh my! So amazing, and topped with a to-die-for blackberry sauce. Just incredible.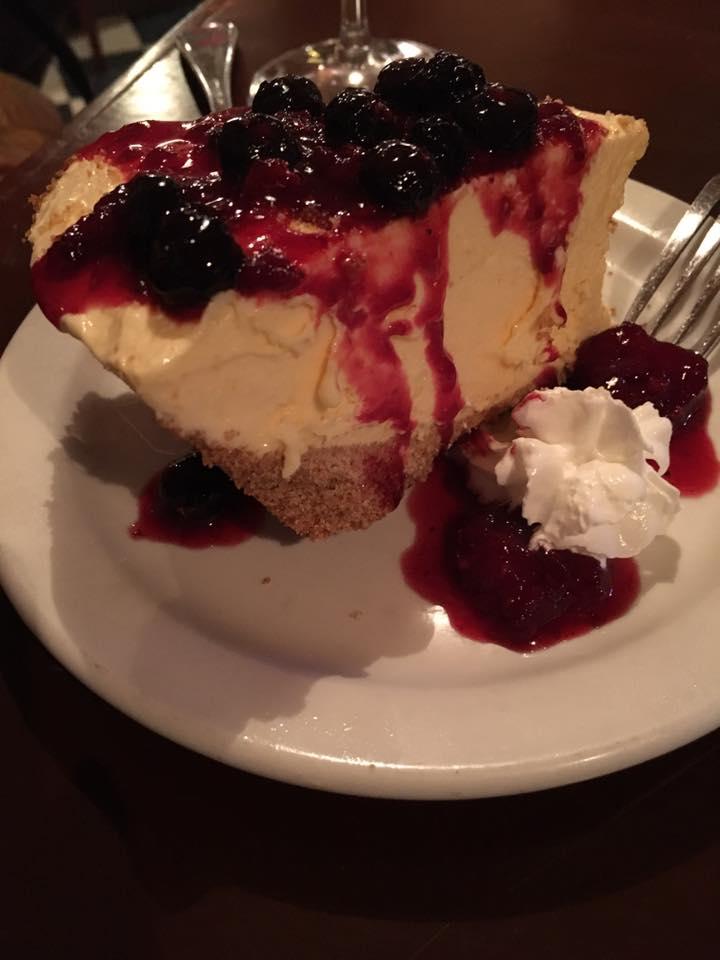 Found in Lake Placid - lots of calories
OK, so I've packed in enough calories to get me through the next two months probably. And it's not even two weeks til Christmas. I've got a lot of parties and celebrations to attend still, so I'll be working on this project for many days. May you have as much success in your search for calories yourself. So many restaurants, so little time.
Check out all the dining options for your next excursion into the culinary world of Lake Placid. We have lots and lots of options. In the meantime, happy holiday eating and stay warm with lots of calories!
---
This week in indulgent ADK news: