So, I've been riding a motorcycle for years now, and initially rode primarily as a way to commute on nice summer days to work and meetings. That is, until my husband got his own motorcycle a couple years ago and my commute vehicle swiftly became more of a recreational touring machine - a fun way for us to travel around together on our separate motorbikes. 
And we live in one of the best places for it. The Adirondack region lends itself nicely to touring - via car, bicycle AND motorcycle. In my humble opinion, the latter two are the way to go. 
On two wheels, whether a bicycle or motorcycle, you're as close to being a part of the landscape as you can be; experiencing the scents and sounds of nature. Of course, on a motorcycle, you can cover more ground quickly, which appeals to me and my lack of patience.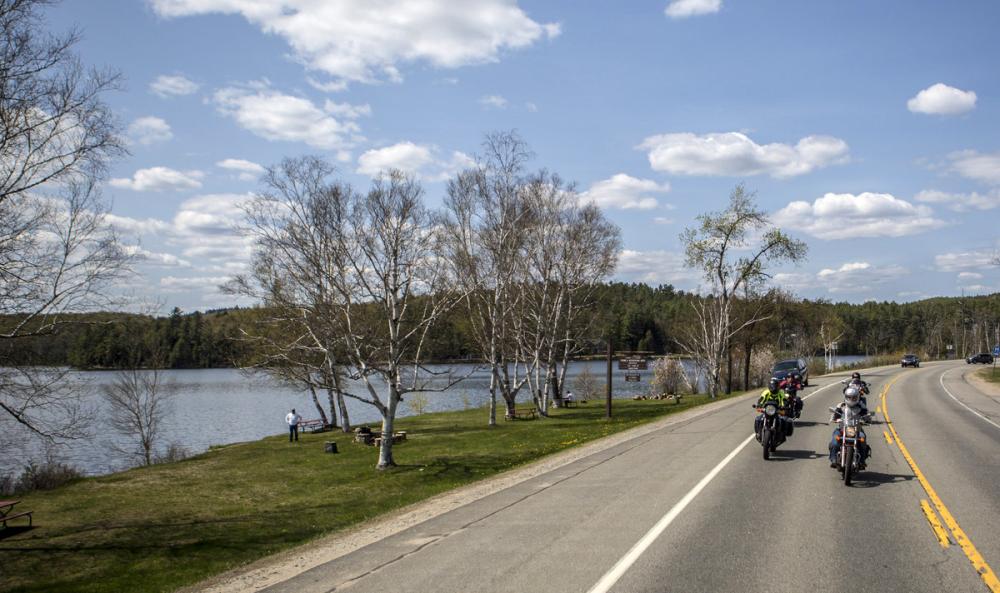 Over the past year, we've introduced a new element to our touring, and it has added a way to maintain that connection to the wilderness and that "open road" sense of self-reliance and freedom: motorcycle camping.
When touring via motorcycle, it's a big challenge to condense your travel supplies so that they fit into your available saddlebag space. Adding camping into the mix requires special attention.
Typically, when I pack for a trip via car or plane, I make sure to include things like prescriptions that you can't replace easily, but reassure myself that if I forget some little essential or clothing, I can buy it when I get there. This approach doesn't necessarily work on a motorcycle, because when you buy things, you still need a place to PUT them.
Having taken two more-than-a-week-long trips by motorcycle now, we have somewhat dialed in our packing and touring systems. I'm no expert, but as a newbie motorcycle camper, I have some tips. (These are both subjective AND subject to change.) 
Newbie Tips
Let's just assume that you have packed in a very concise manner all necessary toiletries, minimal footwear, and as few clothes as necessary that include layers for various degrees of temperature, wind, and precipitation.  
Let's also assume that you will be WEARING your bulky motorcycle protective gear — including the armored jacket and pants, helmet and cute boots.
Now, to address the rest of the stuff you'll need for camping via motorbike:
1: Dry bags.
For veteran motorcyclists I'm sure this is a given, but if you're carrying all of your belongings with you on a bike, you must remember that until your tent is set up, there's no roof, and that you're not in control of the weather. 
I keep my clothes and essentials in dry bags that fit into my saddlebags as double waterproofing protection. The dry bags we have were originally purchased to keep our stuff dry on paddling adventures, and work great for this application. In fact, my waterproof phone bag was originally purchased for paddling too, and I always bring it, plus various ziplock bags and plastic shopping bags. Bring the plastic bags. I don't know yet what you'll need them for, but you will thank me when you find out.  
When staying exclusively in hotels, our particular bikes' saddlebags are sufficient for a week-long adventure's worth of stuff. For camping, we added waterproof duffel bags to tie onto the back of each of our bikes. We have two sizes: a 25 liter and a 40 liter size. They really add a great deal of capacity. About 65 liters' worth, it seems.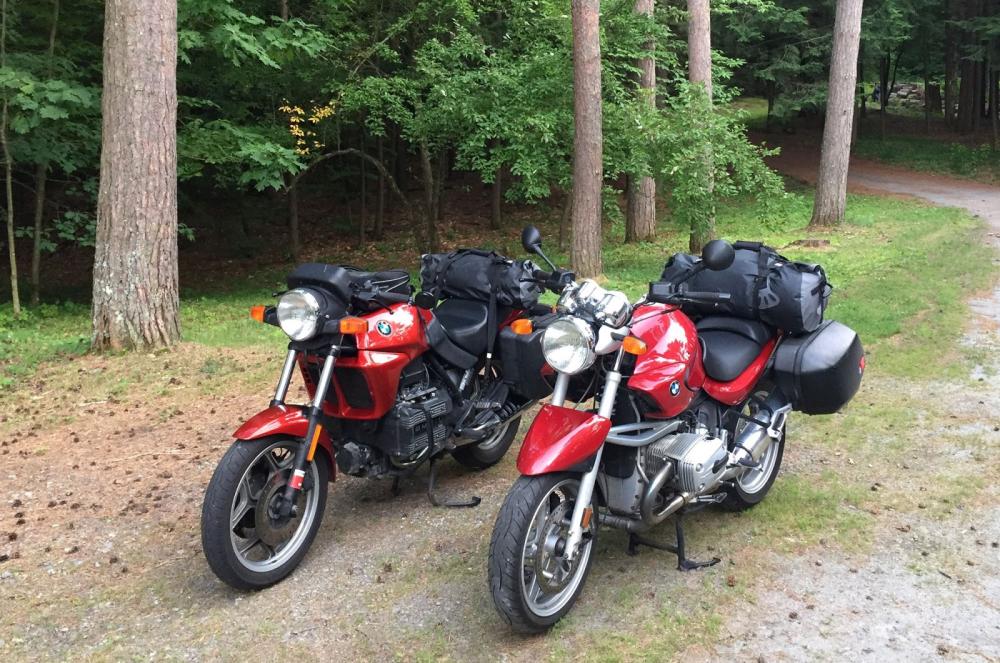 2: Keep it separated. 
We keep the camping-specific gear (tent, stakes, sleeping bags/pads/pillows) in a separate bag. For us, it all fits in the 40-liter duffle. That way, your stuff is organized in such a way that if you set up your tent etc., and leave for day trips, your other belongings have their own place and space and aren't mixed in with the camping supplies. 
Plus, it's nice to just leave those particular bags packed in the odd case of hotel stays. (Yes, hotel stays... you know, because - comfortable mattresses and showers.)
3: Gimme some space.
Leave a little space in all of these bags during initial packing. Trust me, your stuff never repacks to the same size, and despite my rule, you WILL acquire things along the way. 
4: There's a smaller version of that thing. Or, honey I shrunk the camping gear.
Basically, just like our waterproofing stuff for paddling works for motorcycle camping, so does typical backpacking gear.
Tents these days are very lightweight and pack very small. Likewise, a mummy-style sleeping bag will pack down small as well - in fact, I bought a down bag on sale recently that packed VERY small.
Also, don't underestimate how small things can become when squeezed into a stuff sack. I was able to bring along my thin down jacket because it squeezed down into a bag that was just a few inches wide by 6-inches long.
Reminded me of that scene when they stuff Scarlett O'Hara into that corset near the beginning of Gone With The Wind. But I digress.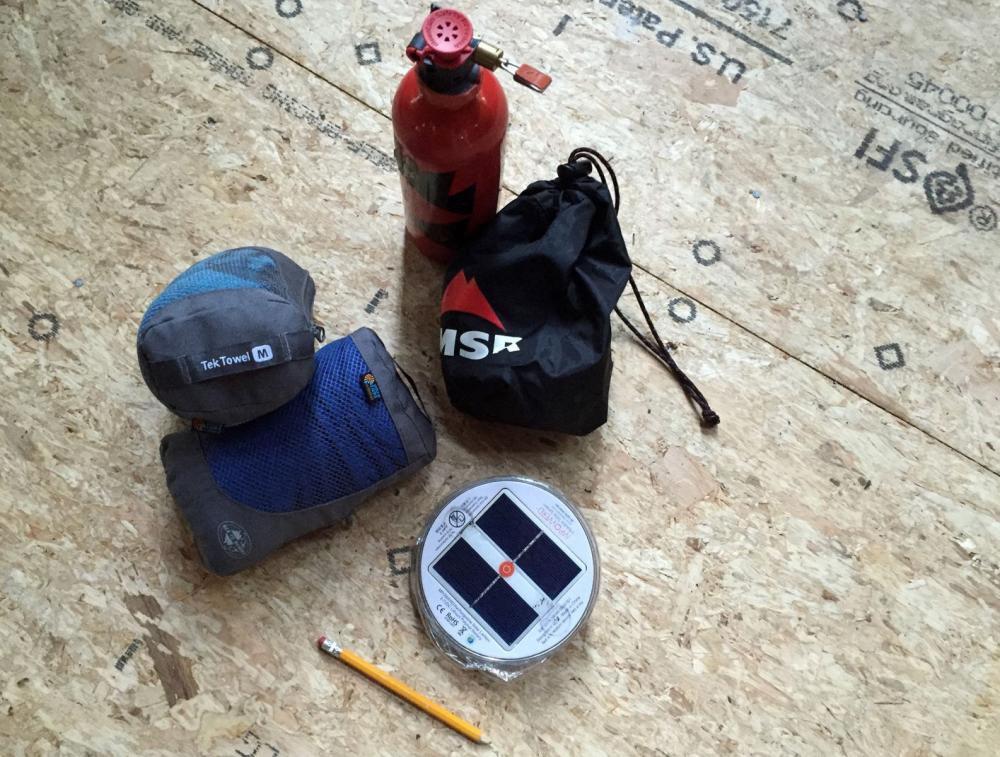 Don't forget the gadgets! Our camp stove is tiny, lightweight, and only requires a small refillable white gas tank. Even if we plan to mostly eat at restaurants, we need this for the extremely necessary morning espresso. 
And, from small camping towels made of special super-absorbent microfiber to knife-and-spork sets to inflatable solar-powered lanterns, you can't beat technology. Whatever you feel is an absolute necessity for your campsite, there's likely a lightweight, easy-to-pack version of it. Camp chairs could be next on our list! 
5: Plan a campsite destination early. 
We recently went on a motorcycle camping adventure without any specific destinations in mind. Each morning, we'd pack up our stuff and then determine which direction to go and research available campgrounds in the general vicinity of our target. 
To that end, I've got some suggested destinations for YOUR next motorcycle camping trip to Lake Placid and the Adirondacks.
First, there are rules associated with backcountry or primitive camping in the Adirondacks. Though this is typically more applicable to hikers, it might apply to some areas of the region where one could camp via a motorcycle more than 150 feet from a water body, road or trail.  Lucky for us, the New York State Department of Conservation has put together this Guide to Primitive Camping in the Adirondack Wilderness.
If you're more into having available running water, like me, there are TONS of campgrounds in the region to add to your itinerary.
6Six: Power to the people    
Oh, one more thing. Many motorcycles have a port to charge a GPS or mobile phone, but we've found that it always pays to find a printed map when possible, or to write navigational directions out on paper. You never know when your adapter is going to break or some similar unplanned phoneless disaster, and paper doesn't weigh much at all.
Remember, until your tent is set up, you don't have a roof, and you can't control the weather! Which might be why there exists a number of other places to stay!
- Kim Rielly is the director of communications for the Regional Office of Sustainable Tourism, and carries the 40-liter bag on her bike.

---
This week in ADK news: Pitch it!