It's July. It's hot! And this town has three delicious places to grab a freshly brewed beer! What is better than grabbing a fresh, local craft brew after a day of strenuous (or not) outdoor recreation? Nothing, in my opinion! I love going for a nice hike, swim, paddling and grabbing a beer after my hard days work. Sometimes I even take some with me!
First Stop: Great Adirondack Brewing Company
The award-winning Great Adirondack Brewing Company, along with their restaurant, Great Adirondack Steak and Seafood, is nestled smack dab in the middle of downtown Lake Placid in between the iconic Palace Movie Theatre and St. Eustace Episcopal Church lawn.
My cousin and I decide to hit this spot on a Tuesday evening before attending the Songs at Mirror Lake Music Series at Mid's Park, which just so happens to be directly across the street. Tonight's theme was Local Jam Night with a local favorite band, Annie in the Water.
We chose to sit outside on Great Adirondack Steak and Seafood's patio for drinks and a light snack. We truly lucked out grabbing a spot right away in the middle of summer at 6 p.m., especially with the music going on across the street. I must say, it is fun to play visitor but I always feel a little guilty taking up a table, but that's the former waitress in me.
While perusing the beer list, I struggled choosing just one and wondered if they offer a flight of beers. Just my luck, they do! Both my cousin and I choose to get a flight of the seven beers they have on tap. Ranging from the ever-popular, dark Whiteface Stout to their newest release, the Kettle Batch Kids sour. There is a beer here for every palate.
We decided to share the delicious spinach artichoke dip and a yummy cheese platter with crackers, accompanied with a spicy, whole grain mustard and a fruit compote. The beers complemented our food choices nicely, which is always a plus. If I had to pick my favorite, I would go with one of their session beers. I enjoy session beers because they have the perfect balance of hops and bitterness, and have a lower alcohol content. Session beers get this name because they can be enjoyed over longer periods of time (sessions) without one getting obnoxiously intoxicated.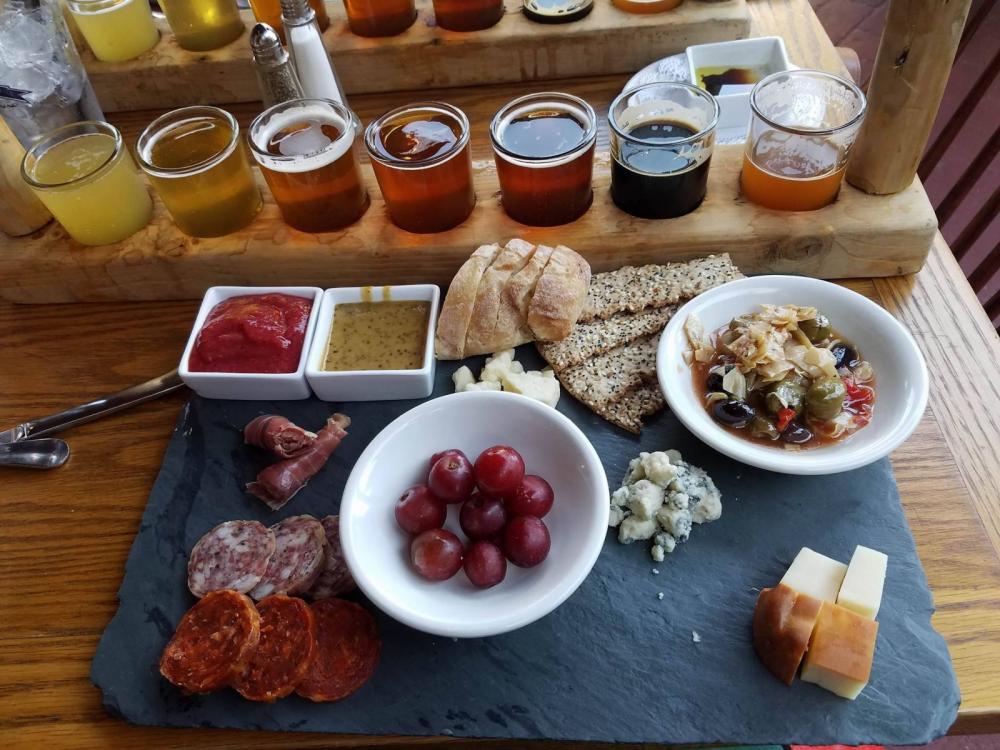 The Great Adirondack Brewing Company is the brainchild of the Kane family. The brewery consists of a seven barrel brew system which, according to their website, equals roughly 86,800 pints of wonderful craft beer every year!
If we had more time, we would have spent it enjoying dinner and probably a couple more beers once we decided our favorite after sampling all seven! Oh, and if you want to take some of their beer home with you, be sure to grab a fresh glass growler filled with one of the beers on tap! You can also look for their cans of beer at the local and regional convenience and grocery stores.
Second Stop: Lake Placid Pub & Brewery
The award-winning Lake Placid Pub & Brewery, or "The Pub" as locals call it, sits on the south end of Mirror Lake, just off the beaten path of busy Main Street. There are three floors inside and three outdoor seating areas to enjoy a beverage. The first floor is the legendary PJ O'Neills, which has been a bar since the 1970s. PJ's is an Irish-style pub where you can enjoy the daily happy hour drink prices and some local conversations. The first floor is also home to the Pub's gift shop, which used to be the kitchen before major renovations in 2012. Be sure to check the shop out before or after your visit for a souvenir.
The second floor is the original dining room and horseshoe-shaped bar, which opened in 1996 and is colorfully decorated with more than 200 college pennants. Be sure to look for yours and (obviously) snap a selfie! The third floor, which they have named the Hop Loft, is the newest addition to The Pub, opening in February of 2013. Here you can find even more dining space, a bar, and even a kids play area (can you say "free daycare?"). With six beers on tap on the first two floors and four beers up in the Hop Loft, there should be something for everyone! Their famous Ubu Ale was once shipped to the White House for a party during President Bill Clinton's terms in office!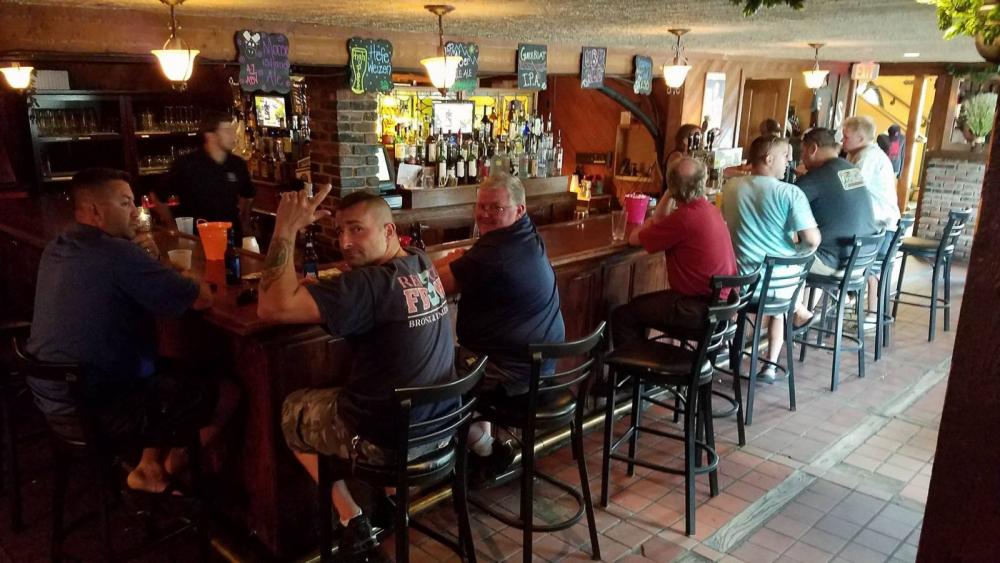 The Lake Placid Pub and Brewery is also a seven barrel brewery, pumping out approximately 112 kegs of beer every week.
I stop by here on a Friday evening after work around 5:30pm before the evening dinner rush hits. I should probably mention I am a former employee of the pub, picking up a shift every now and then when needed. So on this delightful Friday evening, I grab a High Peaks Hefeweizen and catch up with coworkers. The Hefeweizen is a summer wheat beer with hints of banana and clove. Be careful because this is a very refreshing, drinkable beer, perfect after a long, hot day of hiking, biking, running, etc.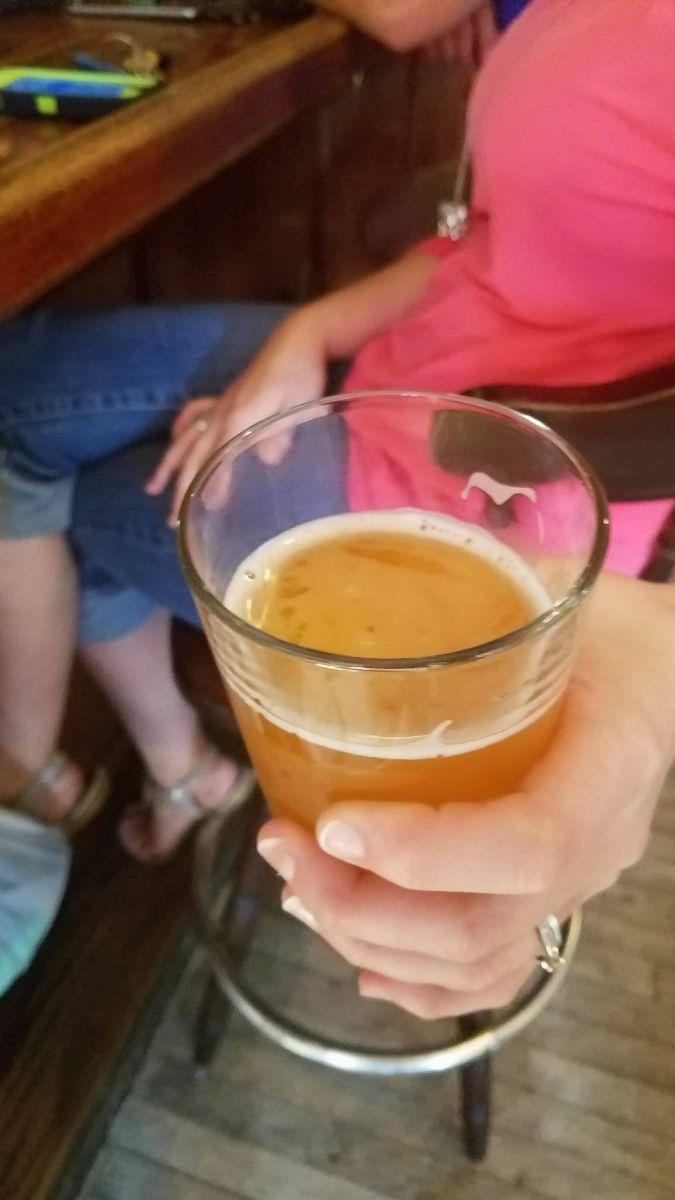 If you aren't sold on just one of the beers, you can try a sampler of all six and then decide, which is highly recommended.
If you have time and are hungry, order something off of their large menu of well thought out and delectable pub fare. One can often find themselves unable to leave without taking beer to go. You can grab a 64 ounce glass growler of one of the six beers on tap, along with various other retail beer options. Oh, did I mention their outdoor beer garden is dog friendly and equipped with water dishes?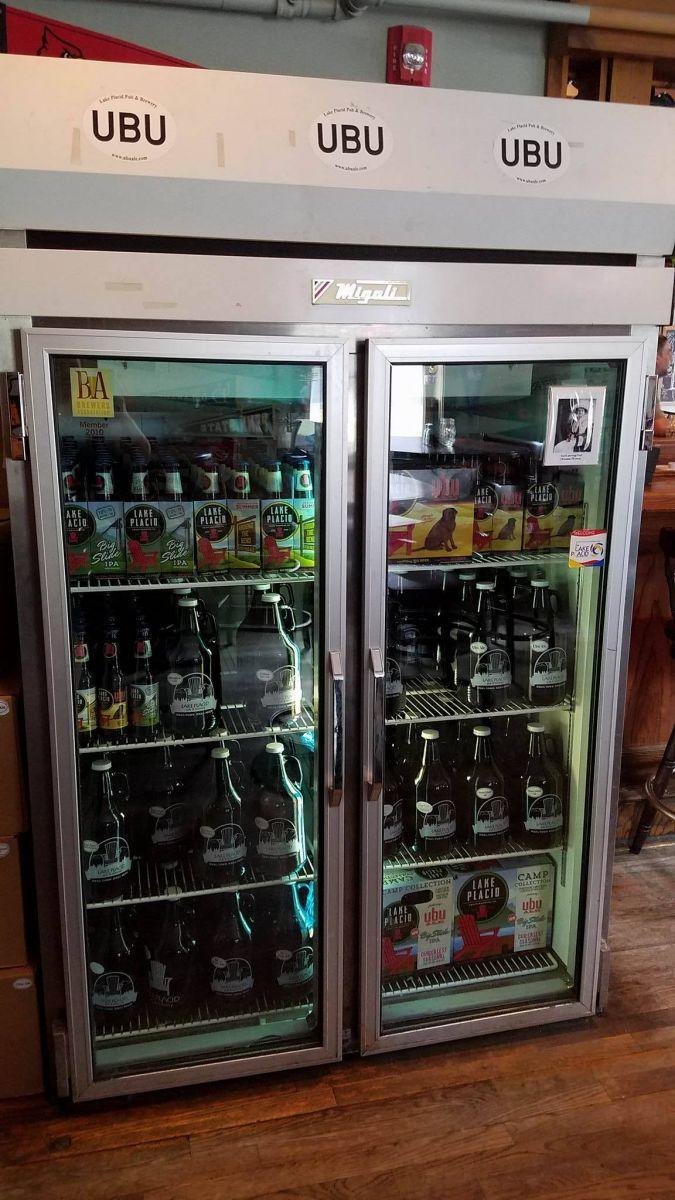 Third Stop: Big Slide Brewery and Public House
Situated on the outskirts of town, toward the Horse Show Grounds and ski jumps, is Big Slide Brewery and Public House, which opened its doors in June of this year. Big Slide is the sister property of the Lake Placid Pub and Brewery and is under the same ownership. That being said, their beer options and food choices are, for the most part, completely different than The Pub's. Set in a modern industrial setting, you can see the brewery behind glass as soon as you walk through the doors. Their brewery is a little smaller than The Pub's, consisting of a hybrid 3.5/5 barrel brewery.
Big Slide has 10 beers on tap which are often rotating. The main goal of the owners is for the beers to challenge traditional beers — IPAs, pale ales, stouts, etc. — and create different and exciting brews for the courageous imbiber.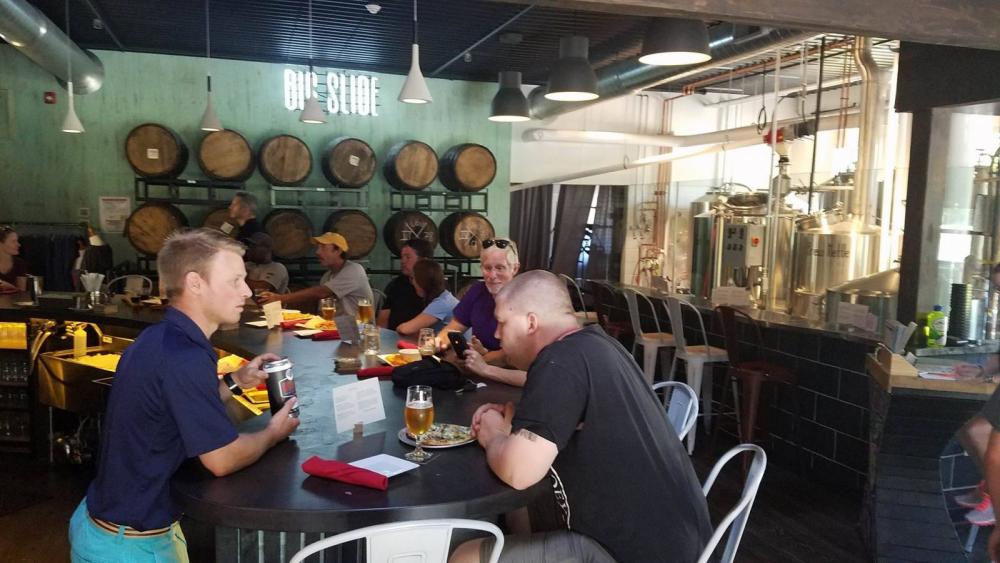 I visited Big Slide for a quick beer and to check the new place out. Wow! What a fantastic job from the construction and decorating crew! It is reminiscent of a tap room in a major city. OK, so with 10 beers on tap, I know you're thinking: "How did she choose just one?" Well, guess what? You can grab a flight of five, or bring a partner and each of you grab a flight of five so you can try all 10. I mean, you could do this on your own, but I'd recommend having a designated driver for afterwards.
I, unfortunately, didn't have time to try a flight, but decided on the Berliner Weiss sour beer per the bartender's suggestion. I enjoy sour beers. They almost remind me of champagne, with that bubbly, tart taste. At Big Slide, you can try the Berliner Weiss with a rotating, house made simple syrup. Today, the flavor consisted of wildflower honey, mint, and ginger. Holy yum! The bartender added about an ounce of this and it cut the tartness of the sour beer perfectly.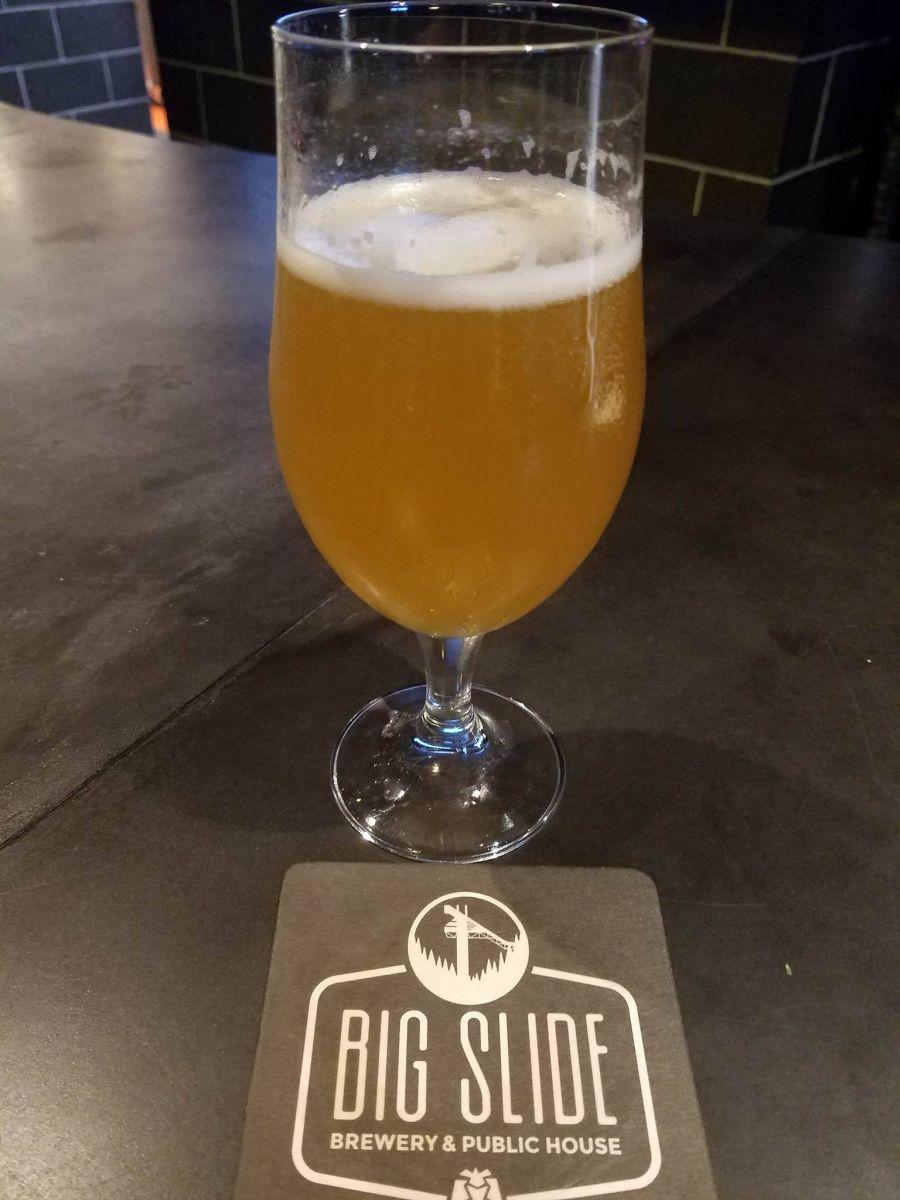 I would have loved to try something off of their farm-to-table menu and will definitely be going back to do so. They have a nice outdoor patio to enjoy those warm summer days and evenings. They also carry guest beers, ciders, and wine all from New York state, including the Whiteface Stout from their friends at Great Adirondack Brewing Company up the road! Also, their patio is dog friendly!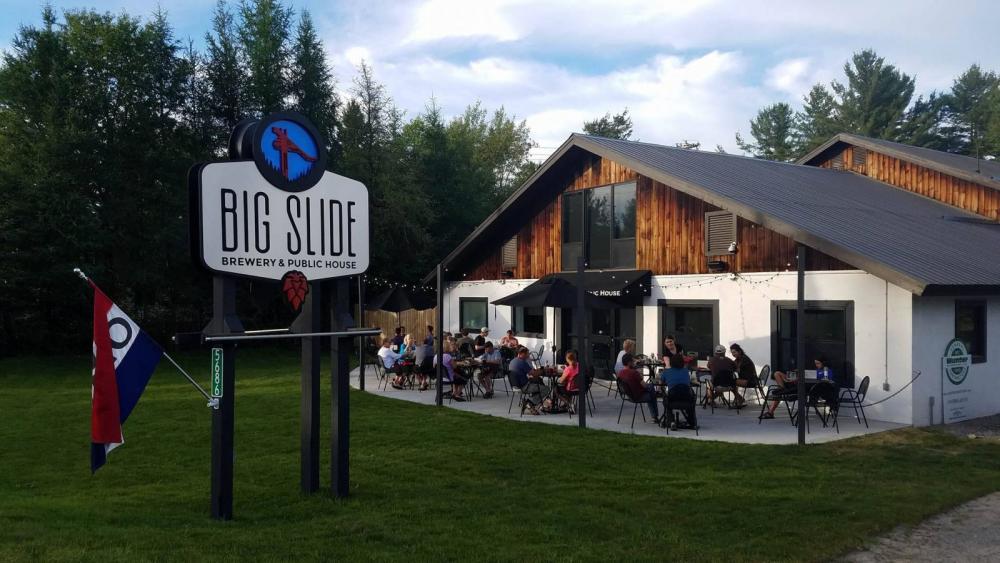 What has to be my favorite aspect of Big Slide Brewery and Public House are their crowlers. No, that's not a typo. A crowler is a 32 ounce canned growler which the bartenders fill upon request and seal with a crowler machine. These are the quintessential item to take up a mountain or out on the boat, because who really enjoys bringing glass with them? Also, it is illegal to have glass in the High Peaks. So, do yourself a favor and grab one, two, or three, or however many of these you want to enjoy after leaving Big Slide.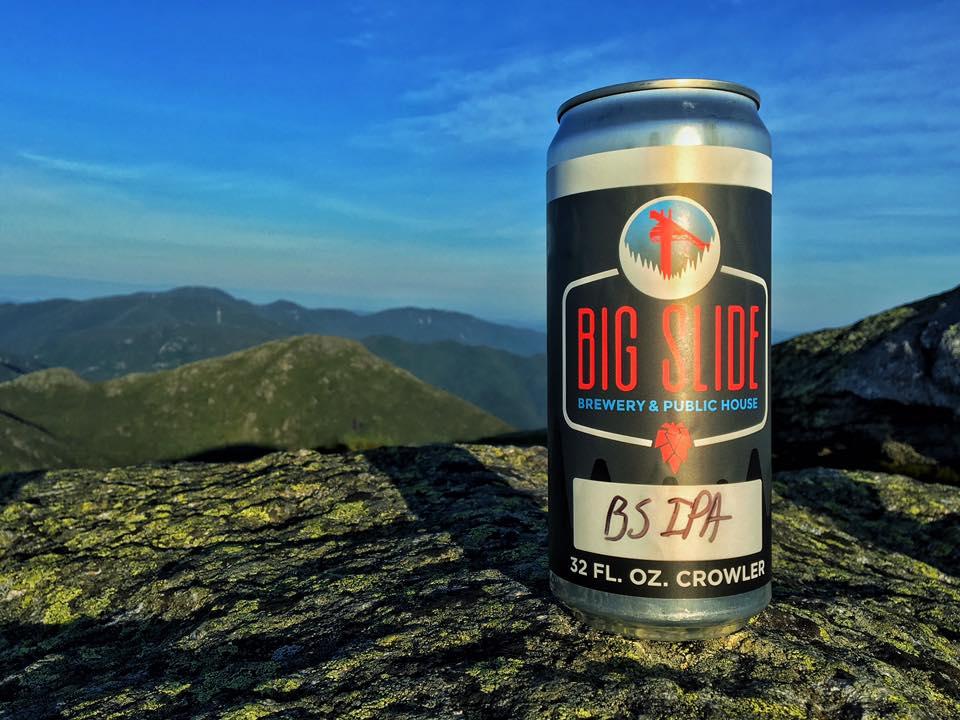 I could write a short novel on local craft beer in Lake Placid, which I may just do in my spare time (ha!). So, come here, spend the night, and visit our brew pubs for the best time, food, and drink ever!
---
What's brewing in the 'dacks this week:​