I was fortunate enough to spend summers on a lake while growing up, and I can remember the times my father would take me fishing. I understand now that it was his attempt at bonding with his daughter, who was more into reading on a dock, not fishing off of one. But I would give it a try every once in awhile as long as it was sunny and 75 degrees.   
Fishing was not an activity I got up in the morning excited to do. I found it boring at times (and just plain gross). I could do without the Styrofoam bowl full of dirt and worms, and it now seems odd that we actually paid for such a thing. I just sat in the boat or on the edge of a dock hoping for the best, not really paying attention to what I was doing or how I could perhaps do it better. Had I known about Starbucks and iPods then, I could have suffered through with a little less tween anguish.        
Best fish wins
Fast forward 25 years and I find myself fortunate again to be living in the beautiful Adirondacks, surrounded by lakes. In an attempt to break the monotony of what most couples fall into (everyday life), my boyfriend and I decided we'd try fishing together, and maybe even have a friendly competition of who could catch the most fish.
The only way we could do this amicably was to go with a guide. Otherwise, one of us would end up overboard (and I did not plan on getting wet). Local guide Zac Horrocks, owner of Horrocks Outfitting & Guide Services, obliged our request and met us at the Lake Placid Marina on a very hot and humid afternoon. While it was a beautiful, sunny day, by the time we arrived at the marina the skies had turned gray and all had gone quiet and still.  
We climbed into the boat regardless, thinking it was just one of those typical Adirondack weather systems (it's not really going to storm, just looks like it might!). I may have intentionally quizzed our guide Zac a little too much about his life to cover up the slight nervous feeling I had about this adventure. I was already impressed by his attitude and extensive knowledge of fishing, and I was honestly expecting him to be much older. But when you're born and raised here, and become co-owner of a local outfitter business at the age of 18, you kind of know your stuff.
Lake launch
As we made our way out of the marina, it was quite noticeable that everyone else was starting to make their way in. We picked up speed so we could settle in a spot and hopefully cast some lines before the weather turned. It was interesting being in an actual fishing boat, with several rods lining the "cabin," commandeered by someone who knows all of the local hotspots and which type of rod and lure should be used for what type of fish — there are seven types of fish in Lake Placid alone! A sonar is helpful too; my Dad didn't have that in our rowboat 25 years ago. 
Zac explained that fish are smart and can get used to lures.  He'll switch them up or change rods if he's not having luck with a particular piece of equipment. And of course, there's still the good ol' bob and worm. Although now he mostly uses this technique when fishing with kids. Dare I say that's what I had used the last time I went fishing?  
When we slowed the boat and let it idle, Zac, our guide, had to refresh my memory on how to cast a line. My boyfriend decided he would show off and use the fly rod. I thought this was supposed to be a learning experience for the both of us. In the distance we could start to hear the rumbles of thunder, but we pressed on. I was determined to make the most of this and was hopeful a fish would find its way onto my hook.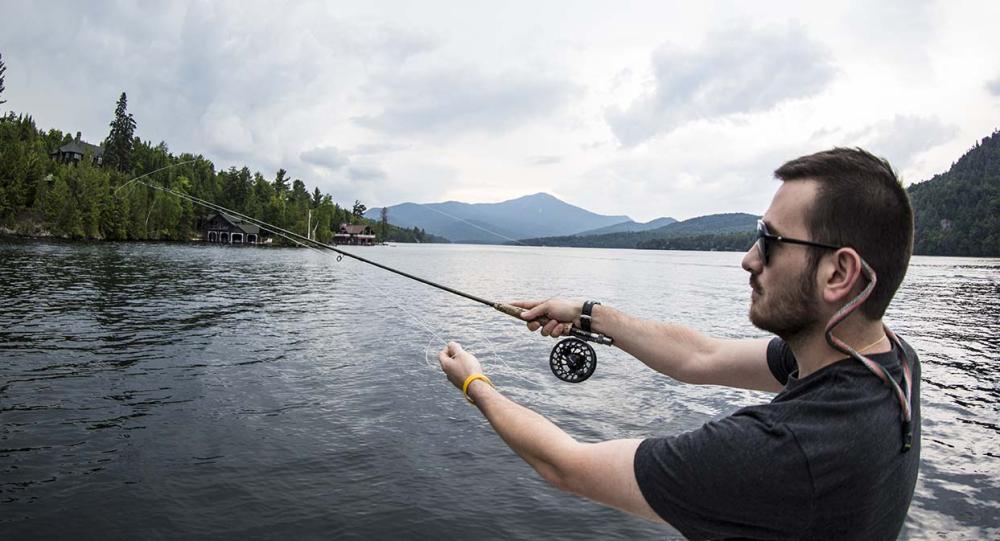 Thunderstruck
Zac humored our attempts (or my attempts) and answered any questions I had, even telling me that the best place to hook a lot of fish, although small, would be near a beaver dam. I'm not so sure I could find a beaver dam on this lake, let alone be successful fishing by one. Ideally, the best time to fish is in the early morning hours, not late afternoon or after a storm, which as it turns out we were about to experience. I saw the first bolt of lightning come down over the mountains after about 10 minutes on the lake. I heard the claps of the thunder more steadily now and begin to see what looked like white fog, which was really rain, making its way across the mountains and down the far side of the lake. Needless to say, we wrapped things up.
If anyone was nervous, they didn't let on and I felt oddly comfortable with the situation. By no means am I promoting going fishing in a storm, but if you find yourself caught in one, you'll want a guide in charge. Zac knew the lake well enough to get us back to shore safely. He also had a rain jacket on deck that he gave to me as we motored through a torturous burst of rain. So much for not getting wet.  
As can be typical of storms like this here in the Adirondacks, shortly after we docked the skies cleared and the sun started creeping back from behind the clouds. After a beer and a few moments of "should we or shouldn't we" discussion, we decided to head back out on the lake. Zac was easy going and happy to accommodate — after all, I didn't really get a fair chance to "beat" my boyfriend in the couples game of fishing. We ended up trolling along, listening to our guide's adventures and telling stories of our own. It wasn't long after that my boyfriend caught the first fish (yes, I was slightly upset). It was small — a bit too small to keep — so we released it back into the lake.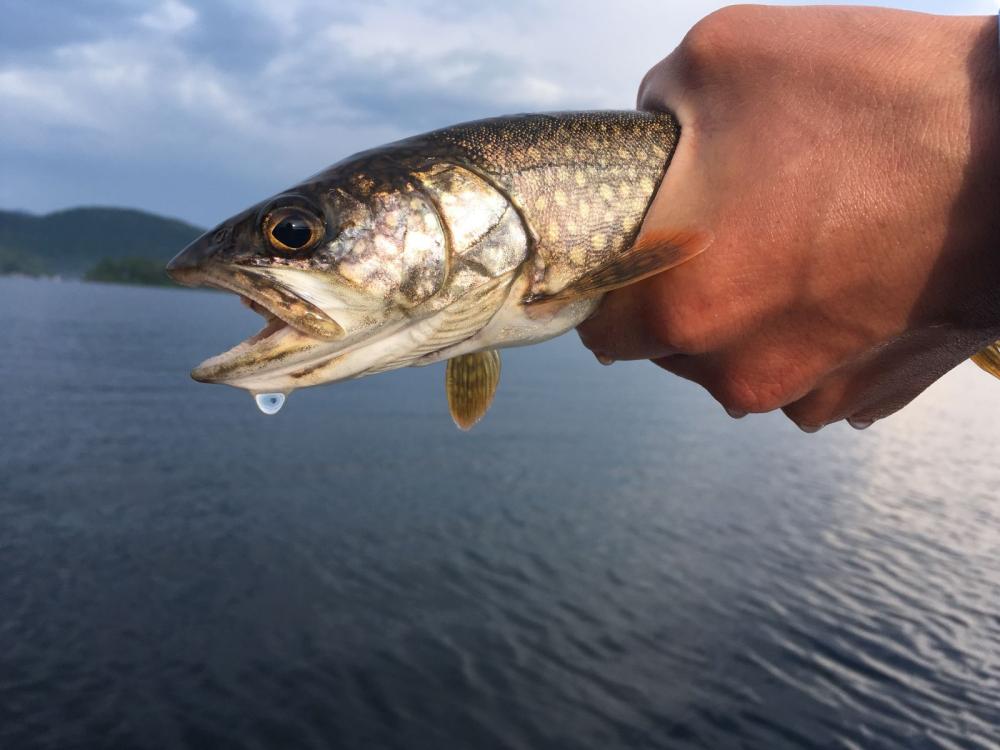 Whether it's maturity or the circumstance, I look back now on my early days of worms and colorful bobs and think that it could have only helped me enjoy experiences like this now. Maybe the storm made it more exciting, or the enormous amount of knowledge our guide had made it more interesting, or maybe the company on board coupled with a little friendly competition simply kept me entertained. Fishing is just one of the many experiences to be had here in Lake Placid and it can be a great reprieve from everyday living. 
As the sun started to set, we headed back to the marina. I was getting closer to admitting defeat but kept my line in the water. And on the way to the dock, I got to even the score with my own catch of the day.
Adirondack guides can help you get started with anything from fishing to hiking in the region. When you're done with your adventure, enjoy a nice meal and spend the night (or several!) in the Lake Placid Region.