Leap year is one of those occasions that largely goes unnoticed until it's suddenly the 29th of February and you realize you have that extra day! In the interest of utilizing that extra whole day in 2016 I decided to invent my own perfect leap day in Lake Placid and focus on just ME.
After careful consideration about what I wanted to do, I decided on a little bit of pampering, some coffee and awesome pastry (no, calories don't count on leap day), and then I'd play it by ear.
I slept late (something I almost never do), and started my day out by heading to Starbucks for a splurge of coffee. Someone gave me a Starbucks gift card awhile back, so I dug that out for the occasion. I love coffee, but rarely have more than the one cup I drink at home in the morning, so this was an extra jolt of caffeine. It remained to be seen how late it would keep me up that night. Our local Starbucks is located right in the center of Main Street between two adjoining parking lots, and conveniently near Temptations — where I headed to pick up cheese and pastry to accompany my coffee.
First things first
The folks at Temptations make one of the best sticky buns on the planet. They also stock an incredible selection of cheeses from around the world, fresh baguettes on which to put that cheese, as well as pastries, artisan olive oils and much more. Tastings of the olive oil selection and cheeses goes on every day, so stop and try before you buy!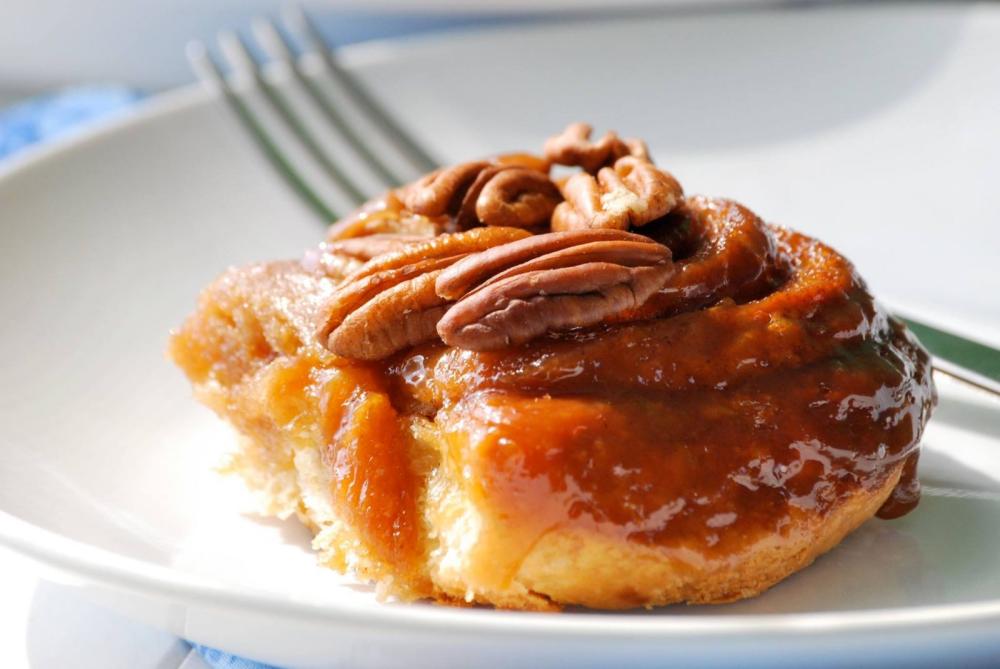 I left Temptations with my favorite sticky bun and headed across the street to Starbucks, where I picked up a Latte Macchiato. As described by Starbucks: "The new espresso classic has espresso shots slowly poured over lightly aerated milk for a bold and roasty new way to sip." It is definitely everything described and more. It's a perfect combination of ingredients, ideal to pair with that sticky bun I just acquired.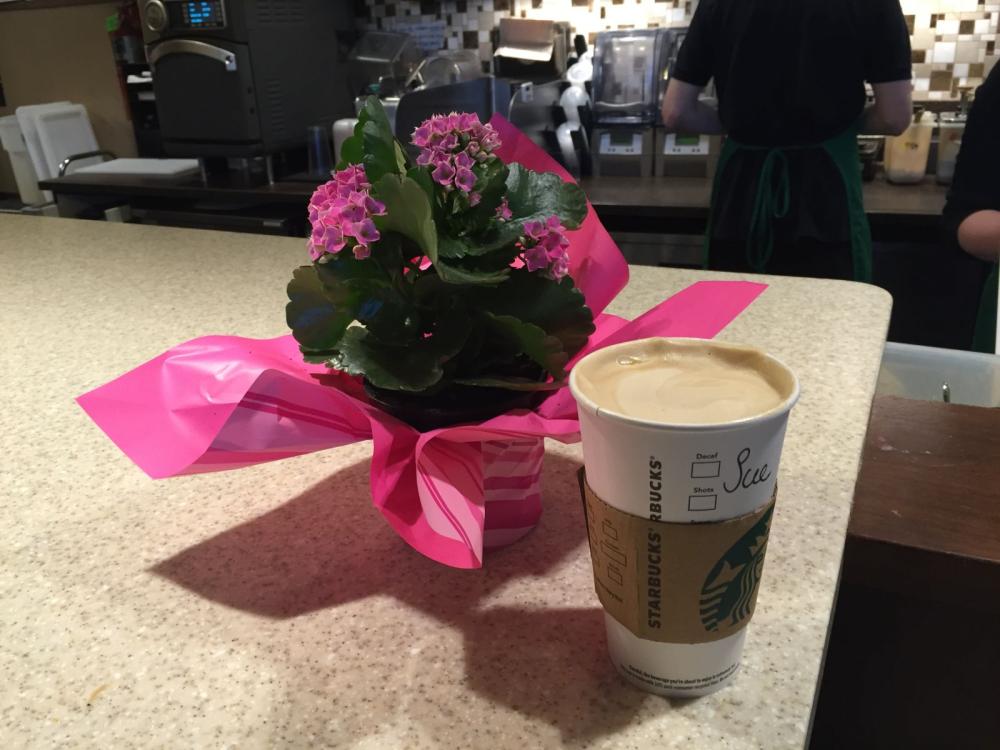 Main Street tranquility
A great place to get away from the hustle and bustle is the beautiful and historic Lake Placid Public Library, located in the middle of Main Street. Its location on the shore of Mirror Lake makes for really nice views. The library has a reading room with a great selection of periodicals, beautiful rocking chairs, and large windows overlooking the lake and mountains beyond. The staff loves visitors to drop in and enjoy the tranquility and view and browse through the large collections. LPPL is also home to a small art gallery. I plunked myself down in one of the rockers and chilled, enjoying my sticky bun and coffee while awaiting my appointment for pampering.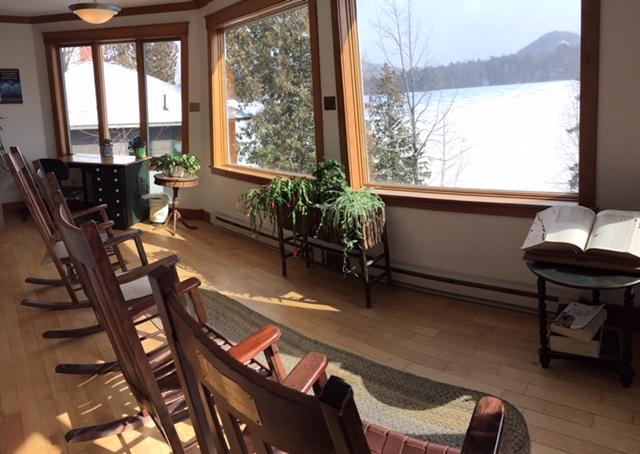 Treats consumed, it was time to head to the The Spa at Whiteface Lodge for my appointments. I had scheduled a spa treatment as well as a hair trim.
Let the pampering begin
I was greeted and led into the womens' "sanctuary" where there are lockers, a beautiful quiet lounge with subdued lighting, showers, steam room and sauna, and a selection of complimentary lotions, soaps and whatever else you might find you've forgotten. In addition, a selection of tea and citrus-infused water is available to self serve. I secured my personal items in the locker, donned the very plush robe and sunk down in one of the comfy chairs to enjoy my water and peppermint tea.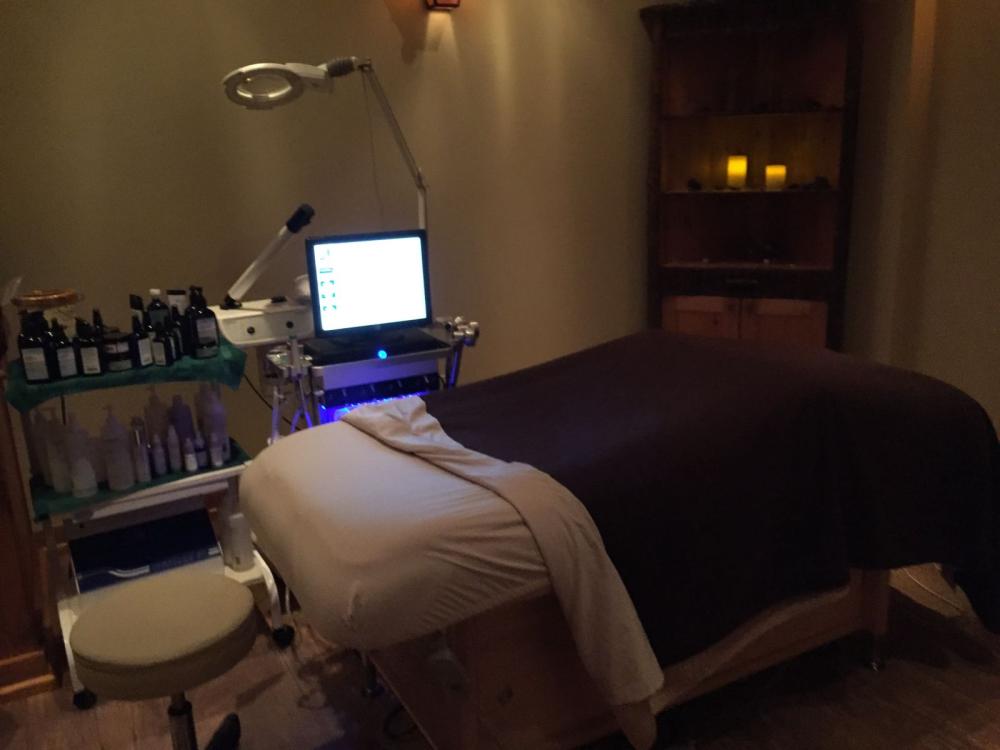 Shortly, my aesthetician Sue arrived - easy name for me to remember! She explained the procedures for the Hydra-Facial treatment I had booked. I've had probably one facial in my life so this was going to be a real treat. The treatments consists of several steps:
Exfoliation
Peel
Extraction
Fusion
The HyrdraFacial machine delivers the mixtures of products and then uses a suction system to clean pores and exfoliate the skin. It feels like a mini vacuum cleaner for the face and is perfectly painless! Glycolic and salicylic acids help to soften impurities and remove them. There is a series of creams and emulsions applied to the face, beginning with a combination in which I got to select the fragrance (or combination) from several options of essential oils. I told Sue to surprise me with her own choice because they were all so great I couldn't decide. I don't remember what she used but it was heavenly.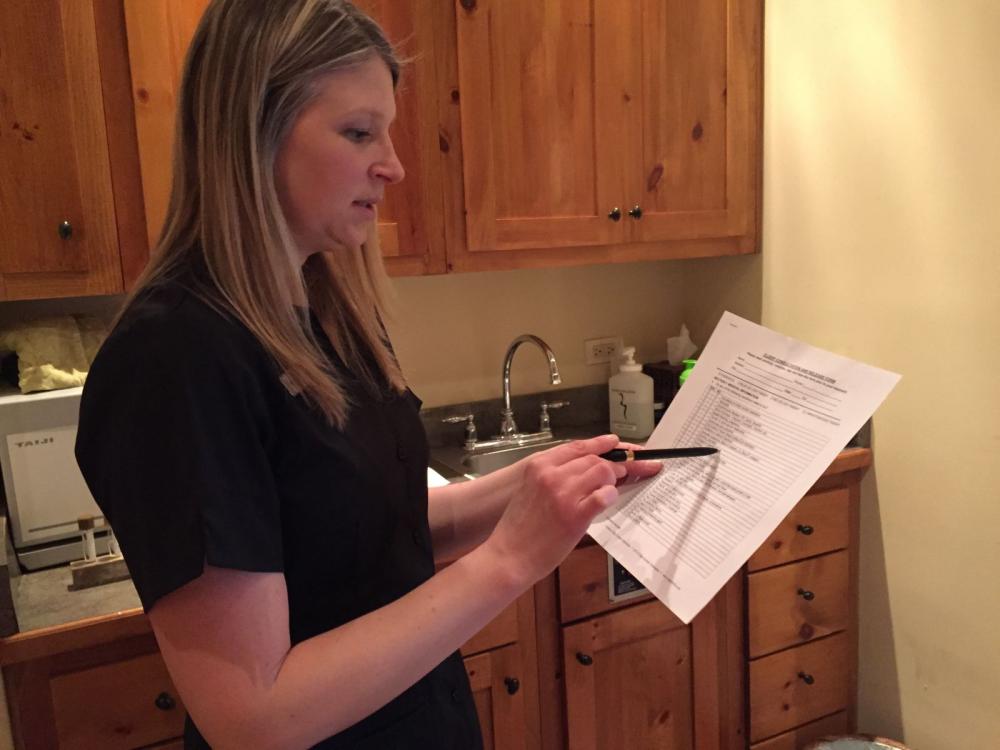 The treatment started with Sue's application of a soothing cream and a face, neck and shoulder massage - just what I need as I sit at a computer a good deal of the time and my shoulders are always in knots. There are several steps during the 50-minute treatment - it was all relaxing and I could feel the good it was imparting to my skin.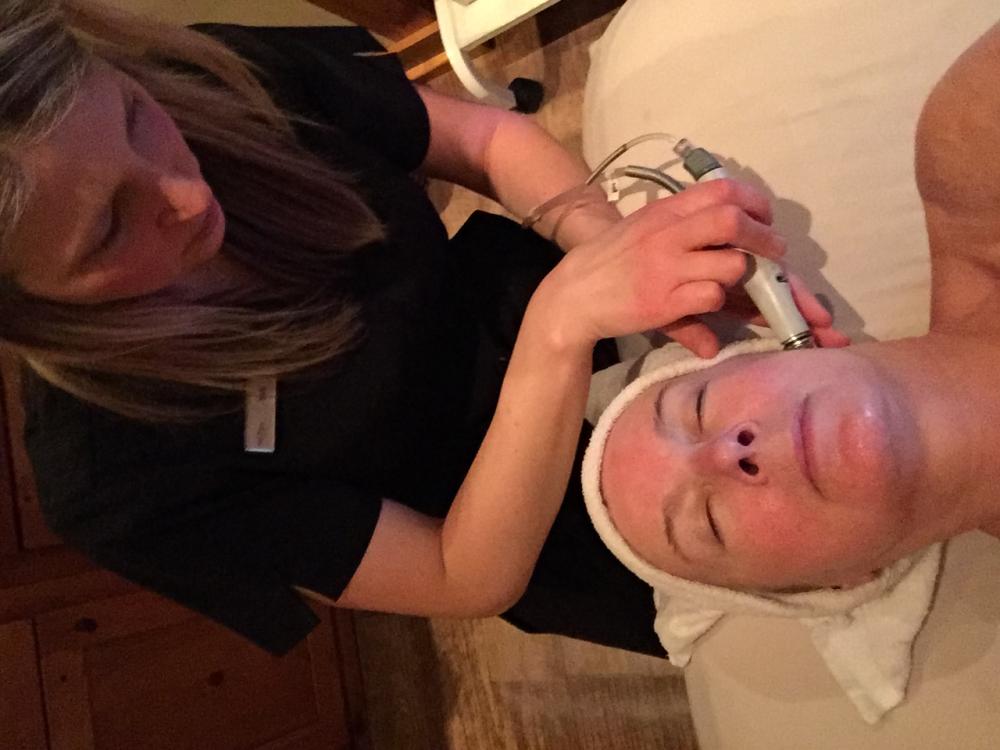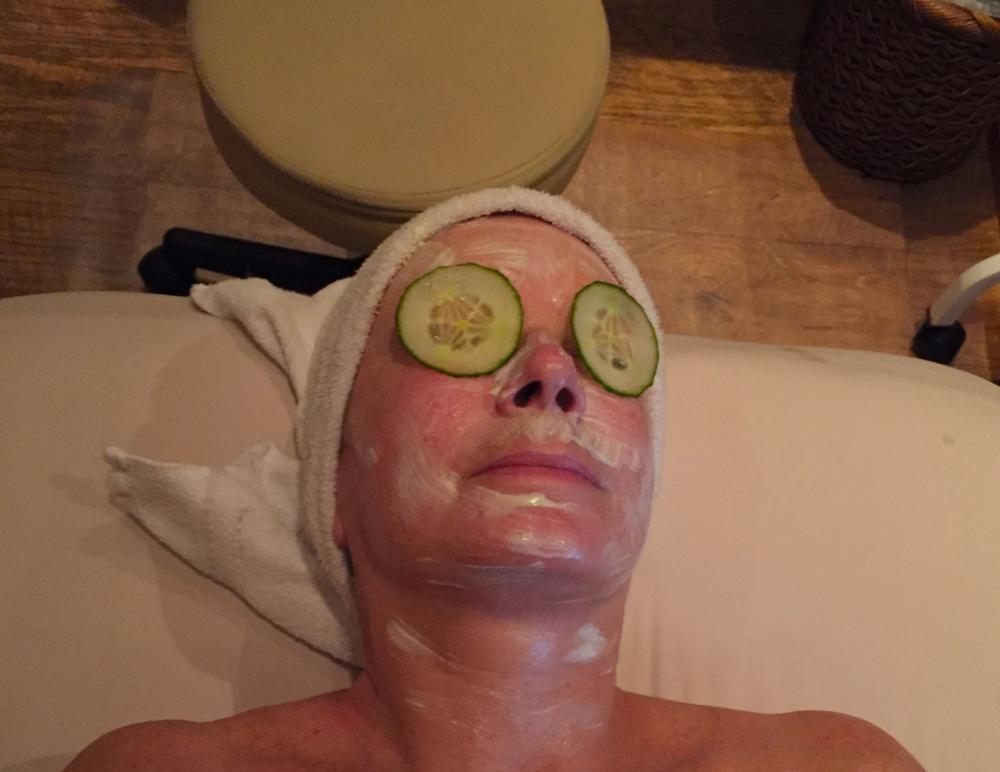 My favorite part of the whole treatment was the hot towel wrap and fresh cucumber slices on the eyes during the mask treatment. If you are looking for a way to splurge on a special treat just for yourself, I highly recommend the HydraFacial and I highly recommend Sue as your aesthetician. It's apparent she's a kind, caring, and gentle person and I instantly felt comfortable with her. The treatment ended with another massage of my neck, shoulders and arms. What a great way to spend an hour!!
Update from three days later: My skin appearance continued to improve for two or three days. It was quite noticeable and amazing!
Take advantage of the whole facility
When you book a spa service (excluding just hair service) at Whiteface Lodge you're entitled to use all the facilities all day long. Do take advantage of this big extra and spend the entire day! You will have use of the indoor/outdoor pool, whirlpool, exercise room and all the spa amenities.
After my spa treatment I enjoyed the sanctuary and the steam room for a bit until time for my hair cut.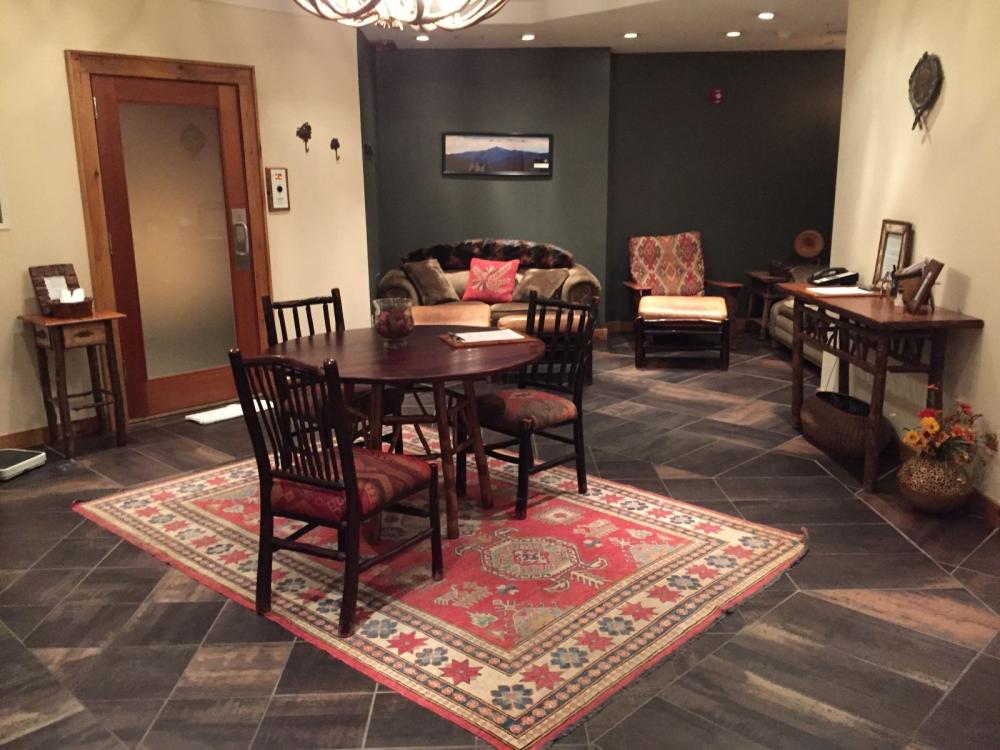 Hair styling time
My go-to person for hair is Brittany. If you need a trim or a complete do-over, make an appointment with her. She takes care of mine and many of my friends' hair. Not only is she a great stylist, she's also an amazing, happy person who always makes you feel great when you leave an appointment with her.
I left the Lodge feeling like a new person. That nice feeling actually lasted a couple of days! Make an appointment to get pampered whether it be a facial, a massage, or a fabulous new hair-do. I'll be going back again for sure. It's not going to be another two decades before I indulge in another facial treatment like this one! You don't have to be a guest at the Lodge to book an appointment, it's available to one and all.

Check out all your options
If you're not staying at the Whiteface Lodge, check our our other lodging options and make sure to visit the events page to see what else is going on during your visit.
---
In related ADK extra day news:
A microspike hike with a view.
North country adventures start here.