We've been getting in the holiday spirit around the office over the last couple weeks. Furiously working on our cubicles for our holiday decorating contest, decorating the visitors center, and planning our holiday staff party. Between lights, trees, garlands, candy canes, wrapping paper, toy trains, snow flakes, a singing elf, a mini Yukon Cornelius, and assorted other decorations, our office feels like it's the epitome of 'winter wonderland' status. That is, until you step out the front door. Lake Placid never ceases to go all out and impress for the holiday season. The real holiday extravaganza is lining our streets, from the shop windows to the elaborately lit hotels. For a really special treat, take a walk around Mirror Lake in the evening and check out the town from a distance.
Trust me, from heading out to choose the perfect tree to visiting a favorite restaurant with friends and family, the enjoyment and admiration for this mountain town around the holidays is not lost on those of us who are lucky enough to live here year-round. In light of the festive season I went around the office last week and asked my coworkers to share some of the local traditions they enjoy most. Here are a few of our favorites, starting with my own.
1. Enjoying a Festive Cocktail with Friends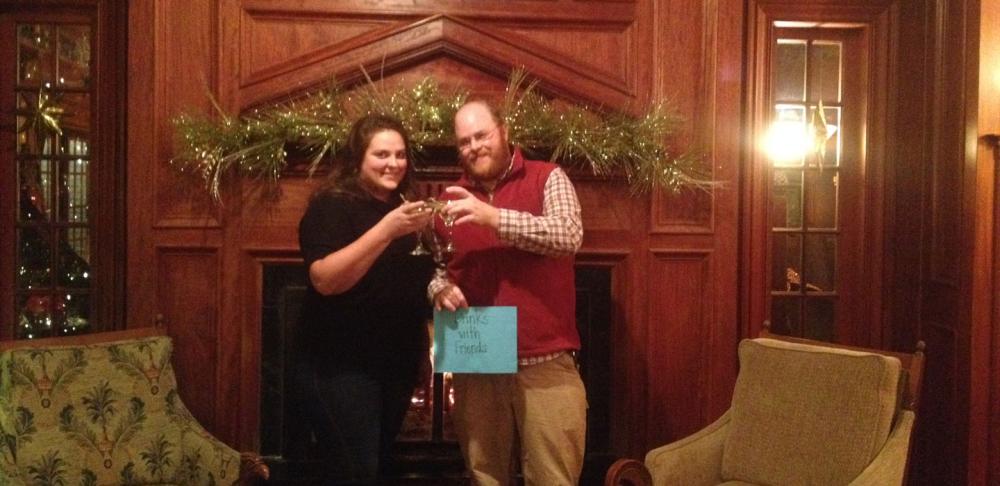 I come from a small family with steadfast holiday traditions. We always enjoy a nice dinner out and exchange one gift on Christmas Eve, then there's marshmallow-fluff fudge made for the holidays, and Christmas morning spent at my parents house - opening presents followed by waffles. If you haven't caught on yet…we kinda like food just a little bit in my family.
But in the last few years, I've started a new tradition with my closest friends which has become just as important as the ones I've had most of my life. Most of my friends that I grew up with have moved away from the area over the years, but at the holidays there are usually a couple days when everyone is back home to visit at the same time. And for the last four years or so, those of us who can make it have headed up to the Mirror Lake Inn. All of the hotels and resorts in Lake Placid have lobbies, lounges, and bars to envy, but for us the rich wooden walls, cozy fireplace, and extravagant displays of poinsettias, make the Mirror Lake Inn the spot to be.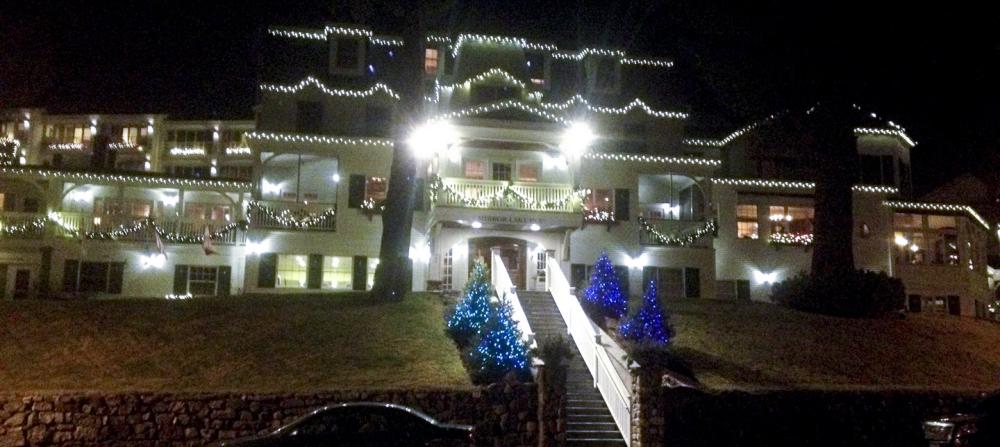 We'll usually make our way up on an evening when they have music in the Taste Bistro, pick up a round of drinks, maybe a few apps, and then take over a couch for the evening. Chatting and soaking up some holiday spirit. The Bistro has a full bar, large selection of fun cocktails you don't normally see, and usually some holiday specialties.
2. Hitting the Slopes - A Holiday Trip to Whiteface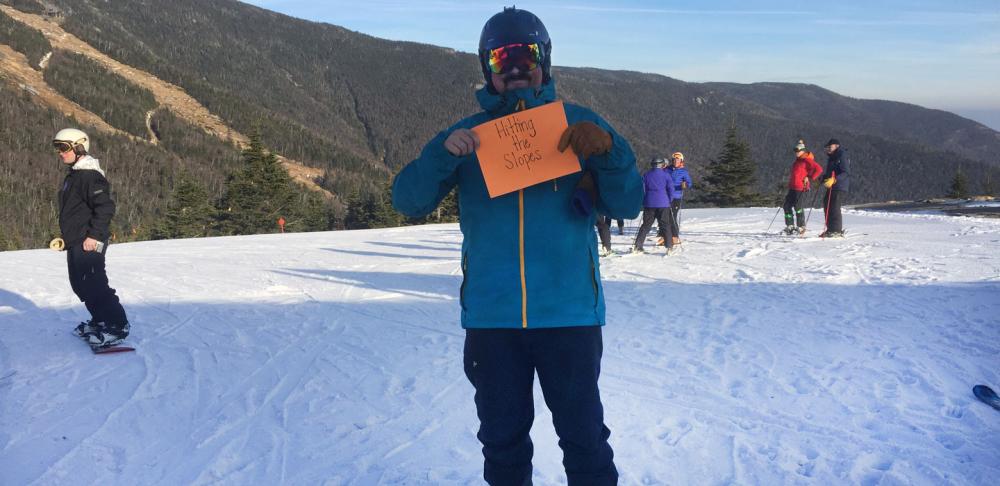 For our Designer Dan it's all about hitting the slopes at Whiteface Mountain around the holidays. Either by himself or with the family. He moved here from Georgia and I think he's making up for lost time! And before you ask, yes this IS a current picture, Whiteface has snow! Fun insider tip: leave the presents for Christmas afternoon and head to the mountain in the morning. While everyone else is opening gifts you'll be giving yourself the gift of the best snow of the day! Dan's take on the best trails? Skyward and Cloudspin.
3. Finding New Ornaments for the Tree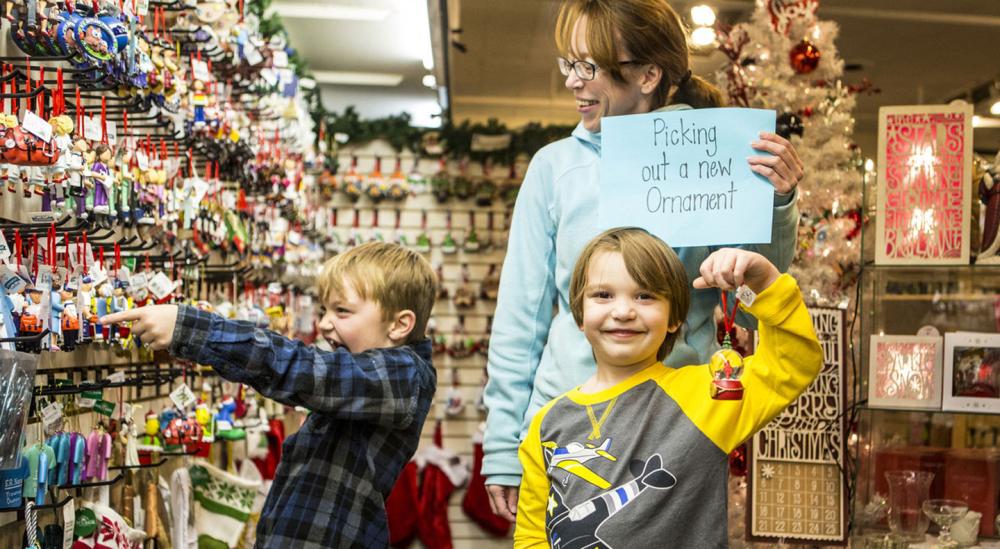 Every year, Kristin takes her kids downtown to search for the perfect ornament to add to the tree. With two new ornaments added each year, the tree stays fresh and full of memories! This year you'll find a fire truck full of presents and a cardinal in a snow globe as the newest additions to their tree! The Lake Placid Christmas Co. is a sure bet for ornaments, but you'll find a good variety of ornaments and keepsakes throughout the shops on Main Street.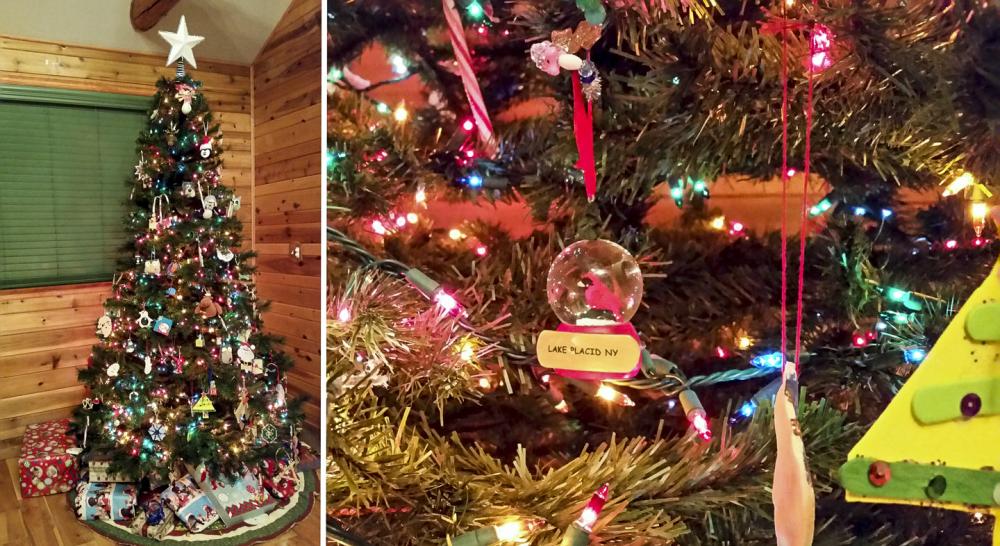 4. Visiting Santa's Workshop (and licking the North Pole)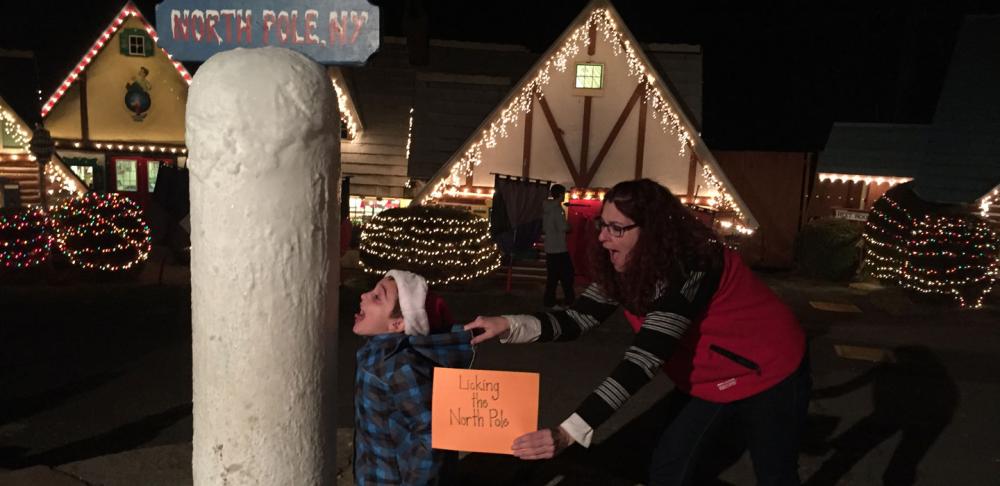 You say, "GROSS!" but Oliver says, "COOL!" For our Content Manager Kim, and her son Oliver, it isn't the holidays without a day spent picking out the perfect tree followed by a visit to Santa's Workshop. Of course, this always includes a debate over the pros and cons of licking the North Pole. Oliver's 6 and they've made the trip to the Workshop every year since he was born.
Licking the North Pole might not be your cup of tea. Fortunately it's not a requirement, and there is plenty more to do at Santa's Workshop, like actually meeting Santa and his reindeer, caroling around the fire, and riding the Christmas Carousel. If you really want a unique treat, visit during the special evening hours when the Village of Lights are on full display.
5. Sippin' Cider on Main Street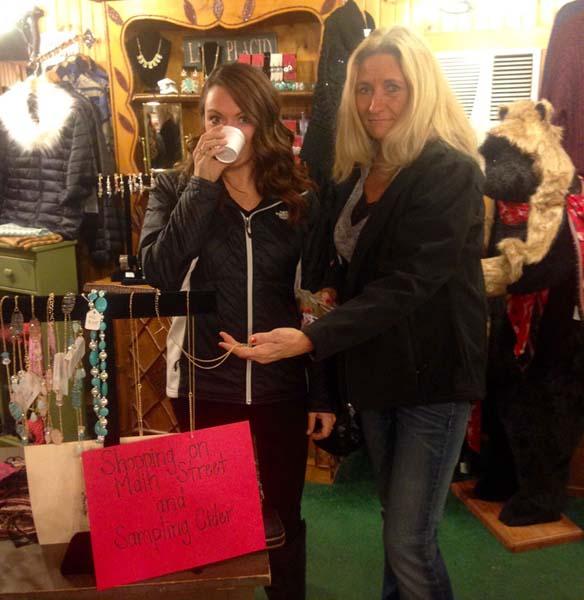 Little-known fact, several stores in Lake Placid have hot cider on hand during the holidays. Our Marketing Manager Brooke and her mom take advantage of this tasty holiday treat while finishing out their Christmas shopping every year. They have their opinions about who's serving up the best, but we'll let you make your own decision.
6. A Christmas Movie with the Family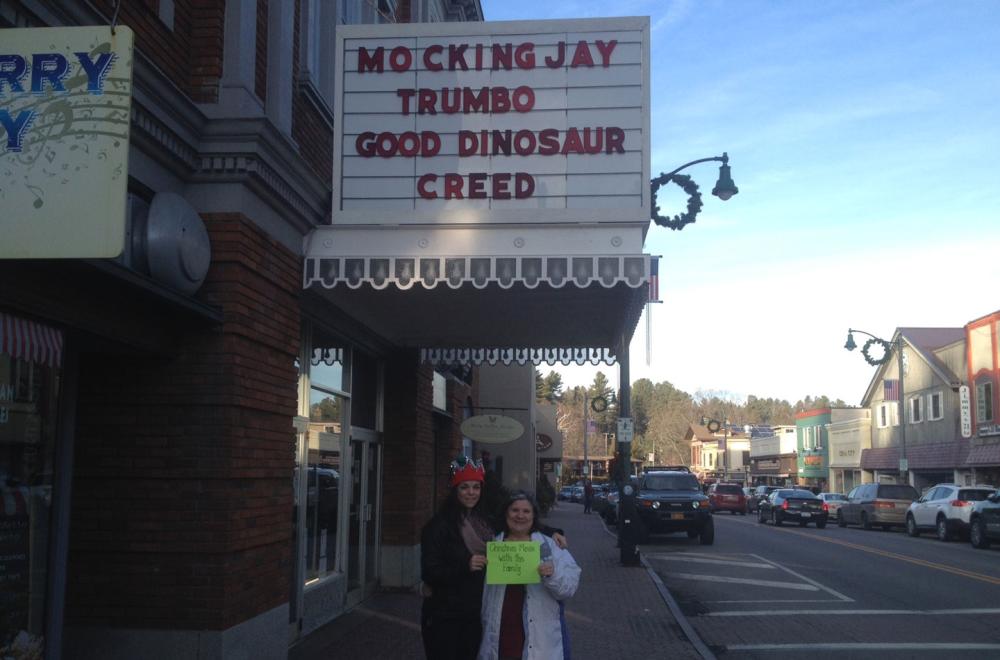 You may see Bethany in our visitors center when you stop in this winter. For her, the holiday season isn't complete without the whole family heading down to the Palace Theater on Main Street for a Christmas movie! If the stage is more your thing, don't miss the annual holiday show at Pendragon Theater.
7. Tra-Dinner With Friends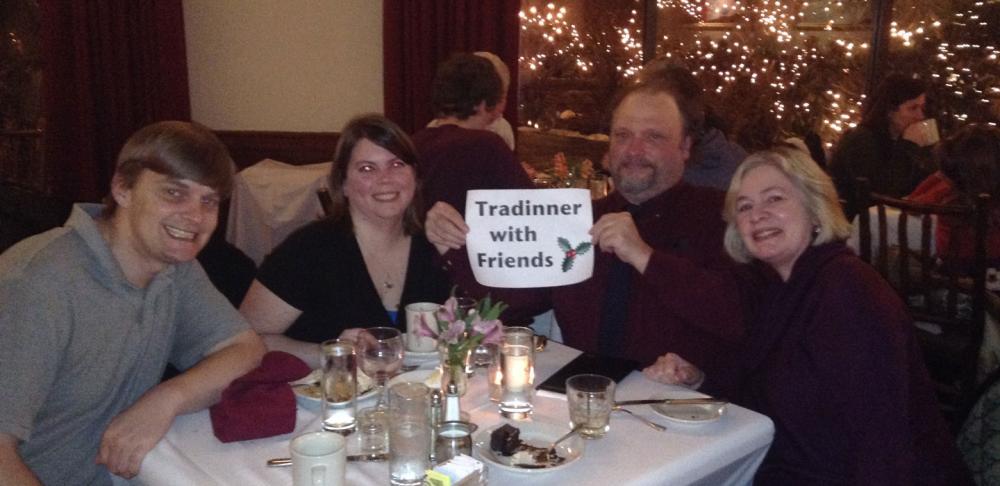 Pam and her husband have a group of friends who generally don't have family in town for the holidays, so they make it a point to check out the Holiday Dinner specials and parties throughout town on Christmas and New Year's. At Thanksgiving you might call it "Friendsgiving" - we've dubbed it "Tradinner" to include the entire holiday season! Don't forget to check out all the great holiday dining options in Lake Placid.
8. What's your Lake Placid Holiday Tradition?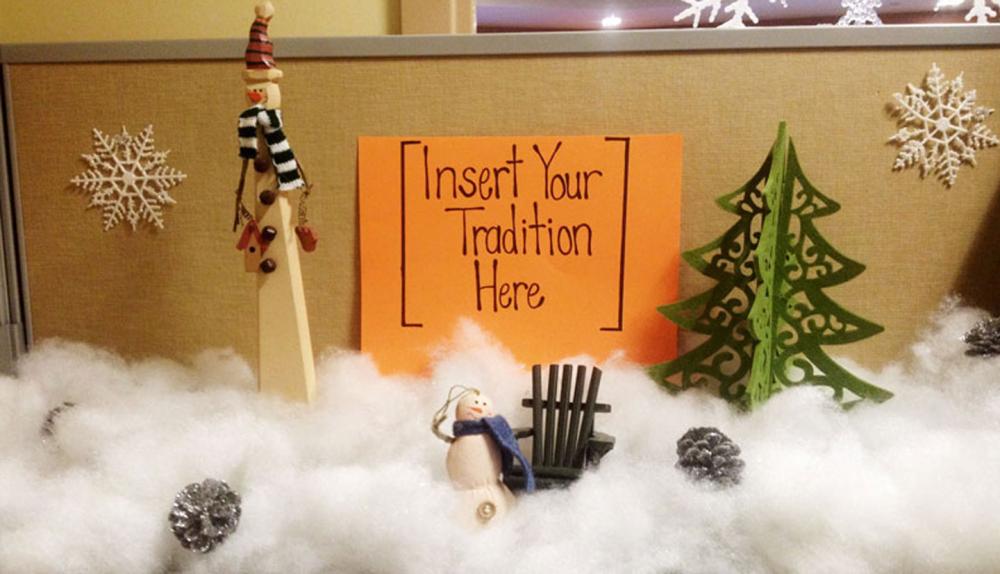 We know what we love to do, but what about you? Let us know your favorite holiday tradition or memory from Lake Placid in the comments!
---
This week in related ADK traditions:
Insider's guide for First Night first-timers.
Village of Lights aka Santa's domain.
Make this triad your newest tradition.
Heartwarming holiday happenings.
Ornaments & recipes: Handing down tradition.