When you think of the Adirondacks, what's the first thing that comes to mind? Hiking? Mosquitos? Lake Placid? 6.1 Million Acres of Fun?
For me, it's none of these - not the first thing anyway. I think of Newcomb when my mind wanders off to the good ol' Adirondacks. This town is very close to my heart. My family has owned a camp there for over ten years and before that we parked our pop-up camper at Lake Harris Campground, always hoping to snag "The Point," the best campsite around, but we never seemed to get it. There's always something to do in the Town of Newcomb and the people there are always willing to lend a hand if your car happens to run out of gas between the few and scattered gas stations in the middle of the Adirondacks. (But don't worry, Newcomb has one!)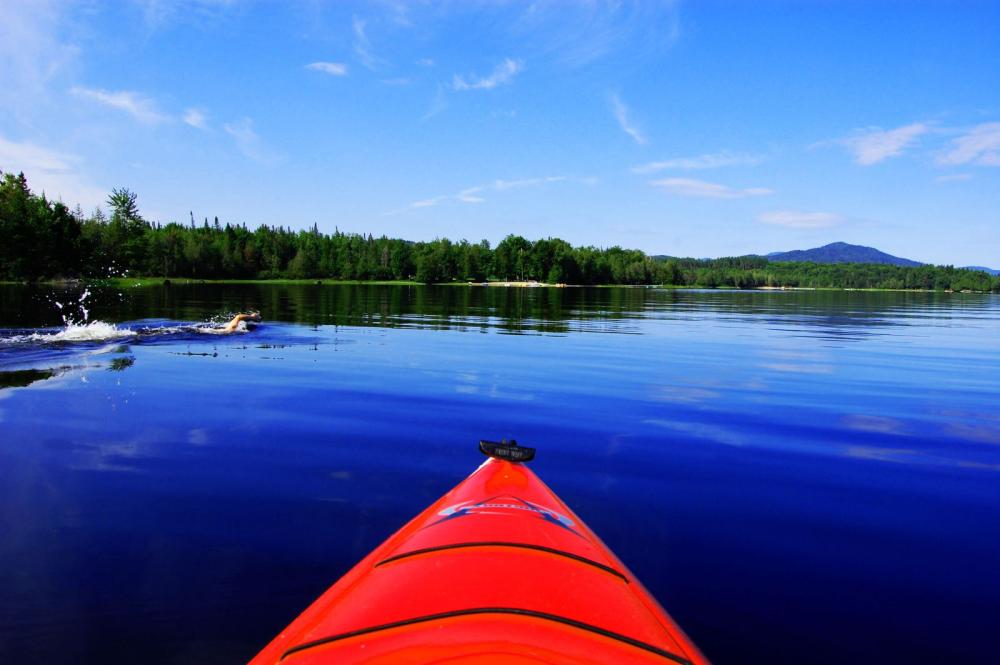 Things To Do
What's wonderful about Newcomb is that there is always something to do, even though its size would lead you to think otherwise. From enjoying a nice relaxing day on the beach of Lake Harris to testing your hiking legs on the trails at the Visitor Interpretive Center or Goodnow Mountain, you'll never be bored. If neither of these options appeal to you, do not fret for one of two reasons; you're in the Adirondacks - you should never have to worry about a thing, and there's much more to do in Newcomb than relaxing and swimming. Feel free to try your hand at the 9-hole golf course that overlooks the High Peaks, or if you're visiting in the winter go skiing at the local ski hill, snowshoe at the Visitor Interpretive Center or cross-country ski at the golf course. There's something for everyone in Newcomb which is why it's so unique.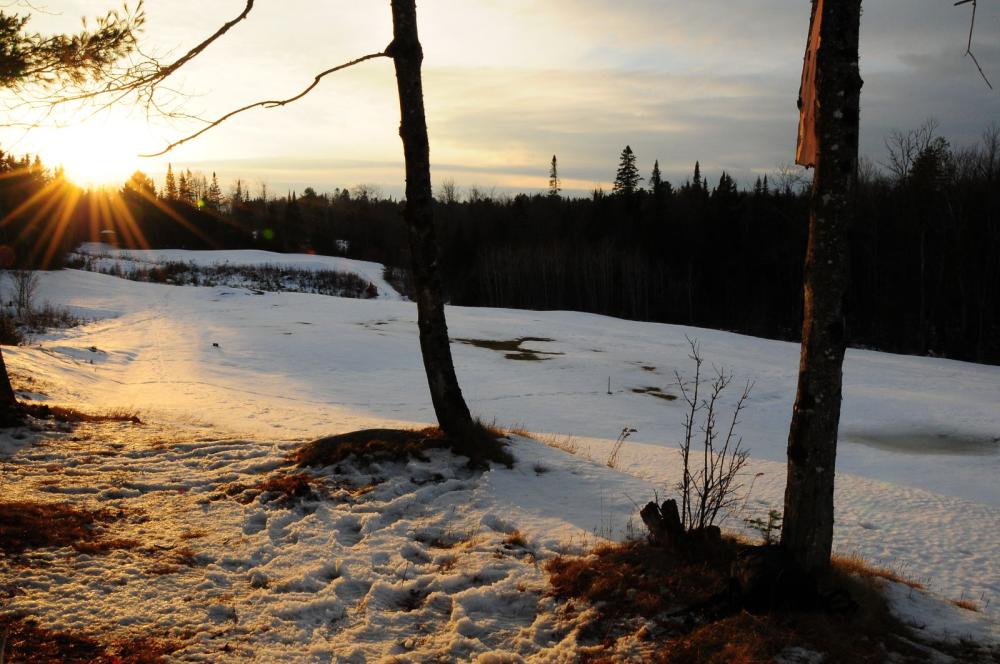 Historic Sites
If you have the urge to pull out the tourist inside you, Newcomb has a great history. The ghost town of Tahawus is just a short drive from the hamlet. Tahawus was a major mining town and what remains is a few decrepit taped-off houses and mining ruins like the recently restored McIntyre Blast Furnace. It's still interesting for me to go back and explore the ruins, as I usually end up learning or finding something new each time. There are also multiple trailheads starting at Tahawus that lead to many High Peaks and other great hikes. (Read more about the moving town of Tahawus in this blog.)
Another bit of history that Newcomb has to offer is the Santanoni Great Camp. In the winter you can cross-country ski or snowshoe the five miles to the Camp and in the summer you can take a horse and carriage, walk, or bike ride (wear a helmet!) back to the unique site. However, if you do not want to go that far, you could always stop a mile in at the farm compound. But, I highly recommend making it all the way back to check out the fascinating structure and architecture of the Great Camp. If you want, you can pitch a tent at the campsites as well! Bring your fishing pole and swimsuit to enjoy Newcomb Lake when you're there!   
Goodnow Mountain
Like I mentioned earlier, hitting the trails in Newcomb is always an option. I love hiking and I love watching the sun set and rise. So one of my favorite things to do when I'm in town is to hike Goodnow Mountain for sunset or sunrise. For me, hiking is very rewarding. Even when I'm not out hiking high peaks, I am still connecting with nature rather than the internet, which I recommend to everyone, and the views are always breathtaking. Goodnow Mountain has a fire tower on its summit which offers great views of the High Peaks and the Town of Newcomb. The Goodnow Mountain fire tower is a part of the Adirondack Fire Tower challenge so you can tuck another fire tower under your belt by hiking this mountain. It's also one of the few mountains left with an accessible fire tower as many are closed due to old age. If you don't have all day but still want to hike, that's okay! Goodnow is a short 3.8 miles round trip, taking about an hour and a half to ascend. It's a great peak with great views for all levels of hikers!    
Annual Activities 
Every year Newcomb has an array of activities that the whole town gets involved in. One of these is Teddy Roosevelt Weekend, which takes place the weekend after Labor Day. During this weekend the town commemorates President Theodore Roosevelt's call to Presidency after the assassination of President McKinley in 1901. Some things to see and do during the weekend are the Ty Yandon Memorial 5k Race, the Quilt Show and historical acts by a Teddy Roosevelt re-enactor.
Other annual activities are the Steak Roast and Chicken Barbecue which are hosted at the Town Beach. The Newcomb Lions Club hosts the Chicken Barbecue the first Saturday in July, and the Fire Department and Rescue Squad puts on the Steak Roast the last Saturday in July. Hundreds of people attend both events which are filled with live music, good food and (usually) beautiful weather. Both are family-friendly events that you do not want to miss! 
Local Businesses
The "small-town" feel of Newcomb hits you when you step into any one of the many local business. Each business owner in town is extremely personable and always ready to help you.  Some of the businesses in Newcomb include Scoops, WD's, the High Peaks Kitchen and Campground, Cloud-Splitter Outfitters, the High Peaks Golf Course and the Hoot Owl Lodge.  
A great alternative to staying at the State Campground is the High Peaks Kitchen and Campground. On top of being a cozy campground, it's a great local diner as well. You can never go wrong with getting the hearty stack of pancakes for breakfast or the Bacon Chicken Ranch wrap for lunch or dinner. Also, the Kitchen and Campground has the only gas station in town! 
WD's is a small store situated at the front-end of town directly across from the overlook - you can't miss it. It has all of the camping food items you could possibly need and then some. If you don't like their choices of ice cream, feel free to stop by Scoops which is located right on the corner of Campsite Road - biking distance from the State Campground. Scoops is a seasonal ice cream shop which offers an array of specialty sundaes on top of shakes and quick lunch and dinner meals.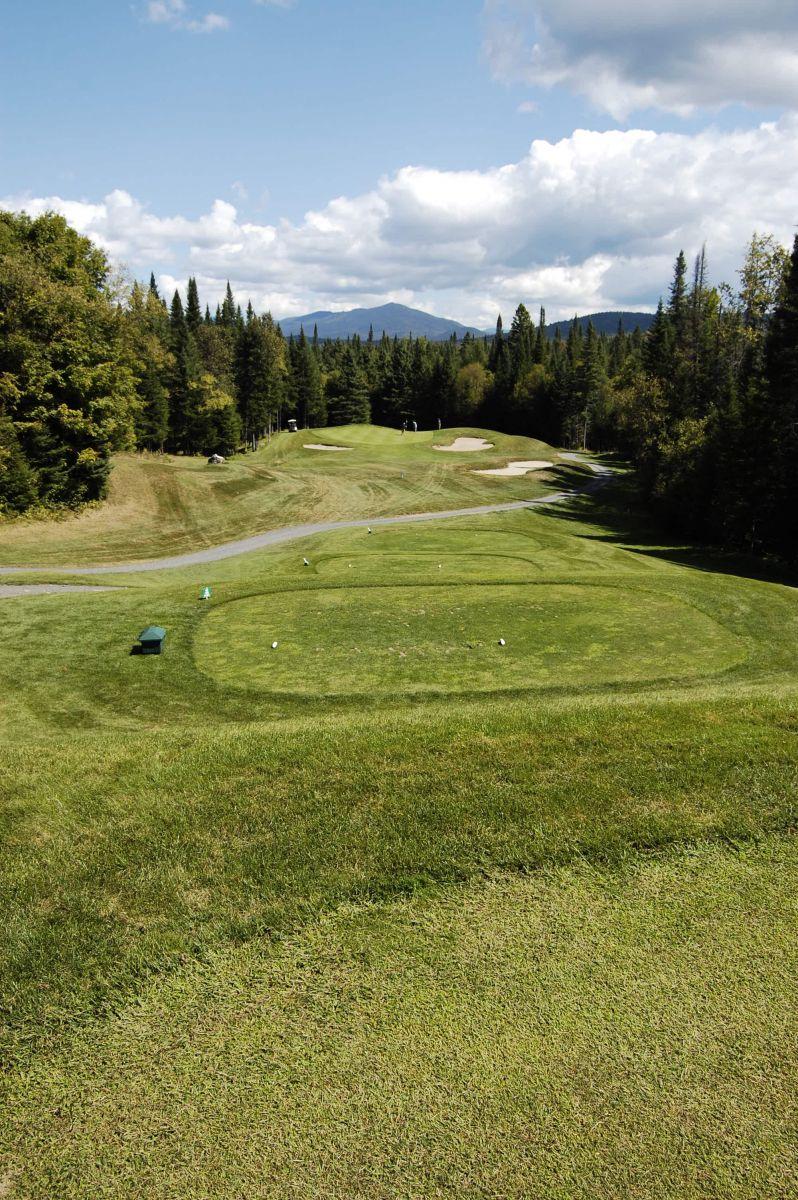 Need outdoor equipment when in town? Stop into Cloudsplitter Outfitters ​and say hello to Ruth and Dave Olbert. Located right on 28N you can rent a kayak, canoe, mountain bike and more for your outdoor adventure. They are extremely knowledgeable about the area and can tell you what you'll need to help you on your way. If you don't want to go on a big trip and would rather relax, head over to the High Peaks Golf Course to tee-up on a scenic 9-hole golf course.  
If pitching a tent and sleeping on the ground in a campground doesn't appeal to you, make reservations at the Hoot Owl Lodge. After falling in love with the area, this homey bed-and-breakfast was created by owners Kelly and Tony specifically as a place to stay while enjoying the outdoors. The Hoot Owl Lodge consists of four rooms which can comfortably house ten guests. It's a beautiful place to stay as a base camp for your adventures or just to sit back and relax.  
Next time you drive on Route 28N, don't be so quick to have a heavy foot and pass through the Town of Newcomb. Take a breath. Relax. Slow down and enjoy the scenery. Hike a mountain or throw a towel down and take a dip at the town beach. Grab a bite to eat at the High Peaks Kitchen and Campground or play a quick round on the Golf Course. Get to know the friendly people in town and most importantly - enjoy your stay in the Town of Newcomb: The Heart of the Adirondacks.