As the snow begins to fly around the Adirondacks the level of excitement about the upcoming winter sports season resonates from the hills! We are so excited to get our winter gear on and ski, skate, ice climb, hike and all the other things we do here in the winter months. But during the time between first snow and 'enough' snow to really play in, there's a time we turn our attention to some great events on the calendar. Hopefully there will be snow and ice to play on - and in - by the time these events roll around, not that any of them require it. But, it sure does give everything a more festive feel! 
DON'T MISS WORLD CUP SLIDING ACTION
Rolling into December, the International Luge Federation arrives in Lake Placid the first weekend of the month for the FIL Luge World Cup. Racing takes place over two days at Mt. Van Hoevenberg Olympic Sports Complex beginning Friday, December 5th. The following weekend International Bobsledding rolls into town and takes over the track at "Van Ho," with FIBT World Cup Bobsled competition in 2 man, 4 man and womens' competitions slated for December 12th and 13th. Come watch as some of our 2014 Sochi Olympic athletes and many more wow the crowds with speed and excitement as thrilling as any Olympic competition. 
HOLIDAY VILLAGE STROLL WEEKEND
On the weekend of December 12 - 14 our very own version of a Charles Dickens village emerges as we deck the halls and bring on the best celebration of the holidays anywhere in the region - Lake Placid Holiday Village Stroll.  With dozens of events planned from live entertainment, free kids activities, wine tastings, a FREE indoor skating party and opening reception, to a fun run, ornament making, free restaurant tastings and so very much more. There are dozens of activities for both young and old, couples and families, and the majority of them are absolutely FREE! Check out the Holiday Village Stroll page on our website for a complete schedule of all the fun activities and special hotel packages.
One of the highlights of Holiday Village Stroll weekend will be the Holiday Gala Inspired by Downton Abbey on Saturday, December 13th. Our local PBS station will deck the halls of the Conference Center at Lake Placid for this event, celebrating Season 5 of Downton Abbey.  The evening will be themed around the popular PBS series, with cocktails and a gala dinner. The culmination will be the viewing of the first Downton Abbey episode of Season 5, a full 3 weeks prior to its television premier. If you're a fan, you won't want to miss this event! Organizers encourage attendees to dress in formal or period dress (not required however).  Who will you go as? Tickets are available online as are lodging packages which include tickets to the event.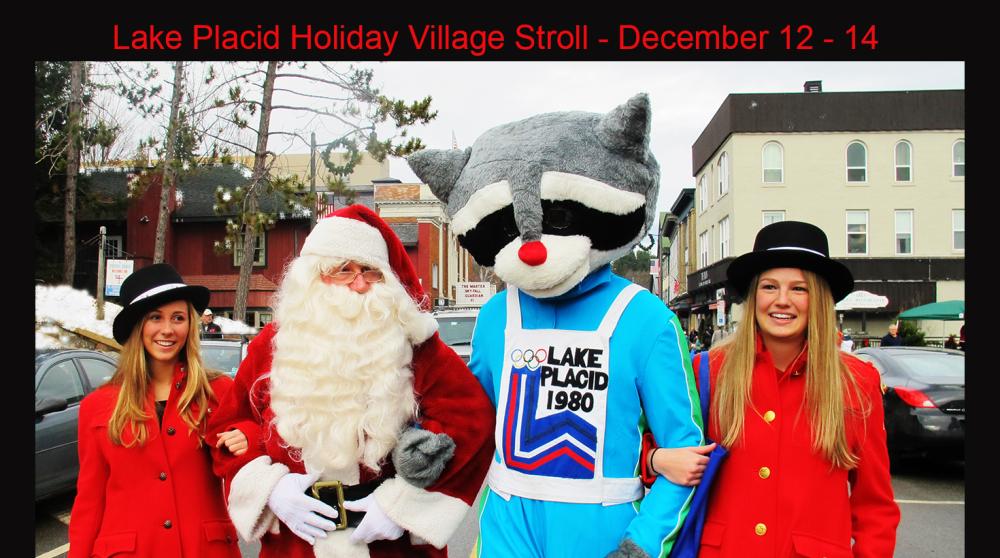 BIG STARS RETURN TO TOWN
The much-anticipated annual season premiere of the star-studded STARS ON ICE takes place December 30th this year. Stars on Ice has wowed the crowds for years as the premiere touring figure skating show on the circuit. The show has traditionally premiered their upcoming season tour in the Herb Brooks Arena of 1980 Olympic Center, site of the 1980 hockey team's Olympic victory over the USSR and gold medal game against Sweden, as well as all 1980 Olympic figure skating competitions. This year's production promises to be every bit as exciting as previous years. Headliners include Olympic Gold Medalist Evan Lysacek and Olympic Silver Medalist Patrick Chan, along with a host of others. Make sure you get tickets early. This year there are also special tickets for a Meet and Greet after the show, where ticket holders will have a chance to meet all the performers and chat and get photos with them.  
MAKE EARLY PLANS
There's something exciting going on every weekend during the next few weeks. Break away from the home front routine and spend a weekend in Lake Placid before the holidays to shop, dine and take in one of our exciting upcoming events. There are great lodging packages awaiting you during this pre-holiday time of year, so make sure you take advantage of the deals. See you soon!