Lingo
There's a certain amount of jargon associated with any sport or endeavor, and golf is certainly no exception.
In addition to common slang terms, one always hears about a golf course's "signature hole," and I've always wondered what the distinction is…who decides? What is the criteria? Does someone actually place an autograph somewhere?
I decided to take my investigation to the links. More accurately, I took my investigation to the mountain.
The Lake Placid Club
The Lake Placid Club is just a chip and a putt from my office in Lake Placid (or a sliced drive in my case), so this "duffer" grabbed my clubs on a recent perfect day, and headed over to play a few holes on the Mountain Course.
The Lake Placid Club is one of the region's outstanding century-old golf destinations, and actually offers 3 courses and 45 holes.

There's the Pristine Nine, a short course with 7 par 3s and 2 par 4s. It is said to take about an hour and a half to play, and is a good outing for golfing families. Does it have a signature hole? According to the owners, moose are known to frequent the Pristine 9 as they love to go for a dip on Hole 7 where the tee shot goes over a pond. As a destination promoter, I'll tell you that there is a big market for moose sightings. So let's go with that as a winning signature hole.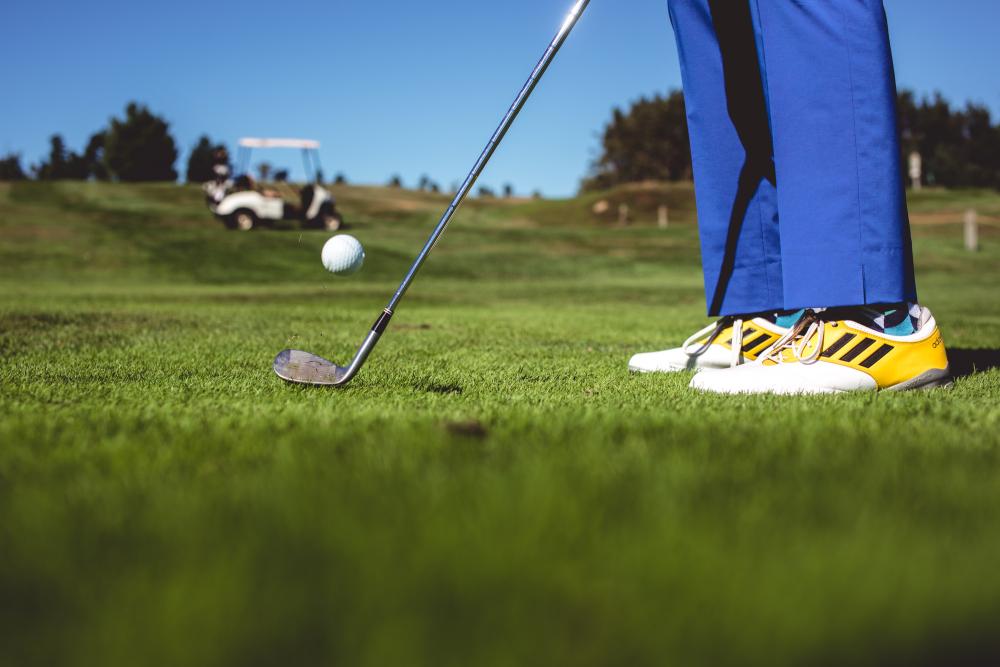 The most popular of the three is the club's Links Course. The Lake Placid Club Links Course was designed in 1909 by the renowned Scottish architect Seymour Dunn. It's a traditional Scottish Links-style golf course with lots of sand traps, large undulating greens and a fairly open layout.
According to the resident pro, Jim Beauregard, the Links Course's signature hole is number 6. It's a par four favorite with a spectacular view. I was going to head out and take a picture, but on this particular day, the Links course was being aerated. Fine with me, as I had set my sights on the Mountain Course anyway.
The Lake Placid Club's Mountain Course boasts the only back-to-back over 600 yard par 5 in the world, only to be followed up with a 280 yard par 3 requiring a 220 yard carry from the tee. This year, the forward tees on the Mountain have been shortened to get our total yards under 4,600. And it now has a new water hazard - a pond behind number 10 on the Mountain Course.
In general the consensus is that the Links Course layout is a bit easier than the Mountain Course, which has a number of blind spots and is a bit "tighter."
Team Local
I arrived at the Pro shop and told them that I would be playing on the Mountain Course by myself - and would likely hit just a few shots and primarily take pictures. I was issued a cart and told that there was a group heading out soon and I could tee off right away, tag along with the group or wait until they played through.
I was arranging my clubs and things in the cart when I heard someone say, "What are you doing here, Kim?" A group of men appeared seemingly out of nowhere, and I knew about half of them, including Art, who asked the question. I told him that I was taking pictures and writing a blog. Following the requisite cajoling about how easy my job is, he and the others invited me to play with them. I declined to showcase my mediocre golf swing and asked if I could just tag along. They were fine with that.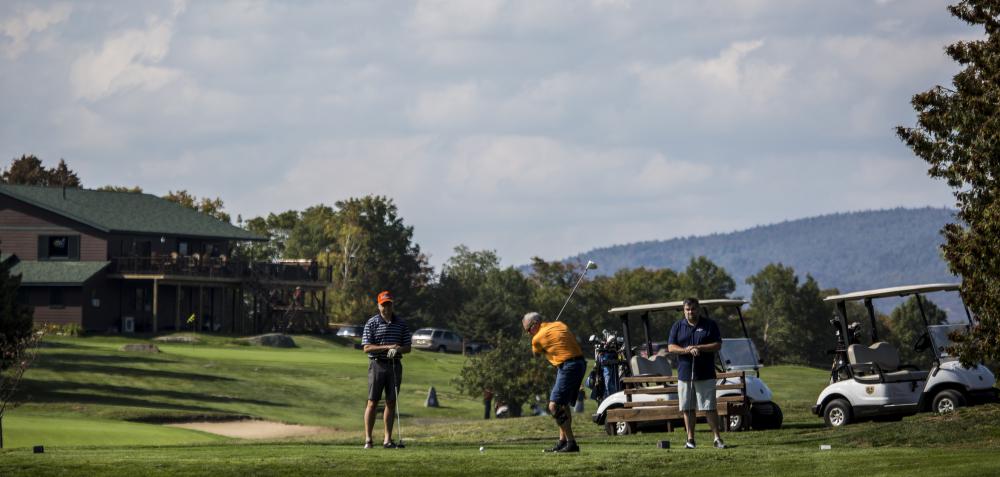 This seemed a routine gathering, and I wondered if this was a weekly round for them so I asked, "Do you all play together EVERY Wednesday?" A question to which they replied, in unison: "It's Thursday." I didn't ask a follow-up, but I was clearly impressing them altogether with my attention to detail.
Lake Placid exudes a sort of aura that inspires and attracts those who thrive on athletic achievement. It's not uncommon to run into multi-year Ironman finishers and world-class lacrosse players on Main Street. This group of locals fit the stereotype to a tee (pun intended), as it included some folks long-associated with Olympic sports like bobsleigh and ski jumping, as well as sport organizers and fly fishing gurus.
Notably, the group also included Mr. Higgins, a Golden Retriever who has been a paying member of the Club for years. (In true, dog-friendly Lake Placid fashion, the guys in the pro shop told me that there are about 5 paying members of the canine variety at this time - all who meet the required subjective criteria.)
Signatures
They graciously posed for a picture on the first tee, which happens also to be the Mountain Course's signature hole. And no wonder. The elevated tee offers a spectacular view of where your ball is supposed to go, as well as the Adirondack High Peaks and the geo-location device, the Lake Placid ski jumps, in the background.
These players are good. They know the lingo - and while my game might be associated more with "mulligans" and "snowmen," they can certainly lay claim to "up and down," "ace," "par" and "scratch golfer."
They all hit their first shot, after which I learned some of the group protocol. Mr. Higgins adheres perfectly to golfer etiquette, remaining completely still during his fellow golfers' shots; Joe points out the good photo ops; Tom entertains everyone with his remote-controlled electric pull cart; and after every single shot that Bob hits, everyone says appropriately, "Nice shot, Bob."
On this quest, you'd think it would be kind of anticlimactic to encounter the signature hole right away, except that the course has TWO signature holes: the 1st and the 7th.
As I followed the two foursomes around for the first 9 holes, I was able to get some good photos and some conflicting input on this point.
They all agreed that the 1st hole on the Mountain Course was a sound choice as signature hole, and that the 7th was also a standout, with a spectacular view from the tee as well.
But in addition, there are subjective views about the signature holes: John thinks that the 8th tee on the Links Course is best. On the Mountain Course, Carl likes the 10th hole the best, and mentioned that the 13th is the hardest (on this, they all agreed).
And then there was an outlier - I don't remember who first mentioned the "Mae West" hole, but they all knew that he was referring to hole 15. I'll leave it to the readers' imagination as to why that's its nickname…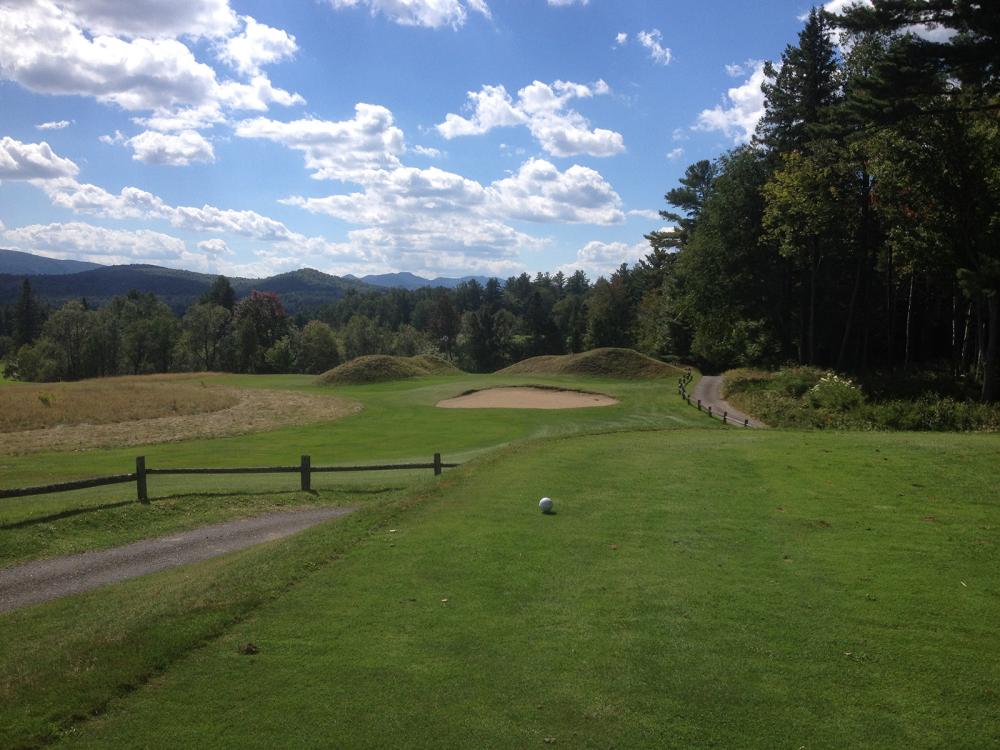 By the Numbers
From About.com section on sports and golf:
The "signature hole" at a golf course is the one hole that the course has decided is most aesthetically pleasing and most photogenic. A signature hole may or may not be representative of the golf course as a whole, but because it is so pretty or dramatic it is the hole featured in the golf course's advertising and marketing efforts.
If that's the definition, kudos to whomever decided which of the holes gets signature status. I mean, EVERY pristine, manicured hole of Lake Placid Golf is surrounded by breathtaking mountain landscapes.
And so, for the record, here are the 7 "official" signature holes in Lake Placid:
Lake Placid Club - Links Course - #6
Lake Placid Club - Mountain Course - #1 and #7
Lake Placid Club - Pristine 9 - #10
Craig Wood Golf Club - #17, alongside the lovely fountain, this is a great par 3
Whiteface Golf and Country Club - #6. Par 5, in which one hits a tee shot at Whiteface Mountain followed by a dog leg left to the green.
Saranac Inn & Golf Club - #16, a demanding par 3. (Although MY vote is for hole #9 with the impossible miniature golf-like 3-tiered green)
Count 'em!
Conveniently, there are a number of ready-to-book lodging GOLF PACKAGES, too!
Postscript
The Lake Placid Club's Golf House Restaurant certainly meets all of the signature hole criteria, as well - so add hole #19 to the list.
And it goes without saying, of course, that Mr. Higgins, with his dog leg advantage, is a scratch golfer.