I recently traded my hiking boots, trekking poles and other usual gear for a more relaxing trip up the Cloudsplitter gondola to the top of Little Whiteface.  The day was perfect, and the gondola is a fun way to climb for a great view – and a view which changes as you climb up the side of the mountain.  We were joined by other view seekers as well as mountain bikers who rode the gondola up with their bikes so they could rocket back down along the ski trails. 
            I had a more relaxing day in mind, however, as I snapped photos on the way up as the gondola was pulled along by the cable.  The top also offers splendid views including a viewing platform overlooking Lake Placid.  After enjoying this, I wandered down the ski trails which head out from the platform.  In summer, these trails bloom with wildflowers, and I followed them while identifying and photographing a variety of species such as yarrow (a non-native species) and cow vetch, among others.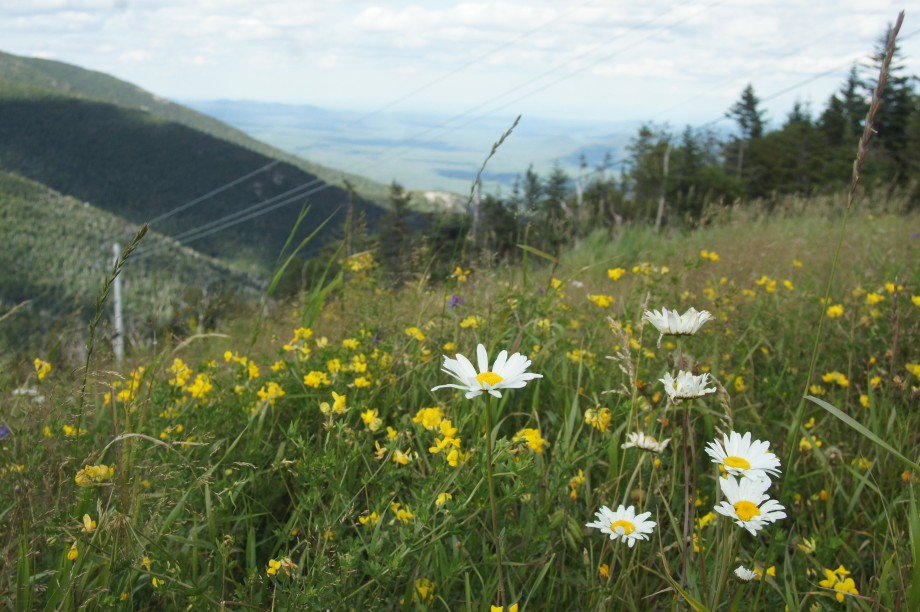 I was soon distracted by flocks of chattering birds along the brushy edge of the trails – I'm pretty much never not birding – and I began pishing to see what species were contained in them.  There were many chipping sparrows, dark-eyed juncos, and winter wrens along the edge of the trails, and as I pished, I brought in red-breasted nuthatches, yellow-rumped warblers, and a blackpoll warbler in its fall plumage.  Summer is winding down after all, and many birds will be in their fall plumage soon if they aren't already.  Late summer is here and fall migration is coming. 
            I did not come across any Bicknell's thrush in my meandering, but the gondola takes folks to about 3700 feet – high enough for the potential of finding one, if only hearing one upslope on Whiteface Mountain.  After exploring a bit more, it was soon time to go before they closed for the day, and so we boarded the gondola, enjoying the views in reverse as we headed back down to the bottom, where we threw around a Frisbee in the warm sun for a spell before driving home.