Ceramic Edge Sharpening, Side Country, Rocker ...say what?!
Getting geared up for the season
, with so many choices, will mean different things for different people. Whether you are looking for the best tune, the hottest new equipment, performance rental equipment, even season long leasing options, Lake Placid has to offer what you need to get on the slopes for the best ski and ride experience.


Placid Planet
One of my favorite stories from last season was a gondola ride with a visitor to Whiteface raving about how he just got the best ski tune at the local bike shop of all places, a bike shop!
Want the insider secret to the best tune for your ski and ride equipment? That's right, check with the local bike shop! In the winter, owner Kenny Boettger transforms his store into a state of the art ski tuning facility. Kenny and his expert staff have definitely set the bar, and for the price of a bike tune you can have your skis ready to rock Whiteface!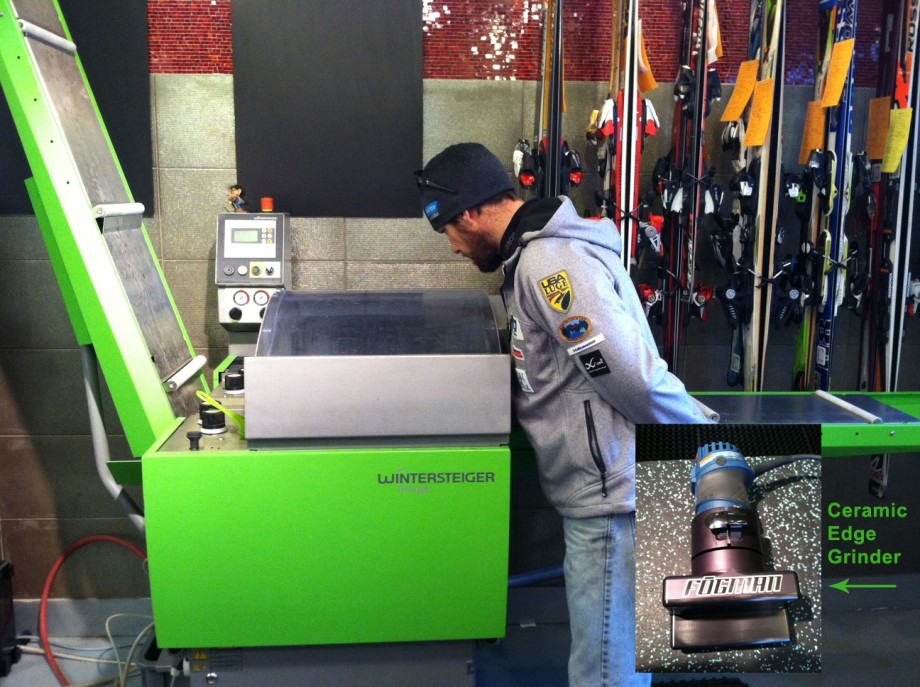 Placid Planet Shop Tip:  Ceramic Edge Sharpening. Stop by and see what it's all about. This ceramic grinder does away with all the tedious hand filing; it is quick, accurate, uses less material and will give you the perfect edge. The tool is part of their tuning service and is also available for sale (just to warn you it is a bit of an investment).
Services:
Placid Planet tunes Alpine, Race, Nordic, Ski Jumping Skis and Snowboards.
Equipment:
Hats, gloves, socks, helmets, poles, impact race gear, GoPro cameras/accessories, and ski racks/accessories.
Cunningham's Ski Barn
Cunningham's is a full service ski shop serving both Lake Placid/Whiteface and North Creek/Gore Mountain. They offer sales, demos, rentals, custom boot fitting and an experienced staff to match you to the best equipment. They carry some of the best skis out there today including skiing magazine's "Ski of the Year" the Volkl Shiro. When I asked what's hot this year, they said "sidecountry" and "the moustache" (Cunningham's term for a specific type of ski rocker).
Sidecountry – one set up to rule them all!
Sidecountry is the mixed combination of having quality mountain gear to rip down any trail on the ski slopes with the functionality of backcountry gear so you can access those out of the way trails – like the Slides at Whiteface Mountain. Cunningham's has everything to get you going on your next sidecountry ski adventure: split boards, skins, Tech Soles and Marker Duke bindings. For those of you who are new to these terms here's a quick rundown:

Split Board: A snowboard that splits in half so you can hike in the backcountry and they function like a touring ski.
Skins: A cover for the bottom of your skis that provides traction to climb in the backcountry.
Tech Soles: Hiking boot style tread for your ski boot that replaces the standard smooth sole.
Marker Duke bindings: A touring-compatible freeride binding, it has a feature where the heel of the binding can be released to help hike into the backcountry – "easy climbing function with the ultimate in security and performance for coming down the mountain".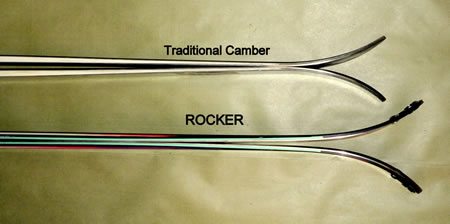 Moustache Rocker – why do these skis look broken??
Rocker has been around for a little while now, so it's not brand new, but it's getting more and more technical and most skis these days have it. Traditionally skis have camber, so when you set the skis down to put them on the middle of the ski and bindings are arced off the ground. Rocker is essentially the opposite, also called reverse or negative camber. Essentially it mimics a water ski and enabling a skier to skim over the surface with minimized risk of snagging an edge. Rocker can be combined with camber to address specific performance needs. It can be in the tip and tail, just the tip, or the entire ski. The new word at Cunningham's is the moustache – the base literally resembles a handle bar moustache.
Bottom line: rocker specs and terminology vary by ski manufacturer and from model to model so it's best to shop for skis based on the terrain you'll be skiing. Spend time with trained staff to see what ski might be best for you.
Maui North
Maui carries gear for everything, from alpine racers to park rats, beginners to everyday enthusiasts, to the cutest snowbunny on the mountain. What's hot this year – The Flat Top (yes, more rocker chit-chat): The Flat Top is an all-new refined rocker you will find at this shop - Lake Placid's local Burton Snowboard supplier. The base is flat between the bindings and rockered at the tip and tail providing the performance and feel of a camber board and a rocker board combined – you get a little of everything.
What's cool at Maui? - Their Season Rental program! You can rent for a day, a weekend, a week or a whole season! Call for availabilty, this program is First Come, First Serve. Men's, Women's and Kid's Ski and Snowboard equipment. For children and adults this could be one of the most economical programs out there. Growing kids? The program rents equipment for the entire season at an affordable rate. They also feature a "try it & buy it" program, demo equipment and your demo cost goes towards your purchase price.
Service and Equipment
My advice, check them both out! Maui North and Cunningham's are only a couple blocks apart. Both are full service shops offering demos, rentals, custom boot fitting and tuning services. They carry different brands and both shops have their own unique look and feel. Their expert staff can help you find what works for you.
Telemark, Alpine Touring and Nordic/Cross-Country Skiing
Getting into the backcountry has never been so easy. The equipment is lighter than ever and the boots are more functional than ever. In the Alpine Touring and Telemark specific world there are three shops to consider, they all are a bit different and all carry a variety of ski brands, boots, bindings, gear and accessories. Whether you are renting, demoing or buying these are your go to shops to get you on your way.
High Peaks Cyclery
High Peaks Cyclery is heavily involved in the cross-country/Nordic ski and guiding scene. In addition to an incredible selection of Nordic skis - all disciplines including: cross-country, skate skis, touring and racing; they added ski-tuning capability and now carry a wide selection of Telemark and Alpine touring skis, boots, bindings (including Dynafit), poles and skins. They carry brands such as Salomon, Atomic, Fischer, Blizzard, Goode and more. High Peaks Cyclery will be at the Nordic Ski Show and Fundraiser for the Rochester Nordic Ski Club this Saturday in Rochester, NY. 
High Peaks Cyclery Shop Tip: Rent Telemark skis, Nordic skis and snowshoes - if you are looking to buy - try the equipment and your rental fee will go towards the purchase price!
Services:
Sales, rentals, ski tuning, boot fitting, repairs, rentals, flex testing, the Recyclery and guide service.
Equipment:
Telemark, Alpine Touring and Nordic skis, boots, bindings, poles, skins, hats, gloves, jackets, pants, socks, ski racks and tuning equipment.
EMS – Eastern Mountain Sports
EMS carries Dynafit, Lucid, Icelantic, K2, and Volkl. They have their own line of soft goods in addition to other top name brands to keep you warm and dry from very base layers on up.
EMS Store Tip: Take advantage of their reward program. You can earn points on every dollar spent in the store, even on their schools (aka: guide services). They also offer college discounts with student ID.
Services:
Sales, rentals, boot fitting and schools
Equipment:
Telemark, Alpine Touring, and cross-country skis, boots, bindings, poles, base layers, hats, gloves, socks, jackets, pants, ski racks, camping gear and ski accessories.
The Mountaineer, Keene Valley, NY
These guys have been in the ski touring business from the start. They carry K2, Black Diamond, Volie, Dynafit, and Madshus. This locally owned small business is known by people worldwide – and I'm not joking – my favorite story about this shop, was when I was surfing in Nicaragua and the surfer next to me asked me where I was from and he said that the Mountaineer is his favorite shop whenever he comes to upstate New York. He hadn't been to visit in years but had no problem recalling the Mountaineer and describing the distinct charm of Keene Valley. He said it's the first place he and his friends go before venturing into the cold winter backcountry for ski/camping expeditions. You can get everything here to survive the harshest Adirondack conditions.
The Mountaineer Store Tips:
For ski tuning check out Placid Planet in Lake Placid, Drew Haas, head of The Mountaineer's Ski Department says the staff at Placid Planet put the same level of attention and expertise into their ski tuning as they do into their bike tuning.
For backcountry touring check out Cloudsplitter Mountain Guides, owner Jesse Williams is IFMGA Certified (International guide certification). I just visited the IFMGA website and he is one of 2 guides in all of New York State that has this certification!
Come to their Backcountry Festival held every year the first weekend in March. They offer guided tours, demos and more!
Services:
Sales, demos, rentals, mounting, and boot adjustments
Equipment:
Telemark and Alpine Touring skis, boots, bindings, poles, skins, base layers, hats, gloves, socks, jackets, pants, ski racks, camping gear and ski accessories.
Used Gear?
Sell or Buy check out High Peaks Cyclery's Recyclery and the NYSEF (New York Ski Educational Foundation) Online Ski Swap at www.nysef.org/ski-swap/
Rumor Mill
Rumor has it that Whiteface Mountain will be opening this weekend -- a week early!! So keep those ski tips crossed and check for updates with Whiteface Mountain. See you on the slopes!