The day is perfect for the 4.2-mile hike up Noonmark in Keene Valley. The climb isn't an easy one but the summit view and numerous overlooks are worth the effort. We are starting up Noonmark (3,556 feet) via the Stimson Trail, named for Henry L. Stimson, Secretary of War under Roosevelt and Secretary of State under Hoover.
We split the group letting the faster hikers park the car at the "hikers' parking lot" on the edge of the Ausable Club property off of Route 73, while the slower one (me) is dropped off at the trailhead opposite the golf course. Parking at the "hiker's lot" is the only parking option for visitors and nonmembers of the Ausable Club. (It does add another 0.4 mile to the overall hike. If there are small children in the group, drop them off at the gate with adult supervision.)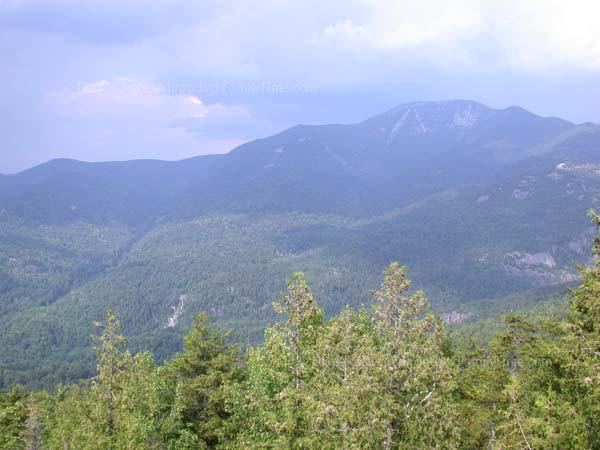 I am always the last in the pack. I enjoy hiking and backpacking and my family knows that I will eventually show up at the summit. My camera will be filled with pictures of tracks, plants and trees to identify once I get home. Now that my daughter is able to amble up the trails like a mountain goat, I am left wandering the path alone.
This is all private land so we are respectful and stay on task. When the trail begins we follow the yellow trail markers for about ½-mile up a gradual incline until we reach a Y in the trail where it splits toward Dix and Round Mountains. The Stimson trail turns to the right marked with red symbols to our destination of Noonmark.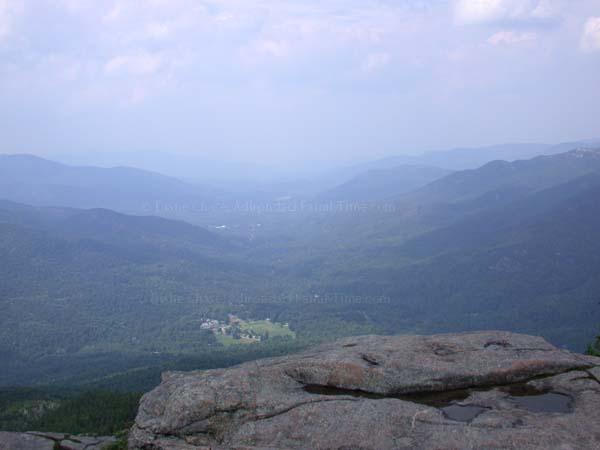 The trail is wet from recent rain so we gingerly walk over swollen streams and slippery stones. My family steadily gains on me. They pass me before Ireach the first clearing with a beautiful view of the Ausable Club. My son throws his hands up in frustration when I stop take pictures. My husband reminds me that Noonmark has many false peaks along the way so he gentle warns me not to get too waylaid.
The walk is steady and steep yet not too difficult to maneuver the rock scrambles. There are also log ladders that allow us to scale the ledges. There are about five more beautiful outlooks along the way. Finally at the summit we sit, relax and enjoy the 360-degree view with the Great Range, Giant Mountain, Dix Range and St. Huberts in all their glory.
If you prefer a round trip hike, start up the Stimson trail and return by the Felix Adler trail for a 5.4-mile loop. Diane Chase is the author of the Adirondack Family Activities™ guidebook series, Adirondack Family Time™.