One of my favorite paddles in the Adirondacks is the Osgood River near the Village of Paul Smith's.  A crew from our work was taking a Friday off to show out-of-town colleagues around, and I decided to join them for the trip.  We began our paddle at Osgood Pond – a nice paddle in its own right – which is accessed from White Pine Road which in turn meets Route 86 just south of Paul Smiths. 
We made easy headway on the pond with a slight breeze at our back, cruising toward the historic White Pine Camp where Calvin Coolidge spent time during his presidency.  The camp is worth a tour on its own, and it's a nice addition to the outdoor exploration that the Osgood readily offers.  We passed the Japanese tea house, the bridge, and a series of cabins and buildings (one of which has a bowling alley) that we could see through the trees. 
At White Pine Camp the Osgood is fairly wide, flowing lazily out of the pond on its journey to Meacham Lake.  Water lilies and pickerel weed choked large sections of the river and we meandered around them.  The river very quickly began to narrow to a smooth, snaky channel, and it is a little more than a stream for much of the way.  But the closeness of the banks fosters a sense of exploration, and in fact aids paddlers as they investigate the leatherleaf and conifer-clad shores.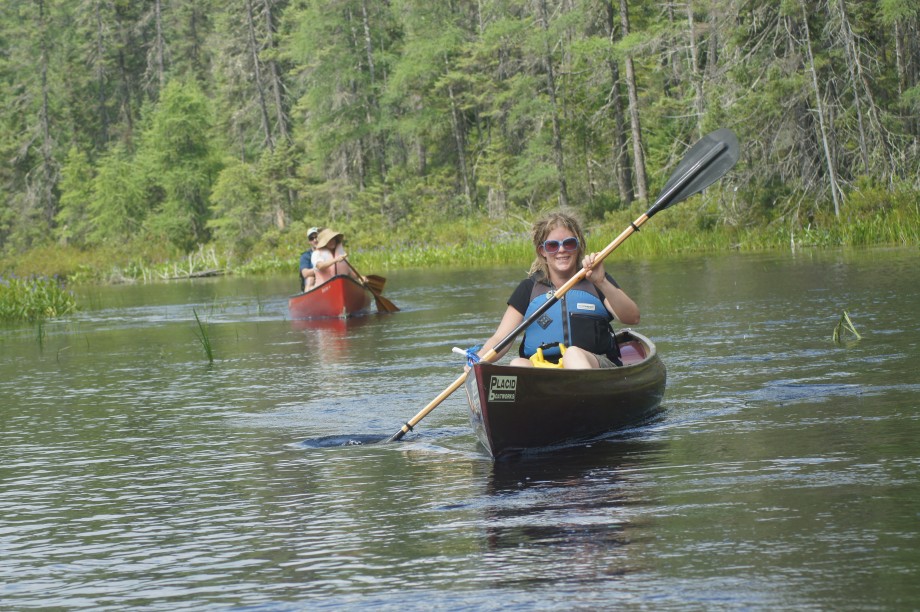 Thanks to this surrounding vegetation, the river quickly began to take on a northern feel.  Much of the Osgood is flanked by phalanxes of tamarack, spruce, and balsam, and boggy edges stretch out from the banks.  This boreal habitat became even more pronounced as we paddled a bit further downstream. 
Such boreal habitats harbor bird species that generally breed further north, but make their home in the boggy coniferous forests of the park – habitats which are very similar to those of higher latitudes.  As a result, birds such as Lincoln's sparrows, palm warblers, gray jays, and black-backed woodpeckers call the Osgood home.  In fact, The Wildlife Conservation Society with whom I work has conducted a boreal bird monitoring project for the past several years, and one of our sites is the Osgood River. 
We didn't find any boreal birds on our mid-day paddle, but we did find a belted kingfisher which flew ahead of us calling, only to have us spook it several more times as we kept catching up to it on its new perch.  We also saw a great blue heron fly ahead of us along the stream.  We crossed a couple of old beaver dams which can become numerous as the channel narrows, but these were easily crossed, even by our coworker who was using a stand-up paddleboard – a good mode of transportation for exploring all the nooks and crannies that the Osgood offers.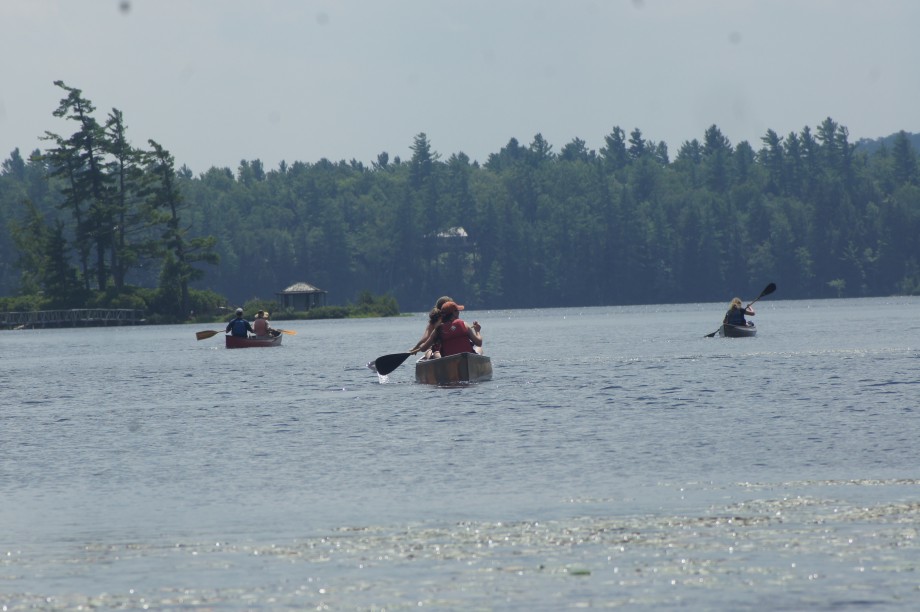 Just before lunch a red-shouldered hawk flew low overhead.  Shoulders – as many birders call them – are not abundant in the Adirondacks, but they are here – often near water in wet, sometimes swampy woods; a habitat which the Osgood offers aplenty. 
We stopped for lunch at one of the campsites which are scattered along the run – a nice spot for a break from the boats and some food.  Then we retraced our route against the easy current to the pond.  One thing to remember with any paddle on the Osgood is that Osgood Pond is often quite windy – particularly in the afternoon.  We pushed across the open water into a strong headwind (the person on the versatile sit or stand paddleboard sat and kayaked), and then rewarded ourselves with a swim at the take out.  The canoe access doubles as a great beach.