Kendra and I were looking for a short paddle last weekend and thought that Jones Pond fit the bill. Jones Pond is a great paddle near Paul Smiths and Rainbow Lake. Access to the pond is off of Jones Pond Road (go figure) which intersects with Route 86 just south of Paul Smiths.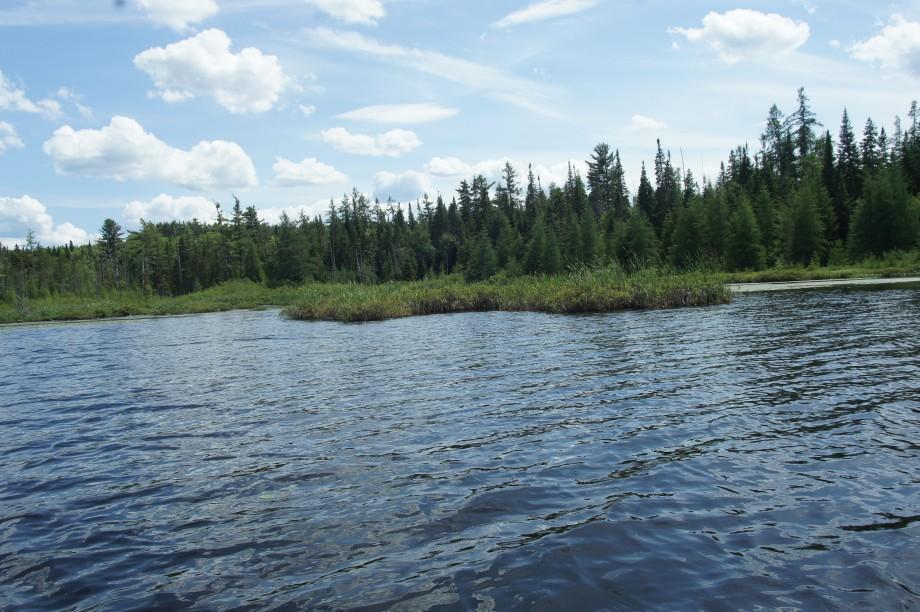 We threw a ball for our Labrador retriever, Wren before heading out – it let her swim in the hopes she would blow off energy before we made her sit still in the boat, something she does not enjoy doing. The sandy canoe launch is perfect for a swim.
Once loaded, we paddled the fringe of the pond – the shorelines are always interesting to explore on any water body. It was a beautiful, but also breezy, day, and a great day to be out. Much of the pond is bordered by state land – and has a few campsites for those interested in exploring or relaxing at the pond for a few days. One shoreline is lined with fairly small camps and cottages though, and we paddled along it thinking what a nice spot it must be to call home – if only for part of the year.
There we spotted a pair of common loons with two fluffy, black chicks alternately swimming with their parents and riding on their back. It was a tranquil scene watching the family – even with the somewhat choppy waves and wind which were subtly growing stronger. I tried several distant shots of the loons with my camera, but had little success, as I clumsily tried to hold still as the boat rocked on the rolling water. We watched the loons dive and feed for a while, but soon began to drift apart from them and we paddled on.
Skirting the rest of the lake, we arrived at the boggy marsh that spreads along the outlet of the pond – which runs all the way to Osgood Pond. In the marsh there were lots of nooks and crannies to explore, and we poked around for a while doing so. It was late afternoon, so we didn't find many vocal songbirds during our paddle, but in the marsh we found red-winged blackbirds, common grackles, and common yellowthroats – all common species in such habitats. An adult bald eagle flew over giving us some excitement, but it kept on going, giving us a nice look as it went.
There was also a nice beaver lodge in the marshy habitat. Our odds of finding the beaver itself would have been much higher in the evening, but we were fortunate enough to see a muskrat swim by. We completed our loop back to the put-in just as Wren was starting to show signs that her patience for lying still in a canoe was ebbing away. Short paddles are a good way to continue to train her in sitting still in a boat.
We took out and let Wren play for a while in the shallows as a reward for behaving – and not capsizing us. Then we headed towards home, stopping at Donnelly's Ice Cream stand at the junction of Routes 86 and 186. We enjoyed an ice cream cone just before the clouds that had been brewing made good on their threat with some rain. The ice cream cone alone was worth the trip.