I travel on Route 9N north to Au Sable Forks this evening for the opening of the art exhibit Hardscrabble at the Windows Gallery in the Tahawus Center. We pass a few bicyclists en route and are reminded that this stretch of 9N is part of the Iron Man triathlon route that the bicyclists take from Lake Placid.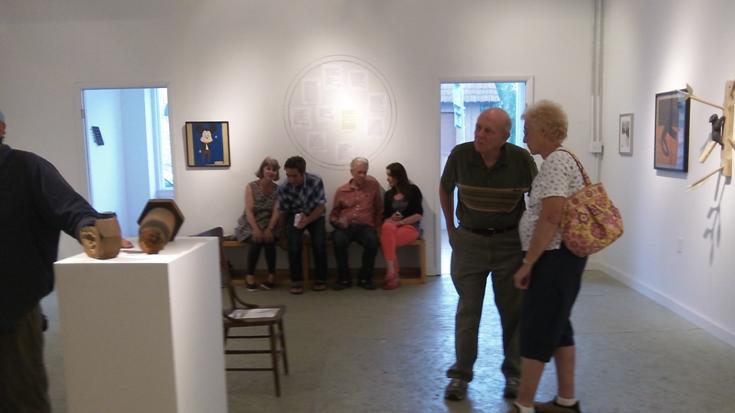 My thoughts then turn to the subject of the exhibit: Detroit and Au Sable Forks. I had never thought of the two locations in the same sentence before but for Bill Dilworth, curator of the exhibit, there is quite a parallel. Bill explains how the Ausable Valley had barely recovered from the spring floods of 2011, when tropical storm Irene transformed the Ausable River into a raging force that ripped through many of our Adirondack towns with a destructive force that had never been seen before, mercilessly destroying homes, businesses, and roads.
Dilworth said in a press release, "I thought of how hard hit Au Sable Forks was and of the challenges people faced there. I thought of Detroit and how some people there chose to respond to the challenging environment of that city by making art. I've put together an art show at the Tahawus Lodge Center in Au Sable Forks of Detroit Artists; to essentially link Au Sable Forks with Detroit and thereby propose that making art is a good way to respond to hard times in hard places."
Bill Dilworth's words echo through me as I look at the Tahawus Center and the art inside. But the Center itself is a transforming influence on the little town of Au Sable Forks.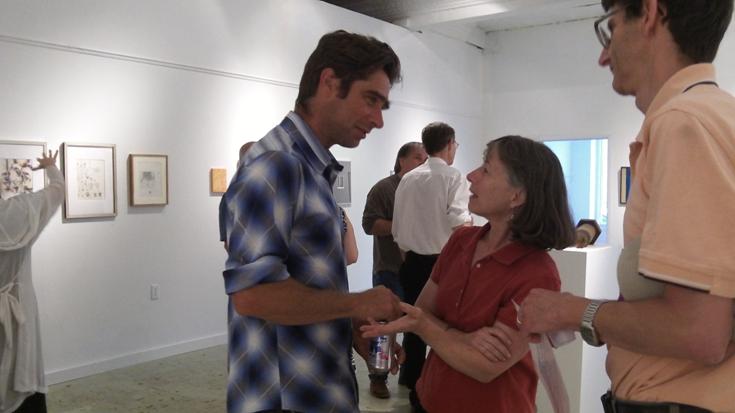 Similar to the people who live here, Au Sable Forks has had to reinvent itself. At one time a booming papermill town, the Au Sable Forks that I first met did not have a whole lot to offer tourists. The paper mill was long gone but the memory of the many colors that it had turned the Ausable River lingered on. There is a sign on the north end of town that reads, Gateway to the Olympic Region, but the Olympic town of Lake Placid is a good 20 miles away--and it might as well have been 2,000 miles when talking about the Au Sable Forks of 20 years ago. But thanks to visionaries like Sierra and Cory Hanf who bought and renovated the Hollywood movie theatre and Rebecca Kelly and Craig Brashear (dance artists from New York City, aka Rebecca Kelly Ballet) who have poured heart and soul into the Tahawus Center, not to mention Town of Jay Supervisor Randy Douglas and the Revitalization Committee, Au Sable Forks is in the process of reinventing and the Hardscrabble art exhibit is one very demonstrative example of that reinvention.
There are 18 Detroit artists represented in this show, some by way of New York City and the North Country, like Bill Dilworth. Some artists are in attendance when I arrive and are happy to converse about their lives and work. In keeping with the nature of the town, the reception beverage of choice is beer out of the can.
The artwork is highly eclectic--from Michael Luchs's "Boxing Gloves & Light Bulb" to Nancy Bonior's "AuSable/Detroit" map, Kurt Novak's "Squirrel" and "Crane" and Denny Tomkins's "Birds in Bags."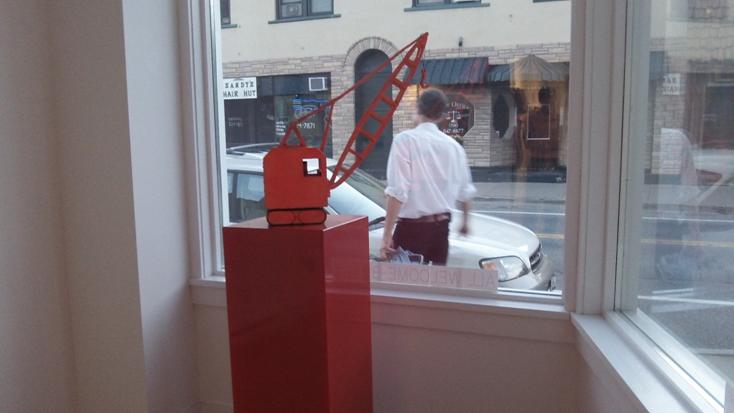 For me, it's really about the concept and in keeping with that, I find an aesthetic pleasure just looking from the art work out through the gallery windows and onto the street of Au Sable Forks itself.
Bill Dilworth is an energetic host and is eager for everyone to see and know about everything here—especially the people who live in this area.
The Hardscrabble exhibit runs until the end of August. If you are lucky enough to catch Bill Dilworth there, don't be shy. Introduce yourself and please, tell him that I sent you.
The Tahawus Lodge Center openedi n 2011 with exhibits of photography by residents of Au Sable Forks (MarkHobson) and Lake Placid (Todd Bissonette). According to Rebecca Kelly, the Center will focus on local artists and their work. For exhibit hours click through to the Tahawus Lodge Center web site.
Kathleen Recchia has been enjoying the arts in the Adirondacks for about 20 years—both as observer and participant (acting, directing, and producing). She also enjoys cross-country skiing, juggling, and hosting visitors to the area at her bed & breakfast in Jay.