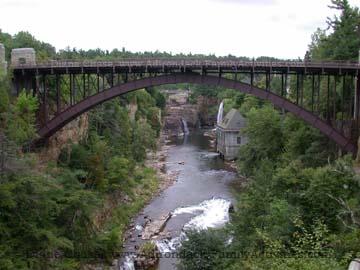 There is something awe-inspiring when introducing children to nature. We all look at the small details and take time to explore. Though my kids like to be outside, they are also are drawn to the numerous water parks and arcades available around the Adirondacks. Fortunately the Adirondacks provides the perfect mixture of both. We can go to Ausable Chasm for that "back to nature" feeling with a bit of an adventure park spirit thrown in for good measure.
I have wanted to go whitewater rafting but wanted a safe enough environment that would allow a four-year-old to come along. Since most rafting companies cater to older children, it was fun to discover a calm rafting opportunity that fit all the ages in our group.
Ausable Chasm has trails to explore, a river to raft and cliffs to discover. We follow the trail map to the cliffs aptly named Punch Bowl, Rocky Point and Elephant's Head. The soft sandstone mixed with hard quartzite gives the canyon walls their layered feel, where time and water has shaped the various cliffs. The children safely negotiate the steep staircases, landings and precipices. After about a mile we reach Table Rock. We show our rafting ticket, grab lifejackets and climb aboard our vessel. Our guide twists and turns us to show the various highlights of the river. We see the cable system that once hauled half-ton wooden canoes up the river.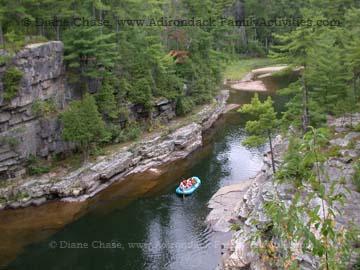 Thankfully that antiquated system has been replaced with the inflatable raft we are now on. We are entertained with stories of tightrope walkers' and horseback riders' attempts to cross the canyon divide. We paddle when instructed and gently glide into Whirlpool Basin for the end of our trip. We opt to return to the Welcome Center on the trolley rather than return via the Rim Walk. There is still more of this natural amusement park to explore.
Ausable Chasm is located at 2144 Route 9 in Keeseville and open year-round. Call 834-7454 for more information. 
all content and photos are © Diane Chase, this post is an excerpt from the new guidebook Adirondack Family Time ChamplainValley: Your Four-Season Guide to Over 300 Activities (with GPS coordinates). Diane Chase is the author of the Adirondack Family Activities™ guidebook series, Adirondack Family Time™ and co-owner of the the young adult wilderness adventure program, Adirondack Outdoor Expeditions.