We've driven by the Saranac River on our way from Saranac Lake along Route 3 many times, and have always thought that the winding, slow-moving waters would be great to paddle.
So, with a forecast of mostly sunny and 70 degrees, my husband Kevin and I decided to take our next kayak adventure to Saranac Lake.
On the map, it appeared that we could put in on Lake Flower right in the village of Saranac Lake, and access the Saranac River all the way past Bloomingdale. To facilitate the transfer of boats and ourselves, we decided to make this a multi-modal adventure, and packed our van with both bikes and boats.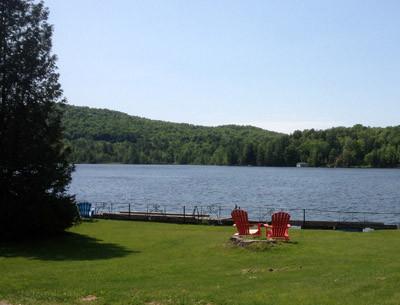 I contacted my cohorts Nicole, Doug and Dan, owners of Gauthier's Saranac Lake Inn, which just happens to be located RIGHT on Lake Flower, for permission to launch our boats from their place and store our bikes while we paddled. They provide boats for their guests to use anytime, so we drove there, and Doug suggested that we drop our boats on the lawn in front of the hotel, away from their fleet, so that our kayaks wouldn't be inadvertently used by one of their guests while we dropped the van at the take out.
We then drove along from Route 86 onto Route 3 toward Bloomingdale, then took a right onto River Road, looking for a canoe launch that is located just above the permanent rapids marked on the map. We found it fairly easily,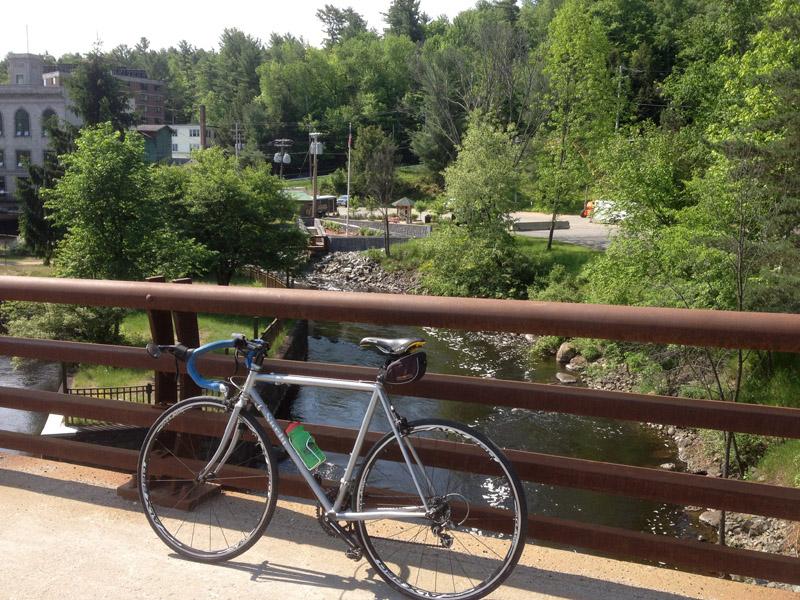 parked the van and hopped on our road bikes to ride the 11.65 miles back to Gauthier's (as an Audubon 4-Green Leaf property, I knew they'd appreciate our use of only one combustible engine on this adventure).
On our way back by bike, we stopped to view the short carry and initial rapids that we would encounter right where routes 86 and 3 meet, decided it was doable, and proceeded on to transfer to our boats.
We launched on Lake Flower and paddled toward the dam at it's northern end - against a slight headwind - to the docks located just adjacent to the dam. We carried our kayaks, which definitely seemed heavier with our day's gear stowed in them, through the park, across the street and to the water's edge under the bridge that we had stopped on with our bikes.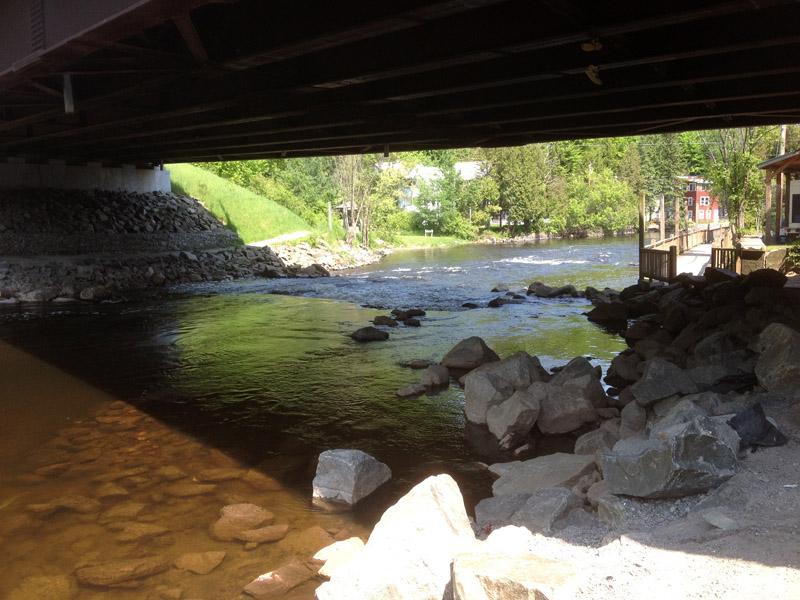 "Are you sure we can paddle this?" I asked. Our boats track well on flatwater and short enough to manipulate in smaller rivers, but aren't terrific in anything more than a class II rapid, BECAUSE they track well. "Sure we can - this is easier than the Schroon River rapids we paddled," said Kevin. Ok then, I couldn't argue with that. (On that Schroon adventure, of course, I had swamped my boat in those rapids and he completely overturned, requiring a stop to pump out our boats.)
We launched, he eddy'd out to wait for me to secure my camera in anticipation of getting wet, and then headed into the rapids. We DID get wet, but it was a great little set of waves that spit us out past the bridge and into a canal that went right through the downtown, under a few more bridges and past people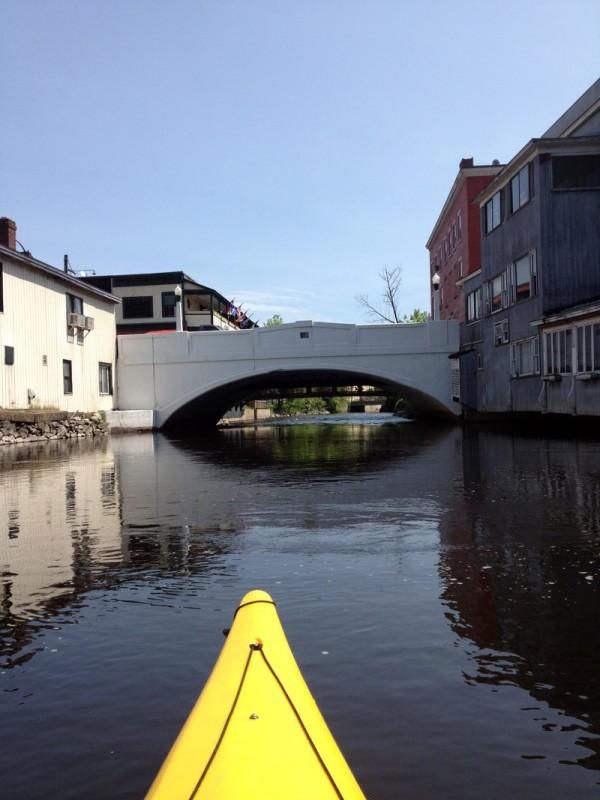 having breakfast on restaurant terraces.
The river current was fairly consistent, and we took a "lily-dipping" approach to the day's event, rather than aggressively paddling to the take out. It was a gorgeous day, and once we left Saranac Lake village proper, through another set of rapids after which some locals were launching their kayaks, we were immersed in the natural beauty of the river flora and fauna, despite the fact that we were never very far from the road.
The river winds back and forth, revealing views of easily recognizable Whiteface Mountain most of the way. There is a neat mix of grasslands and bigger, old growth hardwood trees on the banks.
As for wildlife, we saw tons of grackles and blackbirds, some wood ducks, a green heron (we looked it up when we got home). There were quite a few blue heron, too.
Ever had the feeling you're being watched? At one point, I looked to the right, and saw two triangle-shaped ears above the grass -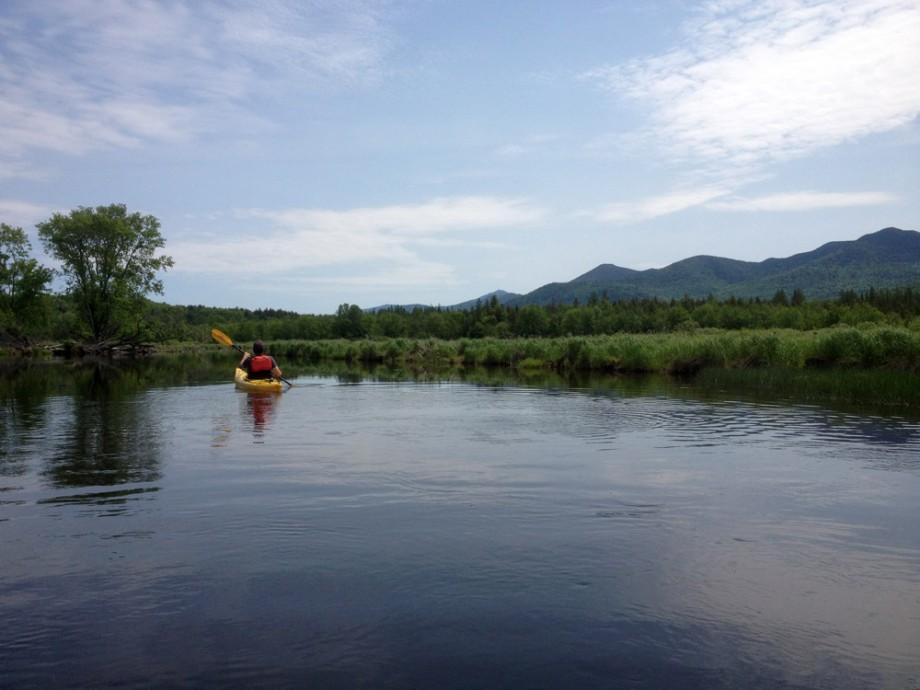 and they were attached to what I thought was a fox. At the same time, my husband was trying to get my attention, pointing out a blue heron on the left bank with his head just visible above the flora. I quietly yelled to him to look to the right, afraid I'd spook the animal - but he remained there, and Kevin looked in time to see him move slightly farther away, then stop and stare back at us for what seemed like a full minute. I didn't dare take my camera out from its noisy velcro pocket enclosure on my PFD. We paddled quietly toward him, and then he disappeared into the tall grass. Kevin determined that it was a coyote, as it was clearly much larger than a fox, and brown in color, rather than the red of a fox.
We encountered only one other person - a man from western New York who is quite involved with the Northern Forest Canoe Trail,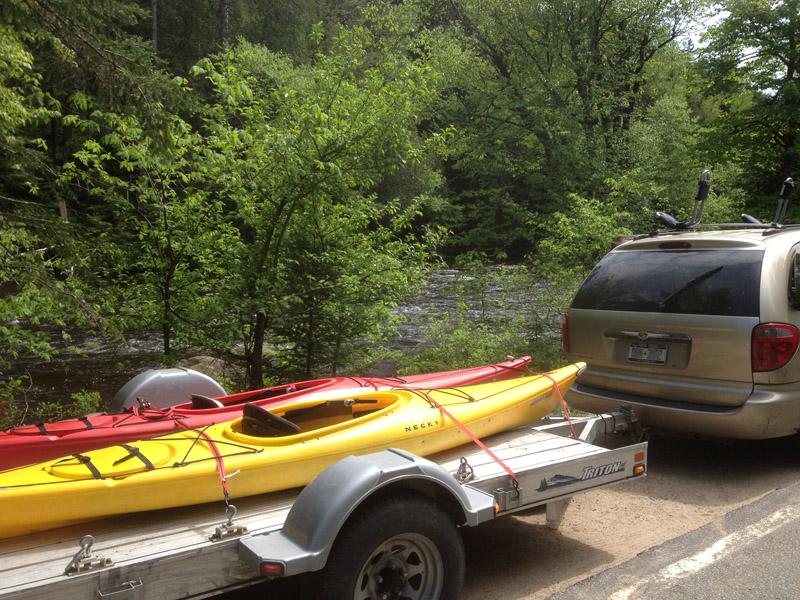 of which this river is a portion. He planned to go further than we did that day, and we watched as he skillfully paddled solo down the river ahead of us.
We arrived at the takeout, just before the permanent rapids, about 4 hours after we launched on Lake Flower. More aggressive paddling would have made it a shorter trip, but we were truly enjoying the landscape.
We secured our boats to the trailer and headed back to pick up our bikes, famished from all that floating.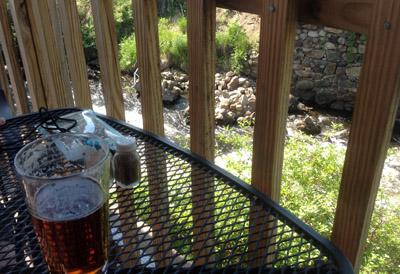 So we stopped at Lisa G's in Lake Placid for an afternoon snack. Well known for their wings, I ordered Buffalo style. Kevin was intrigued by a beef special (ergo my Steak title) but opted for a chicken BLT, and we both accompanied our meals with a Lake Placid IPA. A perfect end to our adventure, we sat on the outside deck suspended right over some rapids in the Chubb River that flows through town. Maybe we'll tackle them next time. :) 
-Kimberly Rielly is the director of communications for the Lake Placid CVB/Regional Office of Sustainable Tourism