It's been what I'd consider a normal week in November, weather-wise. It began with unseasonably warm and sunny days, and ended yesterday with snow on the ground in Lake Placid!
Our bloggers covered an equally varied bunch of topics this week:
Sue Cameron wrote about this time of year from a local's perspective - with a couple of hints about how visitors can take advantage! READ IT
Athena Roth writes about the current artist on display at Saranac Lake's Adirondack Artists' Guild: Janet Marie Yeates READ IT
NEW!

And this week, we are thrilled to introduce our newest blogger, Bridget Widget, our Whiteface Mountain expert! Read her first post HERE!
---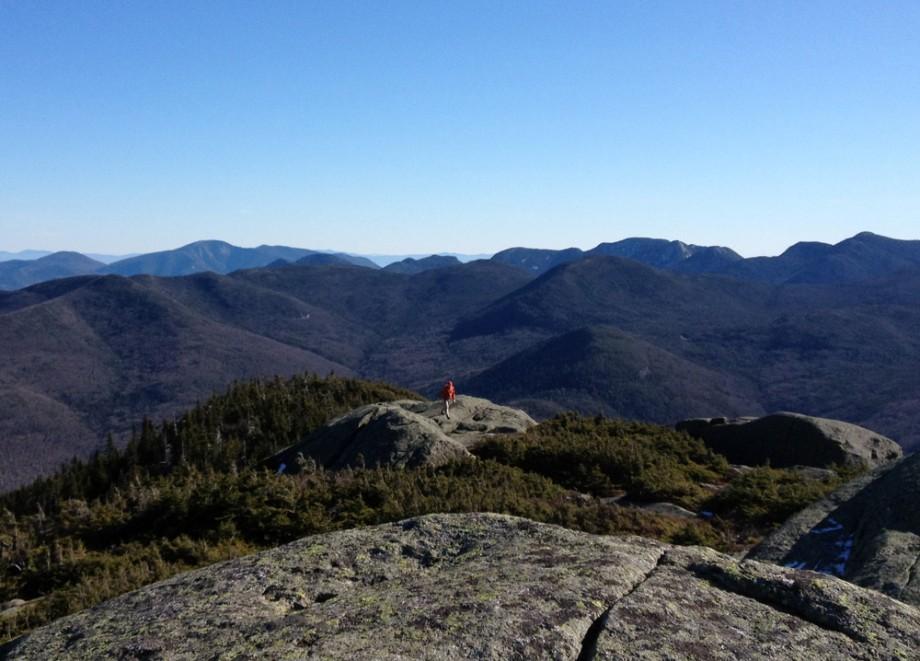 MY WEEK BEGAN with a hike up Wright Peak, the 16th highest Adirondack High Peak, on a bluebird sunny Sunday with my dog and husband.
It was a little chilly at the start, so we donned layers and carried even more layers in our backpacks, along with the regular list of hiking paraphernalia: food, headlamps, maps, water, and gummy bears (the latter provide no nutritional value whatsoever, but are a household favorite.)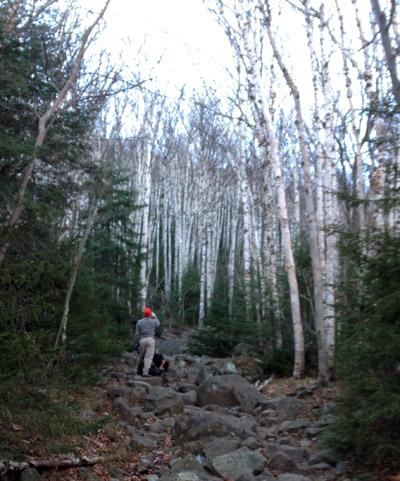 What was missing from this list? Ice crampons. But we wouldn't find that out until we were almost at the summit.
The hike up Wright is consistently steep, and shares the first 3.1 miles with the climb to Algonquin, the second-highest Adirondack High Peak. The top  offers spectacular views of nearby Algonquin and beyond.
This is a good time of year to hike this popular trail; we met just a few folks on our way up. The leaves are no longer on the trees, offering a different perspective than when the lush summer foliage is in place, and this trail passes through a wonderful, dense section of white birch trees. This particular day, the temperature was predicted to reach 65 degrees Fahrenheit, which it did, eventually. As we climbed, the temperature was obviously rising, and we walked through pockets of dramatically warmer air. Ironically, as we neare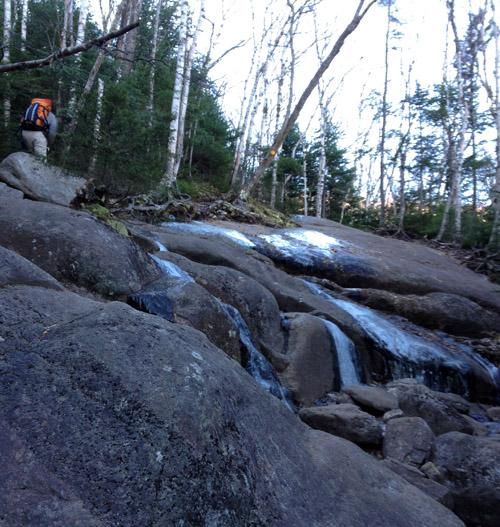 d the top, we discovered that ice had formed on the rocky trail, making it increasingly challenging to navigate. It wasn't exactly ice climbing, but it was certainly tricky.
We did persev ere, and very slowly made our way, following our dog on her leash as she nimbly avoided the icy spots, to the top. This would have been made easier with ice crampons for our boots - and we made a commitment to do this again WITH them in the future.
However icy the trail was, the summit was ice-free rock. And the timing was such that we we were hit with a blast of 50-plus mile-per-hour winds as the front moved into the region, and with it, those 65 degree temperatures. So we took a short break, bracing ourselves at the top to take a couple of pictures, then started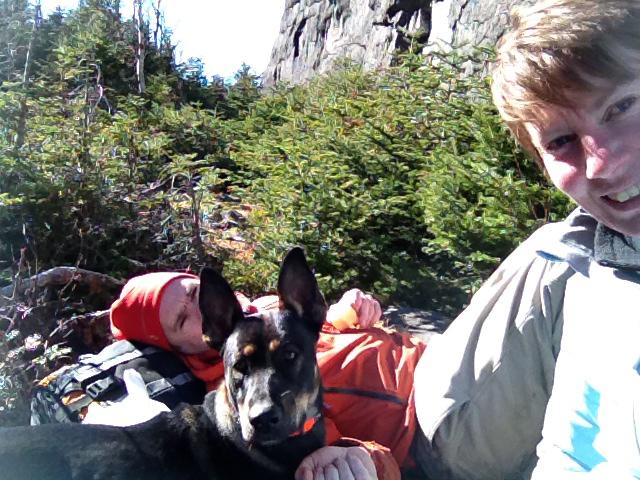 our way back down to find a less-windy spot for lunch, with a gourmet finish comprised of gummy bears.
Here's a link to more details about Wright Peak. I highly recommend this one - combine it with Algonquin for a two-in-one 46er peak-bagging experience!
Kim Rielly is the director of communications for the Lake Placid CVB